10 Best Dog Harnesses for German Shepherds of 2023 – Reviews & Top Picks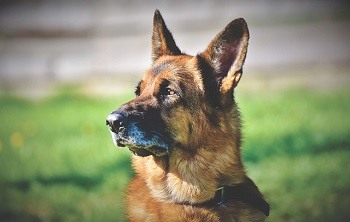 Walking a German Shepherd is not always the easiest thing to do. In fact, some owners find themselves being walked instead of the other way around. If this is the case, taking your pet for their daily exercise is not going to be fun.
One of the best ways to gain some control over a pulling pooch is by using a harness. They will not only save your arms from a lot of strain, but they will provide other benefits, as well. Things like reflective material if you like night walks and added security for escape artists are all a part of the bargain…if you find the right harness.
Finding a harness is not always fun, however. This is why we did the work for you. Below, we have reviewed the ten best GSD harnesses available. We will share all the important details, so you can pick out a winner. Plus, we will also go over how to find the right size in the buyer's guide!
---
A Quick Look at our Favorites in 2023
Rating
Image
Product
Details

Best Overall

Sporn Non-Pull

Durable
Padded underarms
Designed for strong pullers
Check Price

Best Value

Halti

Non-choke
Secure buckles
Two points of attachment
Check Price

Premium Choice

Blueberry Pet 3M Reflective

Reflective material
Won't chafe the skin
Easy to get on and off
Check Price

Kurgo Tru-Fit Smart

Steel nesting buckles
Non-choke
Durable
Check Price

Frisco Padded No Pull

Won't chafe their skin
Non-choke
Two leash attachments
Check Price
The 10 Best Dog Harnesses for German Shepherds
1.

Sporn Non-Pull Mesh Dog Harness – Best Overall
Our first pick is the Sporn Non-Pull Mesh Dog Harness. It comes in three sizes between extra small, small, and medium. It is designed to help you control even the toughest pullers without choking your pup as you walk. You have the option of three colors to choose from, as well as adjustable straps.
The Sporn is a one-piece harness that is easy to put on and take off. It has an elasticized chest plate that moves with your dog as they walk, making this a very comfortable option. It also won't cause any chafing under their arms due to the padding on the straps.
You will also find this option to be long-lasting and tough. It is made of tear-proof nylon that can be used in any weather conditions. What's more, the metal O-rings are tough and won't break. Unlike other bulky harnesses, this slim version is stream-lined yet strong and comfortable. Overall, it is our favorite option for German Shepherd harnesses.
Durable
Easy to get on and off
Padded underarms
Designed for strong pullers
Elasticised chest
Non-choke
---
2.

Halti Dog Harness – Best Value
Our second pick is the Halti Dog Harness. This two-toned option is made to keep your dog from pulling without the harness choking or causing strain on their body or yours. There are two points of attachment, so you can control the leash from the front or the back.
This option is available in a medium or large size. Made of durable nylon material, you will not have to worry about your GSD getting loose. Not to mention, the metal rings are secure and well-attached to the adjustable straps. One thing to note, however, is there is no padding. If your dog pulls hard enough, they can develop underarm chafing. Beyond that, it is easy to get on and slip off.
Another great point about the Halti is its affordability. This is a cost-effective harness that will not break the bank. Not only that, but the metal clip and plastic buckle are both strong and secure. We vote this one as the best German Shepherd Harness for the money.
Durable
Easy to get on and off
Non-choke
Secure buckles
Two points of attachment
Can cause underarm chafing
---
3.

Blueberry Pet Reflective Padded Dog Harness – Premium Choice
Our third pick is the Blueberry Pet 3M Reflective Padded Dog Harness. This is our premium choice and it lives up to its name. Available in a small, medium, or large size, you can choose from four different styles that will match your pet's personality. This harness is built for both you and your pet's comfort and security. It features a soft inner mesh material and a durable Oxford outer layer. What's more, it has reflective threading and a neon triangle in the back for night time walks.
The Blueberry harness will not choke your dog if he decides to pull. It is easy to slip on and off. Additionally, you will find the unit works as two vests; one for pull-control and one for weight distribution. You will also find the durable D-ring will not tear from the stitching, either.
As mentioned, this option lives up to its name as the "premium" choice; therefore, it is more expensive than our other picks so far. On the other hand, you will be able to rely on the security of the harness not to choke or chafe your pet or allow them to escape. Not to mention the four adjustable straps and durable buckles.
Durable
Reflective material
Non-choke
Won't chafe the skin
Easy to get on and off
---
4.

Kurgo Tru-Fit Smart Harness
If you spend a lot of time in the car with your pet, this next option is worth taking a look at. The Kurgo Tru-Fit Smart Harness is designed to be used in the car as a seatbelt harness, but can also be used to walk your GSD, as well. It comes in a standard black color and is available in three sizes up to 75 pounds. There are also five adjustable straps, so you can customize the fit.
Crash-tested for safety, this harness is easy to get on and off, plus you can attach it to your car quickly. The steel nesting buckles will keep your pet safe in case of an accident, not to mention, they will keep him for making a run for it when out walking. You will also get a 10-inch belt loop with the harness.
Another point in this options favor is it won't choke your pet on impact or while they are pulling. That being said, it is not as soft around the underarms, so be watchful for signs of chafing. Also, there are two points of attachment with this harness, but the front loop is not as durable. Other than that, this is a solid product for frequent car rides and everyday use.
Durable
Non-choke
Easy to use
Steel nesting buckles
For walking and car rides
The front attachment is not secure
Can cause chafing
---
5.

Frisco Padded No Pull Front Lead Dog Harness
The Frisco Padded No Pull Front Lead Dog Harness is a good option if you need extra control over your German Shepherd. This is a durable nylon vest that has a mesh padded front with two leash attachments. There are the customary back D-ring and a chest hook that will keep your GSD from pulling too hard.
This harness comes in four different sizes and it has adjustable straps. There are also four colors to choose from, as well. This vest will not chafe or choke your pet while walking, and the breathable material is comfortable. Something to be aware of, however, is the overhead style is more difficult to slip into place than others.
Although the Frisco vest in itself is secure, the buckles are not as heavy-duty. Other than that, your pet will be comfortable in this option as it is easy to move in whether hot or cold. Your pet can even take a swim with this harness.
Two leash attachments
Durable material
Non-choke
Won't chafe their skin
Buckles are not as secure
Harder to get on
---
6.

Chai's Choice 3M Reflective Dog Harness
If you are a fan of night walks with your German Shepherd, this next harness will have some beneficial features. Available in an extra-small, medium, large, or extra-large size, the Chai's Choice 3M Reflective Dog Harness not only has reflective material, but you also have nine bright colors to choose from. This will make your pet easier to see in low light.
The Chai's harness has a padded chest for comfort and to relieve underarm chafing. The mesh nylon material is strong, plus it has two leash attachments for extra control. Even better, this option comes with a back-control handle in case you are in a crowded space where you need to keep your pet close. Use this handle to attach a seatbelt, as well.
Something to note about this option, however, is it rides higher on the neck. If you have a puller on your hands, it can choke. Also, the stitching on the D-ring is not as secure as other options. That being said, you will have adjustable straps to get the perfect fit for your pooch. Just be prepared to be patient as this harness can be difficult to get on. Once on, also make sure the buckles are properly attached. Though they are not prone to break, they can pop out of place if not closed properly.
Padded chest
Two-leash attachment points
Won't chafe
Back control handle
Harder to get on
Buckles can pop loose
Can choke your pet
D-ring stitching is not as secure
---
7.

Rabbitgoo DTCW006L Dog Harness
The Rabbitgoo DTCW006L Dog Harness is a padded-chest vest that comes in black with reflective stitching for night walks. It has a back and chest D-ring depending on the occasion. Use the chest attachment for strong pullers and the back option for casual walks. You also have a back-control handle for high traffic areas, or you can use it in the car to secure a seatbelt.
The Rabbitgoo comes in four sizes and has four adjustable straps. It is made of strong Oxford material. That being said, this vest can be stiff, and a bit uncomfortable for your pet. Not only that, but it can also choke your pet if you are using the back D-ring. The stitching around the metal rings is also not secure, so caution is advised especially for those dogs that are prone to run.
Something else to note about this vest is the plastic buckles are prone to cracking, which will allow your pet to easily woggle their way free. You should also be aware that the adjustment portion of the straps does not stay tight, and you will have to keep setting it in place (this is particularly true if you have a strong puller). Be that as it may, the harness is easy to slip on and off your GSD.
Easy to get on and off
Two leash attachment points
Back control handle
Reflective material
Material is stiff
Can choke
Slips out of adjustment
Buckles crack
D-ring stitching is poor
---
8.

EXPAWLORER PP003 Dog Harness
The EXPAWLORER PP003 Dog Harness is available in a medium, large, or extra-large size. It comes in your choice of blue, black, pink, or red and each one has reflective tape across the back to make your GSD visible at night. This vest is constructed with the padding in the back. It has a wide strap under the belly and across the chest to give your pet a wide range of movement.
Unfortunately, the very thing that gives your pet a lot of movement also causes some issues. For example, the chest strap easily rides up and can cause choking if your pet pulls. Also, the underbelly portion will cause discomfort and chafing. Even worse, however, the design is easy for your pet to slip out of. Ironically, though, it's hard to get on.
That being said, the EXPAWLORER is adjustable, and it has a back-control handle. Also, the durable material won't rip, and the D-ring is made of a heavy-duty welded metal. Just be cautious with the plastic buckles which are known to break.
Wide range of movement
Back control handle
Durable reflective material
Can choke
Buckles are not secure
Can chafe
Hard to get on
Easy to escape
---
9.

RUFFWEAR No Pull Dog Harness
In the number nine spot, we have the RUFFWEAR 30501-407LL1 No Pull Dog Harness. This is a padded chest vest that is available in five sizes and six colors. The vibrancy of the colors will help your GSD stay visible in low-light, and it has reflective stitching around the edges. Unfortunately, though, the reflection is poor, and we would not recommend trusting it to alert motorists.
This vest is made of durable material. You should note, however, that the fabric is stiff and uncomfortable. Although there is padding at the chest area, it does not keep the straps from causing a rash under your dog's arms. Not only that, but the fit is off even with adjustments.
You will also find there are two points of attachment in the front and back. Due to the fit, however, it is not as effective at reducing pulling. It will also slide up and cause choking right before your pet slips free. Another interesting fact is the chest attachment point is not a D-ring but a piece of the fabric. It can make attaching the leash difficult. It has also been known to rip.
On a kinder note, the plastic buckles are secure and do not easily break. On the other hand, it is hard to get on and off with the odd adjustment. Finally, be aware that the overall stitching is poor. The harness will not last long.
Two leash attachment points
Secure buckles
Can cause chafing
Easy to escape
Hard to get on and off
Can choke
Odd adjustment and fit
---
10.

Bolux DC112-Re-L Dog Harness
Our final pick is the Bolux DC112-Re-L Dog Harness. This is a Velcro adjusted chest strap vest that comes in six sizes and a variety of colors including two Christmas patterns. This option works with a wide strap across the chest that is adjustable and secured with Velcro. The underarm strap is also adjustable, and it is attached to the back where you will find the D-ring and a nylon control handle.
To start with, the Velcro chest strap is not secure. It becomes loose quickly which can allow your GSD to escape. Worse, the front is not comfortable and it will cause chafing along with the underbelly strap. The latter strap is attached to the back via plastic buckles that are flimsy at best. The entire structure of the Bolux is not only uncomfortable for your pet but not secure, either.
You will note that this vest has reflective stitching for night travel. The back handle is good for high traffic areas, although the stitching is poor causing it to rip. The same can be said for the back D-ring. This is also a harness that does not prevent choking when your pet lunges. In general, this is our least favorite option for a German Shepherd harness.
Poor stitching
Can cause choking
Chafes underarms
Materials are uncomfortable
Hard to get on
Easy to escape
---
Buyer's Guide: Selecting the Best German Shepherd Harness
Your GSD is an active canine that requires a fair amount of daily activity. This can be a great time for you and your dog to bond, explore, relax, and have fun. Unfortunately, if you spend the majority of the time trying to control your pet, it will suck the enjoyment out of the experience for both of you.
This is why a harness is a great pet accessory to have on hand. It can even be used to leash train your puppy. First things first though. It is important to find the correct size harness for your German Shepherd.
Picking Out the Right Size
For the harness to be effective, you must find the right size for your pooch. Here are a few tips for navigating this canine conundrum:
Where to Measure: It is easiest to accomplish this with a fabric tape while your pet is relaxed. First, get the diameter of the widest part of their underbelly (right below their armpits). Next, you will need the diameter of their neck. This should be right below where their collar would sit.
Weight: Some brands will have weight recommendations, so this number is also good to have handy.
How to Pick: Most harnesses are adjustable as no two dogs will be the same. That being said, the brand will give you both the chest and neck measurements for you to go off of. If you are in between two sizes, it is best to go with the larger option. This will give you wiggle room to adjust. That being said, look at the weight recommendations as that can also determine which way to go when they fall between two sizes.
Adjustments: Once you have your new harness, you will most likely have to adjust it to fit your pet properly. As a general rule, you should be able to fit two fingers under the straps, but it should be a snug fit.
Bonus Tips
Depending on the dog and harness, you may have to adjust it every time you use it. Even if you don't, after a few uses it can become loose. Use a Sharpie to mark the strap at the optimal spot. This will make getting the harness adjusted even easier.
Some harnesses are more complicated to get on and off than others. If you are new to the world of dog vests, mark the straps with directions such as "backstrap" or "chest strap". It will save you a lot of time and frustration.

Conclusion
We hope that you have enjoyed our reviews of the ten best harnesses for your GSD. If walking your dog has extended your arms reach by a few inches you know how valuable these items can be. Not only will they ease the strain on you and your pet, but they will also keep your pup safe.
In our opinion, the Sporn Non-Pull Mesh Dog Harness is the best harness for walking your German Shepherd. Not only is it secure, but it's comfortable and won't choke your pet. On the other hand, if you like that option but want to save some money, we suggest you try the Halti Dog Harness. This is another solid pick that will keep your dog from danger…and your arms too!
Related Reads: