10 Best Dog Leashes for Running in 2023 – Reviews & Top Picks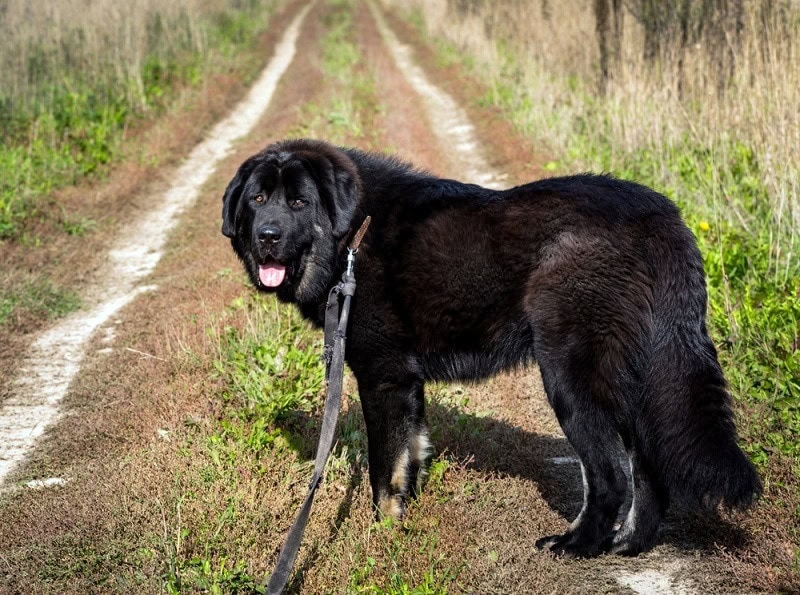 Taking a run with our furry friends is one of the best ways to get exercise, both for us and for them. Looking down and seeing your buddy having so much fun can help you to run farther, and depending on how energetic your dog is, they might just motivate you to go faster too!
Even though your doggo is probably the best of the best when it comes to behavior, it is still nice to know that the leash they're on is dependable — especially if they happen to see the neighbor's cat.
In these reviews, we'll go over the best leashes for running with your dog. The pet market has grown in recent years, but fortunately, we love dogs and we love research. Let's take a look at the best dog leashes.
A Quick Comparison of Our Favorites (2023 Update)
Rating
Image
Product
Details

Best Overall

SparklyPets Hands-Free Dog Leash

Bungee leash
Solid D-ring connectors
100% satisfaction guarantee
Check Price

Best Value

BAAPET Strong Dog Leash

Made with rock climber rope
Reflective
Comfy grip
Check Price

Premium Choice

FURRY BUDDY Hands Free Dog Leash

Can walk multiple dogs at once
Fits a smartphone, water bottle, and treats
Waterproof
Check Price

Primal Pet Gear Dog Leash

Two handles
Classic design
Heavy-duty materials
Check Price

Tuff Mutt Hands Free Dog Leash

Goes from a hand leash to hands free and vice versa in seconds
Plenty of room for your dog to roam
Check Price
The 10 Best Dog Leashes for Running
1.

SparklyPets Hands-Free Dog Leash — Best Overall
Normally when we think of walking or running with our dogs, we have an image of a leash in our hands. SparklyPets had another idea: The company has made a leash that will allow you to run with your dog totally hands free! But that isn't the only reason that this leash is our pick for the best dog running leash. This design is incredibly thoughtful for both the pet and the human.
If you are familiar with other hands-free running leashes, you might already be aware that they historically have one commonly recurring problem: If your dog gets distracted and runs off, the latch often can't stand the force of your dog bolting a different way. SparklyPets has fixed that problem by adding two additional D-rings in front of the buckling latch. This effectively takes all the pressure off the latch and puts it around both sides of the belt while giving you two extra connecting points.
You may also worry that if your dog were to bolt, the leash could choke them. SparklyPets has that covered as well. This leash is made out of a 68-inch-long bungee, mitigating any injury that you or your pet might sustain from an emergency squirrel-chasing session.
Additionally, you will have control if you get to a crosswalk or busy intersection. Right above the neck area is a hand leash, so you can keep your buddy next to you, to make sure they are safe while crossing that busy street. This leash can also be used with your hands, effectively making it a two-in-one leash. You can switch in just seconds, giving you all sorts of flexibility on your walk.
This product is meant to be used with medium to large dogs, though we would advise that those of you with large, powerful dogs should be cautious, as there is only so much that this bungee leash can take before snapping.
Even with that being the case, we had to choose this as our number one. If you disagree with us and with SparklyPets, the company has you covered with a 100% money-back guarantee.
Bungee leash
Solid D-ring connectors
100% satisfaction guarantee.
Large, powerful dogs can snap bungee
---
2.

BAAPET 01 Strong Dog Leash — Best Value
Have you ever thought about going rock climbing with your dog? Even though that's not the best idea, why not buy this leash? It's made out of super strong nylon trusted by rock climbers, so you can rest assured that when you look down at the other end of the leash, your friend will be happily looking back up at you.
As mentioned, this leash is made with rock climbers' rope, as well as with a rock climbers' attachment point, so you can be doubly confident in the strength of this leash.
Even though this is a heavy-duty product, it is still comfortable for the user. The handle is padded so it won't scratch or bruise your hand. At five feet long, it allows for a comfortable amount of space between you and your running companion, while still giving you control. Comfort is paramount, but safety is even more so, which is why this leash is reflective for nighttime walks.
While most of this leash is made of strong materials, the hooking clasp can sometimes have issues with the spring. This also might not be the best leash for little puppers who are teething. Even with those two issues, we think that this is the best dog leash for running for the money.
Made with rock climber rope
Reflective
Comfy grip
Weak spring in connector
Not good for teething puppies
---
3.

FURRY BUDDY Hands Free Dog Leash — Premium Choice
When people see you using this leash, they'll know that you are serious about your runs with your pets! This leash from Furry Buddy is similar to our top pick, but with a few extra perks and a middle connecting point so you can be mobile with multiple dogs at the same time.
This product will have you feeling sturdy and in control, due to the width of the band you'll be wearing around your waist. The reason that the band is so wide is because it has ample storage for your smartphone and a bag of treats. Even better, the storage areas are waterproof. Next to the treat pouch is an elastic water bottle holder, so neither you nor your thirsty friends will be parched at the park.
This product is made of high-grade neoprene fabric and reflective materials for those peaceful nighttime walks. The bungee is also reflective and stretches from 39" to 53.5". Even though this product is super heavy duty, it still comes with a three-year warranty. Talk about confidence.
If there have been any complaints, it is that this product sometimes isn't built up to the standard of its price. Fraying threads and a weak clasp are typically cited.
Can walk multiple dogs at once
Fits a smartphone, water bottle, and treats
Waterproof
Inconsistent construction
---
4.

Primal Pet Gear Dog Leash
This leash is just a good classic with a modern touch. With the Primal Pet Gear leash, you can keep your pet as close or as far as you would like (as far as the leash allows.)
The first loop of this leash is the classic on the end. From here to the end of the leash, you have eight feet of room to give your pal or for your pal to give you. This section is made of top-quality materials and is doubly reinforced.
The second handle is where the collar would be, giving your companion one foot of distance. This is ideal for when you are in a busy street or in a dog-filled part of town. You know how pups like to run to each other!
Recently, Primal Pet has started making this product with an even stronger clip, to make sure that your dog is well secured. Safety is their number-one priority. If, for some reason, something goes wrong with your product, this leash is backed by a one-year replacement warranty for any part of the leash, no questions asked.
Sadly, you might be using this warranty. Even though this leash is made with a strong clasp, there are plenty of users who have issues with it.
Two handles
Classic design
Heavy-duty materials
---
5.

Tuff Mutt Hands Free Dog Leash
Tuff Mutt shows up with the third hands-free leash on this list. While similar to our first two, this one has its perks, though it isn't quite as good in other ways.
First, this is another bungee leash, which is great if your dog gets distracted by the smell of French fries four continents over. The clip that attaches the leash slides around on the belt, so your puppy will have freedom of movement. When fully extended, it measures out to five feet, a good distance for any leash. It's made of reflective materials, so it can be used at any time of day or night.
This leash from Tuff Mutt comes with two handles for when you need to control your dog better or decide that you want to switch from hands free. The clip is easy enough to detach in a matter of seconds.
There is a problem with the clip, however. Because of the way it is attached to the belt, if your rambunctious cuddle bug decides to bolt, it could be quite painful for you, as the part that is attached to you is definitely not a bungee cord. The plastic clasp also has a habit of coming undone easily, and the bungee has been known to break after a while if your dog really likes to pull. Because of these things, it's hard to feel safe with your dog on this leash.
This product from Tuff Mutt comes with a lifetime guarantee.
Goes from a hand leash to hands free and vice versa in seconds
Plenty of room for your dog to roam
---
6.

Mighty Paw Hands Free Dog Leash
If you are starting to see a theme here, so are we! Hands-free leashes are becoming quite the trend, not only for runners but also for those who are employed as dog walkers and walk multiple dogs at a time.
This particular hands-free leash is decent, though it doesn't live up to the others on this list, which is why it is here at number six on our list.
This leash is reflective so you can enjoy your walks at night. While made of strong material, it is not quite as strong as the others on this list. This product is advertised for tall people, though the leash itself is not noticeably longer.
The clasp and connection system is pretty primitive. If your dog likes to pull, then this could become a literal pain in the back for you. There is nothing securing the plastic clasp, so you will have to make sure that it remains secure.
This leash only has one handle on the end, and it is not doubly supported, which feels flimsy and not exactly confidence inspiring. We think that this is a good leash to try out around the house to see if you want to try a hands-free setup. Physical therapists recommend it, in any case.
We think that this leash is ideal if your dog is leash trained and exhibits fantastic behavior. If you do not like the product for any reason, it comes with a 100% money-back guarantee.
Hands-free
Physical therapist recommended
Reflective materials
Great for well-trained dogs
Flimsy clasp and handle
Not great for dogs who like to pull
---
7.

TaoTronics Retractable Hands Free Dog Leash
TaoTronics submits its version of hands-free dog walking with this interesting leash design. While it is similar to the others on this list, it has one big difference.
This leash is comprised of two bungees separated by two handles. The first handle is not where it would traditionally be — at the end of the leash — but instead, it is placed in the middle. The second handle is at the end of the leash or near your pup's head. The design reasoning is that if you need to control your dog, this gives you more leverage to do so, as opposed to having the handles on opposite ends. The bungee in the middle might make it more difficult, however.
Made with reflective material, you can go on walks at any time. The leash will give your dog plenty of room to sniff around, since fully stretched out, this leash gets up to 67" long. If you want to walk multiple dogs, this harness has three D-rings on it, though we aren't quite sure how safe that would be. This harness is meant for medium to large dogs of up to 150 pounds.
We are a little confused as to why this is called a retractable leash. While it does have a bungee, we think of a different kind of leash when we think retractable (the kind with a button and a plastic handle). Some users complain that the leash is too long, and they certainly wish it was more retractable.
Reflective material
Can walk multiple dogs
Two handles
---
8.

Kurgo Hands Free Dog Leash
This leash is a jack of all trades! Built to be a six-in-one leash, with one of those being hands free, you will have many options for your walk with your pal.
As mentioned, you can wear this as a belt to have a hands-free experience. You can also sling this over your shoulder, courier style. With the attached carabiner, you can use this as a double dog leash or you can tether this leash to help hitch your dog. Quite a few options!
This leash is made of reflective materials and is adjustable from 48" to 72". Kurgo has made a product that feels strong and sturdy in the hand, using high-grade nylon to accomplish this.
Unfortunately, when working as a hands-free option, this product is uncomfortable. Most users are surprised at the lack of comfort, as Kurgo has a reputation for making wonderful products. The other downside of this six-in-one is the attached carabiner. It is flimsy and effectively takes out two or three of the six uses. Since it is attached, you cannot replace it with a different carabiner either.
This product comes with a lifetime warranty.
Six-in-one leash
Long leash
Uncomfortable when worn as hands free
Lackluster carabiner
---
9.

Pet Dreamland Hands Free Double Dog Leash
This leash has so much going on! We'll start with its newest addition, which is a double leash for two small dogs of 10-35 pounds. It is not recommended that you walk two medium or large dogs at the same time; you can walk one medium or large dog, or two small dogs.
This leash has your typical hands-free bungee, but instead of two handles, there is only one on the end where your dog's head would be. The waistband has a swivel feature so your dog can move freely around without you getting a rug burn.
The part for the small dogs is an add-on to the medium to large dog leash or could be attached right at the source. Interestingly, this leash, which has two leashes on it, looks much more substantial than the one for the bigger dogs. These are shorter leashes, but more traditional, as the handle is at the end of the leash, not by the collar or the dog.
The reflective leash from Pet Dreamland has received mixed reviews. Interestingly, the people who seem to love it use it in the opposite way that it was intended — by using the leash for small dogs for their big dogs! There doesn't seem to be many durability concerns, but if you have two dogs attached to this at the same time, it could make for an interesting walk, as the space between the two dogs would be very minimal.
We actually think this is a good product, but at its price point, we like the others on this list a bit better!
Walk two dogs at once
Effectively three leashes
Bad for pullers
Better when used not as intended
---
10.

LANNEY Hands Free Dog Leash
What if we told you that you could have a hands-free dog leash that looked like a fanny pack? Well, you can!
This leash is great for taking things on the run, quite literally. The leash itself is pretty typical. It is made of anti-tear nylon material, is reflective, and has two handles, one at each end. The waist is adjustable with two different rings. The O-ring that your dog is attached to would give them 360 degrees of mobility if it weren't for the fanny pack. Basically, your dog can run beside or behind you, but not in front of you.
The fanny pack itself is quite nice and has a sizeable amount of storage. Lanney boasts that you can stuff your keys, smartphone, poop bags, and a treat bag all in there.
While we think the idea of this bag is neat, it breaks quite easily, which just isn't safe for your loved one. If this were more durable, we are confident that it would be higher on our list. There is a 100% money-back guarantee if you purchase this and don't like it or if it breaks down on you.
Awesome fanny pack
Awesome storage
Ensure your lively pup is getting all the nutrients they need with Active Dog Food
Related Read: 10 Best Dog Leashes – Reviews & Top Picks
---
Conclusion
It seems that the trend in dog running these days is definitely hands-free, but you want to make sure that the experience is comfortable for both you and your pet. As such, we don't think you can go wrong with our pick of the best dog running leash from SparklyPets. It is sturdy and healthy for your body and your dog's body. If you prefer the traditional route, then we are also confident in our best leash for running with dogs value pick from BAAPET.
Whatever you choose, we are happy to provide a resource for all your dog needs!
---
Featured Image Credit: Maxim Blinkov, Shutterstock