10 Best Dog Shampoos For Dander in 2023 – Reviews & Buyer's Guide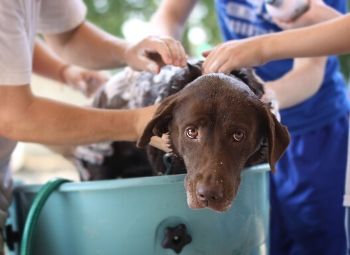 Humans are not the only ones who are affected by allergies. Dogs can suffer from itchy skin, watery eyes, and runny noses from this aliment, too. Dust mites are typically the culprit, and they can make your pooch very uncomfortable. The only thing worse than watching your ankle-biter suffer is if you are itching and scratching right along with them.
Your pal's fur is full of stuff like pet dander that can cause you to have an adverse reaction. This is where dander-preventing dog shampoos come in to play. This puppy soap can help eliminate allergens that you both suffer from, plus it helps with other issues.
While this type of product can have a lot of benefits, we know you want to be sure you are using a safe and effective product. With that in mind, we have reviewed the top ten best dog dander shampoos on the market. Take a look below where we review the effectiveness, ingredients, features, and benefits of the top ten options. We will also throw in some tips on getting your ankle-biter in the tub, and spill the beans on what to look for while shopping.

A Quick Comparison of the Winners in 2023
Rating
Image
Product
Details

Best Overall

Hepper Colloidal Oatmeal Pet Shampoo

Uses natural ingredients
Free of harmful ingredients
Moisturizes and soothes sensitive and allergic skin
Check Price

Best Value

SynergyLabs Shed-X Shed Control Shampoo

Cheap
Smells good
Reduces shedding and dander
Check Price

Premium Choice

Earthbath All Natural

All-natural
Biodegradable
Cruelty-free
Check Price

Allertech

Natural formula
Non-toxic
Removes odors
Check Price

Veterinary Formula Clinical Care Dog Shampoo

Not expensive
Veterinary formulated ingredients
Immediate effects
Check Price
The 10 Best Dog Shampoos For Dander
1.

Hepper Colloidal Oatmeal Pet Shampoo — Best Overall
Hepper Colloidal Oatmeal Pet Shampoo is safe to use on pets due to its use of natural ingredients. It is free from soaps that can dry out your dog's skin, as well as glutens, DEA, sulfates, dyes, and phthalates. Instead of adding to your pet's allergy problem, this shampoo nourishes and soothes irritated and inflamed skin thanks to antioxidants from the oatmeal as well as its exfoliating properties.
This product is our choice for the best overall dog shampoo for dander because it is gentle on extra-sensitive skin, pH-balanced, and made in the USA. Once your dog's coat is dampened with room temperature water, this product is easy to use. Place some of the shampoo down their back and massage it into their coat. Wash the product away with clean water and dry your dog with a towel. This shampoo option cleans and conditions the coat, moisturizes the skin, and reduces skin irritations.
It contains an aloe vera and cucumber scent that freshens up your dog's coat for a long-lasting fragrance. However, some dogs are sensitive to fragrances and may not like this one.
Uses natural ingredients
Free of harmful ingredients
Moisturizes and soothes sensitive and allergic skin
pH-balanced
Some dogs are sensitive to the scent
---
2.

Shed-X Shed Control Anti-Dander Dog Shampoo — Best Value
Despite being one of the cheapest shampoos in our list, SynergyLabs Shed-X Shed Control Shampoo contains a range of amino acids, omega fatty acids, and vitamins including vitamin A, D, and E. Its formulation controls shedding and alleviates the discomfort of dermatitis and other skin conditions. What's more, it has a pleasant smell of ginger and orange, rather than the pervading chemical smell that can be found in some shampoos.
The shampoo will work with flea and tick treatments, so you don't have to choose which irritants to treat and which to leave. And, as well as keeping your dog's coat shiny and healthy, it also helps protect their skin and minimizes dander production. Its quality and cost make SynergyLabs Shed-X Shed Control Shampoo the best dog shampoo for dander for the money. It has proven effective at preventing shedding but it won't combat all conditions in all dogs.
Cheap
Smells good
Reduces shedding and dander
Doesn't work in all cases
---
3.

Earthbath All Natural Dog Shampoo — Premium Choice
If you are open to spending a little more on a pet shampoo, this option is the best premium choice. The Earthbath is an all-natural, pH-balanced formula that is soap-free so it will not dry out your pup. This brand uses aloe vera, shea butter, and green tea extract to condition and soothe irritated skin plus condition their fur.
You get this product that will help control shedding, dander, and environmental allergens. This shampoo will leave your pup smelling fresh and looking great with the added ginseng and omega-6 fatty acids. Beyond that, the product is 100 percent biodegradable and does not contain parabens, phosphates, or dyes, plus the brand is cruelty-free. The drawback to this option, besides being more expensive, is that it contains alcohol and won't prevent fleas or ticks from attaching to your pooch's coat. With that being said, it will not wash away protective spot treatments.
All-natural
Controls dander and shedding
Conditions skin and fur
Biodegradable
No parabens, phosphates, dyes, or soap
Cruelty-free
Contains alcohol
No flea and tick protection
---
4.

Allertech 60-2120 Anti Dander Dog Shampoo
Up next we have a 16-ounce dog shampoo that is mild and gentle. This non-toxic formula is great for allergy and asthma control by eliminating pet dander and other irritants from your ankle biter's fur. You will also be able to reduce the "dog smell" with the deodorizing power and protect against fleas and ticks.
The unscented shampoo has a natural anti-allergen base and other emollients. One drawback to this product is the vagueness of the ingredients, however. Although this is a natural formula, there may be alcohol and other preservatives. Furthermore, the shampoo itself is harder to rinse out than other options. Otherwise, this is a good option for reducing dander for all size breeds and fur types.
Natural formula
Allergy and asthma control
Flea and tick protection
Non-toxic
Removes odors
Vague ingredients
Difficult to rinse
---
5.

Veterinary Formula Clinical Care Dog Shampoo
Veterinary Formula Clinical Care Dog Shampoo uses a combination of salicylic acid, coal tar, and micronized sulfur to alleviate the itching and flakiness that comes from conditions like dermatitis. Not only does it help to eradicate itching, but also minimizes dander production.
The shampoo should initially be used two or three times a week until the condition is under control, and then you can use the shampoo less often.
The veterinary recommended ingredients are kind and have proven effective in treating a range of skin and dermatitis related conditions. Your dog should notice a difference after the first use or two. This product not only helps to reduce irritation for him but by minimizing dander, it can also prevent human sensitivity to his fur and skin.
The Veterinary Formula Clinical Care Dog Shampoo is well priced for this kind of product and has proven effective for a host of skin conditions, making it another excellent choice.
Not expensive
Veterinary formulated ingredients
Immediate effects
---
6.

Bodhi Dog Anti Itch Oatmeal Dog Shampoo
Moving along we have an anti-itch, hypoallergenic, plant botanical formula that will help relieve dry, itchy, and irritated skin on your pooch. You can also use it to spot treat areas that have been bitten as the antibacterial and anti-inflammatory ingredients condition, soothe, and cool irritated skin.
This brand uses oat proteins, baking soda, aloe vera, coconut, fruit extracts, and vitamins A, D, and E in their formula. This will help reduce you and your furballs allergies by reducing and eliminating grass pollen, pet dander, and several other allergens. It also helps protect from flea bites.
The non-toxic formula also has antifungal and antiseptic properties. You will be able to reduce odors with the light apple scent, as well. Although this product is cruelty-free and eco-friendly, it's important to note that it is better for skin irritants versus allergies. Also, the product wears off quicker than the other options above. On the other hand, the formula is paraben, SLS, alcohol, and detergent free. Last, while it does prevent fleas from nipping at your pal, it has no defense against ticks.
Hypoallergenic plant-based formula
Non-toxic and natural
Conditions and soothes skin
Antiseptic, anti-inflammatory, antibacterial, and antifungal
Spot treat
Wears off quickly
Not as effective at allergy control
No tick protection
---
7.

HONEYDEW Natural Oatmeal Dog Shampoo
If you have a tyke that is a nervous bather, this lavender shampoo will help naturally calm your pup's nerves. The HONEYDEW uses a combination of oatmeal, lavender, and jojoba oil to condition the fur and relieve itchy and irritated skin. You will also be able to reduce pet dander and eliminate odors with this option.
An important feature of this brand is the added ingredient that promotes hair growth. Phytokeratin softens the hair follicles keeping your dog's coat full and healthy. What the formula does not have is alcohol, parabens, sulfate, triclosan, or formaldehyde. Keep in mind though, while the formula is good, the label shows the oatmeal, lavender, and jojoba oil ingredients to be the last on the list. This means those three elements have the least concentration in the formula.
Another factor to consider is that this product only comes in an 8-ounce bottle, so it will not last as long as other shampoos. You can take comfort in the hypoallergenic and all-natural formula, however. Be aware, though, that the flea and tick protection is very limited, and again this is a better product for moisturizing rather than dander control.
Calming lavender
Conditions and promotes hair growth
Free of harsh chemicals
Hypoallergenic and all-natural
Not an effective dander control
Smaller quantities of oatmeal, lavender, and jojoba oil
Does not protect against fleas and ticks
---
8.

Paws & Pals PTSH-01-16 Natural Oatmeal Dog Shampoo
The Paws & Pals shampoo is our next pick, and it features an anti-itch moisturizing formula that deodorizes and softens pet fur. This product is natural, vegan, and organic. You get a 20 fl oz bottle that lasts through many washes.
An issue with this option is found, once again,  in the ingredients. First, you will find oatmeal, shea butter, rosemary, aloe, jojoba, and coconut oil plus vitamin B-5 in the formula which will not only condition the skin, but help reduce your dog's allergies and reduce the "dog smell."
The inconsistency lies within the claim of "all-natural" versus the ingredients list, however. The product claims to not have any parabens, sulfates, synthetic dyes, or soap. Conversely, there is fragrance, sulfates, and dyes within the formula, so it's important to be aware that the ingredients may not be updated correctly. On the other hand, it could mean only the oils are natural.
Besides that problem, you want to steer clear of this option if your pooch has sensitive skin as the ingredients make it too harsh, not to mention it is not tear-free as described. Also, be advised there is no tick or flea protection, and it will wash away any spot treatments if they were done within 48 hours. Last, the cherry-almond fragrance is very strong.
Anti-itch and moisturizing
Natural oils
Odor reducing
Unclear and vague ingredients
Harsh formula
No flea and tick protection
Strong fragrance
---
9.

Allersearch AL206016 Pet+ Dog Shampoo
Moving right along we have a 16-ounce product that washes away allergens and dander from your pet's fur. The hypoallergenic formula uses all-natural plant and root extracts to condition the coat and reduces odors. Unfortunately, although it does a tolerable job of reducing allergens from your pup's main, the effectiveness does not continue onto deodorizing and moisturizing.
Interestingly enough, this mild product is too gentle and therefore ineffective. It does not contain any dyes or ammonites, and it is non-toxic, however. Once again, the ingredients list is vague, but the formula does contain alcohol.
On a brighter note, your pup will have protection against fleas, but you should not trust the tick prevention. Also, the pH-balanced formula is hard to wash out and will sting your pet's eyes. Finally, it is unclear whether this brand is cruelty-free.
Hypoallergenic
No dyes or ammoniates and non-toxic
Flea protection
Mild allergen elimination
Ineffective conditioning and deodorizing
Vague ingredients
Contains alcohol
Hard to wash out and stings eyes
---
10.

Furminator 285314 Shampoo for Dogs
Last on our list is a 16-ounce shampoo that uses omega 3&6 fatty acids, papaya leaf extract, and calendula extract to strengthen hair follicles and loosen shed from your pet's coat. While this option claims to also reduce dander, it does not have a lot of effect on human or canine allergies.
You will also find cactus flower extract, hydrolyzed silk, and yucca schidigera within the formulation, yet it has fragrance, alcohol, soap, and vague preservatives. These ingredients can dry out your pooch's skin, and it is not an all-natural product.
There are no deodorizing agents nor any flea or tick protection with this shampoo. What's more, it is hard to wash out, and you need to use a lot of product to get a full-body wash. This option is best used on dogs with an excess of shed, and it's not recommended for pups or people with allergies. Although there are no parabens, chemicals, dyes, you are better off with one of the options above.
Help reduce shed
Promotes hair growth
Not effective at reducing allergens
Does not reduce odors
No flea or tick protection
Hard to wash out
Contains fragrance, alcohol, and soap
Not all natural
Related Read: 10 Best Dog Shampoos- Reviews & Top Picks

Buyer's Guide – How to Select the Best Dog Shampoo for Dander
There are a few important things you should know about dog shampoo to ensure your pooch's safety and health during and after their bath. This comes in the form of ingredients. First, it's important to note that the APPA indicates that grooming products only need to be regulated if they claim to be a pesticide. On top of that, many people do not know that the FDA does not regulate pet shampoo, and manufacturers are not required to provide ingredients. With that being said, many products will still list ingredients as they are a main attraction and selling point, plus they wish to promote transparency within their company.
There are many ingredients you should be aware of and avoiding if possible. One of these agents are artificial colors as they can contain harmful dyes. You also want to stay away from mineral oil because it fully coats the surface it is applied to, and will not allow the skin to breathe or release natural oils.
Avoid These Ingredients
Here are some other ingredients to stay away from:
Propylene glycol
Sulfates
Phthalates
Parabens
Methylparaben
Formaldehyde
Cocamidopropyl betaine
Isopropyl or isopropyl alcohol
MEA/cocamide DEA
methylchloroisothiazolinone
If you took one look at the list and were ready to fly the coop, we don't blame you. Just because you can type it doesn't mean you can pronounce it! Most people won't attempt to say those words out loud, never mind memorize what their purpose is in a shampoo.
Here is an easy way to remember what is good, and what should be avoided; but first it's important to note that some of the ingredients above are natural, so going with a "natural" product is not always safe. What you can do is look for "carbon-based" natural products or brands that list exact formulations.
If all else fails, try to stay away from mineral oils and dyes. Also, don't use human-grade shampoo on your pup. Shampoo, whether for a human or a dog, typically is pH balanced. If you use a formula that is not balanced correctly for your skin, it can cause damage. What's more, you want to avoid fragrances that are not natural. If it smells like lemons, and there is lemon extract listed on the label, you are good to go. Artificial fragrances can cause skin irritation and other issues.
Shopping Tips
Okay, now that you know what to stay away from, it's time to talk about the good stuff to look for in the best dog shampoos for dander control. Depending on your pup's needs and your allergy levels, there are many different dander shampoos you can Consider, as well as their formulations.
Many plant extracts and oils will help nourish and condition your pooch's fur and soothe their skin. Jojoba oil, coconut oil, aloe vera, and honey extract are great for the skin and hair. Other ingredients such as baking powder and lemon extract will help deodorize your pal's coat, as well.
Plant-based, vegan, organic, and all-natural (with ingredient label) formulas are great for your pup. When it comes to issues such as allergies and pet dander, you want to look for products that are going to be hypoallergenic. This type of shampoo will be effective at curbing those allergies for both you and your furball.  Flea and tick control can be a nice bonus too, but they can be harsher than other formulas. If your little buddy has sensitive skin, you may want to avoid these products and go for a more gentle option.
Suggestions and Tips for Bathing Your Dog
Last but not least, as promised, here are a few tips for stress-free bath time for you and your pet.
First, make sure you have all of your bath stuff ready to go and next to you, so you will not have to leave your dog unattended.
Second, if the weather is nice, bathing outside is usually easier, as long as you can control your dog from rolling in the dirt afterwards.
Third, try to get as much shed, mats, and dirt off of their coat before hitting the tub. Wet down your pup thoroughly with lukewarm water. Add some shampoo and let it sit for three minutes. Rinse slowly without splashing or getting water in your pup's eyes or ears if it can be avoided.
Finally, if you don't need to wash your pooch's head, then don't. Submerging a pet's head can be very stressful for them and cause a lot of unnecessary panic.

Conclusion
We hope the above reviews have helped guide you in the right direction and given you an idea of the dander shampoo options. If all else fails, go for our number one choice of best dog shampoo for dander. Hepper Colloidal Oatmeal Pet Shampoo is the best product for getting your pup squeaky clean and pet dander free.
If you need a more affordable option, the SynergyLabs Shed-X Shed Control Shampoo is a great alternative. This brand will help you eliminate those watery eyes and runny noses, plus leave your pet smelling extra fresh.
---
Featured Image Credit: angel1238812, Pixabay