Hotspots, which are patches of moist eczema, can be highly irritating for your dog and you. The problem is known to be exacerbated or brought on by remnants of shampoo left in the coat. The issue can also be caused by allergic reactions to food or other allergens.
It's important to choose a shampoo that is free from harmful and harsh chemicals and opt for products with natural ingredients. Alternatively, for serious patches of hot spots, you can buy medicated shampoos that contain hydrocortisone. There are wet shampoos, dry shampoos, and spray on formulae. The range is so vast that it is difficult to know which is the best dog shampoo for hotspots, which is why we have compiled a list of reviews of six of the best products on the market. We've also included information on choosing the best shampoo product to beat your dog's hotspots.

A Quick Comparison of Our Favorites in 2022
Rating
Image
Product
Details

Best Overall

Vet's Best Allergy Itch Relief Dog Shampoo

Effective against allergies
Works like a normal shampoo
Smells good
Check Latest Price

Best Value

Veterinary Formula Clinical Care Dog Shampoo

Eliminates the urge to itch
Treats the inflamed hotspots
Works on cats and dogs
Check Latest Price

Premium Choice

Vetericyn FoamCare Medicated Shampoo

Sympathetic to your pet's skin
Works on psoriasis
dermatitis
and hotspots
Effective on dogs and cats
Check Latest Price

Zymox Enzymatic Topical Spray for Dogs

Spray application is easy
Alleviates itching while promoting healing
Utilizes natural enzymes
Check Latest Price

NaturVet Aller-911 Allergy Aid Hot Spot

Pump applicator doesn't hiss
Can be used on cats and dogs
Contains natural ingredients
Check Latest Price
The 6 Best Dog Shampoos for Hotspots:
1.

Vet's Best Allergy Itch Relief Dog Shampoo – Best Overall
Allergy Itch Relief Dog Shampoo from Vet's Best is veterinarian-formulated with natural ingredients to overcome irritating itchiness. A combination of oatmeal, d-limonene, and tea tree oil rids your dog of itchiness and soothes hot and sensitive patches on the skin. It is especially effective for hotspots caused by allergies because the sensitive formula washes away allergens to leave your dog feeling fresh. The ingredients also smell nice and they will not affect flea and other mite treatments.
Vet's Best Allergy Itch Relief Dog Shampoo is used like standard dog shampoo. Wet the dog's coat, apply the shampoo and then massage it in for 5 minutes. This allows the shampoo to work through the coat and get right down to the skin. Ensure that you rinse all of the shampoo out and, if necessary, repeat. Rinsing properly is critical because leaving unrinsed shampoo in your dog's coat is a common cause of hotspots so it will make the problem worse. Allow your dog to dry naturally, in a warm spot, or pat dry with a towel.
The shampoo is designed primarily to combat itchiness caused by allergies, and it may not prove effective against hotspots caused by other issues and complaints.
All in all, we think this is the best hotspot shampoo for dogs that you can currently buy.
Pros
Effective against allergies
Works like a normal shampoo
Smells good
Natural ingredients
Cons
Only effective against allergies
---
2.

Veterinary Formula Clinical Care Dog Shampoo – Best Value
Veterinary Formula Clinical Care Dog Shampoo is one of the best dog shampoos for hotspots for the money. Its primary ingredients consist of lidocaine and hydrocortisone. Lidocaine reduces discomfort and pain while the steroid hydrocortisone reduces swelling and inflammation from the skin. This combination helps fight hotspots on two fronts. It not only helps to minimize the infected areas but also cuts the urge to gnaw, bite, and chew at the affected areas. Chewing hotspot sites can lead to cuts which, in turn, can become infected and cause even more serious problems for your dog.
Additional ingredients include colloidal oatmeal and aloe vera, which are designed to soothe and moisturize the skin, offering additional support to your dog.
This shampoo replaces standard dog shampoo. Wet the coat, work the shampoo into a thick lather, and allow it to remain on the dog for 10 minutes. Rinse thoroughly. The shampoo can be used twice a week for a period of up to 12 weeks, and as well as being effective for your dog's hotspots, it will also work on cats.
Pros
Eliminates the urge to itch
Treats the inflamed hotspots
Works on cats and dogs
Cheap
Cons
Not as effective for allergies
Doesn't smell as nice as others
---
3.

Vetericyn FoamCare Medicated Shampoo – Premium Choice
Vetericyn FoamCare Medicated Shampoo is a medicated formula that reduces itching and the urge to gnaw, chew, and scratch at the hotspot site. It is pH optimized and designed to be as sympathetic to the skin and your dog as possible. As well as hot spots, it can be used to effectively treat dermatitis, psoriasis, and other skin conditions.
The shampoo has been designed to replace your standard pet shampoo and Vetericyn says that it is easy to apply and easy to remove. Some medicated shampoos can be difficult to wash out because they have a thick or even syrupy consistency. Even getting the shampoo out of the bottle has been simplified, thanks to the trigger cap. This makes it easier to apply, even if your dog is opposed to the idea of a shower and having its hair washed.
The shampoo can be used on both dogs and cats. Wet your pet thoroughly, spray the FoamCare Medicated Shampoo evenly over their coat, and lather it in. Rinse it out thoroughly.
The Vetericyn shampoo has proven effective on animals with hotspots, as well as those with other skin complaints, but it is expensive, costing more than double some of the other shampoos on our list.
Pros
Sympathetic to your pet's skin
Effective on dogs and cats
Works on psoriasis, dermatitis, and hotspots#
Trigger handle
---
4.

Zymox Enzymatic Topical Spray for Dogs
Zymox Enzymatic Topical Spray for Dogs isn't shampoo, but it is a topical spray that is effective for fighting hotspots caused by physical injuries like cuts and bruises. It is easy to apply and can be covered in a light dressing to prevent your pet from getting to it. Although it is advertised as being a topical spray for dogs, it can also be used on cats. The spray contains a combination of hydrocortisone, aloe vera, and other ingredients, and it does not necessitate the cleaning of the area before application. If your pet has hurt itself and has an open wound, it can be difficult to effectively clean it without causing further agitation and stress for your pet and you.
Zymox uses three enzymes in its formula. These enzymes are found in milk and work together to prevent infection and because they are natural and do not leave toxins. Plus, they do not contain antibiotics, so there isn't even any danger of building up antibiotic resistance.
The spray works well but it does require daily application and it can take 2 full weeks to work. Also, some pets do not like the spray or the noise it makes, which can make the regular application very difficult.
Pros
Spray application is easy
Utilizes natural enzymes
Alleviates itching while promoting healing
Cons
Not a shampoo
Some pets dislike the noise or the spraying action
---
5.

NaturVet Aller-911 Allergy Aid Hot Spot
The NaturVet Aller-911 Allergy Aid Hot Spot is another topical product designed to alleviate itching and help your pet recover from hotspots. NaturVet has designed it with a pump spray, which means that it will be effective for those pets that dislike the hissing noise of a spray, but it also means that the pump is more likely to break or get gunked up with residue. Made from natural ingredients including aloe vera, tea tree oil, and witch hazel, NaturVet is a sympathetic product that can be used on cats and dogs, including those with allergies and with sensitive skin.
Using the Aller-911 Allergy Aid Hot Spot is easy. Shake the bottle, squirt 1-3 pumps of the formula onto the affected area of the skin, and pat it softly to better distribute the liquid around the area. The quick-drying formula can be applied up to three times a day.
Unfortunately, the Allergy Aid Hot Spot spray seems to attract some animals to lick the liquid away, which can cause further problems, and the spray has a strong tea tree oil smell, which will not be to everybody's tastes.
Pros
Pump applicator doesn't hiss
Can be used on cats and dogs
Contains natural ingredients
Cons
Encourages some pets to lick
Has a strong tea tree odor
---
6.

NaturVet Septiderm-V Bath Skin Care
NaturVet Septiderm-V Bath Skin Care is a moderately priced shampoo that utilizes a veterinarian crafted formula designed to relieve itching and irritation so the skin has time to repair and recover itself. It can be used to combat hotspots as well as flea bites, dermatitis, allergic reactions, and rashes.
The NaturVet is designed to replace standard pet shampoo, and NaturVet recommends applying their moisturizer after, although this quickly increases the cost. The product is designed to rinse off easily which makes it more convenient but also helps prevent fly-away hairs on your dog or cat.
To use the NaturVet Septiderm-V Bath Skin Care, wet your pet thoroughly and lather NaturVet in well. You can dilute the shampoo, two parts water to one part NaturVet, if necessary. Once you have massaged the shampoo solution in properly, leave it for 10 minutes before ensuring that you rinse all of the lather off completely.
You can use the shampoo several times a week until the symptoms are under control and your pet has healthy skin again.
Pros
Modest price
Easy to apply
Prevents fly-away hairs
Cons
Smells strong
Doesn't prevent all chewing
---
Buyer's Guide: Finding the Best Dog Shampoo For Hot Spots
We all want to provide the best for our dogs and cats, and while hotspots can start out as something quite innocuous, they can become a major irritant for your dog. Once they get hold, they spread fast, and your dog doesn't understand that scratching the area will only make things worse, rather than better.
Read on to find out more about these flaky patches of irritating skin, how you can treat them, and what you can do to alleviate the itching for your pet pooch.
What Are Hotspots?
Pyoderma, to give them their proper name, are also known as moist dermatitis or hotspots. They are caused by bacteria that live on the dog's skin. The site reddens and it becomes itchy. As your dog itches the spot, it causes the rash to worsen and it further exacerbates the desire to scratch, roll, chew, and gnaw at the area. Once your dog chews at the area, it becomes damp and it will become infected. At this point, pus starts to ooze from the sore. When it dries, it causes a scab or hard crust to form and this not only causes hair loss but can be very painful to touch. Early treatment is essential, but hotspots can develop and spread very quickly indeed, which makes it difficult.
If you do catch the problem early enough, treatment with a hotspot shampoo or topical cream may be enough to alleviate the problem, without having to visit a vet.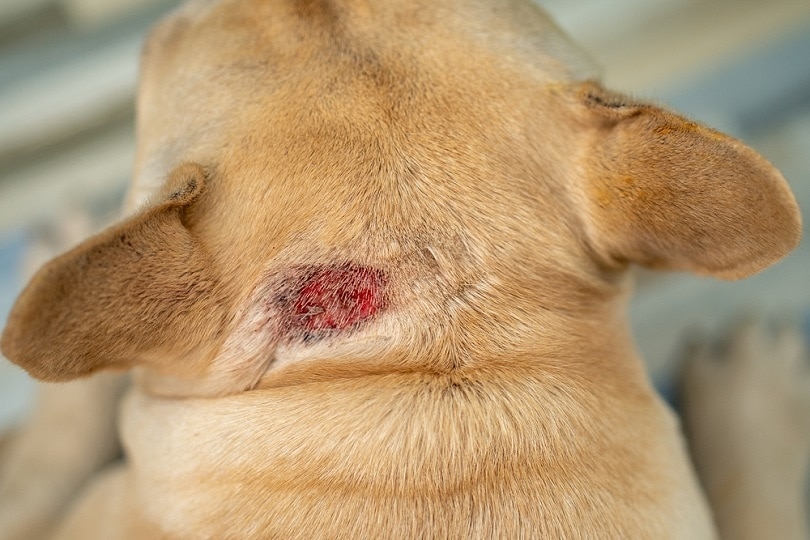 What Causes Them?
There are many potential causes of hotspots on your dog, but effectively anything that causes skin irritation can lead to one, including:
Flea bites
Tick bites
Allergic reactions
Over-grooming
Dense coats
Scratches and cuts
Once the site is inflamed and becomes an open wound, it becomes infected with bacteria. In the majority of cases, the bacteria that is found in dog hotspots is Staphylococcus Intermedius, which live naturally on our pet pooches.
How To Treat Hotspots in Dogs
If the infection gets serious, you will need to take your dog to the vet. First, however, you can try shaving or cutting the hair from around the affected area before lifting any scabs from the site. This enables the proper removal of pus underneath. At this point, you can apply a medicated or another hotspot shampoo, ensuring that you properly follow the instructions and thoroughly rinse the shampoo out after treatment.
One of the causes of hotspots is poorly rinsed soap and shampoo, so you could be making the problem worse if you fail to wash the shampoo out.
You will also need to prevent your dog from scratching or chewing the area, which may require the use of a surgical collar or another device.
You should identify the initial cause of the skin irritation, otherwise, your dog will only suffer a similar fate after a few days or weeks.
If this does not work, you will have to take your dog to the vet, and they may be given antibiotics to fight the bacterial infection.
Hot Spot Shampoo Treatment
There are different products available to the home buyer, and they each work differently and have different application methods. Some work as a topical cream and some as a shampoo. Each offers positives and negatives:
Shampoo – shampoo does require the regular washing of your dog, and not all pooches enjoy this. If it is going to cause additional stress to bathe your infected dog 2-3 times a week, shampoo may not be the best solution. Also, wetting the infected area may cause additional pain and irritation for your dog, and if you are unable to fully and thoroughly remove the shampoo, it could cause further hotspots and infection. However, if your dog is accepting of shampoo, it might soothe the area while shampoos can spread and get right down into the affected area, potentially offering better results than a topical cream.
Topical Cream – topical creams are convenient and quick to apply. Typically, they come in a pump spray or aerosol bottle and you simply squirt one or two applications on the area while ensuring that it covers the whole spot. However, it can be difficult and potentially very expensive to cover a large area with these products. Some animals distrust the squirting noise and it will cause them stress, too.
Hotspot Shampoo Questions
Can I Use Human Hydrocortisone Cream On My Dog?
Hydrocortisone is used in dog creams, as well as in human creams. While you should ensure that you don't use too high a concentration or too much of the cream, it is safe to apply a small amount of a low strength cream to the skin of your dog. You should ensure that they are unable to lick the cream off, however, and you should not apply this type of cream to open sores and wounds.
Is Apple Cider Vinegar Good For Dog Hot Spots?
Apple cider vinegar is something of a cure-all and it is relied on by people for their own injuries and illnesses, as well as for those of their dogs. It can be applied safely to itchy skin, irritations, and hotspots. Dilute it with one part vinegar to three parts water and apply it to the area with a cotton wall ball.
Do Dog Hot Spots Heal On Their Own?
Hot spots are highly unlikely to go away on their own, although some basic treatment and care of the area might be enough to get rid of the pesky condition. Treat, bathe, and dry the area several times a day, and a mild hotspot could clear up within a week. It if gets worse, or hasn't started to heal within 3-4 days, you should contact your veterinarian for treatment options.
Should You Bathe A Dog With Hotspots?
Bathing your dog is not only safe but should be considered part of the treatment plan for its hotspots. However, you do need to ensure that you thoroughly wash out any shampoo or treatment and that they are allowed to dry properly. Otherwise, you could be making the problem worse, rather than helping beat it.
Can CBD Oil Help Dogs With Skin Allergies?
CBD is known to be a strong anti-inflammatory and it is safe for use and application on dogs. It can reduce the itching, swelling, and redness around the affected area of your dog's skin, therefore helping to alleviate discomfort and even preventing hotspots from forming.
However, it is expensive, and to get the full effects of a topical cream, you will need to prevent your dog from licking the oil away. If using an oil that has not been specifically designed for dogs, you also need to check the other ingredients to ensure that they are safe for your dog, too.

Conclusion
Hotspots are not only a nuisance and an eyesore, but they are also irritating and can lead to infection and other problems for your dog. As well as attempting to clear up the hotspot site, you will also need to prevent your pup from itching, gnawing, and biting at the area, which is no simple achievement.
Using our reviews above, you can choose from the best dog shampoo for hotspot treatment. We have included reviews of natural products, as well as formulated, and standard shampoos that you bathe your pet in. We have also included spray and topical creams that can act quickly and efficiently. While compiling our reviews, we found that the Vet's Best Allergy Itch Relief Dog Shampoo was the best product overall, offering sympathetic ingredients at a decent price. If your budget is lower, then the Veterinary Formula Clinical Care Dog Shampoo was the best hotspot dog shampoo available.
Hopefully, we have helped you find an effective shampoo to help bring your dog's hotspots and other skin conditions under control.