8 Best Dog Shower Heads in 2023 – Reviews & Top Picks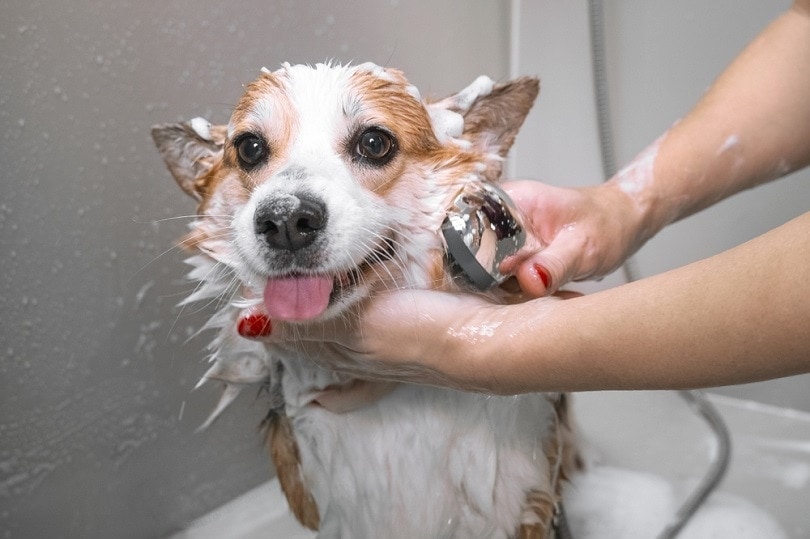 Regular bathing is an important part of your dog's grooming requirements, but as all dog owners know, the process is not always easy. Some dogs adore a regular bathing session, while others are not fond of the process at all and can make a simple bath turn into a stressful ordeal. Either way, a specially designed dog showerhead can streamline your dog's bathing sessions dramatically!
While not all dogs love bathing, almost all dogs love getting dirty! Mud and dirt seem to be magnetically attracted to dog's fur, and dogs with long coats are especially prone to get caked in filthy mud — all in the name of fun, of course! This is why a specialized shower head can be of such help, as it can make the process fast, fun, and stress-free.
There are a ton of different dog shower heads on the market, all of which have unique features, so it can swiftly become overwhelming to find the right one. We've rounded up the eight best dog shower heads to help you choose the best one to suit your dog's unique bathing needs.
---
A Quick Comparison of Our Favorites (Updated in 2023)
Rating
Image
Product
Details

Best Overall

Rinse Ace 3-Way Shower Sprayer Dog Grooming Tool

Easy to install
Three different sprayer settings
Variable flow lever
Check Price

Best Value

Aquapaw Pet Bathing Tool

Inexpensive
Comfortable
Combination sprayer and scrubber
Check Price

Premium Choice

Ivation Handheld Portable Dog Shower

Fully portable design
Battery-powered operation
Built-in filter
Check Price

Waterpik Pet Wand Pro Dog Shower

Comb-pattern sprayer
Rubber pressure control lever
Ergonomic rubber handle
Check Price

YOO.MEE Pets Shower Attachment

Easy to install
Comfortable handle
Great pressure
Check Price
The 8 Best Dog Shower Heads
1.

Rinse Ace 3-Way Shower Sprayer Dog Grooming Tool — Best Overall
Bathing and grooming your pooch are a breeze with the Ace 3-Way Shower Sprayer head. The showerhead is quick and simple to connect to your own bathroom shower with the 8-foot snap-on hose with a patented quick-link connector. The head has three different settings: gentle, pulsating, and a concentrated stream. There's also a variable flow lever that will save you water and fine-tune the flow for your needs; it can be gentle around the face or do full flow for heavy-duty use. The head is easy to connect and disconnect, requiring no tools, so it's easy to quickly stash away when not in use. The ease of use and controllable settings make this showerhead our top choice overall!
This showerhead has great features, but the variable flow lever is, unfortunately, its downfall. It is poorly constructed with plastic internal parts, so it tends to break easily and result in leaking.
Easy to install
Three different sprayer settings
Variable flow lever
8-foot connector hose
No tools required
Plastic internal parts can break easily
---
2.

Aquapaw Pet Bathing Tool — Best Value
This simple and affordable dog shower head from Aquapaw makes bathing your pooch a breeze and is the best dog shower head for the money. It's a wearable combination sprayer and scrubber that attaches to your hand and can easily be turned off and on with the simple press of a button. This gives you total control of unruly pets during the bathing process, as you are not using one hand to hold a separate sprayer, and the smooth and flexible sprayer/scrubber sits comfortably in your hand for ultimate control. It includes all the adapters needed for connecting to a shower or garden hose, so you can bathe your pooch both indoors and outdoors.
Several users reported that the hose connector leaked profusely, so it is not ideal for indoor use and wastes water. Also, the on/off button for water is tricky and awkward to press when it's on your hand. Both of these small caveats keep this dog shower head from the top spot.
Inexpensive
Comfortable, wearable design
Combination sprayer and scrubber
All necessary adaptors included
Leaks a fair amount
Water on/off switch is difficult to press
---
3.

Ivation Handheld Portable Dog Shower — Premium Choice
If you're looking for a premium shower head to clean your muddy pooch, look no further than the Ivation Handheld Portable Dog Shower. This portable unit can be used anywhere that there is a water source, meaning you can clean your pooch wherever you go! The unit is battery-powered to provide the necessary pressure needed to shower your dog and is a breeze to operate; simply dip the hose into any water source, such as a bucket, stream, or pond, and the battery does the rest! Best of all, the shower comes with a built-in filter, adding further variety to possible water sources but filtering out silt and sand. It also comes with a convenient suction cup and S-hook for hands-free washing, and the USB rechargeable battery lasts for up to 60 minutes.
This showerhead is difficult to fault, and the only things keeping it from the top two spots on this list are the high price and lack of pressure: The battery-powered pressure is fine for on-the-go rinsing, but not quite enough for a thorough wash.
Fully portable design
Battery-powered operation
Built-in filter
Suction cup and S-hook for hands-free operation
USB rechargeable battery lasts up to 60 minutes
Expensive
Low-pressure sprayer
---
4.

Waterpik Pet Wand Pro Dog Shower
[/su_row]
This hand-held Pet Wand from Waterpik is unique in that it sprays water in a comb pattern rather than the circular pattern of traditional round showerheads. This makes washing and rinsing quicker and easier because it can rinse more area of your dog's coat at once. It also has a convenient rubber pressure control lever, so you can wash more sensitive areas like the face at a lower pressure or switch it to full pressure for more heavy-duty washing. It has an ergonomic rubber handle for comfort while cleaning, an 8-foot hose and adaptors for easy connection inside or outdoors, and a suction cup attachment for hands-free use.
While this shower head works great, it is constructed poorly, and several users report it breaking after a couple of months of use and it leaking easily around the connectors.
Comb-pattern sprayer
Rubber pressure control lever
Ergonomic rubber handle
8-foot hose
Included suction cup for hands-free use
Poor quality construction
Leaks easily
---
5.

YOO.MEE Pets Shower Attachment
The YOO.MEE shower attachment is easy to install with the brass diverter valve and ABS plastic faucet attachment. It has a 6-foot hose and a small, round showerhead with great pressure and a comfortable handle. The showerhead is installed with the brass diverter valve in place, so you can easily switch between using this or your existing showerhead. It also comes with all the necessary adaptors needed in the box, including plumber's tape!
In order to use this pet shower head, you must permanently install the brass diverter on your existing showerhead, which is a problem if your shower head is high up or non-removable. Also, there is no pressure control or on/off switch on the head itself, meaning you have to adjust it via the faucet.
Easy to install
Comfortable handle
Great pressure
All necessary adaptors included
Must be permanently installed
No pressure controls
No on/off switch
---
6.

Rinseroo Handheld Showerhead
This simple slip-on dog shower head from Rinseroo is about as simple as it gets to install, as it easily slips onto your existing showerhead via an elastic thermoplastic rubber cup in seconds. The connector can stretch up to 10 times its original size without ripping and can be used on showerheads or faucets to wash your pooch indoors and outdoors. It has a 5-foot flexible hose that won't kink and is super lightweight and portable. Best of all, there is almost no installation required with the Rinsroo, and it is small and easy to stow away.
Bear in mind that this is a directional sprayer only and has no included shower head. Also, the elastic attachment will slip off with high pressure, and there is no way to control the pressure on the unit itself.
Easy to install
Inexpensive
Highly flexible elastic thermoplastic cup connector
5-foot flexible hose
Lightweight and simple to store
No head included
Easily slips off shower heads with pressure
No pressure or on/off control
---
7.

Kurgo Portable Outdoor Shower
This simple and portable shower system from Kurgo turns any 2-liter soda bottle into a functional shower to clean off your muddy pooch. You simply fill your bottle with water, attach the rubber shower head to the spout, and tip and squeeze for a quick and simple outdoor shower. The rubber shower head is made from safe, dishwasher-friendly, food-grade silica that is both PVA and BPA free, and it comes with a lifetime warranty. Best of all, this small unit can fit into your pocket or be tossed in a backpack for ultimate portability.
Of course, this is a simple product and is not going to give you many options, but it only fits on 2-liter PET bottles, which is limiting. Also, the rubber construction is flexible and easily slips off when squeezing the bottle too hard.
Fully portable
Simple and functional design
PVA and BPA free
Lifetime warranty
Inexpensive
Only fits on 2-liter bottles
Slips off easily when applying pressure
Limited use
---
8.

Wondurdog Quality Dog Wash Shower
This shower kit from Wonurdog comes with everything that you need to wash your muddy pooch. It has an 8-foot flexible stainless-steel hose, three-way shower diverter with attachment hook, suction cup holder, rubber shower sprayer/brush with splash shield, garden hose adaptor with pressure control, and plumber's tape and washer attachments. The diverter turns your regular shower into a dog shower with the simple turn of a dial, and the rubber teeth on the showerhead provide a deep clean, and soothing massage while washing. The kit is relatively easy to install and can be used inside your shower or outside with a garden hose.
Several users report that this showerhead does not have much pressure, which makes washing difficult. It also leaks from the head and where the swivel meets the hose while in use, which is likely causing the lack of pressure.
8-foot stainless-steel hose
Include three-way diverter
Rubber sprayer/brush-combination head
Garden hose adaptor with pressure control
Doesn't have enough pressure for a thorough wash
Leaks from several points
---
Buyer's Guide: Choosing the Best Dog Shower Head
Bathing your dog is not usually essential unless they get particularly muddy, but when they do, it sure helps to have a dedicated shower head to help! We always recommend against using any harsh shampoos; stick to clean, warm water when washing your dog, as human soaps and shampoos can dramatically affect the natural oil production of their coats and lead to a smellier dog down the line. However, some specially made dog shampoos are gentle on your dog's coat and are perfectly suitable.
Dedicated dog shower heads can make washing your pooch easier, as they have features like pressure control and hands-free options that make the whole experience far calmer for both you and your pooch. Like all pet accessories, dog showerheads come with a wide variety of different features that can swiftly become confusing. Here are important points to consider before purchasing a shower head for your canine.
Utility
While some shower heads have adaptors that make them suitable for both indoor and outdoor use, most are specifically designed for one or the other. You'll need to carefully consider the space that you have available, and whether washing your pooch indoors or outdoors is best or whether you'd like both options. Smaller to medium-sized pooches are usually fine to be showered indoors, while bathing large breeds can quickly get messy and outdoor showering may be the best option. This is especially pertinent if you have a dog that for whatever reason, doesn't enjoy being bathed, in which case, an outdoor option is probably best.
Design
Dog showerheads come in many different designs apart from a standard round head. Some are comb-shaped to cover more area quickly, some have massage heads built in, and some even attach to your hand so you have use of both your hands during bathing. You'll need to consider your specific needs and the breed and character of your dog. Some pooches love to be brushed and massaged while bathing, while others are a case of wash and rinse as quickly as possible! For example, if your dog doesn't like the bathing process, it's futile to fork out the extra cash for a massage head shower, and a hands-free option may be best to make the process as quick and easy as possible.
Settings
Some dog showerheads come with adjustable pressure settings, which is a useful addition. Lower settings are great for sensitive areas like the face and tummy, while a higher setting is ideal for more heavy duty washing on thick, muddy coats. Other common settings include pulsating, gentle massage, and directed spray. While these other settings are not essential, they are a useful addition. At the very least, you'll want to at least have some control over the water pressure of your shower head.
Hose
An often-overlooked point, the hose length of your shower head should be long enough to reach all angles of your dog's body. This is especially important for large breeds. Hoses that connect to sinks or garden taps are typically shorter and don't need to be as long as showerhead varieties. It should also be as flexible as possible but tough enough to withstand kinks and quick and easy to connect.
Functionality
Some dog showerheads come with hooks or suction cups to easily stow it away when not in use. These are convenient for saving space and for hands-free washing. The showerhead should be quick and easy to connect with as few tools as possible, while still retaining the necessary pressure needed for a thorough wash.
Cost
Lastly, the cost of the showerhead is also an important consideration. If you are only occasionally using the showerhead, it doesn't make sense to spend massive amounts of money on extra features. But if you have a small pooch, like a Yorkie or Miniature Poodle, that you'd like to keep regularly bathed, the extra pressure controls are useful and worth the extra cash. Or, you may have a large pooch that enjoys getting muddy during walks and just needs a quick rinse before coming inside, in which case, a basic garden tap shower head is perfectly sufficient yet inexpensive.

Conclusion
Our top pick of dog shower heads is the Ace 3-Way Shower Sprayer head. It is quick and simple to connect, has an 8-foot snap-on hose, three different settings, and a variable flow lever, and requires no tools to install. This head has all the features that you'd want and more.
The best dog shower head for the money is the simple and affordable shower head from Aquapaw. The wearable combination sprayer and scrubber design with a convenient on/off button and a comfortable ergonomic fit make it one of our favorites.
While a shower head for your dog may seem like a simple device, there are important features to consider, and it can quickly become confusing. Hopefully, our in-depth reviews have brought clarity and helped you choose the best dog shower head for your needs.
---
Featured image credit: Masarik, Shutterstock