8 Best Hand Vacuums for Pet Hair – 2022 Reviews & Top Picks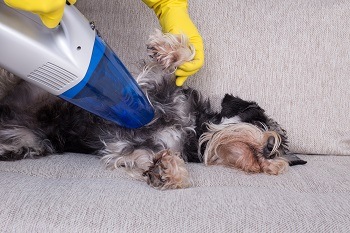 As most people would agree, getting the chance to have a cat or dog in your life is a fun adventure. For some, living without an animal isn't truly living.
However, there are a few downsides, even if most of us do not want to acknowledge them. One of these is the issue of pet hair from cats and dogs that shed. Dog breeds with a double coat are among the worst in this regard.
Most animals go through two seasons each year when they shed dramatically. It has to do with their hair growth cycles, and often, these sync up with significant changes in the weather, like during the spring and fall.
Lugging out your large, corded vacuum can get tiring day after day. For smaller messes, it is much easier to use a handheld version. To help you, we have found the top eight products currently on the market. Don't know what you are looking for? Read our buyer's guide to find the best handheld vacuum for pet hair for your needs.

A Quick Comparison of Our Favorites of 2022
Rating
Image
Product
Details

Best Overall

Bissell Pet Hair Eraser Corded

Two nozzles
16-foot power cord
Multi-level filtration

Best Value

Shark Pet-Perfect II Cordless

Lightweight and not hard on hands
Versatile number of nozzle ends
Budget-friendly option

Premium Choice

BLACK+DECKER Vacuum

Anti-tangle motorized bristles
Easy to clean Filter and pre-filter

Homasy 8Kpa Vacuum

Quick
rechargeable batteries
Intense sucking power
Can vacuum up liquid

BISSELL Pet Hair Eraser

Each purchase supports pets
Lightweight with a large cup capacity
Several nozzles for easy cleaning
The 8 Best Hand Vacuums for Pet Hair
1.

Bissell Pet Hair Eraser Corded Vacuum — Best Overall
Bissell's corded handheld vacuum is made to clean out entire homes, leaving them hair-free. It is made with two nozzles that enable it to reach all the areas that hair sneaks into, making it the overall best handheld vacuum for pet hair.
One of the nozzles is hard, meant for picking up dry messes like cat litter or animal food. The other is contoured with comb-like bristles. This nozzle brushes and collects hair from carpet or upholstery.
Although this product does have a cord, it is 16 feet long to give you the freedom to roam. It runs with a cyclonic cleaning system to enhance its performance. Allergen reduction is beneficial in a pet hair vacuum. The Bissell uses a multi-level filtration system to do just that.
Two nozzles for a variety of spaces
16-foot power cord gives freedom in movement
Multi-level filtration reduces allergens
Although long, corded vacuum reduces maneuverability
---
2.

Shark Pet-Perfect Cordless Hand Vacuum — Best Value
Not only is this vacuum a unique lavender color, but it also can be like a shark in the water with hair around your home. Its dust cup capacity is 0.56 quarts, which can go a long way when taking it around the home. This vacuum is the best hand vacuum for pet hair for the money.
The Shark Pet-Perfect II is cordless and runs in 18V, making it one of the most powerful hand vacuum currently available. At only 4.25 pounds, the vacuum is lightweight and easier to carry around while you deep clean.
An extra-large detachable brush makes hardcore cleaning easy. Its overall versatility is incredibly handy because it comes with a crevice tool, a dusting brush, and a motorized brush with a direct suction option for areas that are stuck in deep.
To clean it, conveniently detach the filter and wash it out. If you need a fix, it might be worth getting a new one because many people complained about the company's poor customer service.
Lightweight and not hard on hands
Versatile number of nozzle ends
Budget-friendly option
---
3.

BLACK+DECKER Handheld Vacuum — Premium Choice
This handheld vacuum from BLACK+DECKER doesn't look quite the same as most of the other options on this list. Instead, it has a longer vacuum "neck" extended to the ground, so you don't have to do as much bending or stretching to clean difficult areas.
There are anti-tangle rubber bristles around the main entrance of the vacuum. These are motorized to free any stubborn hairs from furniture or carpet. It has an extra-long crevice tool to gain entry to challenging nooks and crannies.
Both a filter and a pre-filter take in and secure unwanted household allergens. These are easily cleaned when the time comes. They integrate a one-touch easy empty, so you don't have to get your fingers dirty. Although it is lightweight at 4.2 pounds, the lack of wall mount and the relatively low battery life can make this vacuum a pain to carry around.
Anti-tangle motorized bristles make fabric cleaning fast
Filter and pre-filter are easy to clean
Lightweight with longer crevice neck
Relatively low battery life compared to similar options
More expensive compared to similar products
---
4.

Homasy 8Kpa Portable Handheld Vacuum for Pet Hair
This handheld vacuum by Homasy is all about versatility. It comes with three different nozzle options to allow you to deep clean, although not one with bristles to make cleaning pet hair easier. It has a strong amount of suction with a 100W high-power motor and suction of up to 8 Kpa.
This vacuum has a rechargeable battery with a floor-mounted, plug-in battery charger. It can last for a long time with four lithium-ion batteries and a continuous 30-minute working time.
The jar on the interior is a rubber that allows you to suck up 600 ml of dust or 100 ml of liquid on the job. It charges quickly in case you need to clean for longer than 30 minutes. It can fully charge in only 3-4 hours.
Quick, rechargeable lithium batteries
Intense sucking power for a handheld
Can vacuum up liquid messes
---
5.

BISSELL Pet Hair Eraser Cordless Hand Vacuum for Pets
An excellent option from Bissell is the Pet Hair Eraser Cordless vacuum. It is battery powered and comes with several options to upgrade it if you need extra parts, a stain eraser, or a Woolite advanced edition.
Buying Bissell doesn't mean only buying a convenient handheld vacuum. It also means saving pets. Each purchase allows Bissell to donate $5 to a pet-based charity.
The vacuum works to remove those nasty embedded hairs with a motorized brush tool. The capacity of the dirt cup is 0.7 L, while the vacuum weighs only 4.3 pounds. With the vacuum, you also receive a specialized set of tools. It includes a motorized brush tool, a crevice tool, and an upholstery tool. It isn't easy to clean out, though.
Each purchase supports pets
Lightweight vacuum with a larger cup capacity
Several nozzles for easy cleaning
---
6.

VacLife Handheld Vacuum for Pet Hair
The VacLife Handheld Vacuum is extremely lightweight, making it easier for people with less mobility to carry and clean for longer. It is only for dry use, not capable of cleaning up liquid messes.
This vacuum is cordless and powerful, capable of 30 minutes of consistent use on a single clean. It comes with a recharge station and only takes 3-4 hours to charge up. Three different cleaning nozzles and an LED light capacity also accompany this purchase.
The vacuum is equipped with HEPA filters and innovative wraps, as well as a detachable cup to eliminate dangerous allergens in your home. These are all washable and durable. However, the cup is not that large, and bigger messes mean many dumps.
Battery-operated and long-lasting
Quick charge of 3-4 hours
HEPA filters and wraps keep allergens contained
Small detachable cup makes larger clean less efficient
---
7.

Hoover Cordless Handheld Vacuum Cleaner for Pet Hair
Hoover's handheld vacuum works to effectively siphon up the stubborn pet hair and micro-dust in your home. It uses powerful suction through its single siphon to access those problematic areas. An on-board crevice tool makes it even easier.
To increase the overall maneuverability of the vacuum, it is cordless. It works on a rechargeable battery that is removable for a quicker charge. The charger comes with the purchase of the vacuum.
To clean the vacuum, take out the rinseable filter. It is recommended not to use soap or cleaning products on it, but only give it a rinse with water.
Rechargeable, detachable battery
Cordless design enhances maneuverability
Easily cleaned filter for a clean vacuum
Only one nozzle type, no set sold with it
---
8.

Eufy HomeVac Cordless Handheld Vacuum Cleaner
The vacuum from Eufy is extremely lightweight, perfect for a quick clean of a recently-made mess or a couple of stray hairs. It is entirely cordless, with a unique style of charging: a micro-USB that plugs into any style of outlet.
The Eufy vacuum weighs only 1.2 pounds and is roughly the size of a wine bottle. It makes storage convenient and is an excellent option for those who cannot carry heavy items for long.
Although there's not much of a dust cup on this tool, it does have plenty of suction to back it up. With 5500 Pa of power, it can grab every speck of dust to clean up any mess. Even though it is small, it comes with versatile nozzle ends. To add product trust, the company also offers a 24-month warranty.
Lightweight design
Cordless for increased maneuverability
24-month warranty on purchase
USB style charger is convenient but somewhat slow
Extremely limited dust cup

Buyer's Guide: Selecting the Best Hand Vacuum for Pet Hair
Buying a handheld vacuum for pet hair is unique to simply buying one for around the house messes. Dirt and dust do not tend to stick to the substances that they are on. But pet hair becomes ingrained into fabrics and upholstery, making it much more difficult to remove.
Consider these aspects of a vacuum meant for pet hair removal when you try to find the right match for you and your animals.
Handheld Vacuum Nozzle Attachments
A vacuum for pet hair needs to reach into all the crevices that pet hair land on and stick in. Often, only using a vacuum with suction capability doesn't do the trick all around the home.
Most vacuums, handheld or not, come with a set of nozzle attachments. These can have rubber bristles, be meant for squeezing into corners and directing the airflow, or be wider and angled for better carpet coverage.
Depending on the area you want to clean, look for a vacuum that has cover options.
Handheld Vacuum Power
There are two primary options for vacuums to run consistently: batteries or a cord that plugs into the wall.
Cordless Handheld Vacuum Battery
Battery-operated vacuums are often rechargeable. They can come with batteries that you need to replace, but since these don't last long with a consistent schedule and tend to be quite heavy, they are no longer that common.
Instead, rechargeable lithium-ion batteries are the norm. These should come with a personal charging station to ensure a safe recharge. If you plan on doing longer cleaning sessions with your handheld, then purchase a vacuum with higher reported battery life and fast recharging.
Corded Handheld Vacuums
The other option is corded. Corded upright vacuums are more common than their handheld cousins. However, it is still an option if you want to use it for a long time during each clean. The major downside to these vacuums is the lack of maneuverability if you tangle or run out of cord.
Tired of seeing loose hair floating around your house? We'll let you in on a little secret to keep shedding to a minimum: the Hepper Cat Brush.
Created to be gentle on your cat's skin while removing excess hair, this brush is perfect for weekly grooming sessions and keeps loose fur to a minimum. This is our product, so we might be biased, but we love it so much we had to share! Click here if you're ready to keep your cat's coat contained.
Handheld Vacuum Filters
Part of the joy of using a vacuum is that it should rid your home of irritating allergens. However, if it isn't equipped with a quality filter, it will not help much. Micro-dust particles cause most allergies that can occur inside of the home. Like a HEPA filter, these tiny particles escape and fly right back into the air without a filter.
Filters do not last forever. Ensure that you are either able to clean the filter easily or that it is removable and replaceable. Otherwise, when the filter goes, so does your vacuum. Eventually, you will find that it no longer has useful suction.
Handheld Vacuum Cup Size
The battery's length isn't the only thing that determines how long your cleaning sessions can be. Every vacuum has a specific cup size at the opposite end of the nozzle. The larger the cup size, the more a vacuum can take in each time.
The other factor concerning this part of the vacuum is its detachability. If it doesn't detach well, then you can't clean it easily. Some vacuums are even equipped with a quick, one-touch detachment, so you don't have to get dirty.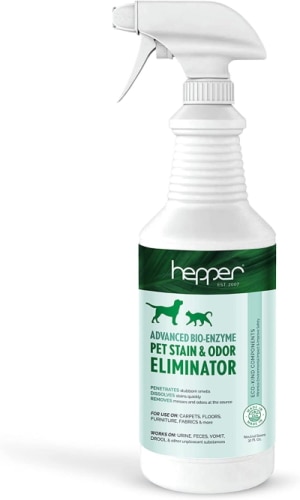 Having a pet means cleaning up smells, stains, hair, vomit, and more...and you can add to your pet clean-up routine with the Hepper Advanced Bio-Enzyme Pet Stain & Odor Eliminator Spray. It's our product, and we love it so much, we just have to share! It permanently removes the very worst smells and stains, and we offer a 100% satisfaction guarantee! Click here to get yourself a bottle!
Handheld Vacuum Weight
Consider its weight when you buy a handheld vacuum. Upright vacuums are pushed around, and the ground carries most of their weight. All the weight of a handheld vacuum is on you for the entire length of the cleaning session.
Having a vacuum with less weight can mean that the cup is not as large or the battery is not as big. Prioritize weight depending on how important battery life and cup size are for your vacuum. If you can't hold a heavier weight for a long time, then the smaller, the better.

Conclusion: Best Handheld Vacuum for Pet Hair
Whether you are looking for the perfect vacuum for pet hair, a budget-friendly choice, or simply a vacuum that does the job, we have got you covered. When it comes to something like a vacuum for pet hair, little adjustments can make all the difference.
Small and easy to grip, the Bissell Pet Hair Eraser Corded Vacuum took the lead in this list of best handheld vacuums for pet hair. For an option easy on the wallet, take a second look at the Shark Pet-Perfect II Cordless Bagless Hand Vacuum.
For you, it might be the love of a Husky with layers upon layers of fur. For others, a litter of new kittens might be starting to make their first messes. Whatever it is, a quality handheld vacuum will help you out.
---
Featured Image Credit By: Budimir Jevtic, shutterstock