7 Best Lightweight Vacuum for Pet Hair 2023 – Reviews & Top Picks

There are so many positives incorporated with having a pet, particularly a cat or dog. With their endless love, consistent companionship, and plenty of laughs, life is never dull when they are around.
However, there are downsides as well. Some dogs and cats are heavy shedders. It means they lose a large amount of hair. Even worse, they do this without regard to the time or the place. It ends up all over curtains, carpets, and every nook and cranny.
Having a strong enough vacuum to pick all this up is the key to having a clean home and beloved critters throughout. Keeping it lightweight and somewhat compact enables you to whip it out at a moment's notice and take care of stragglers.
A Quick Comparison of Our Favorites (2023 Update)
Rating
Image
Product
Details

Best Overall

Eureka RapidClean Pro Cordless

Long-lasting
Easy Rest design
LED headlights
Check Price

Best Value

Bissell 20336 Featherweight Stick

Budget-friendly
Convenient switch
Included for nook and cranny cleaning
Check Price

Premium Choice

Shark Navigator Zero-M Self-Cleaning Brushroll

Super suction
Extra-large capacity
Anti-allergen seal
Check Price

BISSELL ICONpet Cordless

Powered with a lithium-ion battery
Three cleaning modes
Funds pet adoptions
Check Price

Black & Decker BDST1609 3-in-1

Very lightweight
Useful attachments
Stands up by itself
Check Price
The 7 Best Lightweight Pet Vacuums
1.

Eureka RapidClean Pro Lightweight Vacuum — Best Overall
Eureka generated their RapidClean vacuum cleaner without a cord. Instead, it is powered by the latest in motor technology to make it quick and convenient to clean. The battery lasts for approximately 40 minutes of runtime without fading.
You can switch to max power with its fingertip controls for effective carpet cleaning. If it does run out, though, there is nowhere to buy a standby battery.
The design includes an Easy Rest nook to prop it up against a countertop or table edge safely. Unlike in most vacuums, the dust cup is in the front of the RapidClean. It allows the vacuum to lay entirely horizontal for an easy reach under any surface.
In the spirit of making it easy to clean under any surface, Eureka has also installed LED headlights on the front of the vacuum. It makes any dirt and dust more apparent. It stores down to a handheld size and only weighs 5.26 pounds.
Long-lasting, cordless power source
Easy Rest design for safe stops
LED headlights and horizontal capabilities to clean everywhere
Lightweight and has a handheld option
No option to buy a spare battery
---
2.

Bissell Stick Bagless Lightweight Vacuum — Best Value
Bissell has a couple of quality options on the market for a lightweight vacuum. This selection qualifies for our top spot for the best lightweight vacuum for pet hair for the money. It has a 15-foot cord, which can decrease maneuverability but gets rid of the possibility that the battery will die on you.
It is easy to convert the stick vacuum into a handheld vacuum. To help you access as many areas and angles as possible, they have a built-in removable floor nozzle. Pet hair gets everywhere, so your vacuum needs to as well.
The vacuum has a convenient crevice tool so you clean the stairs or corners. Once you have finished, get rid of the hair for good by emptying the vacuum immediately using its bagless technology.
Budget-friendly for pet hair removal
Convenient switch between sizes
Features included for nook and cranny cleaning
Powered by corded technology that decreases maneuverability
---
The Shark Navigator is intense as it sounds. Picture a shark swimming around with purpose, looking for its next meal, except this is a vacuum, and its prey is pet hair and dirt. The dust cup has a capacity of 2.8 quarts and works to deep clean your living space.
The upright vacuum uses powerful suction for embedded debris, while the lighter weight design lets you bring it everywhere it needs to go. It is heavier than some of the other products on our list, though, at 21.3 pounds.
The vacuum has an anti-allergen seal, so once the dust goes in, it stays there. The HEPA filter traps it inside. It is corded, which can lead to running over the cord or less maneuverability. It is 12 feet long.
Super suction for embedded debris
Extra-large capacity for deep cleans
Anti-allergen seal to keep dust inside
Not as lightweight as similar products
Corded power source
---
4.

BISSELL ICONpet Lightweight Stick Vacuum Cleaner
The second option offered by Bissell for a high-powered, lightweight vacuum is the ICONpet, at 7 pounds. As you can glean from its name, this vacuum is specifically meant for getting those engrained, hard-to-reach areas that pet hair makes it into.
The vacuum uses a 22v lithium-ion battery to offer more convenience. It can be set up into three cleaning modes as a handheld or high-reach vacuum with a nozzle included. The dirt tank that the debris siphons into holds dandruff until you can dump it right into a trash can. If you need to stop, be sure to prop it up, since the vacuum does not stand by itself.
The tangle-free brush roll in the vacuum spins up to 3,200 RPM, so no hair is wrapped up and left behind. Also, with each purchase, Bissell funds one pet adoption fee to give a pet a forever home.
Powered with a lithium-ion battery for easy maneuverability
Three cleaning modes for comprehensive jobs
Bissell funds pet adoptions
---
5.

Black & Decker 3-in-1 Lightweight Stick Pet Vacuum
Black & Decker is a leader in the appliance industry with its quality products. This vacuum is no different. It is truly lightweight at only 2.75 pounds, extremely easy to carry around the house.
The vacuum is corded, so the battery doesn't add extra weight. However, it does decrease some of its maneuverability. It has powerful suction to get the job done without stopping for a recharge.
The 3-in-1 aspect means that it has helpful attachments that allow you to convert it to a stick vacuum by adding a pole and floor nozzle. A crevice tool is included for stair jobs and corners.
Unlike other lightweight vacuums, this one stands upright by itself, and the cord wraps conveniently around back hooks. It is bagless to keep the maintenance low and the vacuum dust-free with a quick clean of the dust cup.
Very lightweight at 2.75 pounds
Useful attachments for adjustability
Stands up by itself
Corded power source decreases maneuverability
---
6.

MOOSOO K24 Cordless Vacuum Cleaner for Pets
The Moosoo vacuum is crafted with intelligence and a focus on each design aspect. It is powerful and fits the goal of meeting all in-house cleaning demands. If it doesn't, the company supplies you with a comprehensive 12-month customer service plan that includes 24-hour service.
The veritable cyclone of airflow comes from the new-generation lithium battery at 300 watts. If it isn't enough, boost it twice through the three power modes. The max mode has 100% stronger suction than ordinary vacuums. It helps it pick up all embedded debris and pet hair.
The front has lights to make it easy to see into dark, dirty areas. The head of the vacuum is flexible and can swivel 180 degrees sideways and 90 degrees up and down. The HEPA filtering system captures incoming dust and traps the fine particles to limit the effect of allergens.
Your vacuum won't need a break, but if you do, remember to prop it safely because it won't stand on its own.
Stellar customer service plan compared to other companies
Strong, long-lasting lithium battery
Swiveling head keeps it highly maneuverable
---
7.

Dirt Devil Endura Lightweight Vacuum Cleaner
Pet hair is one of the hardest forms of debris to get out of your carpet and corners. It practically stitches itself into the fibers. Dirt Devil has a vacuum cleaner meant specifically for getting this hardcore debris out of your carpets.
Their patented Endura Cyclonic system is said to deliver no loss of suction from the sealing-head technology. The brushroll provides heavy-duty performance compared to similar vacuums.
Inside the vacuum, they have instilled it with infused carbon that makes up an odor trapping filter. The vacuum does have a corded power source that reaches up to 12 feet. It is easy to empty the dirt cup and rinse off the Endura filter for a complete vacuum clean.
Endura Cyclonic system offers no loss of suction
Infused carbon filter is odor trapping
Easy-to-clean dirt cup and Endura filter
Corded power source decreases maneuverability

Buyer's Guide: Lightweight Vacuum for Pets
When it comes to investing in a vacuum with the specific goal in mind of taking care of pet hair, you need to look for attributes that other vacuums might not have. Take a look at our succinct buyer's guide to get an idea of what to look for in your next vacuum.
Vacuum Attachments
A vacuum is no longer a stick with a large bag that sucks dirt right up into it. There are modern advancements that enable a vacuum to do so much more.
These include the attachments that the vacuum comes with. Many quality products currently have nozzles that can be removed and siphon the suction force away from the main tube. They have different tops that can be attached to give the vacuum the capacity to suck up dirt in corners and on steps.
Vacuum Stability
There are many situations that a vacuum is useful in and many times when you might need to pause. It could be to move something out of the way, take a call, or have a quick rest. Whatever the case, it is useful if the vacuum can stay stable without you clinging to it.
Can the vacuum stand alone? Does it have a slot to balance it against a counter or perhaps a hanger?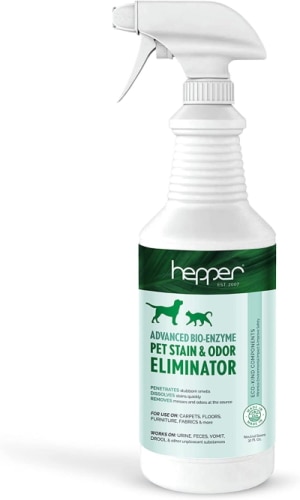 Having a pet means cleaning up smells, stains, hair, vomit, and more...and you can add to your pet clean-up routine with the Hepper Advanced Bio-Enzyme Pet Stain & Odor Eliminator Spray. It's our product, and we love it so much, we just have to share! It permanently removes the very worst smells and stains, and we offer a 100% satisfaction guarantee! Click here to get yourself a bottle!
Vacuum Modes
Not only is it handy for the vacuum to have the capacity to stay stable, but it should also have the capacity to switch into various modes. These can include a detachable nozzle, but sometimes, they can even contract into a handheld variation.
If you need to take the vacuum all over the house, reach higher locations, or take it for a quick jaunt outside, the handheld option exponentially increases the vacuum's maneuverability.
Vacuum Suction
The suction power is essential in a vacuum being used for pet hair. Pet hair gets ingrained into rugs and carpeting, matting itself into dust balls in corners. Without extra suction boosts, trying to suck up pet hair can seem impossible. Most of the vacuums on our list have two or more boost modes for carpeted areas.
Vacuum Power Source
Those who want a really clean home will value the product's ability to maneuver. There are two main sources of power for a vacuum: corded and battery. The batteries are typically lithium-ion and between 200 to 300 watts.
Having a corded power vacuum can be helpful if you have a large space to clean that a battery wouldn't last throughout. However, the irritation of running over the cord or moving around an outlet is enough to influence most people toward a battery-powered option.
Vacuum Cleaning
The house or car isn't the only thing that needs to be cleaned. The vacuum itself should be cleaned, sometimes after every use. Many options nowadays are bagless to make them easier to clean. The dust cup can be various sizes, depending on the weight goal of the company. Once it is full or a job is complete, you simply detach the canister and empty it into the trash.
For those who have allergies, it is best to invest in an option with a HEPA filter. These trap allergens and microbes before they siphon into the dust cup. When you empty and clean the vacuum, you won't release all those allergens back into the air. Instead, you typically wash out the filter and they drop right into the sink.
Vacuum Price
Finally, you should think about the price. Some vacuums offer all the aforementioned options, but they tend to come with a much heftier price tag. Consider which ones you would like to have the most in your vacuum of choice to get a better idea of the price range.
Conclusion: Lightweight Pet Vacuum
Finding a quality vacuum could be the answer to your pet hair woes. A blend between budget-friendly and powerful, like the Eureka RapidClean Pro Lightweight Vacuum Cleaner, is excellent to keep an eye out for.
However, even if you need one that is easier on the wallet, it doesn't mean you aren't getting a great buy. Take the Bissell 20336 Stick Lightweight Bagless Vacuum, for example, with its multitude of options and lower price tag.
With over 60% of Americans being pet owners, primarily of dogs and cats, there have been astounding advancements in the vacuum industry to meet demand. Whatever you need in a vacuum, we can assure you that it is out there.
---
Featured Image Credit: WilleeCole Photography, Shutterstock