10 Best Luxury & Modern Dog Bowls in 2023 — Reviews & Top Picks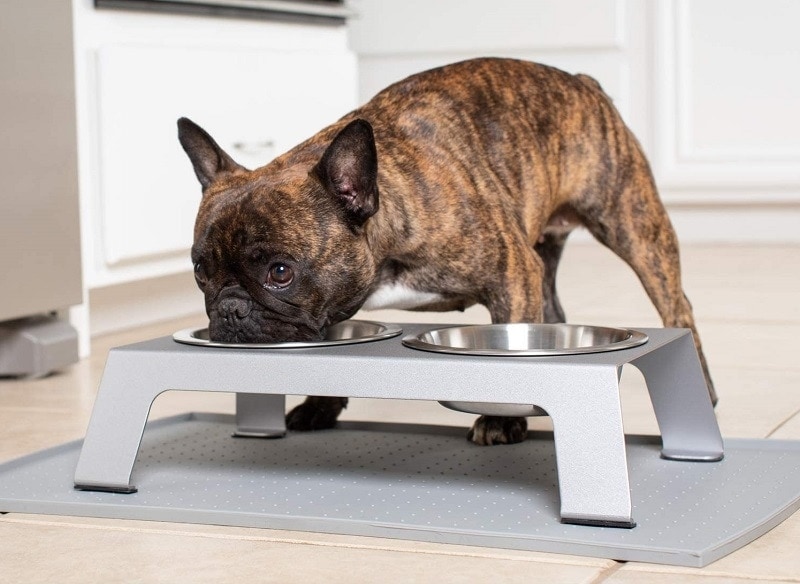 For some dogs and indeed, dog parents, any bowl will do, whether it's for food or water. The dog will eat well, but not too quickly, and they won't leave a mess behind on the floor.
However, some dogs wolf their food down, increasing the likelihood of illness. Others tip the bowl over and spill food on the floor. Still, some need help to eat comfortably and safely because they struggle to stoop down to a bowl on the floor. There's also the question of whether you want a stainless-steel bowl rolling around the kitchen or a plain brown ceramic one littering up the utility room.
Here are 10 of the best luxury and modern dog bowl designs that we found. Besides reviews that will help you determine the best and the worst of them, you will also find a guide to help you buy the best.

A Quick Comparison of Our Favorites (Updated in 2023)
Rating
Image
Product
Details

Best Overall

Outward Hound Fun Feeder Dog Bowl

Slows fast eaters
Variety of designs and difficulties
Available in a range of sizes
Check Price

Pet Junkie Summit Elevated Dog Bowl

Unique design
Bottom heavy for stability
Non-slip base
Check Price

Premium Choice

Alessi AMMI19 B Lula' Dog Bowl

Looks great
Easy to clean
The lid covers food until you're ready
Check Price

Dogit Elevated Dog Bowl

Good choice of colors and attractive design
Stainless-steel bowl is dishwasher safe
Rubber anti-slip feet
Check Price

Hepper Nomnom Modern Dog Bowl

Tray catches stray food
Two bowls in one
Chew-proof materials
Check Price
The 10 Best Luxury & Modern Dog Bowls
1.

Outward Hound Fun Feeder Dog Bowl — Best Overall
The Outward Hound Fun Feeder Dog Bowl serves a dual purpose. If your dog finds their kibble uninspiring and dull, this interactive bowl can bring a new lease of life to dinner time. It is designed so the food is pushed around the channels while they eat.
There isn't a trick to getting the food out, so it doesn't restrict your dog, but it does offer enough of a challenge that it will slow aggressive eaters down. Wolfing food down can increase the chance of indigestion and digestive complaints. Gulping food down when eating too quickly means that your dog is swallowing large volumes of air. This can lead to vomiting or even cause bloat.
The Outward Hound Fun Feeder comes in sizes from small to large and in different styles. The bowl is designed with a non-slip bottom to prevent the food bowl from moving around the feeding area. The Outward Hound bowls work well, but the size of the tracks and other elements means that it isn't suitable for large breeds. The bowl is light too, which means that some dogs will simply knock it over to get to the food.
Slows fast eaters
Variety of designs and difficulties
Available in a range of sizes
Non-slip base
Light and easy to knock over
Not suitable for large breeds
---
2.

Pet Junkie Summit Elevated Dog Bowl
It looks like an urn and it is expensive, but the Pet Junkie Summit Elevated Dog Bowl certainly has a unique look. It is also elevated and designed for big dogs, which means that you won't have to keep filling it up, because it will hold enough for a meal.
The Elevated Dog Bowl is heavy, so it can't easily be shunted over, which can be a problem with top-heavy elevated bowls. The inner bowl is stainless steel and can be used for either food or water.
The removable bowl is safe for use in the dishwasher, which makes maintenance a breeze. The whole feeder stands 10 inches off the floor and is rated to hold 44 fluid ounces or more than 5 cups of dry kibble. It is pricey, though, especially if you are buying for a very large or giant breed and require the largest size.
Unique design
Bottom heavy for stability
Non-slip base
Stainless-steel bowl is dishwasher safe
Looks like an urn
Expensive
---
3.

Alessi AMMI19 B Lula' Dog Bowl — Premium Choice
The Alessi AMMI19 B Lula' Dog Bowl is an expensive option. It is made from a thermoplastic resin with a stainless-steel removable bowl, which is easy to clean and will remain dirt- and stain-free when not in use.
The lid sits atop the base so you can fill the bowl and put it on the floor before making your dog wait for you to remove the lid. It also looks neater when being stored in the cupboard or on the unit. The design of the bowl looks modern, with the handle scoop being an integral part of the curved shape.
There is only one size of bowl available, which may not be big enough to be suitable for large and giant breeds, and the bowl is not heavy enough to prevent it from sliding across the floor if you have an energetic diner.
Looks great
Stainless-steel bowl is easy to clean
The lid covers food until you're ready
Expensive
The actual bowl is quite small
---
4.

Dogit Elevated Dog Bowl
Elevated dog bowls aren't suitable for all dogs. Although research is limited, it suggests that large and giant breeds using elevated dog bowls may have a greater likelihood of developing bloat. That said, these are beneficial for dogs that suffer from arthritis and other joint and muscle complaints.
The Dogit Elevated Dog Bowl stands a few inches off the ground and includes a removable bowl. Because the bowl is stainless steel, it is durable and tough. It is also dishwasher safe and resistant to a build-up of bacteria. Bowl sizes range from small to large, and you can also benefit from the combo selections, which include the raised bowl and a slow feeder dish.
The slow feeder dish can be used as a water bowl, or it can be used to prevent your dog from wolfing and gulping down food.
Although the elevated bowl is a good-looking design and incorporates rubber non-skid feet, the bowl itself is small, and its size means that it is more suitable for small to small-medium breeds. Although the sides are tall, the base of the bowl still sits close to the ground.
Good choice of colors and attractive design
Stainless-steel bowl is dishwasher safe
Rubber anti-slip feet
Bowl itself is quite small
The base of the bowl is nearly at ground level
---
5.

Hepper Nomnom Modern Dog Bowl
The Hepper Nomnom Modern Dog Bowl is designed for cats or dogs, and besides looking good and keeping food and water together, it aims to catch stray food to prevent it from making a mess around the bowl. It does this with what is essentially a lipped tray surrounding that catches all but the most ambitiously fired kibble bits.
The Modern Dog Bowl actually consists of two bowls in a single tray container, with the intention being one bowl for food and one for water, but you could use one for dry and one for wet food. The bowls snap in and out of the container easily and can be placed in the dishwasher for easy cleaning. The tray is made from a material that Hepper claims to be chew-proof, and it is designed to be easy to wipe clean.
Primarily designed for cats, the Nomnom Modern Dog Bowl does look good, but its shallow trays, designed to prevent whisker fatigue in feline friends, will be too small for all but miniature and toy breeds.
You might have guessed, this is our own product – but we love it so much we just have to share it, and hope you get to own one too!
Tray catches stray food
Stainless-steel bowls are dishwasher safe
Two bowls in one
Chew-proof materials
Bowls are shallow
Made primarily for cats
---
6.

PetFusion Elevated Dog Bowl
The PetFusion Elevated Dog Bowl is a combination of two stainless-steel bowls with a raised platform that is made from anodized aluminum. It is designed to be easy to clean and free from bacteria, while making it easy for your dog (or cat, depending on the size you buy) to eat and drink.
It comes in two sizes, with the shorter size considered suitable for toy and small breeds, while the large will hold up to 7 cups of food, so it should be suitable for large and very large dogs. The anodized aluminum is corrosion resistant, doesn't chip, and is long-lasting despite being lightweight.
The rubber feet ensure that the frame does not scrape and move across the floor, while the stainless-steel bowls are dishwasher safe, so they are convenient, practical, and safe for your dog.
The lightweight anodized aluminum frame is durable
Two sizes
Stainless-steel bowls are dishwasher safe
The stand requires care
Light
---
7.

Platinum Pets Modern Double Diner Feeder
The Platinum Pets Modern Double Diner Feeder is a raised feeding station. It has a metal frame that contains two stainless-steel bowls, available in a great choice of colors. The bowls are considered extra-large, which means that they have enough space to hold up to 10 cups of food or 80 fluid ounces.
It has a non-rattle rim, so the bowls won't make noise when in the frame, and the rubber stopper feet attempt to stop the frame from traveling across the floor. While the thin frame looks good from a minimalist point of view, it is not sturdy, and if your dog eats with any gusto, they will likely bring the frame and food down to the ground.
The bowls are dishwasher safe, but some of the paint on the bowls can chip away, which could be dangerous for your dog if you don't remove the chips from their food. If your dog is a refined eater and doesn't push against their bowl while eating, then the good looks and the dishwasher-safe metal bowls make this a good option for your dog's feeding time.
Dishwasher-safe metal bowls
Extra-large size is suitable for extra-large dogs
Rubber non-slip feet
Flimsy metal frame
Colored metal bowls chip
---
8.

Unleashed Life Elevated Feeder
The Unleashed Life Elevated Feeder, made of Acacia wood, has a natural finish and looks more like a side table or display table than a dog bowl.
Available in a selection of three sizes, the pedestals contain dishwasher-safe stainless-steel bowls that can be removed for easy cleaning. The bowl doesn't quite fit inside the stand, however, so it does tend to rattle around while your dog is eating or drinking from it.
The bowl is also a little thin and not of great quality, but the stand itself is tough and made from environmentally-friendly materials. The Acacia wood variant is also heavy and will not be easily shoved around and pushed over even by big dogs.
There are reports of some of the models made from other materials getting knocked over and smashed, so it is worth sticking to the wood stand if your dog is rambunctious around mealtime.
Acacia wood stands are sturdy and strong
Environmentally friendly
Stainless-steel bowls are dishwasher safe
Bowls are low quality
Bowls don't quite fit the stand
Materials other than Acacia break easily
---
9.

Unleashed Life Dog Bowl
The Unleashed Life Castro Collection Modern Stainless Steel Dog Bowl & Cat Feeder is stainless steel and has a wide variety of bowl holders. Sizes range from extra small to large, and there is also a canister that is a suitable size for holding treats or small amounts of food.
One of the designs is a recycled aluminum sheath that can be wiped clean and is lightweight but durable. Another is a series of steel wires that give the appearance of a barred window. There are resin and diecast exteriors available too, and the range is such that you will likely find something to match the décor of your home and the design of your feeding area.
The stainless-steel bowl that is included is dishwasher safe and resistant to bumps, scratches, and other damage. Although the exterior holders do look good, they are pricey for a single holder and bowl. The bowl itself is quite thin, and many of the designs tend to move and scrape across the floor while in use. There might be signs of rust on the steel dish.
Look good
Good range of designs to choose from
Expensive
Stainless-steel dish is flimsy
Moves around while in use
---
10.

YETI Boomer Stainless Non-Slip Dog Bowl
The YETI Boomer Stainless Non-Slip Dog Bowl is a stainless-steel bowl that can be used for dry kibble, wet food, or water. It holds up to 8 cups or 64 fluid oz. of liquid, and the high-quality 18/8 stainless steel is strong and reassuringly heavy.
It has a non-slip ring on the base that Yeti claims will not nudge, regardless of how energetic the diner is. The bowl is not only easy to clean but can also be placed in the dishwasher for ease. It is a tough and high-quality bowl, and there is a good range of designs to choose from.
However, the Yeti Boomer is pricey for what is just a colored metal bowl, and rust spots might form on the inside of the bowl after only a few weeks' use. The price and the need to replace the bowl after such a short time make it too prohibitively expensive.
Looks good
Reassuringly heavy stainless steel
Pricey
Rusts quickly
Too expensive to replace often

Buyer's Guide – Choosing the Best Modern Luxury Dog Bowls
Your dog will eat or drink from their bowl several times a day, depending on how often you feed them. The bowl needs to be comfortable, convenient, and safe. It shouldn't taint or otherwise affect the contents.
There are other factors to consider too.
The bowl should be sturdy enough that it won't become damaged and stable enough that it won't spill its contents all over the floor. It should look good, especially if it is going to reside on the floor all day. It can also be raised to provide comfort, especially for dogs that suffer from arthritis or other joint and muscular conditions.
There are many factors to take into account when buying something as seemingly simple as a dog bowl. We have covered all the major buying decisions that you will have to factor in, to help you get the best bowl for your dog.
Type of Bowl
Before you consider material or size, you first need to determine the type of dog bowl that you require:
Raised Bowl: A raised bowl uses a specific technique to lift the bowl itself off the ground. Commonly used for dogs with arthritis and other joint complaints, the most common method of creating a raised bowl design is to insert the bowls into a raised plinth. In these cases, you should receive the raised step and the bowls that fit inside the hollow.
Slow Eater Bowl: The slow eater bowl is designed for dogs that wolf their food down. They use a certain method to prevent your dog from being able to eat a whole meal in one go. The main method is to include a textured or patterned bottom. These gently prevent kibble from being picked up, or they only allow one or two pieces of kibble to be collected at a time, therefore preventing your dog from taking large mouthfuls.
Double Bowls: A double bowl is a set of two bowls. How you use the two bowls is up to you, but common combinations include one wet food and one dry food bowl or one food bowl and one water bowl. The double bowl can include a slow feeder and may be raised.
Luxury Designs: Certain luxury designs include a cover or a kind of holder for the bowl. This sits snugly around the bowl and improves its aesthetic design. The cover may also serve to raise the bowl off the ground and prevent it from sliding across the floor. The cover should be snug enough to prevent the bowl inside from rattling around when in use. It shouldn't be so snug that it is impossible to remove, however.
Dog Bowl Material
The choice of material governs the durability, good looks, and ease of maintenance of the bowl. The most common options include:
Stainless Steel: Stainless steel is a common material because it is tough and Food-grade stainless steel does not collect or harbor bacteria either, which makes it extremely safe for use as a water or food bowl. Most stainless-steel bowls can be put in the dishwasher, making them even easier to care for. They can, however, be light and easy to push around the floor. This means that your dog's eating may be accompanied by the noise of scraping metal unless the bowl has non-slip feet or a non-slip base.
Ceramic: Ceramic is heavy, and while a few iterations of ceramic bowls can be machine washed, most will require handwashing. The material tends to be more difficult to clean than stainless steel. The benefit of ceramic is in its heft, making it difficult to turn over and ensuring its stability even on a slippery surface, and in its charming good looks.
Plastic: Plastic is affordable and a flexible material for manufacturing. Slow feeders are often made from plastic because they allow for the inclusion of grooves and other patterns. Plastic can get dirty, may not be dishwasher safe, and is the most likely to collect bacteria.
Bowl Stand Material
Many of the luxury dog bowls on our list include a stand or riser. Although this material does not have to be safe to eat from, it should look good and be durable. Common materials include:
Plastic: Plastic is cheap but light and prone to being knocked over and damaged.
Steel: Steel is heavier and feels robust. It is also easy to clean and will usually last as long as the steel bowls that it contains.
Anodized Aluminum: Anodized aluminum looks great and stands up to dints and scratches well. However, it is easily scuffed and may require regular cleaning.
Wood: Although somewhat harder to find, wooden stands also exist. These look good, have a natural appearance, and tend to be sturdy and durable. They can be difficult to care for, however.
Bowl Size
Bowl size is important. You should choose a bowl that will comfortably hold enough food for a single meal and takes into consideration your dog's features. Brachycephalic dogs, or those with short snouts, would benefit from a shallow bowl. A deep bowl means they may not be able to get to the bottom. The bigger your dog, the bigger the bowl they will need. Also, dogs with long snouts may benefit from having a deeper bowl.
Dog Bowl Features
The following features can be found with certain dog bowls and may be important to your buying decision:
Dishwasher Safe: A dishwasher-safe bowl is easy to clean. Check whether it needs to be placed in the top of the dishwasher to prevent it from getting too hot.
Non-slip Rubber Base: Some bowls, especially lightweight bowls, tend to slip around the floor. They can be noisy, cause damage, and be frustrating for your dog. Non-slip bases or feet can be attached to the bottom of the bowl and prevent this from happening.

Conclusion
There are many bowls and feeders to choose from. Ensure that you get one that is suitable for your dog, taking into account their size and features and whether they are a sensible or fast eater. Choose a material that is as durable and hardwearing as you need and a design that will look good in your kitchen. Ensure that the bowl has any additional features that you want, such as non-slip rubber feet, before you buy.
The Outward Hound Fun Feeder Dog Bowl is a slow feeder, looks good, is durable, and has a good price, making it the best luxury dog bowl among our reviews. The Pet Junkie Summit Elevated Dog Bowl is an elevated bowl suitable for large breeds, but it does look a little like an urn.
---
Featured Image Credit: PetFusion, Amazon