18 Best Pet Affiliate Programs – Reviews & Top Picks 2022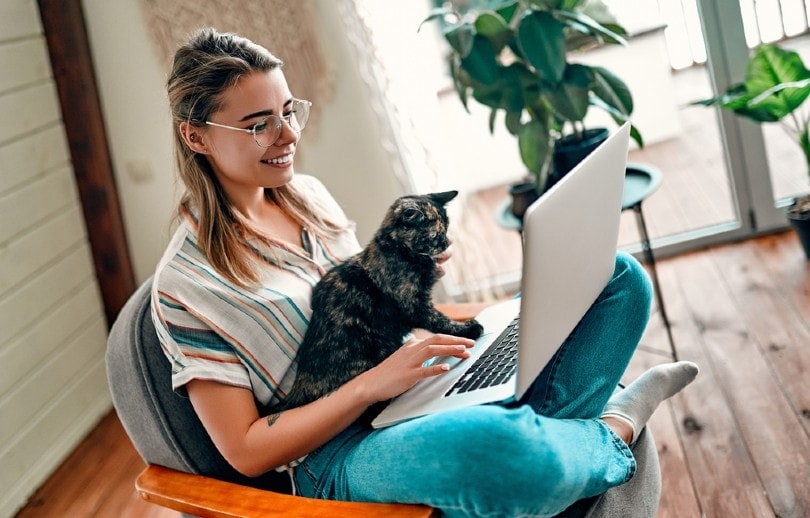 There are a lot of pet affiliate programs to choose from, but some are a waste of time. Even though everyone knows some programs are better than others, it can be hard to weed the bad programs from the lucrative ones without first trying them out.
To help you pick out the best pet affiliate programs for your needs, we selected the best options available and provide reviews of each. With the help of these reviews, you can find a pet affiliate program that matches your needs and helps you accomplish your financial goals.

The 18 Best Pet Affiliate Programs – Reviews & Top Picks 2022
1.

Hepper.com – Best Overall
Hepper creates beautiful, quality, and entertaining cat products that don't distract from your home. Instead, Hepper products go beyond tacky or inefficient products to create cat décor that is great for both you and your feline friend. Browse through their products to see aesthetic pods, scratchers, and more!
The Hepper program is managed by Post Affiliate Pro. You can earn between 8% and 10% monthly through commission. This is a high percentage commission. Between the commission and quality products, Hepper is the best overall pet affiliate program.
Even though Hepper is lesser known than other brands, it is one that you can easily sell to cat parents. A variety of media outlets have featured the brand, ranging from People to the New York Time. In other words, it's a lesser-known brand that can turn big heads!
Definitely check out Hepper if you are interested in a pet affiliate program geared towards cat products!
---
2.

Chewy
The commission rate is $20 per sales. Not only is this a decent commission, but you can bank on selling a lot of products through Chewy. As a result, you can earn big from the quality of commission and quantity of sales. That's a win-win in our books.
One downside is that the cookie duration is only 15 days. This isn't the shortest on this list, but it is far from the longest too. In case you are unfamiliar, the longer the cookie duration, the better because it means that the potential customer has a longer period to buy the product with you earning commissions.
You can easily learn more about the Chewy affiliate program by checking out their website.
---
3.

Zooplus UK
As for the affiliate program, the benefits are average. The commission rate is only 2% to 3%, which is relatively low, but you can make up for the low percentage in high quantity. Another good thing about this program is that the cookie duration is 45 days!
Overall, Zooplus UK is the best affiliate program if you want one specific to the UK. If you don't need a UK-based program, then Zooplus probably won't do you much good. Weigh the pros and cons of this program against one another to decide if you should use it.
---
4.

Petco
The affiliate program is impressive too. You can earn 8% per sale, which is a high percentage. Not to mention, it's not hard to sell products through Petco, meaning you can have a high volume of sales to match. The cookie duration is only 7 days, which is a bit short for our liking.
---
5.

Paw.com
More impressive is Paw.com's affiliate program. They offer a whopping commission rate of 20% per sale. This is one of the highest percentages on this review. On top of the high percentage, the cookie duration is 30 days. So, you might be able to get multiple purchases through the initial click.
Signing up for the program is fast and easy. Apply for the program to get started! You just need some basic information, like your name and email.
---
6.

VetShop
VetShop's affiliate program is very impressive. The commission rate is 10%, but the cookie duration is only 7 days. Not to mention, you should be able to sell a decently large volume since most people are willing to spend a lot on their pets' medications and health.
VetShop's affiliate program is easy to use too. It even offers marketing tools to help you out! These additional tools make VetShop an even better affiliate program to check out since its value extends beyond the dollar.
---
7.

Embrace Pet Insurance
Embrace Pet Insurance covers many illnesses, accidents, and regular checkups for pets. They offer great customer support and phenomenal coverage, which is a major plus.
The affiliate program is even more impressive. The commission rate is $36 per lead. It grants the second longest cookie duration on this list, lasting a whopping 60 days. We are very impressed with the coverage and commission rate!
---
8.

Rover
Its affiliate program offers 15% per referral, which is impressive for other pet sitting sites and regular stores. The cookie duration is long, lasting 30 days. Rover is the best affiliate program for pet sitting programs because of the commission and its high popularity. More popularity = more cash for you!
---
9.

Brain Training For Dogs
What's most impressive about Brain Training for Dogs is its commission rates. It offers a whopping 75% per sale. Yes, you read that right. No, that is not a typo – 75%! That is by far the highest commission rate. Plus, the cookie duration is long and lasts 60 days!
The one problem about Brain Training for Dogs is that the brand isn't as recognizable as Cesar's Way or other dog training programs. It has lower sales volume potential. Still, we recommend trying this program out since the sales commission is so high.
---
10.

Cesar's Way
The Cesar's Way affiliate program is notable, but it isn't as great as Brain Training for Dogs. There is a commission rate of 5% to 8% per sale, and the cookie duration is 35 days. Even though this isn't as impressive as the previous training program, it can potentially get you more money is the brand is already trusted.
---
11.

Furbo
Although the Furbo camera certainly isn't for everyone, the right customer will love the product. If you can sell it, it has a commission rate of 5% per sale. This isn't a huge percentage, but keep in mind that Furbo cameras are a bit more expensive than other pet products, meaning that you will get mire money from the percentage.
The cookie duration is 30 days, which is a long time. Hopefully, you can get some buys in this time considering the already small commission rate.
---
12.

HolistaPet
If you are a fan of CBD products, definitely check out HolistaPet's affiliate market program. Their program boasts one of the highest commission rates on this list, topping out at 25% per sale. It has a long cookie duration of 30 days as well.
HolistaPet won't be everyone's cup of tea, as you probably know. Not everyone is on board with CBD products. Nevertheless, if you run a holistic blog or have a large following base of people who like holistic alternatives, you can earn a lot of money from holistic pets CBD products through HolistaPet.
---
13.

Live Pee Free!
On top of being a highly efficient and useful product, Live Pee Free! has a great affiliate program. You can hopefully make a lot with this product because it has a cookie duration of 90 days and commission of 30% per sale. 30% is a lot, and you can hopefully expect high volume from the product.
It can be tough to sell the cleaner at first. After all, most owners don't buy cleaner until after the mess happens. By this point, they don't have time to wait for it to be delivered via mail. For best result, recommend Live Pee Free! to new owners with a puppy or kitten for preventative measures.
---
14.

Ruffwear
Ruffwear's affiliate program is decent. You get an 8% commission rate and the cookie duration lasts for 30 days. Given that the average order value is $85, this 8% Commission can help you earn some money quickly. Plus, Ruffwear offers periodical specials and many affiliate tools you can use.
Not everyone will need Ruffwear products, which means you should market their product strategically. The right buyer will love their products and everything they have to offer.
---
15.

My Bully Sticks
With the My Bully Sticks affiliate program, you can earn 8% in commissions and up to 10% with incentives. This is a pretty good deal. Plus, the cookie duration is a bit long, and their affiliate program offers data feed and product images and content you can use.
---
16.

FurHaven
The same could be true about FurHaven affiliate program users. This highly sellable product can get you 10% commission per sale, and the cookie duration last 30 days.
---
17.

BarkBox
Every month, this company provides BarkBoxes for over one million dogs. So, it shouldn't be too hard to find customers who are interested in this product.
Although their site isn't as informative as some of the others about the contents of the affiliate program, it does get you $18 per subscription and offers several tools to help you out with your affiliate marketing strategy. Things like cookie duration are unknown.
---
18.

GreaterGood
With the GreaterGood affiliate program, there's a tiered commission structure. You can make between 2% and 8%, starting at the lower end and working your way up. The cookie duration is long, lasting 45 days. You will have access to regular promotions and sales as a bonus.
Even though this affiliate program isn't the most impressive on this list, we don't care that much since it is a company that does a lot of good for the planet. Why not make some cash while making the world a better place?
Conclusion
The best pet affiliate programs to check out are Hepper.com and Chewy. We love Hepper because the products practically sell themselves and the commission rate is high. Chewy is our runner-up because it has high sales volume potential given its brand recognition.
As you can see from our other reviews, Hepper and Chewy are far from being the only great pet affiliate programs to participate in. Try out several of these programs to start making money today!
Related Read: 9 Best Cat Affiliate Programs – Reviews & Top Picks
---
Featured Image Credit: ORION PRODUCTION, Shutterstock