10 Best Raised Dog Bowls – 2023 Reviews & Top Picks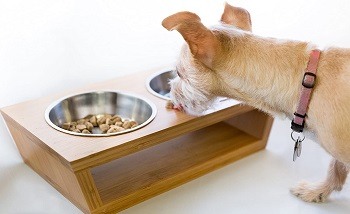 Does your dog struggle with arthritis, neck pain, or general mobility problems? If so, then it might be time to invest in a set of raised dog bowls.
Your dog's bowls are a crucial part of their daily routine, but we often take these items for granted. While we can adjust our seated posture or eating utensils to meet our physical needs, our dogs have little choice in how or where they eat.
For most pups, this isn't an issue. But for those with limited mobility or joint pain, reaching down to eat from a normal dog bowl is often neither easy nor comfortable.
Making the switch to a raised bowl can mean more pleasant mealtimes for your dog. We've put together reviews of the top raised dog bowls in order to determine which are the best for you and your canine companion.

Comparison Table (Updated in 2023)
Rating
Image
Product
Details

Best Overall

Pet Zone

Adjustable stand height
Folds up for storage
Includes two stainless-steel bowls
Check Price

Best Value

OurPets

Doubles as a self-filling water bowl
Wide base
Includes dishwasher-safe bowls
Check Price

Premium Choice

Neater Pet Brands

Built-in reservoir
High back wall
Anti-skid feet included
Check Price

IRIS USA, Inc.

Multiple height and color options
Includes stainless-steel bowls
Built-in food storage bin
Check Price

FOREYY

Stylish alternative
Naturally water-resistant bamboo
Anti-slip feet
Check Price
The 10 Best Raised Dog Bowls Reviewed
1.

Pet Zone Designer Diner — Best Overall
Our top choice is the Pet Zone Designer Diner, which features two stainless steel bowls in a raised platform. Unlike many other raised dog bowls, this dining set can be adjusted to three different heights: 2.75, 8, or 12 inches. You can choose from a black, pink, or blue version of this elevated stand.
One of the coolest features of this elevated dog bowl set, aside from the adjustable height, is its ability to fold up for storage. This makes it convenient to travel with or stow away in a cupboard or drawer. While the stand is plastic, the steel bowls are durable, rust resistant, and dishwasher safe.
Once assembled, this elevated dog bowl set isn't as sturdy as some of the other options. It tips over easily if bumped or leaned against. The plastic stand is also difficult to clean.
Adjustable stand height
Folds up for storage
Includes two stainless-steel bowls
Multiple color options
Lightweight and not sturdy
Difficult to clean
---
2.

OurPets Comfort Diner Elevated Dog Bowl — Best Value
For owners interested in finding the best raised dog bowls for the money, we recommend checking out the OurPets Comfort Diner Elevated Dog Bowl. This set includes two stainless-steel bowls in a plastic base. Depending on your dog's size, there are three different sizes/heights to choose from: 4 inch, 8 inch, or 12 inch.
Along with the two removable dishes, which are dishwasher safe, the raised platform can be turned into a self-filling water bowl with a two-liter plastic bottle. The wide base helps prevent the stand from tipping over during use.
According to some owners, there is too much of a gap between the stand and the bowls, leaving room for mold to grow. The stand is made of lightweight plastic, making it easy to push around.
Multiple size and height options
Doubles as a self-filling water bowl
Wide base adds stability
Includes dishwasher-safe bowls
Extra space in stand allows mold to grow
Slides around easily
---
3.

Neater Pet Brands Neater Feeder Raised Dog Bowl — Premium Choice
If you're willing to spend a little more for premium quality, the Neater Pet Brands 231 Neater Feeder is a dual-bowl option for dogs of all sizes. This bowl set comes in three sizes for dogs (and one for cats) and a range of six different colors. Some of the colors are available with a slow-feeder bowl option.
At first glance, this might look similar to the other raised bowls on our list, but its collection of features makes it stand out from the crowd. The stand is designed to allow spilled water to drain into a reservoir while food stays on top, preventing nasty messes, and the back wall keeps your dog's food where it belongs. Included with the stands and stainless steel bowls are a set of anti-skid feet.
While most owners love these raised dog bowls, there are reported quality issues. For instance, some stands have faulty legs that won't insert properly. Also, while the stand is made in the United States, the steel bowls are not.
Wide range of sizes and colors
Built-in reservoir for spilled water
High back wall
Anti-skid feet included
Some quality control issues
Metal bowls are made in India
---
4.

IRIS Small Elevated Dog Bowl
Have you ever looked at a raised dog bowl and thought about the wasted space underneath? If so, the IRIS Small Elevated Feeder has solved that problem. This set comes in three sizes, from approximately 6 to 15 inches tall and includes an ingenious, airtight storage space underneath. You can also choose from three colors to match your home decor: almond, black, or green.
The two stainless-steel bowls each hold between 1 pint and 2 quarts, depending on which size you purchase. While your dog enjoys a more comfortable dining experience above, the storage space underneath helps ensure that fresh food is always within reach. Because of the convenient storage bin, this raised bowl set is also great for traveling with your pooch.
Unfortunately, a few owners have reported that their elevated feeder came without the bowls. Also, while the storage container is advertised as airtight, some owners reported that this isn't true.
Multiple height and color options
Built-in food storage bin
Includes stainless-steel bowls
Some feeders arrive without bowls
Storage container is not entirely airtight
---
5.

FOREYY Raised Pet Bowls
Whether you're trying to minimize your plastic use or just don't like the look, the FOREYY FDEB-NEW-002 Raised Pet Bowls are an excellent alternative. This elevated stand is made of durable bamboo, rather than plastic or metal, which is more eco-friendly and looks great in any home. There are four sizes available, ranging from 4 inches tall with 20-ounce bowls all the way to 15 inches tall with 65-ounce bowls.
Bamboo is naturally water resistant, so this stand won't swell or decay if water spills on it. The bottom of each leg is also equipped with an anti-skid foot, so your dog won't need to chase their food and water around the room. Each stand comes with two stainless-steel bowls that are rust resistant and dishwasher safe.
These raised dog bowls are great in theory, but some owners reported receiving broken pieces or missing hardware. If the wood stand cracks or splits, it can quickly develop mold. Assembly instructions are poorly written and unclear.
Stylish alternative to plastic elevated feeders
Naturally water-resistant bamboo
Includes anti-slip feet and dishwasher-safe bowls
Wood may rot or grow mold
Unclear assembly instructions
May arrive broken or with missing parts
---
6.

Pawfect Pets Premium Elevated Dog Bowls
Another great bamboo stand comes with the Pawfect Pets Premium Elevated Dog Bowls. This stand comes with four stainless-steel bowls total, though only two fit in the stand at a time. It measures 4 inches tall, suiting most toy and small breeds.
This bamboo elevated feeder features silicone rings around each bowl, preventing messy leaks and spills from getting underneath the stand, which weighs over 3 pounds and is equipped with non-slip feet to prevent tipping and sliding. Of course, the bamboo wood is naturally water and rot resistant.
While the silicone ring around each bowl can help prevent leaks, they can also collect food particles and develop mold over time. The wood is prone to splintering, which leaves it even more susceptible to developing mold. It is also shorter and smaller than expected.
Includes four stainless-steel bowls
Non-slip and tip-resistant design
Natural bamboo construction
Too small for most dogs
Wood splinters easily
Mold can develop between bowls and stand
---
7.

Dogit Double Raised Dog Bowls
Sometimes, simpler is better. The Dogit Raised Dog Bowls take this concept and run with it. Unlike other raised dog bowl systems, this set uses a wire frame to elevate a set of basic stainless-steel bowls. This set comes in four sizes, with bowls that hold between 8.4 and 67.6 fluid ounces, depending on the size.
The metal stand provides slight elevation to your dog's dishes, keeping them in one place while limiting the mess made after each meal. Because the elevation is not that dramatic, this is a great setup for owners who want to lift their dog's bowls off the floor without changing their eating posture too much. Each bowl is made of dishwasher-safe stainless steel.
Unfortunately, some owners have reported that the bowls included with their purchase began rusting after only a few days. Not only does this reflect poorly on the quality of this product, but it also calls into question whether the bowls are actually made of stainless steel.
Simple metal frame design
Minimal elevation lets dogs eat in a natural position
Non-slip rubber feet
Reports of bowls rusting with use
Not enough elevation for some dogs
Smaller than expected
---
8.

Petsfit Wooden Elevated Dog Bowls
The Petsfit Wooden Elevated Dog Bowls set combines much-needed adjustability with an elegant design that will blend in with the rest of your household furniture. This stylish, wooden elevated feeder adjusts from 5.5 to 15 inches as your dog grows or to accommodate multiple dogs in your life. The dark, natural wood color will match most décor.
This raised feeder includes two stainless steel bowls that can be easily removed for cleaning. The stand itself features rubber grips to keep the bowls in place as your dog eats or drinks. The back wall of this stand keeps messes to a minimum, no matter what height you choose.
As with many wooden raised dog bowl stands, this product may develop mold if not cleaned frequently. Also, some owners reported that their stand was not level, causing annoyance when their dogs would eat or drink from it.
Adjustable for different life stages or breeds
Stylish wood design
Includes stainless-steel bowls with rubber grips
Unclear and difficult assembly
Issues with stand not being level
Prone to mold growth
Shorter than expected
---
9.

PetFusion Elevated Dog Bowls
Interested in the natural properties of bamboo but not a fan of the lighter color? The PetFusion PF-BH2 Elevated Dog Bowls come with a bamboo stand with a dark, rosewood-inspired stain that will match your more sophisticated décor. This stand comes in two heights, either 4 inches or 10 inches, and holds two bowls at a time.
This stand is made from eco-friendly bamboo and topped with three protective coats of sealant to improve its durability and water resistance. Each set includes three food-grade, stainless-steel bowls, one of which has a shallow design. Anti-slip rubber grips are attached to each bowl slot and the bottom of the stand.
While the wood stand is sealed for durability, it is also prone to cracking. Cracks in the wood leave it vulnerable to mold and bacteria. According to some owners, the stand and bowls are larger than expected and do not stand up to daily use.
Rosewood-inspired, water-resistant finish
Comes with three food-grade bowls
Rubber grips included
Limited height options
Wood cracks easily
Larger than expected
Wood peels and quickly shows wear
---
10.

PUPTECK Raised Pet Bowls
Our last raised dog bowl set is both adjustable and made from eco-friendly bamboo. The PUPTECK Raised Pet Bowls can be adjusted from about 4 inches to 11 inches, depending on your dog's breed — this feature also makes them a great option for multi-pet households. This stand includes two stainless-steel bowls.
The bamboo stand is naturally water-resistant and easily wipes clean. While this elevated feeder does require assembly, everything you need is included. Once assembled, it is durable and stable and looks great in any home.
Although the assembly process is straightforward, some owners reported issues with misaligned screw holes or missing hardware. The wood base is also prone to growing mold, especially if not cleaned regularly. The included bowls are quite small despite the height of this elevated feeder.
Adjustable for multiple dogs
Naturally water-resistant bamboo stand
Includes stainless-steel bowls
Wood may develop mold
Too tall for some dogs, while too small for others
Sometimes missing hardware
Difficult assembly process
Related Read: 10 Best Dog Bowls
---
Buyer's Guide – Picking the Best Raised Dog Bowl
Here's what you need to know before buying one of the best raised dog bowls on our list:
Is a Raised Dog Bowl Right for Your Dog?
As pet owners, we want to do everything in our power to give our dogs long, comfortable, and happy lives. Because of this, many owners switch their dogs to a raised bowl — but what if this isn't always the best option?
Before going out and purchasing one of these bowls for your own dog, consider whether your four-legged friend would actually benefit from the switch.
When to Switch to a Raised Bowl
For dogs with joint issues, especially those caused by old age, switching to a raised dog dish can help alleviate some of the strain on their neck, back, and legs. Eating from a raised bowl may also reduce regurgitation in dogs with sensitive stomachs.
If you think that your dog might benefit from a raised bowl, we recommend speaking with your vet to make sure this is the best option.
When NOT to Switch to a Raised Bowl
Despite popular beliefs, not every dog will benefit from switching to an elevated dog bowl. In fact, there are only a few canine demographics that should be fed in this way.
While eating from the floor might seem unnatural to us, this is exactly how dogs and their wild cousins were designed to eat. (You probably won't find a wolf eating out of an elevated bowl in the great outdoors!) In other words, most dogs are better off eating out of a normal, non-elevated bowl.
Raised Dog Bowls and Bloat
At one point, a rumor was going around that feeding from a raised dog bowl can help lower the risk of bloat in large dog breeds. Bloat is a somewhat common condition that while it comes on quickly, can be potentially life-threatening.
According to recent research, however, feeding your large-breed dog from a raised bowl could actually increase their chance of developing bloat. Still, this research was not conclusive, so we recommend speaking to your vet before changing your dog's eating arrangement.
How to Measure Your Dog for a Raised Bowl
If you and your vet have decided that your dog would benefit from elevated bowls, not just any raised dish will do. To get the most out of elevated dining while also minimizing the risks, you first need to determine the ideal height for your dog.
For the best results, a raised dog bowl should be square with your dog's chest. To find this measurement, simply measure your dog (while standing) from the floor to the center of their chest. Once you have this measurement, select the elevated dog bowl that is closest to it.

Final Verdict
If it's in your dog's best interest to switch to a set of raised dog bowls, then you want to ensure that you invest in the best.
For the average dog owner, our top pick for the best elevated dog bowl is the Pet Zone Designer Diner set. This raised dog bowl stand includes two stainless-steel bowls and is available in multiple different colors. You can adjust the height to suit your dog's size and fold the entire stand away for storage or travel.
If you want to try out an elevated dog bowl without spending too much money, the OurPets Comfort Diner Elevated Dog Bowl is an affordable option. It comes in three sizes and heights and features a wide bottom to prevent tipping. The water dish even doubles as a self-filling bowl; all you need is a two-liter plastic bottle.
If cost isn't an issue, then we recommend the Neater Pet Brands 231 Neater Feeder. This elevated dog bowl set comes in a wide range of colors and sizes to suit your pet. The back wall combats messy eaters, while the built-in reservoir collects any spilled water. The anti-slip feet will keep this stand in place even around the most eager eaters.
Raised dog bowls aren't for every pooch, but for those with limited mobility or joint pain, they can be a godsend. With the help of our reviews, you can ensure that your dog is using the best dog bowl for their individual needs. Mealtime has never been more exciting!