6 Best Vacuum Cleaners For Cat Litter – 2023 Reviews & Top Picks
If you round up a survey from cat owners about what they like least, cleaning up cat litter might be at the top of the list. There's nothing fun about it. It's messy, it's smelly, and it's dusty. Who wants that inside of your regular vacuum?
If you want a vacuum specifically for cat litter cleanups, you came to the right place. We rounded up six of the best vacuums on the market that target challenging tracking. Hopefully, our reviews help you pick the one that will work best in your home.

A Quick Comparison of Our Favorites of 2023
Rating
Image
Product
Details

Bissell Featherweight Vacuum

3-in-1 design
Lightweight
Affordable
Check Price

Dirt Devil Handheld Vacuum

Powerful suction
Easy emptying
Lightweight
Check Price

Shark Navigator Vacuum Cleaner

Excellent suction
HEPA filter
Separate optional attachments
Check Price

Coredy R3500S Robot Vacuum

Effortless use
Smart device compatible
Hands-free
Check Price

Bissell Corded Handheld Vacuum

Multilayer filtration
Interchangeable rubber and plastic nozzles
Affordable
Check Price
The 6 Best Vacuum Cleaners for Cat Litter
1.

Bissell Featherweight Vacuum
| | |
| --- | --- |
| Bage/Bagless: | Bag |
| Type: | Corded |
| Function: | 3-in-1 |
When it comes to versatility, the Bissell Featherweight Vacuum was our favorite pick. It's easy to maneuver, getting into all the creases the litter scatters. You can use it three different ways—as a stick, handle, or stair vacuum.
The entire design is lightweight, so you won't have to worry about hauling it around. It's effortless to switch between functions—just a few snaps and you can change out the handle or attachments. It's a straightforward little machine that gets the job done—no extra gimmicks.
The handle vac makes it easy to clean up litter tracking on carpets or upholsteries. The stick vacuum gets into all nearby nooks and crannies litter can hide. It works well with just the right amount of suction for small messes.
These vacuums require bags, however. So, if you prefer bagless, this won't work for you.
3-in-1 design
Lightweight
Affordable
Perfect for small jobs
Recurring bag replacement
---
2.

Dirt Devil Scorpion Handheld Vacuum Cleaner
| | |
| --- | --- |
| Bage/Bagless: | Bagless |
| Type: | Corded |
| Function: | Handheld |
If you need something budget-friendly that works like a charm, check out the Dirt Devil Scorpion Handheld Vacuum Cleaner. It is explicitly designed for upholstery, so if you're constantly cleaning up paw kisses on your couch—this is a mighty pick.
This vacuum is incredibly light, weighing less than 4 pounds. This tool comes apart effortlessly, and you can rinse the inside as needed. So, we really loved how easy it is to clean—a perfect addition for any kitty messes.
This unique design had pet problems in mind, like litter and hair, creating a powerful product that does the job the first time. However, if you want an upright design, this option is strictly handheld.
Powerful suction
Easy emptying
Lightweight
---
| | |
| --- | --- |
| Bage/Bagless: | Bagless |
| Type: | Corded |
| Function: | Standard |
Shark has built quite a reputation for making excellent products and the Shark Navigator NV365E Vacuum. It's made to get into all the hard-to-reach areas designed as a standard vacuum cleaner. This truly traps in all the dirt, grime, and bacteria with a patented HEPA filter.
This vacuum comes with a pet power brush attachment, acting with powerful suction to get every morsel of litter off your floor. Because of the design, you can use the extension solely cat stuff—and the rest for your household—without intermixing the two.
This vacuum is suitable for both hardwood and carpet, so you can adjust the settings as needed. There is a pivotal base so you can maneuver around hard-to-reach areas with ease. If you need the extra control, you can detach the canister and carry it for step cleaning or other awkward spaces.
However, if you were looking for a vacuum only for your kitty—you might not need all the bells and whistles.
Excellent suction
HEPA filter
Separate optional attachments
Might not need all the features
---
4.

Coredy R3500S Robot Vacuum
| | |
| --- | --- |
| Bage/Bagless: | Bagless |
| Type: | Cordless |
| Function: | Self-functioning, battery charged |
Don't we all want a vacuum to do the hard work for us while we enjoy a good book on the couch? If you're looking for a hands-free way to clean up your cat's never-ending tracks, the Coredy R3500S Robot Vacuum is an answer to your prayers.
This nifty gadget is compatible with several smart devices, connecting to your systems through Bluetooth. You can arrange specific settings to get optimal cleaning power with the push of a button.
The ultra-slim design allows this handy vacuum to fit under furniture and other areas that you can't reach with your standard sweeper. It comes with 6.5 feet of bumper strips so you can tell your vacuum where to clean—and where boundaries are.
Not only is the design hands-free—you also don't have to worry about charging it. This best vacuum for cat litter is a self-charging machine. It really is a simple solution to your cat tracking qualms, but it's on the pricey side. If you're trying to save as much as possible, this won't be the product for you.
Effortless use
Smart device compatible
Hands-free
---
5.

Bissell Corded 33A1 Handheld Vacuum
| | |
| --- | --- |
| Bage/Bagless: | Bagless |
| Type: | Corded |
| Function: | Handheld |
The Bissell Corded 33A1 Handheld Vacuum specifically targets pet hair—but we found it's just as efficient at picking up litter. Since you are trusting it for that reason, it can knock out both for you in one swoop.
This product is an affordable, easy-to-use corded vacuum that works well on upholstery both in your home and in your car. The rubber nozzle on the front grabs hair, debris, and litter from materials that seem to attract everything. It also includes another attachment that works better for hard surfaces too.
Inside, it has a multilayer filtration system that catches all the dust—plus, the canister is totally bagless for straightforward emptying. The power cord is exactly 16 feet long, so you can reach almost any space in any room of your home.
We think this powerful little machine is terrific for all pet issues—but you might not be looking for a handheld vacuum only.
Multilayer filtration
Interchangeable rubber and plastic nozzles
Affordable
---
6.

Black & Decker BDST1609 Stick Vacuum Cleaner
| | |
| --- | --- |
| Bage/Bagless: | Bagless |
| Type: | Corded |
| Function: | Handheld |
The Black & Decker BDST1609 Stick Vacuum Cleaner is a 3-in-1 system that comes with all the bells and whistles you could want at an affordable price. There are plenty of attachments to reach even the toughest spots, making sure to suck up any tracking from your cat.
This vacuum offers a pole, handheld, and floor nozzle vacuum for all those quick daily cleanups. You can clean upholstery, carpets, hard surfaces, and materials without issue. Each function has equally powerful suction to guarantee a spotless every time.
Contrary to how it may look, this is a smaller design. It is incredibly light, portable, and efficient. If you want to use it solely to sweep up your cat's disasters, you can. Or you could also just use it as your everyday vacuum in smaller areas.
In our opinion, the handheld portion is excellent. However, the pole design is a little challenging to maneuver. So, keep that in mind before purchase.
3-in-1
Handheld portion is excellent
Affordable
Not for large areas
Pole vacuum is difficult to maneuver

Buyer's Guide: Selecting the Best Vacuum for Cat Litter
Repeatedly cleaning up cat litter can be taxing on your regular vacuum. Plus, it traps odors, making many not want to use it for standard carpets. So, if you're looking to purchase a vacuum specifically for kitty messes, you might have different criteria to look for when shopping.
It would be best if you had a tough and easy-to-clean vacuum and built for small jobs. Many different products fit this description, but you'll always have a preference. So, let's discuss what to look for.
Best Types of Vacuums for Cat Litter
There are so many unique designs in just about any product these days—and vacuums are no exception. Here are some of the vacuums we consider best for cat litter.
Handheld
Handheld vacuums give you full control over the area you're cleaning. They are perfect for small messes, creating ideal suction on furniture, hard floors, and other difficult areas.
Standard Vacuums
Standard vacuums sit upright with either a bag or bagless container. They typically have attachments and hoses to make cleaning an easier task.
Canister Vacuums
Canister vacuums typically come with an ultra-movable hose that you can add different attachments to. These attachments help you reach both small and wide surfaces, getting as much cleaning power as you wish. And the sweeper base stays out of your way in the meantime.
Multi-Purpose
Some options are package deals. Most often, multi-purpose vacuums can often be disassembled to use different features like handheld, pole, and crevice cleaners.
Hands-Free
If you want a device to connect to all your smart devices, leaving you with minimal responsibility, they make self-operating vacuums. These options are more expensive than traditional ones, but it might be worth it if you don't want the hassle.
Corded vs. Cordless
Some have a preference as to whether they like corded or cordless. Cords might get in the way, but they never lose charge. Cordless can reach into hard-to-access places.
Cleaning Power
The entire reason you want a vacuum to conquer your kitty litter woes is to have a powerful cleaning machine. If the vacuum you choose has weak suction or low function, it won't do the job. Some vacuums might also have a roller that spits the litter instead of picking it up. Design is important.
If you're tired of all the smells and stains that come with pet parenting, you should check out the Hepper Advanced Bio-Enzyme Pet Stain & Odor Eliminator Spray. Okay, it's our product, so we may be biased – but we love it so much, we just have to share it! It permanently removes even the very worst smells and stains, and we offer a 100% satisfaction guarantee.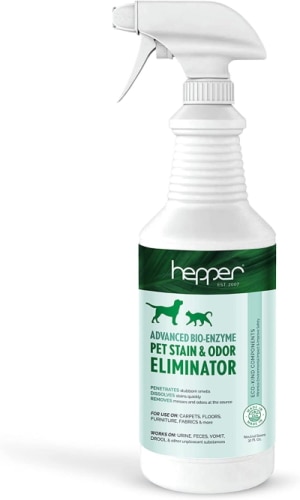 Emptying Mechanism
Some vacuums have removable cylinders and filters you can dump and clean as needed. These vacuum filters will need to be changed out occasionally, but it saves on bag replacement in the long run.
Others have replaceable bags that fill with debris, needing to be changed out individually. While it may provide an easy way to keep your vacuum's internal components clean, it is a recurring expense.
Conclusion
With our reviews, hopefully, you've found the product you were looking for. We stand by our first choice, the Bissell Featherweight Vacuum. We think it's most fitting for kitty homes—including multi-cat households. It's efficient for cat messes, and it's lightweight to make it easy on your back.
The Dirt Devil Scorpion Handheld Vacuum Cleaner is an ideal choice for a handheld vacuum. It has powerful suction, terrific control, and is easy to empty—not to mention, it's totally affordable.
No matter what you pick from our reviews, we think you will be satisfied with any of these products.
---
Featured Image Credit: kholywood, Shutterstock