How Much Does a Cairn Terrier Cost? (2023 Price Guide)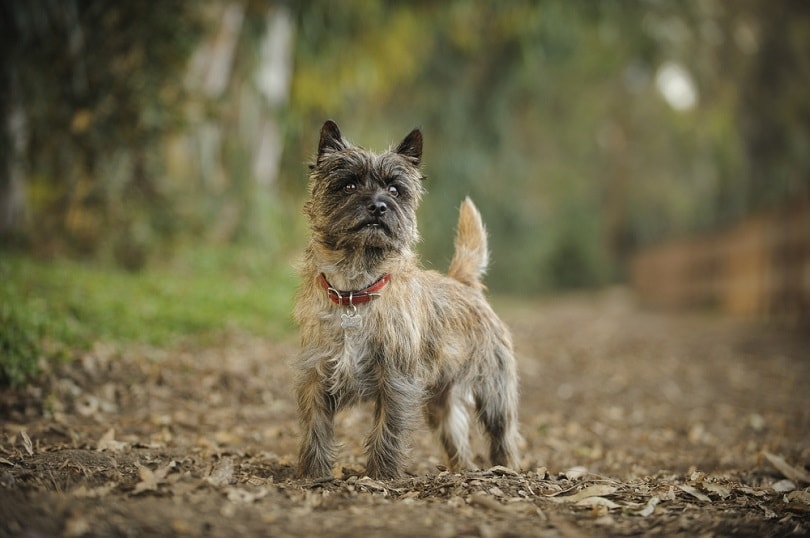 Popularized by Terry from the Wizard of Oz, the Cairn Terrier is a tenacious and energetic dog that was popular among the farmers of Scotland for protecting their properties from pests. In today's modern society, the Cairn Terrier is a popular dog breed for both beginning and experienced pet owners alike!
But like all pets, owning a Cairn Terrier is a big responsibility and the cost must be considered when deciding. Purchasing the dog is one thing, but other future costs such as food, grooming, and veterinary services of check-ups and illnesses among many other things.
The Cairn Terrier is known for being intelligent and good overall family dogs, but does the cost of owning a Cairn Terrier fit your budget? Here, we discuss the different expenses you need to consider before bringing home your furry friend!

Cairn Terrier Price: One-Time Costs
When bringing home your new Cairn Terrier, the first topic regarding "cost" is always the price you to pay to actually get the dog. The price of a Cairn Terrier may vary depending on where you get the dog from, but you certainly have to determine your budget. One-time costs would include the purchase of your Cairn Terrier along with your initial supplies. Be sure to plan and do your research before making your buy to ensure that you don't go beyond your budget!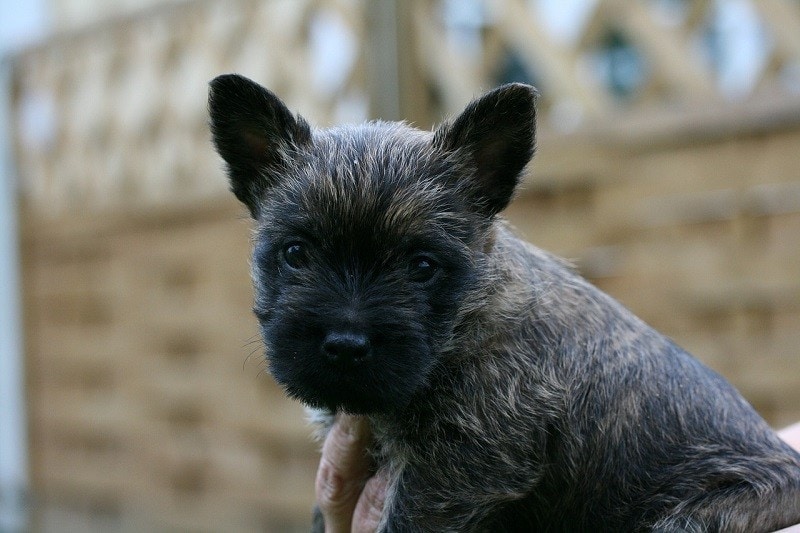 Free Cairn Terriers
Although Cairn Terriers are popular pets, there may be instances where you can get them for free. Sometimes you can get puppy or adult Cairn Terriers from families or owners who can no longer care for them, or maybe through rescue.
Dogs obtained through rescue may usually be older and may also have vague veterinary history or current health problems. Obtaining dogs through this route must be done with caution as follow-up veterinary services may end up costing more in the long run.
Cairn Terrier Adoption
Cairn Terriers are popular, pure-bred dogs. But even as pure breeds, they can still end up in an animal shelter or rescues facilities. Just like many dogs in animal shelters, Cairn Terriers obtained through this route are generally older and have vague veterinary histories, that's why it is important to probe on their history as best as possible through interview prior to adoption.
Most animal shelters provide proper care to their dogs, so should a Cairn Terrier have current health conditions then it will be disclosed, and proper action can be provided.
Cairn Terrier Breeders
Should you decide to obtain your Cairn Terrier through the breeder route, expect that the cost will be a little higher than the previous routes. Although puppies from breeders may range from $1,200–$2,000, some Cairn Terriers with impressive bloodlines may cost up to $2,500!
Cairn Terriers from reputable breeders have extensive family and veterinary history and are well-cared for even prior to adoption. Most puppies already receive some amount of training, socialization, and have up-to-date vaccinations which may reduce cost in the long run. For this reason, it is important to find a reputable breeder.
Initial Setup and Supplies
Just like any pet, the purchase of the pet is not the only one-time cost you will have to pay. You will also have to pay for your Cairn Terrier's initial supplies before even bringing him home! Being a small dog, a Cairn Terrier's supplies are generally not as expensive as the bigger dogs.
If you already own or have owned another pet dog, then there will be items that you won't have to buy again such as a brush, leash, or nail clippers to save a few bucks!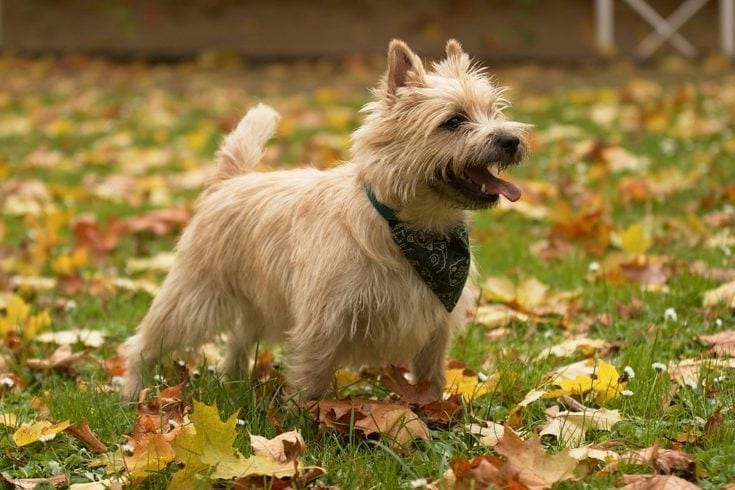 List of Cairn Terrier Care Supplies and Costs
| | |
| --- | --- |
| ID Tag and Collar | $5–$20 |
| Leash | $5–$20 |
| Teeth Cleaning Supplies | $5–$15 |
| Bed/Cage | $20–$80 |
| Nail Clipper (optional) | $5–$15 |
| Brush | $15 |
| Toys | $10–$50 |
| Carrier | $80–$130 |
| Food and Water Bowls | $15 |
| House Pads (optional) | $15–$45 |
| Microchip (Depending on the State) | $25–$50 |
How Much Does a Cairn Terrier Cost Per Month?
On top of your initial costs, expect monthly expenses for your pet. It is important to allocate money for your Cairn Terrier's needs such as health care, grooming, food, and others. Expenses may reach up to $300 a month on the first year since puppies have more needs, but as they get older, monthly expenses may be around $80–$150.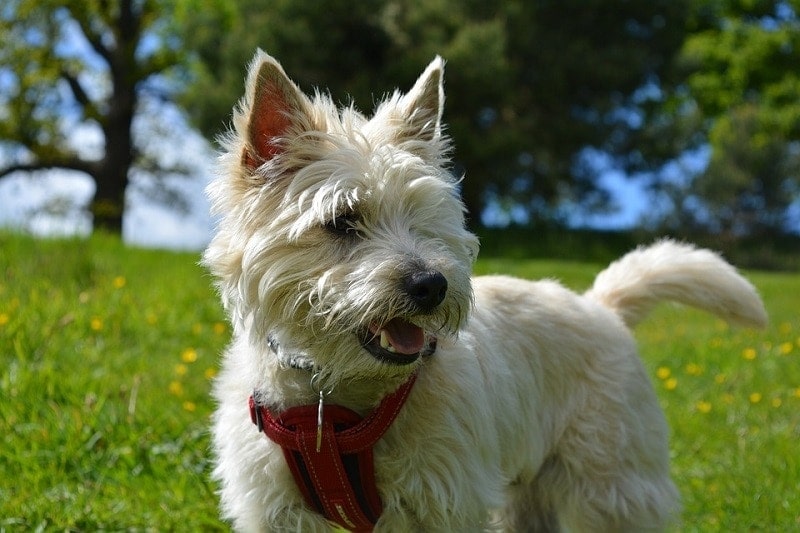 Health Care Costs
Most of the expenses for you Cairn Terrier may be for health care, even for healthy dogs. This would include routine check-ups and preventative supplements and medications. Routine check-ups and veterinary consultation may be costly but are important to ensure the health of your Cairn terrier. Prevention of illnesses are always better and cost-effective in the long run!
Dog Food Costs
Cairn Terriers are small dogs, so their daily nutrition requirements are less than bigger, heavier dogs. Even as they grow older, they would still average around 14lbs when they reach adult age.
It is important to feed your dogs high-quality dog food to meet your Terrier's nutritional needs, as well as preventing any diet-related health complication. Money for food allocation may also increase depending on how many treats you like giving your dogs!
Cairn Terrier Grooming Costs
Cairn Terrier's are usually groomed around 3–4 times in a year, and each visit for professional grooming may cost around $35. This would include giving your dog a bath, brushing of hair, cleaning of ears, and trimming of nails, and others as needed.
There are also grooming kits available for around $60–$80 which include everything you need to groom your Cain terrier should you choose to do it at home. Ensuring your Cairn Terrier is clean and hygienic can also prevent many health complications!
Medications and Vet Visits
During the first year of a Cairn Terrier's life, expenses for veterinary visits may cost higher due to the various requirements such vaccinations, deworming, and maybe spray/neutering should you choose to do so.
As the pup gets older, veterinary visit costs may be less as your dog will only have to go a few times a year provided that your dog is healthy.
Pet Insurance Costs
Cairn Terriers are prone to different health complications that may affect their teeth, joints, and heart. Pet insurance is highly recommended to cover sudden veterinary emergencies and expenses should your pet experience illness. Treatment for illnesses or accidents may range from $400–$2,000, so it is better to be safe by getting your Cairn Terrier covered by insurance.
Environment Maintenance
Cairn Terriers are generally low maintenance dogs. They are small so they can easily move around even in a small living environment. However, like all dogs, they still need their exercise.
Cairn Terriers need at least 30 minutes to 1 hour of walking every day, so if you are unable to walk your dog due to your busy schedule then it is recommended that you hire a dog walker. You can also have your Cairn Terrier go through a training series with a trainer which may easily cost around $500 which will include potty and behavior training which may prove cost-effective in the long run if you constantly leave your dog home alone.
| | |
| --- | --- |
| Dog Walker | $450/month |
| Dog Training | $500/training series |
Cairn Terrier Entertainment Costs
Despite being small dogs, Cairn Terriers are an active and energetic breed of dog. They are also hunters in nature, so toys are recommended to keep them pre-occupied and entertained. From pups to adulthood, your Cairn Terrier will always enjoy having their own toys.
Small to medium sized toys are recommended and may have to be replaced monthly should your Cairn Terrier destroy them or if they wear out due to constant use. Cairn Terriers are do not have a strong bite, so toys are expected to last quite a long time. Give your dog a variety of toys so that they do not get bored with what they have!

Total Monthly Cost of Owning a Cairn Terrier
Cairn Terriers are small, generally low maintenance dogs making their expenses less than other larger dogs. It is recommended to ensure that your pet receive regular check-ups, a high-quality diet, and proper hygiene to ensure your Cairn Terrier is healthy and prevent or reduce the chances of health complications, which would also reduce cost in the long-term. Employing a trainer or a dog-walker will surely increase your expenses, so it is important to budget your money for your dog's monthly needs wisely.
Additional Costs to Factor In
Additional costs and expenses that are not in your monthly budget may include emergency treatment of illnesses or accidents, pet sitters, or maybe enrolling your dog in training programs.
Illnesses and accident treatment costs may vary depending on the complication, so pet insurance is highly recommended. Pet sitters may cost around $25–$30 a day and enrolling your dog in training series may also cost around $300–$500 depending on where you are.
Cairn Terriers are energetic dogs. They are hunters and diggers, so there may be instances where they destroy furniture especially as puppies. Extra fees for replacing or repairing furniture might be needed, so be prepared!
Owning a Cairn Terrier On a Budget
Owning a Cairn Terrier is a responsibility and expenses are unavoidable, but that does not mean you cannot save money. There are different ways on how to efficiently provide for your dog without spending an excessive amount of money. Buying high quality and durable supplies such as their collar, leash, brush, toys, and food and water bowls that do not need replacement can save a lot of money on the long run.
Saving Money on Cairn Terriers Care
Investing in high-quality foods and supplies are generally cost-effective for long term. Buying high-quality dog food as well as frequent check-ups and grooming can reduce the risk of health complications. Buying food in bulk and on-sale are also cost-effective.
You may also choose not to receive services such as dog walking and training if you can do them yourself. If you learn how to properly groom your Cairn Terrier then you can also save money on grooming your dog yourself. You can also save money by asking a friend or relative to look after your dog while you're away to avoid having to pay for a pet-sitter.

Conclusion: Cairn Terrier Price
The Cairn Terrier is small, low maintenance pet that is known to be energetic, loyal, and an overall good family pet. Purchasing a pet from a reputable breeder may cost around $1,200–$2,000 but may be cheaper should you go the adoption or rescue route. On top of the purchase of the pet, initial supplies may range from about $175–$525.
Monthly expenses for your Cairn Terrier can range from $150–$550 which would include veterinary check-ups, food, grooming, and other things.
Just like all pets, owning a Cairn Terrier is a responsibility and budgeting is necessary. You can also find ways to save money by providing your dog with high quality supplies and keeping your dog healthy.
---
Featured Image Credit: everydoghasastory, Shutterstock