Pure Balance Dog Food Review 2023: Recalls, Pros & Cons

Our Final Verdict
We give Pure Balance dog food a rating of 4.5 out of 5 stars.
Pure Balance dog food is a Walmart label, all-natural dog food. It is available in several different flavors and recipes. As a cost-efficient nutritious meal, this is a canine cuisine you will feel comfortable giving to your pet.
Besides ingredients, we will also give you a rundown on who owns the brand, where it is made, and even info on recent recalls. There is no such thing as a "perfect" dog meal, this option included. Keep reading to find out more!

At a Glance: The Best Pure Balance Dog Food Recipes:
Image
Product
Details

Our Favorite

Pure Balance Wet Canned Food

All-natural
Vitamins and minerals
No artificial ingredients
Check Price

Pure Balance Grain-Free Wild & Free

Vitamins and minerals
Supports digesting, immune, and heart health
No artificial ingredients
Check Price

Pure Balance Wild & Fresh Dog Food Roll

All-natural
No artificial ingredients
Contains no wheat, corn, or soy
Check Price

Pure Balance Variety Pack Wet Canned Dog Food

Made from natural ingredients
No artificial colors or preservatives
Comes in 2 flavors
Check Price

Pure Balance Beef Dinner in Gravy

Grain-free formula
Loaded with vitamins, minerals, and omega-6 fatty acids
Pure & simple
Check Price
Pure Balance Dog Food Reviewed
Pure Balance dog food is a Walmart-labeled pet line that is intended to provide your dog with a healthy, natural, and cost-efficient option for dinner. They offer a multitude of flavors and recipes, and they have an entire feline line, too.
Pure Balance dog food not only carries wet and dry food, but also a few other options which we will discuss more thoroughly below. Each recipe contains all-natural ingredients that promote your pup's health and overall well-being. Not only that, but Pure Balance maintains that their facilities are run at AAFCO standards, and they follow their nutritional guidelines.
Let's take a closer look at their products.
Who Makes Pure Balance and Where Is It Produced?
As mentioned, Pure Balance is a private Walmart line that was created in 2012. Walmart started this brand after they saw a need for affordable and nutritious pet food that is not easily found on the market.
Walmart, however, does not manufacture the product themselves. They enlisted Ainsworth Pet Nutrition LLC to produce most of their products. This company is owned by J.M. Smucker who added them to their list of pet brand manufacturers in 2018.
Ainsworth is located in Meadville, Pennsylvania, and they produce their products in the USA. What's more, they source their ingredients within ten miles of their manufacturing plant.
As you may have noticed, we mentioned that most of Pure Balance's products are produced by this company, yet not all of them are made there. Unfortunately, there is no information readily available about where the rest of the pet food is made. What we can say for certain is all their pet meals are manufactured in the US, yet some of the labels indicate the ingredients are sourced from around the world.

Nutritional Value
Now that you have an idea of what is available through Pure Balance, we can talk about its health benefits for your pup. As we have gone over above, all of their food is made with all-natural ingredients. They are also corn, soy, and artificial ingredient free. Just keep in mind that the FDA does not regulate the term "natural." Brands and manufacturers are free to use this term as they see fit.
That being said, we have done a thorough review of the Pure Balance Dog Food ingredients throughout the different recipes and everything seems to be on the up and up.
A Quick Look at Pure Balance Dog Food
All-natural Formula
Variety of recipes and flavors
Additional vitamins and minerals
Manufactured in the USA
Balanced Diet
No Recalls
A few questionable ingredients
No senior diet
Not all ingredients sourced in North America
---
Ingredients Analysis
It can be difficult to understand what ingredients are healthy for your pet and which ones you should avoid. Below, we will outline some of the ingredients in each type of dog food to give you a better understanding of what is nutritional and what may not be beneficial to your pet. First, however, we wanted to give you a quick background on a few important factors.
Ingredients Lists
The FDA regulates all pet food in the USA. That being said, dog food does not need pre-market approval. The ingredients need to have a "purpose" in the formula, and all the ingredients need to be "safe" for your pet.
Unfortunately, there are many ingredients deemed "safe" that are really not. With these regulations in mind, there is a lot of wiggle room for brands. For example, the ingredients list must be formed from the most concentrated item to the least.
It is also possible to separate ingredients. In what is called ingredient splitting, if you separate chicken meat from the bone, the bone is less dense and will fall lower on the list; in fact, the entire chicken will fall lower. Keep this thought in mind when looking at labels, especially when you see one ingredient in several forms.
"Meals"
There is lots to debate about whether "meals" are good for your dog. When you add by-product meals, it can become very confusing. We are happy to say that Pure Balance does not use any by-products in its formula, though.
They do use meals, however. Chicken meal is rendered chicken minus the feathers, entrails, and beaks. Typically, it is the parts not fit for human consumption. The manufacturer will boil the "parts" down to a powder called a meal.
The meal can consist of bones, organs (minus bowls), and other parts we would not want to eat. The "parts" of the chicken are packed with protein (bones) and are usually great for your dog. The problem with meals is where and how it is made. While some brands use good meals, others do not. This is where the controversy comes in.
The Ingredients
Below, we have outlined the different ingredients, whether they are good or bad, and the recipe it is being used.
| Ingredient | Recipe | Purpose |
| --- | --- | --- |
| Omega 3 and 6 | All | Helps with dry skin, fur, and inflammation especially in their joints |
| Taurine | All | Immune system help, plus eye and heart well-being |
| Biotin | Canned and Wet | Helps the other vitamins and minerals soak into your pet's system |
| L-carnitine | Dry and Canned | Helps with energy levels and metabolism |
| Pea Protein | Dry | This ingredient has been used to replace wheat fillers. While peas are not a bad ingredient, high quantities of pea protein have very little nutritional value for your pet |
| Lamb Meal | Dry | See the discussion about meals above |
| Pea Starch | Dry | Again, pea starch has the same issue as pea protein |
| Yeast | Dry | Yeast is an ingredient that is not great for your dog's stomach or digestive system. It can cause bloating, gas, and in rare cases, more serious consequences like stomach-turning |
| Corn Starch | Wet | This is an interesting ingredient as this food is labeled as "corn-free". Corn starch is used to thicken ingredients. It is also used like a carbohydrate |
| Chicken Meal | Wet | See above meal discussion |
| Salt | All | Specifically, in the case of wet food, salt is listed high on the list of ingredients, and it is not good for your dog |
| Added Color | Wet | This is another interesting ingredient as it does not give any further details as to what type of color |
| Sodium selenite | Wet | This is something that aids in normal cell function. It can be toxic in large quantities, however |
| Carrageenan | Rolls | Carrageenan have no nutritional value for dogs. It is used as a filler, and it can be hard to digest |
Though it may seem like there are a lot of negative ingredients in Pure Balance's formulas, there actually is not. When you consider this is what we found through the entire line including five different recipes, it is not bad at all.
There are also other benefits such as vitamins A, C, D, E, B-complex, digestive enzymes, calcium, and minerals such as iron and potassium. We also want to reiterate that this brand contains no soy, artificial preservatives, colors, flavor, BHA, or other harmful ingredients that could cause your pet harm.
Recall History
At the time this article was written, Pure Balance had not had any recalls on their dog food. On the other hand, Ainsworth Pet Nutrition LLC had a voluntary recall of five formulas from their Rachel Ray pet food line after elevated levels of vitamin D were found.
Also, J.M. Smucker has had two recent recalls of cat food and dog food in 2018 and 2019. The cat recall was in regards to below standard ingredients with Special Kitty pet food while the other was for Big Heart where pentobarbital (a euthanasia drug) was found in some formulas.

Reviews of the 3 Best Pure Balance Dog Food Recipes
Below, we want to share three of our favorite recipes from this brand.
1.

Pure Balance Chicken Canned Dog Food
If your pup is a fan of wet food, they will love this chicken-flavored meal. Available in a 12.5-ounce can, you can pick this up as a single tester dinner or in a six-pack. The overall formula is a nutritious food for your dog that is packed with vitamins and minerals.
This is an all-natural formula that contains no fillers, wheat, corn, or soy. Beyond that, it also doesn't have any artificial flavors, colors, or preservatives. There is also a grain-free option that will be kind on your puppy's stomach. Easy to digest, this food is a great canned meal for your pet. The only drawback to this option is it contains high levels of sodium.
All-natural
Vitamins and minerals
No artificial ingredients
Grain-free
Contains no soy or corn
---
2.

Pure Balance Grain-Free Wild & Free Bison, Pea, Potato and Venison
If you are looking for nutritious dry dog food, this natural formula will be a great pick. This formula contains no wheat, corn, or say. You will not find any artificial flavors, colors, or preservatives, plus the kibble is the right size for big pet's on smaller pups.
Not only is this pet food full of vitamins and minerals, but it is also formulated to support your dog's immune system, heart health, and digestive system. Your pet will have an easy time passing this food, plus it's delicious. The only downside is this food does not contain any joint supporting supplements like chondroitin or glucosamine which is a great ingredient for many dogs as it can not only help with pain but be preventive, as well. Other than that, this is good dry food for your dog.
All-natural
Vitamins and minerals
Supports digesting, immune, and heart health
No artificial ingredients
No wheat, corn, or soy
No glucosamine or chondroitin
---
3.

Pure Balance Wild & Fresh Beef and Bison Roll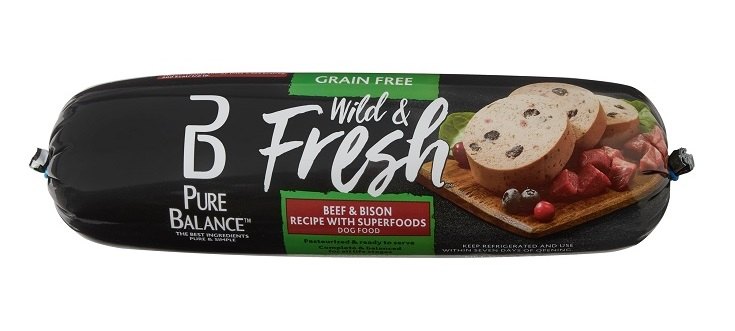 The Pure Balance Beef and Bison roll is semi-raw pet food that can be given to your pet as either a snack or meal. It comes in a 2-pound tube that will last for up to 10 days. All you have to do is cut off two slices and cube them up. There is no grinding, cooking, or other preparations necessary.
You should note that it can take time for your pet's stomach to become accustomed to this formula. Small portions are recommended when first using this product. Also, there is carrageenan in the meal which is a non-nutritious filler. Other than that, you will find plenty of vitamins and minerals in the roll. It is not only tasty, but made with natural ingredients without corn, wheat, soy, or artificial ingredients.
All-natural
No artificial ingredients
Snack or meal
Vitamins and minerals
Contains no wheat, corn, or soy
Can upset pet's stomach at first
Contains carrageenan
---
What Other Users Are Saying
No review would be complete without the input of your pet parent peers. What better way to decide on a product than by taking into account those who have already tried the product. Take a look at some of these reviews.
Walmart.com
"My Boston Terrier absolutely LOVES this! I dice it up and add it in with the Pure Balance Lamb pate or Sweet Potato[."
Walmart.com
"I really like this product, because it has no corn & wheat which my dogs can't have. We found it in Walmart by accident. The price is right & I recommend it to anyone I know!!"
Of course, no review would be complete without Amazon reviews. As the majority of people shop at this site at one point or another, it is often the best barometer for what a product is really all about. Check out the Amazon reviews here.

Conclusion
For our final thoughts, we wanted to address a couple of last things. First, although we have already mentioned this point, Pure Balance is affordable dog food, especially in light of its natural ingredients. You can find these products in Walmart stores or through their website. You can also order from Amazon.
Other than that, this is an all-natural formula that has many benefits and few drawbacks. You have many different options to choose from including several formulas and recipes. Overall, we are confident in our 4.5 out of 5 ratings for Pure Balance dog food.
See Also: