8 DIY Cat Couch Plans You Can Make Today (With Pictures)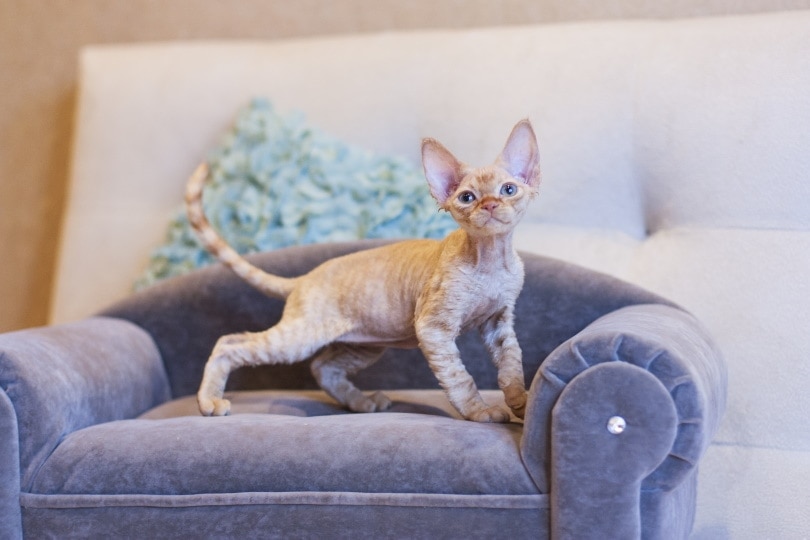 If you've seen the popular posts of crocheted, knitted, and hand-sewn cat couches, you might be looking to make your own. While most cat couch plans are weekend projects, some are intricate pieces of handiwork designed to show off your creative talents — and give your cat a warm place to nap.
DIY cat couches can be built from a variety of different materials. Depending on your handy or crafting skills, you can build one out of wood or knit or crochet your cat's furniture. We rounded up six DIY cat couch plans to get you started. Your cat will be lounging on their new couch in no time!
The Top 8 DIY Cat Couch Plans You Can Make Today
1.

DIY Cat Couch by Stephanie Marie
| | |
| --- | --- |
| Materials: | 1 yard of fabric, 2 yards of 1" high-density foam, temporary adhesive spray, ¼" 2×4 plywood, ½" 2×4 plywood, eight steel corner braces, four 5/16" three-prong nuts, four 4" table legs |
| Tools: | Drill, miter saw, table saw |
| Difficulty Level: | Moderate |
This DIY cat couch pattern can be adapted to be slightly bigger or smaller, depending on your needs. If you're pattern challenged, both written and video instructions can help you along.
The base of the couch is made out of wood, which is then covered in foam and fabric to make a comfy lounge chair for your pet. While this project does require cutting skills, the instructions are fairly basic. Just make sure to measure properly!
---
2.

Knitted Cat Couch by Knitting
| | |
| --- | --- |
| Materials: | Yarn (approximately 675 yards), knitting needles, cardboard box, approximately 20 inches long x 14 inches deep x 4 inches tall, cotton batting |
| Tools: | Not listed |
| Difficulty Level: | Moderate |
Even for accomplished knitters, this cat couch isn't the easiest pattern. It requires knitting flat circles and rectangles, knitting in the round on double-pointed needles, and the ability to sew knitted pieces together like you would for assembling a sweater. That said, the result is a beautiful comfy couch for your kitty.
---
3.

DIY Cat Couch Made with Cardboard by Imgur
| | |
| --- | --- |
| Materials: | Cardboard |
| Tools: | Knife, scissors |
| Difficulty Level: | Easy |
Some cats love nothing more than sitting on top or inside cardboard boxes, often ignoring their plush beds and expensive cushions. If yours is one such cat, with some firm cardboard and a pair of scissors, you can easily create a cat bed, and there's no reason to cover it or crochet any kind of cushion. The plans for this are really just a series of photos, but they are enough to give you the basic premise and you can use the pictures for inspiration to make your own DIY cat couch with cardboard.
---
4.

Cardboard Banana Box Mini Couch by That Jo Chick
| | |
| --- | --- |
| Materials: | Cardboard boxes, comforter, duct tape, cotton |
| Tools: | Scissors, sewing needle |
| Difficulty Level: | Moderate |
This cardboard banana box mini couch is another cat couch made using cardboard boxes, but it is more involved than the simple cardboard finish above. It uses the inside of a comforter to create the cushions and the cover to make the sofa covers. Some basic sewing skills are beneficial, but the whole process is quite simple. The cushion sections are quite plump and look really comfortable so if you have a cat that enjoys time on your bed or a duvet around the house, this is likely a good choice for them.
---
5.

Cat Sofa (or Small Dog Sofa) by Rag 'n' Bone Brown
| | |
| --- | --- |
| Materials: | Plywood, glue, camping mat, curtains |
| Tools: | Saw, drill, knife, stapler |
| Difficulty Level: | Moderate |
This cat sofa, which would also be suitable for small dogs and potentially other small pets, does take a little more work than the cardboard options. It requires the use of a table saw and a few accessories to get those angled sides looking their best, but there's no sewing involved in this one. The cover is attached, on top of a camping mat that gives a little extra cushioning and comfort, using a stapler and glue. It is a stylish-looking, comfortable sofa that your cat should love.
---
6.

Cat Couch Upholstered Miniature Furniture by Clay to Canopy
| | |
| --- | --- |
| Materials: | Plywood, router, 1×3, foam, quilter's padding, muslin, fabric, 2×2 |
| Tools: | Saw, drill, staple gun |
| Difficulty Level: | Moderate |
This cat couch upholstered miniature furniture plan is another that relies on some accurate cuts and benefits from a table saw, as well as a router. As well as foam to cushion the sofa, it also uses muslin cloth to hold the padding in place and is then topped and covered with a pet-resistant fabric, although you can use any fabric to get the finish and the design that you want. It is finished with some legs made from a 2×2 board and attached to a bottom board.
---
7.

Crochet Cat Couch Pattern by The Crochet Crowd
| | |
| --- | --- |
| Materials: | Yarn, foam |
| Tools: | Crochet hook |
| Difficulty Level: | Moderate |
If you're good with a crochet hook and can glue some foam pieces together, this crochet cat couch pattern is a really attractive option that shouldn't prove too difficult. It does have an Afghan throw, which adds to the look and may offer a little extra comfort for your kitty. Otherwise, it will be a test of your crocheting skills rather than your DIY and woodcutting skills.
---
8.

Cat Couch by Daralyn Kelleher
| | |
| --- | --- |
| Materials: | Plywood, foam, fabric |
| Tools: | Saw, drill |
| Difficulty Level: | Moderate |
This particular cat couch was made for actress Mayim Bialik, but if you follow along with the video, you will be able to make your own cat couch. It does require some cutting, and the legs pose a few problems. The result is effectively a miniature version of a full-sized couch that cats are bound to enjoy sitting on. It looks like a professionally made couch and will cost a fraction of the price of buying a professional one.
What Is Cat Furniture Made Of?
Conventional cat furniture is made from wood, specifically, sheets of particleboard cut into platforms, boxes, and various enclosed structures. These boards are combined with planks and studs. The exterior of the finished structure is usually covered with carpet or fabric.
Cat trees or climbing structures require sturdier materials than cat beds or cat couches. They must be able to withstand the weight of your cat at raised heights and the impact of your cat pouncing and jumping on them. For beds and couches that sit on the floor, you don't have to worry so much about your cat falling and hurting themselves.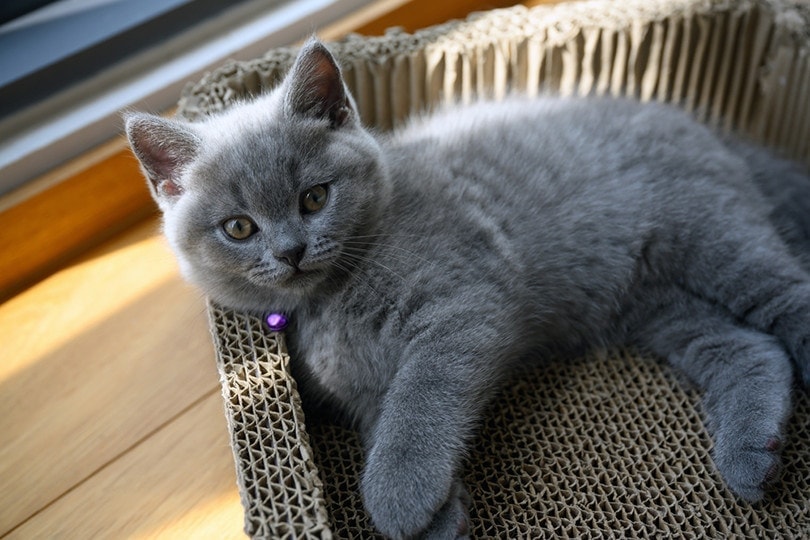 How Do You Make a Cat Hideaway?
While there are elaborate DIY plans for cat hideaways and expensive cat houses that you can purchase, you can make one with a cardboard box and fabric or an old T-shirt. Your cat just wants a place to hide, and cardboard boxes are favorite kitty hideouts. Simply cut the flaps off the box, turn it on its side, and cover it with an old t-shirt. Leave the neck hole stretched on the open side for your cat to climb in and get out.
Is MDF Toxic to Cats?
You will find that the cat patterns on this list that use wood specifically request plywood. While MDF board is cheaper, it's not good to use it for cat furniture. The particles in the MDF board are adhered together using formaldehyde as a binding agent. Formaldehyde is recognized as a "known carcinogen" and a "hazardous material" in the United States.
What Fabric Is Cat Scratch Proof?
For upholstered cat furniture, microfiber, microsuede, Ultrasuede, or faux suede are the best materials to use. They are dense materials that stand up to your cat's claws but aren't appealing to scratch on, so they will last longer than other types of fabric.
Fabrics like cotton or tweed that snag easily should be avoided on cat furniture. Textured fabric is also difficult to remove cat hair from, so it's probably not the best choice for a cat couch.
Related Reads:
---
Featured Image Credit: klevers, Shutterstock