18 DIY Cat Shelves You Can Make Today (With Pictures)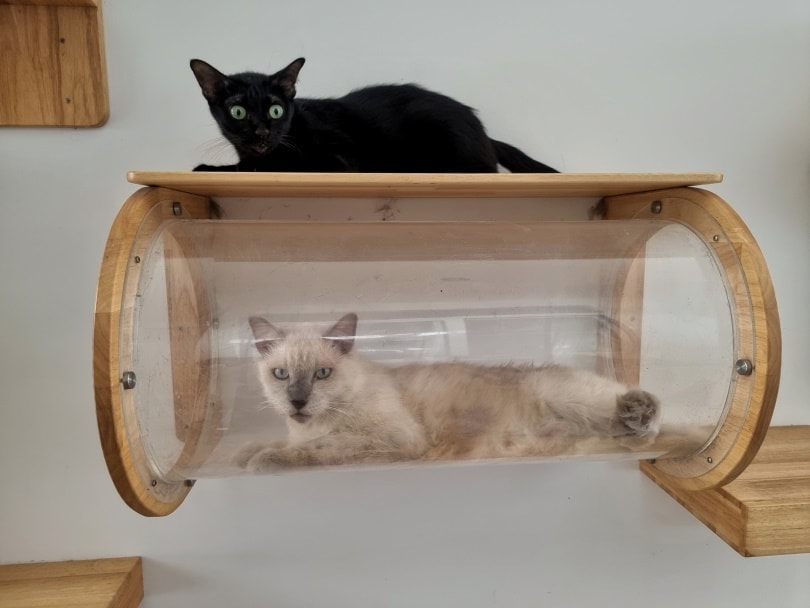 Every cat owner knows that cats love to jump and climb, often perching in spots that we didn't think they could reach! Cats like to look down and observe the world around them. Being up high gives them a feeling of security and comfort.
Cat shelves are a fun DIY project that can give your kitty a whole new view of their surroundings. Best of all, they don't take up any of your precious floor real estate. They can help open up a room that was previously filled with cat trees and condos. You get some of your living space back while helping your cat alleviate boredom.
DIY cat shelves and wall-mounted cat beds are simple to make if you have the right materials. In this article, we look at plans that you can make today in just a few steps.
The 18 DIY Cat Shelves
1.

DIY Cat Tree Alternative by Brooklyn Farm Girl
These shelves can line your wall and take the place of a cat tree. You can place these like stairs so your cat can climb up and down easily. These are 18" and 24" shelves that come with wall anchors to hold up to 8 pounds. Feel free to purchase separate wall anchors that hold more weight, up to 50 pounds.
A screwdriver and level are needed to install the shelves and make sure they're straight. Add colored carpet squares to the tops, and your kitty is ready to relax.
---
2.

Wall-Mounted DIY Cat Bed by Home Talk
Using scrap wood that you have lying around, you can make this wall-mounted cat bed and give your cat a comfortable, private place to rest. This bed is made from scrap plywood and held together with brad nails and wood glue.
Carpet pieces cover the top of the bed for padding. You can get as detailed as you want with this bed. Once the frame is put together, decorating it is the easy part. This plan uses a silhouette cameo to cut out the letters of the cat's name, so there is no confusion about who owns this bed.
---
3.

DIY Cat Climbing Wall by Vivianne Yi Wei
This climbing wall gives cats plenty of options to play, run, and jump without a cat tree taking up half of your living room. These shelves include places for scratching, climbing, and sleeping. The shelves go all the way up the ceiling, giving cats a great view of their domain. This step-by-step plan will help you get started right away.
---
4.

DIY Cat Rope Bridge by The Owner Builder Network
Connect one wall shelf to another with this unique rope bridge for your cat! If you're skilled at woodworking, this is the project for you. Even if you're not, this could still be fun to build. You'll need a sander, circular saw, and drill for this build.
Your cat is sure to love being able to go from shelf to shelf without having to climb down.
---
5.

DIY Floating Cat Shelves by IKEA Hackers
You can make these IKEA hack floating cat shelves in about 4 hours. With heavy-duty anchors and proper spacing, your cat can have their very own climbing wall. Jumping from shelf to shelf will keep them busy and ensure they get some exercise. Carpet pieces attached with Velcro to the tops of the shelves give them soft places to land.
---
6.

DIY Cat Adventure Wall by Autodesk Instructables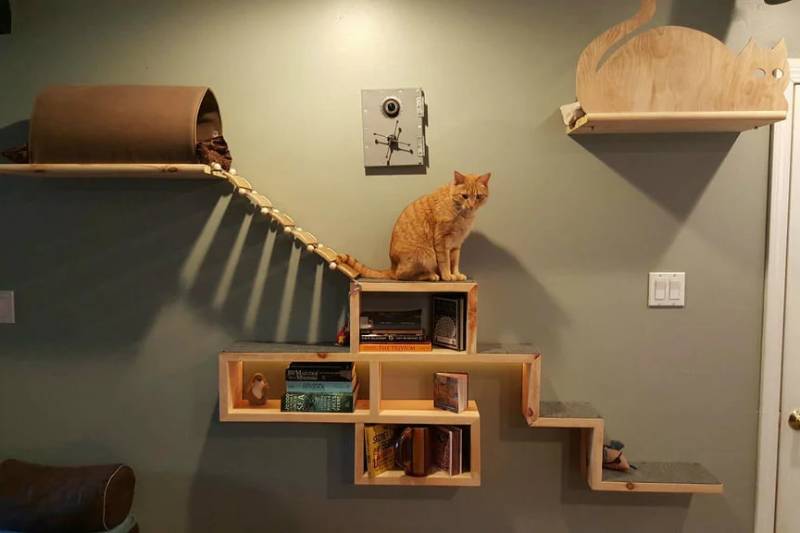 This cat adventure wall includes a rope bridge and LED lighting. The materials for this plan cost around $100. There is plenty of gluing, clamping, and cutting involved. Even if you don't feel that your DIY skills are up to this challenge, take a look, anyway. The instructions are thorough for every step.
---
7.

DIY Staircase Cat Shelves by Worst On The Block
With these shelves, you can create your own kitty jungle gym. This plan will show you how to place the shelves leading all the way up to a cat bed suspended from the ceiling. Buying your shelves preassembled will help save time on this project.
---
8.

Sturdy DIY Cat Shelves by Patrick's WorkShop
These sturdy cat shelves are great options for heavier cats since the design incorporates interior supports and attaches to hidden wall mounts. The video provides a great overview of the process and clear explanations about essentials, such as how to find studs to mount shelves and other items on your walls. Check with your local hardware store if you need help figuring out how to properly install shelves based on what your walls are made of.
---
9.

DIY Mounted Cat Paradise by Melanade Beauty
You can create a virtual cat paradise that's easy to install and designed to minimize wall damage with this innovative plan featuring multiple shelves and a floor-to (almost) ceiling scratching post encased in sisal rope. Paint the shelves to match your color scheme, or opt for something bold and eye-catching. Add carpet to give your cat a comfortable place to relax, and don't forget to throw in a few climbing holds to make it easy for your cat to access their playground.
---
10.

DIY Cat Gym by Adventurer at Heart
Use these plans as inspiration to help you design and build your own mounted cat jungle gym. You'll need a few pine boards and carpet remnants to get started. You can always stain or paint the pine boards so your installation matches your decor. Attach the carpet remnants using Velcro to give your pet a nice surface to scratch away to their heart's delight. You can also decorate the brackets to give your cat shelves extra flair.
---
11.

Simple DIY Cat Shelves by Hill's Pet
With a board, a few brackets, and wall anchors, you can create fun DIY shelves for your cat. This simple plan doesn't require much when it comes to assembly, but you can always enhance the design with paint or special decorative wall brackets. These easy-to-follow basic plans provide step-by-step instructions that lead you through the entire process, from what to buy to things to consider when determining how to mount your shelf.
---
12.

Covered DIY Cat Shelves by Tatianas Delights
IKEA Lack shelves are fantastic bases for cat-shelf ideas. They're sturdy, light, and easy to dress up or down with accessories. Also, adding a bit of carpet is relatively simple to make the surface nice and cozy for your cat; all you need is the right kind of glue and a few carpet remnants. You'll use a utility knife to cut the carpet to fit, and then you'll mount a few shelves close together to create a cozy activity corner reminiscent of a cat tree.
---
13.

Fun & Functional DIY Cat Shelves by Practical Engineering
You can't go wrong with these carpet covered, box-like floating shelves. They're easy to put together, and the video walks you through the entire process and even provides good information about factors to consider when deciding which types of screws and anchors to use. Watch the video to the end for some DIY scratching post inspiration. Once you feel comfortable mounting the shelves, creating a vertical playground for your pet is simple.
---
14.

DIY Mounted Cat Hammock by Aaron Fixes Stuff
This adorable mounted cat hammock project hits all the high notes when it comes to DIY projects and feline enrichment. PVC pipes are covered with sisal and mounted securely to wall studs. The hammock can span between any two sisal-covered PVC pipes. Add as many hammocks as you'd like, and leave a few sisal-covered pipes for your cat to enjoy for nail sharpening and climbing. While the finished product is amazing, be prepared to spend some time wrapping and gluing the sisal to the PVC.
---
15.

DIY Cat Scratcher & Ledge by Pet Meadow
Active cats will love this mounted cat pole and perch. A long-carpeted pole allows cats to climb to a partly enclosed platform that's almost ceiling height. The platform is incredibly secure, supported by the pole, and attached to the wall. This design is a great choice for larger and heavier cats. You can add a cat bed or pillow to give your cat a comfortable place to rest, but don't forget to provide your buddy with a few ways to climb up and get down from their hideout.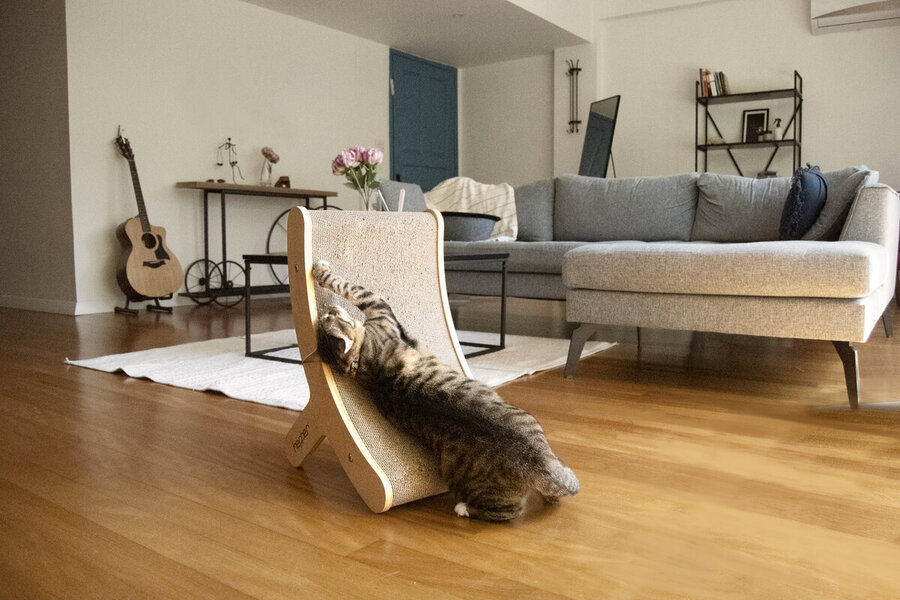 A cat scratcher can provide hours of fun daily for any cat, especially our Hepper Hi-Lo Cat Scratcher. It's a cardboard scratcher built to last and amuse (all while looking stylish in any room). It can be adjusted to three different positions – high, low, and lower – and is guaranteed to keep your feline companion engaged and entertained, away from getting into [too much] mischief or scratching things they shouldn't. You can click here to learn more about this piece of modern cat furniture and kitty play haven. 
---
16.

DIY Cat Window Ledge by Martha Stewart
While technically not a cat shelf, this incredibly adorable DIY window ledge provides cats with a high perch from which to survey their environment. Make sure to use hardware for installation that can support more than the full weight of your cat. The edge of the plywood is covered by a charming strip of dark leather fixed with gold nails, but you can always use something different that blends in better with your decor.
---
17.

DIY Carpet-Coated Floating Shelves by Instructables
Floating shelves look amazing and give cats fun perches to enjoy at the same time. These sturdy plywood choices take things up a notch by providing cats with cozy carpet-covered sturdy shelves perfect for napping and scratching. Most hardware stores can take care of cutting the plywood down to size for you. Consider finding the studs you plan to use for mounting before designing your shelves; this will make it much simpler to mount everything when you're done.
---
18.

Super Stylish DIY Cat Lounge by Simple Stylings
Keeping active cats entertained in small spaces can be quite challenging. This design transforms an entire wall into a stylish kitty lounge using simple shelves arranged in creative ways. You can add carpet remnants or even a mounted kitty condo, and your cat will never want to leave their playground. Use carpet that's the same shade as your paint for a coordinated look, or go for bold colors if you're interested in adding a bit of color to your room. 
How High Do Cat Shelves Need to Be?
The height of your cat shelves will mainly depend on your cat's jumping ability. Watch how your cat moves, and place the shelves in the easiest positions for them to reach. The average cat shelves are spaced about 12–16 inches apart horizontally and 12–18 inches apart vertically. Adjust these spaces as needed to tailor them to your cat.
How Deep Do Cat Shelves Need to Be?
Shelves mounted to the wall for your cat should be big enough for lounging. A minimum of 10 inches deep is average. Shelves being used just as stairs from one area to another can be smaller, but your cat should have a large enough space to relax on the platforms. If you're unsure, measure your cat when they are resting to find out how much space you need.
Or, if you're thinking of getting your cat something a little different, that entices play and looks like a modern piece of furniture in your home, you might think about giving our Hepper Hi-Lo Cat Scratcher a try! Its curved design targets a full range of motion, and with three height configurations and a durable design, you can be sure your cat is getting the exercise, height, and adventure they naturally desire.
Click here to learn more about our innovative, functional, and funky, Hi-Lo cat scratcher. 
Conclusion
Installing cat shelves is a great way to give your cat their own playground in your home without sacrificing too much of your space. Jumping and climbing can give your cat the exercise that they need and keep them from getting bored. By following a DIY plan for cat shelves, you can save money and customize the shelves to your preferences. We hope that you found a plan that you can get started on today!
---