10 DIY Dog Crate Plans You Can Build Today (With Pictures)

Deciding to add a canine companion to your household often means sacrificing form for function. But if you think you're doomed to spend the next several years with an unsightly dog crate taking up space in your home, think again.
While wire crates do their job — and are the most affordable option out there — they just don't look that great next to everyday home décor. On the other hand, decorative, furniture-style crates can be outrageously priced.
By taking some time to learn how to build a dog crate, you can save money while ensuring that the final product matches your home décor perfectly. Here are 10 (free!) DIY dog crate plans you can build today:

The Top 10 DIY Dog Crates
1.

No-Paint Dog Crate Bedside Table, From Popsugar
If you already own a wire crate for your pup but just don't care for how it looks in your home, Popsugar offers simple, budget-friendly plans for creating a stylish bedside table around an existing crate. All you need are easy-to-find supplies from your local hardware store, a few power tools, and a little bit of time.
Materials
Melamine sheet
Melamine finishing tape
Melamine finishing dots
Screws
Tools
Drill
Saw (optional)
Power screwdriver (optional)
---
2.

Upcycled Crib Dog Crate, From My Repurposed Life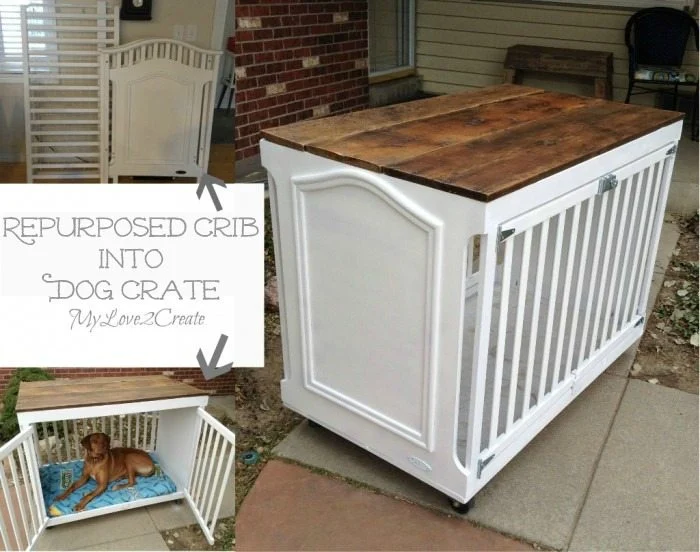 When you or a loved one is expecting (a human baby, that is), a crib is one of the key essentials. But once that infant outgrows their crib, what do you do? My Repurposed Life has instructions for how to turn a used crib into an elegant and super-functional dog crate.
If you don't have an old wooden crib lying around, you might be able to find one on Craigslist or another online marketplace!
Materials
Old wood crib
Lumber
Plywood
Screws
Washer
Barn/scrap wood
Paint
Peel-and-stick vinyl
Casters
Wood sealant
Hinges and bolt
Tools
Saw
Kreg jig
Right angle clamps
Sandpaper
---
3.

Sturdy Wooden Dog Crate, From Ana White
Ana White offers plans for building a straightforward dog crate from a few pieces of plywood and lumber. This project is great for intermediate woodworkers wanting to invest in a sturdy crate for their four-legged friends. The final product can easily be painted or stained to match any existing décor.
Materials
Plywood
Lumber
Hinges and latch
Screws
Wood glue
Brad nails
Wood glue/filler
Paint/stain (optional)
Tools
Drill
Kreg jig
Speed square
Circular saw
Brad nailer
Sandpaper
Sander (optional)
---
4.

Hidden Dog Crate Table, From Snazzy Little Things
Another great project for hiding a wire crate comes from blogger Snazzy Little Things. This simple cover not only disguises your dog's crate but also offers them additional privacy and doubles as a functional table. While you will need a few basic woodworking tools, this project is remarkably quick and easy.
Materials
Table legs
Pine board
Screws
Cafe curtains
Tension rods
Paint/stain
---
5.

All-in-One Dog Crate, From Shanty 2 Chic
If you've ever dreamed of a dog crate that can do it all, look no further than this DIY dog crate project from Shanty 2 Chic. Along with holding two small dogs and offering a functional tabletop, this crate hides away your dog's food and water bowls inside a hidden drawer. If that wasn't enough, there are two more drawers for storing treats, collars, toys, and more.
Materials
Lumber
Pinewood
Screws
Staples
Pin nails
Hinges and latches
Drawer slides
PVC-coated welded wire
Wood glue
Paint/stain (optional)
Tools
Drill
Miter saw
Jigsaw
Table saw
Kreg jig
Nailer
Stapler
Snippers
---
6.

Ornate Dog Crate, From This Old House
This Old House knows how to give DIY projects a craftsman's touch — this dog crate is no exception. The finished product will be so elegant that most guests won't even realize it doubles as a functional dog crate!
Materials
Plywood
Lumber
Brad nails
Screws
Decorative grate
Cabinet grilles
Wood glue/filler
Paint/stain
Wood sealant
Tools
Screwdriver
Drill
Miter saw
Jigsaw
Brad nailer
Clamps
Snippers
Sandpaper
---
7.

Console Dog Crate Table, From Rumfield Homestead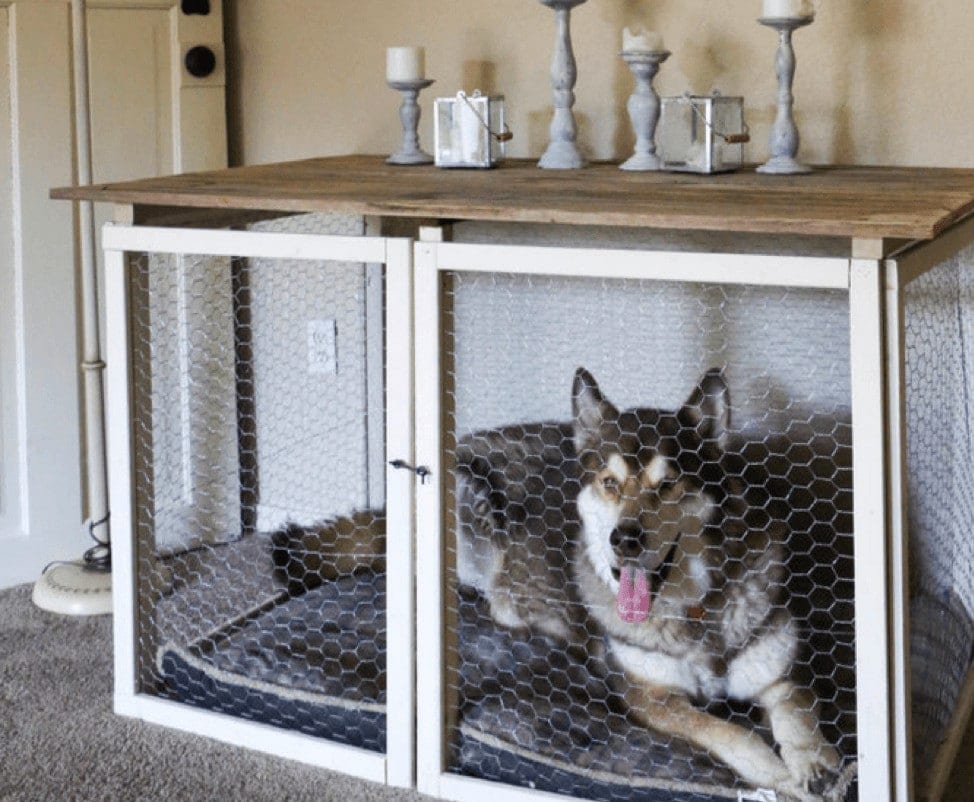 Rustic, barnyard décor has been one of the most popular home décor trends for years. Rumfield Homestead shows how to design your own console table/dog crate hybrid with a few pieces of scrap lumber and chicken wire.
As mentioned in Rumfield Homestead's blog post, this project can easily be updated with curtains later for additional canine privacy.
Materials
Barn/scrap wood
Lumber
Screws
Staples
Hinges and latch
Chicken wire
Wood glue
Paint/stain (optional)
Tools
Drill
Saw
Snippers
Staple gun
---
8.

Rustic Barn Door Dog Crate, From Shanty 2 Chic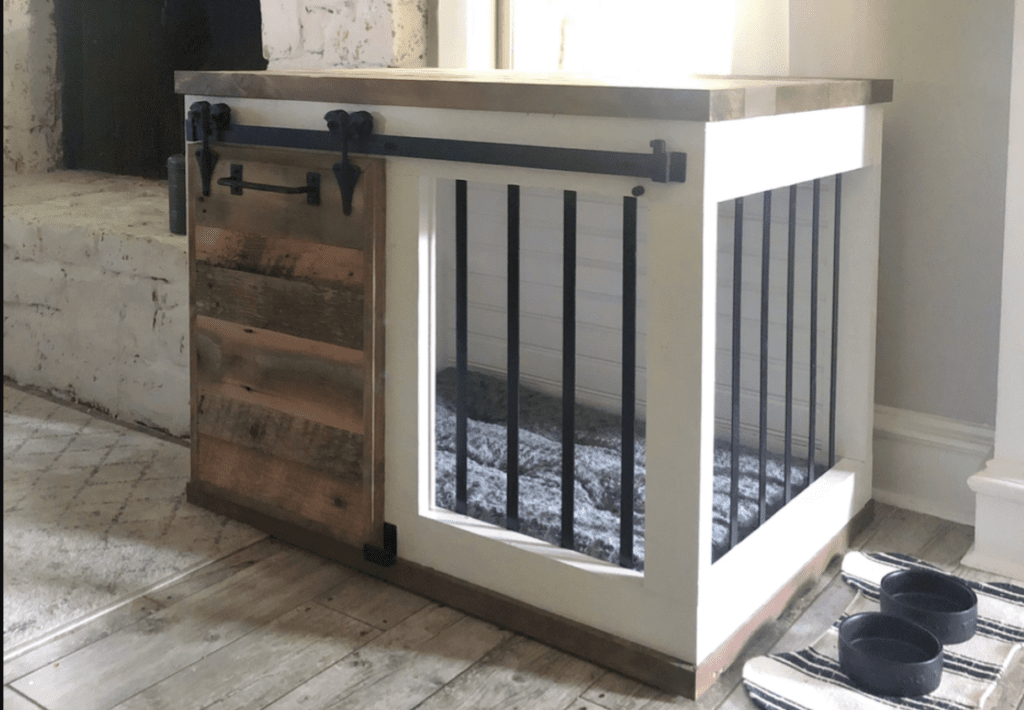 On the subject of rustic-inspired chic, Shanty 2 Chic offers downloadable building plans for a stylish barn door dog crate. This DIY dog crate will make your pup feel extra secure, while also offering a tabletop surface for added storage or décor opportunities. When guests are around, you can count on the barn door entrance to be a definite conversation starter!
Materials
Pinewood
Lumber
Plywood
Barn door hardware
Wood glue
Screws
Finishing nails
Metal bars
Black spray paint
Tools
Jigsaw
Drill
Kreg jig
Clamps
---
9.

Cupboard Under the Stairs Dog Crate, From Tommy & Ellie
If your home includes an under-the-stairs cupboard, Tommy & Ellie offers a detailed tutorial on how to transform this space into an in-wall dog crate. This is a clever way to take advantage of a space that would otherwise go unused or accumulate household junk.
Of course, this project won't work if you live in a rental unit or don't have a built-in closet!
Materials
Peel-and-stick vinyl
Door casing
Wood trim
Lumber
Chicken wire
Hinges and latch
Nails
Screws
Staples
Paint
---
10.

Converted Cabinet Dog Crate, From measure & mix
YouTuber measure & mix offers easy-to-follow plans for upcycling an old bathroom cabinet and turning it into a multi-purpose dog crate. In this example, the top of this crate doubles as a laundry-folding table. When it comes to designing and building your own version of this project, however, the possibilities are practically endless.
Materials
Old bathroom cabinet
Lumber
Wood filler
Paint
Peel-and-stick vinyl
Flat L brackets
Screws
Hardware cloth
Staples
Hinges and latch
Tools
Drill
Sandpaper
Staple gun
Snippers
Conclusion
From upcycling to building from scratch, there are countless great alternatives out there for the dog owner who doesn't want to be stuck with a clunky, unattractive crate in their home. Whether you choose to disguise an existing wire crate or create one from the ground up, your pup is sure to love their new den!
Of course, not all of these plans will work for all sizes and types of dogs. When learning how to build a dog crate, make sure to measure your dog before getting started. Also, take any chewing or other destructive habits your dog may have into consideration before putting hours into a project that won't survive more than a few days!
Do you have any clever tips for making a dog crate blend into your home décor? Are you planning on trying one of these projects for yourself?
See also: 
---