Embrace vs Nationwide Pet Insurance Comparison 2023: Which is Best?
In This Review: Embrace Overview | Nationwide Overview | Plans & Pricing | Deductibles & Claims | Verdict
Vet bills are, by far, one of the most worrying aspects of pet ownership. Investing in a decent pet insurance plan eases your mind a little when you and your pet are going through tough times, but picking the right pet insurance provider can be challenging. This is made even more difficult when you're faced with a choice between two top pet insurance providers.
Embrace and Nationwide are two of the most well-known pet insurance providers in the US. If you're feeling a bit stuck as to which one would be best for you and your pet, this post shares detailed information on what both providers have to offer to help make the decision a little easier.
A Quick Comparison
| | | |
| --- | --- | --- |
| Company Name | Embrace | Nationwide |
| Pets Covered | Cats, dogs | Cats, dogs, birds, exotic pets |
| Types of Plans | 1 comprehensive plan—Accident and Illness Policy | 3 plans—Whole Pet, Major Pet, Pet Wellness |
| Deductibles | $200 – 1,000 | $250 |
| Reimbursement | 70% – 90% | 50% – 90% |
| Additional Perks | Benefits offered: Healthy pet deductible, 10% multiple pet discount, 5% military discount | Company plan for employees, 5% discount for current Nationwide members |
---
Brief Overview of Embrace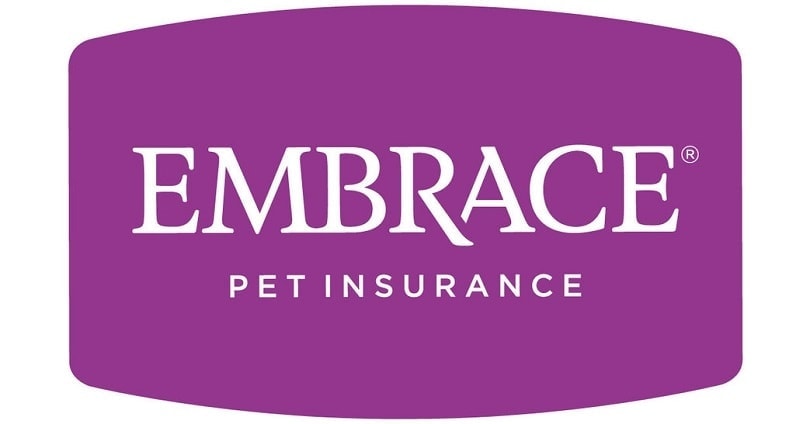 The one comprehensive plan keeps things simple
30-day money-back guarantee
Flexible age limit
Customizable plan
Diminishing deductibles policy
2-day waiting period for accidents
Only covers cats and dogs
Wellness Rewards option isn't an insurance plan
Embrace was founded in 2003, at which time it won the Wharton Business Plan Competition. From there, Embrace grew to become one of the most well-known and trusted pet insurance companies. Embrace has partnered with a range of organizations over the years, including the Helen Woodward Animal Center and Armed Forces Insurance to provide coverage for more pets.
Embrace offers one customizable comprehensive plan which covers your pets in the event of accidents or illness—with some exceptions, of course—and an optional wellness plan. It offers extra perks, such as discounts for multiple pet households and members of the military.  We'll dig more into what Embrace does and doesn't cover pets against in our "plans" section below.
---
Brief Overview of Nationwide
Covers a wide range of pets, including exotic pets
Pet Wellness plan offered
5% discount for Nationwide members
A variety of plans for different needs
10-day money-back guarantee
Lower reimbursement rate
Less customizable
Wellness plans are not available in every state
Longer waiting period for accidents (14 days)
Nationwide is a veteran insurance company that offers plans for individuals, families, businesses, and pets. In 1926, Nationwide—then known as "Farm Bureau Mutual Automobile" Insurance Company, sold its first policy. The name changed to "Nationwide" in 1955, by which point the company had expanded to include property insurance, fire insurance, and life insurance.
It wasn't until 1999 that Nationwide started to offer pet insurance. Today, thousands of companies and individuals use Nationwide's pet insurance plans to cover their pets in the event of an emergency or illness. Nationwide offers three plan types, so let's explore what each has to offer in more detail.
---
Other Top-Rated Pet Insurance Companies
---
Embrace vs Nationwide: Plans Available
Embrace and Nationwide differ in the way their plans are set up. Embrace offers one customizable plan that covers your pet against accidents and illness and an optional add-on wellness plan, whereas Nationwide offers three plans that cover your pet against different illnesses and situations depending on which one you choose.
Embrace
Embrace's comprehensive plan covers cats and dogs up to 14 years old in the event of a wide variety of illnesses and accidents. This includes cancer, dental illnesses, preventable conditions, chronic conditions, breed-specific conditions, orthopedic conditions, and vet visits.
The package does not cover pre-existing conditions, however, Embrace only checks the last 12 months of your pet's medical history for pre-existing conditions, whereas some insurance companies check further back.
While pets aged 15 or over are not eligible for the accident and illness plan, they are eligible for the accident-only plan, which covers them against things like car accidents, bloating, cuts and lacerations, poisoning, foreign body ingestion, and prescription drugs for covered conditions. If your pet was signed up for the accident and illness plan before their 15th birthday, this coverage will continue for the rest of their life.
There's also the option of adding on Embrace's Wellness Rewards plan, which covers the more routine aspects of pet ownership like wellness exams, spaying and neutering, and preventative tooth cleaning.
Nationwide
Nationwide offers three plans—Whole Pet, Major Medical, and Pet Wellness. The Whole Pet plan is the most comprehensive and covers your pet against accidents and illnesses including serious illnesses like cancer, diabetes, heart disease, hereditary conditions, surgical procedures, and chronic conditions. Reimbursement is based on how much the treatment costs.
The Major Medical plan also covers a wide range of accidents and illnesses, but some conditions are exempt from coverage. For example, caesarian sections, cryptorchidism, and gingivitis are some of the procedures and conditions not covered by the Major Medical plan but which are covered by the Whole Pet plan. Reimbursement is capped at a set cost and is not dependent on treatment costs.
Nationwide's Pet Wellness plan is the most basic option available. It covers routine healthcare procedures like vaccinations, preventative treatments, and microchipping. There are two levels of the Pet Wellness plan—Wellness Basic and Wellness Plus. Wellness is included in some plans, like the Major Medical plus Wellness plan.
With Nationwide's plans, your pet must be enrolled before the age of 10. If your pet has been enrolled before this point, Nationwide will not drop them based on their age. Nationwide's pet insurance does not cover pre-existing conditions.
Find The Best Insurance Companies in 2023
---
Embrace vs Nationwide: Reimbursements and Deductibles
The reimbursements and deductibles will vary depending on whether you choose Embrace or Nationwide. We lay out what each company offers below.
Embrace
Deductibles are basically the amount you pay before reimbursement kicks in. Embrace has two options in terms of deductibles—an annual deductible policy, which is paid once per policy year, no matter how many times your pet visits the vet in that year, and a per-incident policy. The per-incident policy means that you pay the deductible each time you visit the vet for different situations.
As you can imagine, if you opt for the per-incident policy and your pet needs to go to the vet regularly, the cost can start to stack up quite a bit. With the annual deductible policy, Embrace lets you pick your own amount, which ranges between $200 and $1,000. A higher deductible means a lower premium.
Embrace offers a diminishing deductible feature, called "Healthy Pet Deductible." This means that Embrace reduces your annual deductible by $50 for every year that you do not receive a claim reimbursement. Reimbursements depend on your deductible, and range between 70% and 90% of the total cost. Embrace's annual limit is $30,000.
Annual Deductible Options
$200
$300
$500
$750
$1,000
Maximum Coverage Options
$5,000
$8,000
$10,000
$15,000
$30,000
Nationwide
All Nationwide plans apply a $250 deductible when you purchase your insurance package online. To find out if other options for deductibles or methods of purchase are available, we recommend calling Nationwide to discuss this. The Whole Pet package allows you to choose between reimbursement rates of 50% or 70% and has a $10,000 annual limit.
By contrast, the Major Medical plan reimburses you at capped amounts based on the condition your pet is treated for. Reimbursement on this plan is dependent upon your benefits schedule.
Annual Deductible Options
Maximum Coverage Options
Varies between condition and plan
---
Embrace vs Nationwide: Additional Perks
Both Embrace and Nationwide have additional perks, but the types of perks differ. Check out the information below to find out more.
Embrace
As mentioned, Embrace offers the Healthy Pet deductible which definitely gives it an edge over Nationwide, which does not offer the same thing. Other perks Embrace has to offer are its 10% Multiple Pet Discount for households with two or more pets and the 5% Military Discount for both active and former military personnel.
Nationwide
Some employers choose to offer Nationwide pet insurance as a benefit for employees with pets, to whom it is available exclusively. All pets—dogs, cats, birds, and exotic animals—are welcome on this plan. In addition, current Nationwide members are offered a 5% discount on pet insurance.
---
Company Verdict: Which One Has the Edge?
Customer Service 📞
Embrace offers an online chatbot service, along with a customer support service center that you can between Monday and Friday, a mailing address, a vet support line, and a contact email address.
Nationwide offers a member care service hotline with two different numbers—one for new enrollments and one for members. These lines are open from Monday to Saturday. A mailing and email address is also available. What gives Nationwide a real edge here is the availability of its app called "Vethelpline", whose veterinary staff can offer advice 24/7.
---
Price of Plans 💲
Embrace's pet insurance plans cost between $30 and $40 per month on average for dogs and $15–$20 per month for cats, as per Embrace's website. Nationwide plans range from starting at $22 (wellness) to starting at $64 for the Whole Pet plan.
Because of how customizable Embrace's pricing plan is and how easy it is to tailor your plan to your budget, we've picked Embrace as the winner of our pricing round.
---
Areas of Coverage 🌐
Both Embrace and Nationwide cover a wide variety of conditions and situations—if we're looking at Nationwide's Whole Pet plan as a reference in comparison to Embrace's comprehensive plan.
Embrace has an edge in this area because of its short pre-existing conditions checking period (only 12 months). We also like that Embrace allows pets up to age 14 to enroll on its comprehensive plan, whereas Nationwide only allows pets up to 10 years old to enroll.
---
Perks 📱
We've explored the benefits of both pet insurance companies and both have some great perks. We like that Nationwide pet insurance is offered via thousands of companies to employees as a benefit and its 5% discount for members.
As for Embrace, we're big fans of its diminishing deductibles policy, the 10% discount for multiple pet households, and the discount for military personnel. Embrace wins this round because of its generous discounts and savings options.
Find The Best Insurance Companies in 2023
---
Conclusion
| | Embrace | Nationwide |
| --- | --- | --- |
| Our Rating | Our Rating: | Our Rating: |
| Multi-Pet Discount | Multi-Pet Discount: | Multi-Pet Discount: |
| Wellness Options | Wellness Options: | Wellness Options: |
| Spaying/Neutering | Spaying/Neutering: | Spaying/Neutering: |
| Chronic Conditions | Chronic Conditions: | Chronic Conditions: |
| | | |
Both Nationwide and Embrace have a lot of great things about them, so deciding which one was better was tough.
Embrace offers no-nonsense, simple comprehensive plan that you can customize, the shorter waiting period for accidents, the longer money-back guarantee, generous perks, a diminishing deductibles policy, and more flexible age limits for enrolling pets. On the downside, it only offers cover for cats and dogs, and its Wellness Rewards plan is only offered on a supplementary basis.
As for Nationwide, we love that it covers a much wider range of pets as well as cats and dogs, offers 24/7 support via the Vethelpline app, offers a variety of plans for different needs, and the wellness plan that can be included in plans or purchased singularly. That said, it's less flexible than Embrace and has a lower reimbursement rate. However, if you're looking for exotic pet cover, Nationwide is definitely worth checking out.
Hepper acknowledges that it is not licensed as an insurance agent, and therefore will not offer any advice regarding insurance, nor recommend a particular coverage, policy, or insurance company.