10 Best Pet Insurance Providers in Michigan – 2023 Reviews
There is a myth out there that owning a pet only comes with the one-time, initial fee of buying the pet. However, that's not the case. Owning a pet can be expensive, especially when you start to add in the cost of food, accessories, toys, and unexpected vet bills. Depending on the breed you have, or sometimes just poor genetics, your pet might be visiting the vet more frequently than you had planned.
It doesn't have to be this way, though. Those who decide to purchase pet insurance can protect themselves from those unforeseen circumstances. In the reviews below, you'll discover some of the best pet insurance companies available in Michigan so that you can keep the cost of owning your pet as low as possible.
A Quick Look at Our Winners in 2023
Rating
Image
Product
Details

Best Overall

Trupanion

Easy to apply
Vets bill company directly
24/7 customer service
Click to Get Quote

Lemonade

Unique business model gives back to charity
Ideal for mixed and high-risk breeds
High coverage limits
Click to Get Quote

ASPCA

Affordable
10% discount for each additional pet in the home
No network so you can visit any vet
Click to Get Quote

Nationwide

Wide range of animals covered
Comprehensive coverage for each plan
Lifetime per-condition deductibles
Click to Get Quote

Healthy Paws

Various pathways to submit claims
No cap on claims you can submit
Most claims processed within 48 hours
Click to Get Quote
The 10 Best Pet Insurance Providers in Michigan
1.

Trupanion Pet Insurance – Best Overall
The reason we chose Trupanion as our pick for the best overall pet insurance in Michigan is that you're not likely to find an insurance company that makes the entire process as easy as they do. Starting from the moment you go to their website, shopping for insurance becomes easy. All you have to do is fill out a page of information and submit it for a quote. No need to enter your pet's medical records like some other companies, either. The questions are quick, simple, and to the point. Plus, they have 24/7 customer service.
Trupanion only has a single policy for cats and dogs. This policy covers congenital and hereditary conditions. However, they partner with many vets across the country and allow the office to bill them directly so you don't have to fuss with making calls and sending paperwork over. They might not be the cheapest, but it also isn't going to cost you an arm and a leg for good coverage.
Easy to apply
Vets bill company directly
24/7 customer service
Covers congenital and hereditary conditions
No coverage limits
Don't have various plans to choose from
---
2.

Lemonade
Lemonade is a newer pet insurance company that you might not have heard of. However, they do have some things that might entice you to do a bit more research. This company takes a flat fee and donates the rest to charity, whereas other companies typically take the money that is left over after paying claims as profits. This is something to think about if you want a company that gives back to the community. They are also ideal for pet owners with mixed or high-risk breeds that other providers tend not to cover. There are various coverage limits, although they are high.
Unique business model gives back to charity
Ideal for mixed and high-risk breeds
High coverage limits
---
3.

ASPCA

Pet parents looking for the best insurance in Michigan for the money should consider ASPCA insurance. This company is consistently on the low end of pricing despite companies constantly changing their overall costs. They are a true competitor in the field, so you can count on them to always give you a fair price.
ASPCA insurance is ideal for homes with multiple pets since they offer a 10% discount for each additional animal that you add to your plan. Plus, since there is no network, you can go to any vet across the country. Their plans cover accidents, illnesses, and even behavioral issues. Sometimes, they even compensate you after purchasing some alternative therapies. For lower monthly payments, some people switch to accident-only plans. However, a full-coverage plan is best for most. However, they do not offer unlimited coverage.
Affordable
10% discount for each additional pet in the home
No network so you can visit any vet
Covers some alternative therapies
---
4.

Nationwide
You've certainly heard of Nationwide insurance, but some people had no idea that they also offer pet insurance. While this isn't a cheap option, it definitely has the best coverage. One of the biggest things to entice pet owners is that they have lifetime per-condition deductibles, so pets with chronic health issues won't have to cash out as much money. They also cover a wider range of pets as opposed to some companies that only cover cats and dogs.
Every single plan has complete coverage and wellness protection. However, their online services are very limited, so you can't rely on them for quick action.
Wide range of animals covered
Comprehensive coverage for each plan
Lifetime per-condition deductibles
Wellness protection included in every plan
Very expensive
Not many online services available
---
5.

Healthy Paws
What many of the customers of Healthy Paws love about this company is how quickly they act. If you've ever dealt with an insurance company—which you probably have—then you know how long the process of filing a claim can be. Healthy paws acts fast and gets to 99% of their claims within 2 days. That means you get answers regarding your pet's health as soon as possible.
There are multiple ways to submit a claim. These include online, on their mobile app, or via fax or phone. There is also no limit on the number of claims you're allowed to make. However, they do not offer a wellness plan, so you'll be on your own for those types of visits. They also won't cover any pre-existing conditions that your pet had. With that said, they do cover emergency and specialty care.
Various pathways to submit claims
No cap on claims you can submit
Most claims processed within 48 hours
Covers specialty and emergency care
Doesn't cover pre-existing conditions
No wellness plan offered
---
6.

Embrace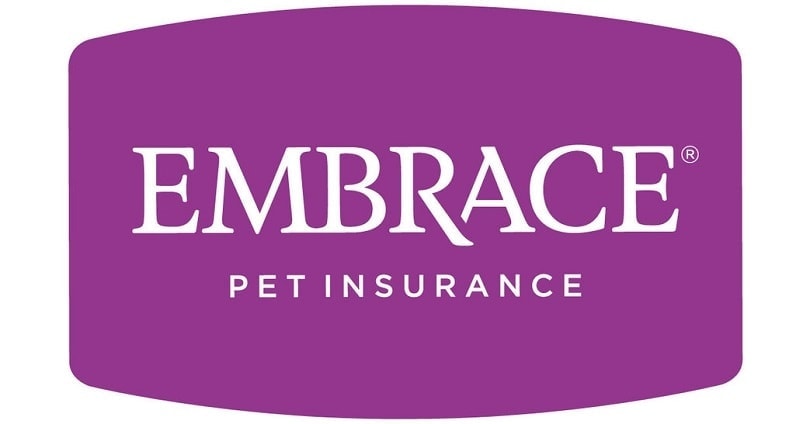 Embrace is another pet insurance company that has decent coverage for your fur babies. The thing that makes them stand apart from their competition is that they offer $1,000 per year for dental coverage. This is not something that most insurance plans cover despite dental issues being one of the most common health concerns for pets.
Another awesome aspect is that they will decrease your deductible by $50 each year that you don't file a claim. However, they do not cover routine checkups. Their age cap is also 14 years old, so senior animals over this age will not be covered for accidents and illnesses.
Dental coverage included
Plans cover most vet feeds
Lowers deductibles each year you don't file a claim
Pet age limit of 14 years old
Routine checkups are not covered
---
7.

Figo
The next pet insurance company in Michigan on our list is Figo. This company has a way that allows pet owners to keep costs down, although it might come at a different type of cost. Figo encourages their customers to seek out help from vets through their app that you can access at any time. However, this doesn't help you if you have an emergency. The app also has a lot of other features, such as storing your pet's medical records and finding pet-friendly stores and restaurants.
Figo has annual and lifetime coverage limits. So, for the years when it seems nothing goes right, this might not be the best option. Their enrollment exam is also encouraged but can be a pain to deal with. Plus, no exam fees are covered.
Can talk to vets 24/7 for non-emergencies
App has lots of unique features for pet owners
Annual and lifetime coverage limits
Enrollment exam is annoying to deal with
Doesn't cover exam fees
---
8.

Geico

We've all heard of Geico insurance before. They are one of the biggest names in insurance, but most people don't realize that they also offer pet insurance. With Geico, they allow you to customize your plans to fit your needs and have a variety of options to fit any budget. There are three wellness plants to choose from. One of the biggest draws is the number of discounts offered. However, they don't have very low deductibles. There also isn't an unlimited option. Even though you are purchasing Geico, it is worth it to keep in mind that their claims are actually serviced by Embrace.
Customizable
Various budgets and three wellness plans
Many discounts offered
Higher deductibles
No unlimited benefits plan
Claims are actually serviced through Embrace
---
9.

Progressive

Progressive is another big name in insurance. While you think they would offer lots of options for pets, most of their plans are focused on keeping costs low, which means that their annual limits are also incredibly low. So, if you have a pet with a lot of health issues, they might not be the one for you. However, they are extremely affordable and offer many discounts. With that said, you cannot bundle pet insurance with other progressive policies. Although they are a bigger company, they also have claims serviced through a third party.
Very affordable
Discounts available
Low annual limits
Serviced by third party
Can't bundle with other progressive policies
---
10.

Pumpkin
Pumpkin's main focus is on preventative care. They believe that keeping our pets healthy in the first place will help reduce overall health care costs in the long run. While this sounds good in theory, it isn't ideal for every pet, and it also means that your rates will be higher if your pet's health takes a turn. They do cover annual checkups and many vaccines. However, they are very strict when it comes to pre-existing conditions and will penalize you for certain situations. Plus, they only accept cats and dogs. So, if you have a feathered or scaly friend roaming around the house, you're better off looking elsewhere.
Ideal for preventative care
Covers yearly checkups and some vaccines
Has many penalties
Only for cats and dogs
Very strict when it comes to pre-existing conditions
Higher rates
Buyer's Guide: Choosing the Right Pet Insurance Provider in Michigan
What to Look for in Pet Insurance in Michigan
There is quite a bit to consider when shopping for pet insurance, and it can all get a bit confusing. We're here to help! Browse through our buyer's guide to get an idea of what you should be looking for while you shop.
Policy Coverage
The coverage that each company offers is what you should focus most of your attention on. Take the time to find out what exactly is covered and how much it costs. This could vary greatly, so it will likely be a huge determining factor in your final decision.
Some of the best providers offer a wide range of coverage and flexible plans for fair prices. Just because something is cheaper does not necessarily mean that it is worse. Likewise, the most expensive options don't always mean you're getting the best coverage.
We tend to prefer companies that have flexible or customizable plans. This way, you can create a policy that works for you and your pets.
Customer Service & Reputation
While it may seem like pet insurance has been around for a while, it is still fairly new when it comes to the history of insurance. The reputation does play a role in your choice. However, it isn't the most important thing. Keep in mind that you'll want to work with a company that has excellent customer service, regardless of how popular or unpopular they are. The more ways you have to communicate with the company, the easier it will be to file claims and make your pet's health a top priority.
Claim Repayment
The last thing you want to do is work with a company that doesn't take account repayments seriously. If you can, find a company that will pay your vet directly. That way, you don't have to deal with all the fuss of ensuring that things are taken care of. A reliable company will work quickly and effectively to ensure that you get paid for your claims.
Price Of Policy
In most scenarios, cheaper is better. That is, of course, unless you need something with more coverage—tending to come at a higher price point. While saving money on pets is great, there is no point in paying for insurance that doesn't cover the things you need. Without it, you could still end up dishing out hundreds if not thousands of dollars every year while paying for insurance on top of it. Make sure to do your research and find a balance between good coverage and low prices.
Plan Customization
Many pet parents opt for plans with customizable plans. This way, your pet is taken care of in the best way possible. While some people find that plans with no customization work for them, it isn't always ideal. Make a judgment call on what you think will work best for you and your personal circumstances.
FAQ
Do these plans work for vet offices outside of Michigan?
It depends on the company. Some places will allow you to go to any vet across the country, while others have specific rules that prevent it from happening. Ask about it when you're speaking to an agent.
Are there other companies not on this list?
Of course! While we try to do a good job of reviewing excellent pet insurance companies, you might find another that works better for you that isn't on this list.
What else should I consider when shopping for pet insurance?
Don't hesitate to look at customer reviews. Getting a feel for what real customers are happy or unhappy with could be the deciding factor in your choice.
Which Pet Insurance Provider Is Best for You?
It isn't possible to say which provider will ultimately be the best. Your pets and circumstances are completely different from everyone else's. We recommend taking time and speaking to each provider. Write down all the information you can and then compare them side by side. Slowly start to narrow down the list based on what absolutely does not work. It will be much easier to pick between providers once you have a shorter list of two or three good options.
Conclusion
Choosing an excellent pet insurance provider is highly important. Your fur babies rely on you to make good decisions for them, and this is something that will help your pets and keep you from dishing out too much money. While this list of reviews provides options for everyone, we have found that the best overall pet insurance in Michigan comes from Trupanion. Lemonade has more affordable options if you are on a tighter budget. In the end, make a decision that feels right for you and protects your fur babies.
See also: 10 Best Pet Insurance Providers in Pennsylvania – Reviews & Top Picks
---