335+ Amazing German Wirehaired Pointer Names: Male & Female
If you've just brought home a beautiful German Wirehaired Pointer as a new member of your family, a hearty congratulations! These dogs are smart, inquisitive, affectionate, and no question, very handsome!
However, coming up with the right name for your new dog can be challenging. The name should suit your new pup, and you'll want to introduce your dog to other people without any embarrassment.
We've come up with a LOT of names for you to choose from! We have placed our possible name options into different lists, which we hope will make it easier for you to find the best name for your GWP.

How to Name Your Dog
Sometimes you don't need to look through a long list of names – if you think about it enough, you might be able to come up with the name yourself. We'll cover some tips in order to give you a gentle nudge, which might help with naming your GWP.
First of all, you could start with the color and pattern of your dog for inspiration. Most German Wirehaired Pointers are liver and liver & white. Later, we'll give you a number of different words for this coloring that might work as a dog's name.
Some people also go with a name that embodies a unique physical feature of their pet. The GWP has a very distinguished beard and eyebrows, which can also work – like Van Dyke (style of beard).
You can also use some of your favorite songs, musicians, authors, or TV or movie characters for an inspired name.
And finally, look at your dog's personality. Do they have any unique quirks that could make a fun name? You can look at video games or food for some ideas, and don't forget your dog is from Germany. Look at names or even items that are German. Throughout our lists, we've put in bold any names or words that are German.
Does your dog run faster than the speed of light? Maybe Sonic or Milly (short for Millennium Falcon) might work. The possibilities are endless. Which is why you're here, so on to the names!
Female German Wirehaired Pointer Names
This section is pretty self-explanatory. If you have a female GWP, you can look at names that are traditionally used for females. We've also included a few famous women from history as well as a number of traditional female German names.
Adele
Amelia
Annalise
Annie Oakley
Bella
Bronte
Calamity Jane
Catherine the Great
Chloe
Cleopatra
Coco
Daisy
Eliza
Ella
Ellie
Elvira
Emmeline
Greta
Gigi
Gisela
Hattie
Hilda
Ilse
Ingrid
Isabel
Josephine
Juliet
Lady Godiva
Ladybug
Lily
Lola
Lucy
Lulu
Luna
Madeline
Maggie
Mata Hari
Matilda
Millie
Noelle
Penny
Petra
Poppy
Portia
Rosie
Roxy
Sadie
Stella
Tilly/Tilda
Ursula
Victoria
Willow
Zelda
Zoe
Male German Wirehaired Pointer Names
Just like with the female names, we have a bunch of male names. This also includes a few historical figures and some traditional German male names.
Abbott
Alan Turing
Albert Einstein
Alexander the Great
Archer
Augustus
Bach
Baron
Beau
Bennett
Bentley
Bogart
Bowie
Cohen
Cooper
Damien
Darwin
Decker
Dieter
Dexter
Doc Holliday
Eckard
Eddie
Edison
Elvis
Emery
Felix
Finn
Freddie
Griffin
Griswold
Günter
Hans
Heinz
Houdini
Jackson
Jameson
Jasper
Kafka
Karl
Klaus
Lennon
Logan
Louie
Lucas
Ludwig
Marshall
Milo
Monty
Mozart
Murphy
Oliver
Oscar
Ozzy
Primo
Prince
Richie
Ringo
Roman
Samson
Stefan
Tesla
Thomas Edison
Truman
Tucker
Ulysses
Wild Bill
Winston
Wyatt Earp
Genderless German Wirehaired Pointer Names
If you would rather not go with traditionally masculine and feminine names, we have a list of random names that can be interchangeable between the genders.
Bandit
Berlin
Blizzard
Charlie
Clover
Cologne
Cosmos
Echo
Ember
Gypsy
Harlow
Iggy
Jupiter
Karma
Lava
London
Lucky
Max
Memphis
Mercedes
Munchkin
Munich
Nova
Phoenix
Pluto
Rain
Rio
Sabre
Sammy
Satin
Saturn
Sierra
Stevie
Tempest
Tsunami
Velvet
Vienna
Yukon
Ziggy
Names Based on Colors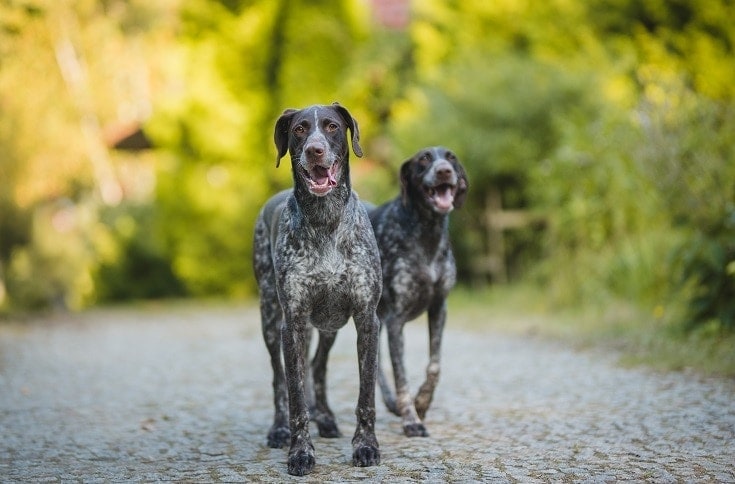 The color standard for the German Wirehaired Pointer is just liver and liver & white. But they can also be black & white and have roan, spotted, and ticked markings. We'll cover different names for these varieties of colors, including browns, reds (since liver is brownish-red), gray, and black.
Red
Carmine
Cerise
Cherry
Copper
Coral
Crimson
Ginger
Rose
Rosy
Ruby
Rusty
Scarlet
Brown
Amber
Autumn
Brick
Caramel
Chestnut
Chocolate
Cinnamon
Hazel
Ochre
Pecan
Russet
Rust(y)
Sand(y)
Sepia
Walnut
Black/Gray
Ash
Bandit
Blackberry
Caviar
Charcoal
Cinder
Crow
Dusk
Ebony
Eclipse
Licorice
Midnight
Mystery
Noir
Obsidian
Onyx
Pepper
Phantom
Raven
Sable
Shade
Shadow
Smudge
Sooty
Names Based on Food and Drinks
Using food and drinks gives you many more options. We've added in a few German dishes and drinks, but you might also notice other foods that are definitely from different countries (like Italy and France). But if it suits your dog and you like it, it doesn't really matter where the name came from.
Food
Apple
Basil
Berry
Biscuit
Brie
Brownie
Candy Apple
Caramel
Cinnamon
Cocoa
Coconut
Cookie
Cupcake
Dumpling
Eclair
Gouda
Honey
Jellybean
Kit Kat
Mango
Marshmallow
Muffin
Nutmeg
Olive
Peaches
Pickle
Pretzel
Pumpkin
Radish
Saffron
Sage
Sauerkraut
Schnitzel
Skittles
Souffle
Sugar
Taco
Tater
Tiramisu
Truffles
Waffles
Walnut
Drinks
Bourbon
Brandy
Coffee
Java
Kahlua
Lager
Latte
Margarita
Merlot
Mocha
Pilsner
Pinot
Riesling
Sangria
Scotch
Sherry
Soda
Whisky
German Wirehaired Pointer Names Based on Mythology
We love our mythologies! There are quite a few fascinating mythologies out there that include Egyptian, Greek, Norse, and so on. If you are aiming to give your GWP a German name, you can pick names from Norse mythology, which is essentially the older common Germanic mythology.
Achilles
Andromeda
Aphrodite
Apollo
Ares
Artemis
Athena
Balder
Bragi
Eir
Freya
Freyr
Hades
Hermes
Hera
Horus
Isis
Loki
Neptune
Nyx
Odin
Orpheus
Osiris
Poseidon
Saga
Skadi
Thor
Tyr
Venus
Zeus
Names Based on Fictional Characters
And finally, we have a variety of names from a variety of fictional sources. We've pulled from video games, movies, and TV shows. There are most definitely many more names out there than this, but our lists are meant to get you thinking since we can't mention everything!
Anakin
Aragorn
Arwen
Atticus Finch
Buffy Summers
Data
Falcor
Faust
Han Solo
Harley Quinn
Hawkeye
Katniss
Kenobi
Leia
Leeloo
Merlin
Morpheus
Morticia
Neo
Newt
Picard
Riker
Ripley
Rocket
Sansa
Spock
Thanos
Trinity
Vader
Yoda
Zorro
Use Your Imagination!
If you have narrowed your chosen names to a small, manageable number, you should try speaking and even yelling them. You might find one name stands out more than the others, or you might decide to discard a few if they don't sound too great out loud.
We've also provided you with a number of honorifics and titles below that you can tack on to some of your top names. Play up the German connection with Baron von Kafka or Frau Hilda.
Baron von
Colonel
Dame
Frau
General
Her or His Majesty
King/Queen
Madame
/Mrs. or Miss
Princess/Prince
Professor
Senator
Sergeant
Sir
Conclusion
The choices really are endless! But aim for something that inspires you. Is one of your favorite songs "Roxanne," or are you a big fan of Elton John or Ed Sheeran?
Remember to also consider your new dog's personality or any funny little quirks they have. Even try throwing some words into an online thesaurus. These could be colors or words that fit your dog's temperament.
But once you find the right name, you'll know it immediately. And it should be as fun and individual as you and your German Wirehaired Pointer.
See Also:
---