430 Amazing Names for Wirehaired Pointing Griffons: Ideas for Unique & Hardworking Dogs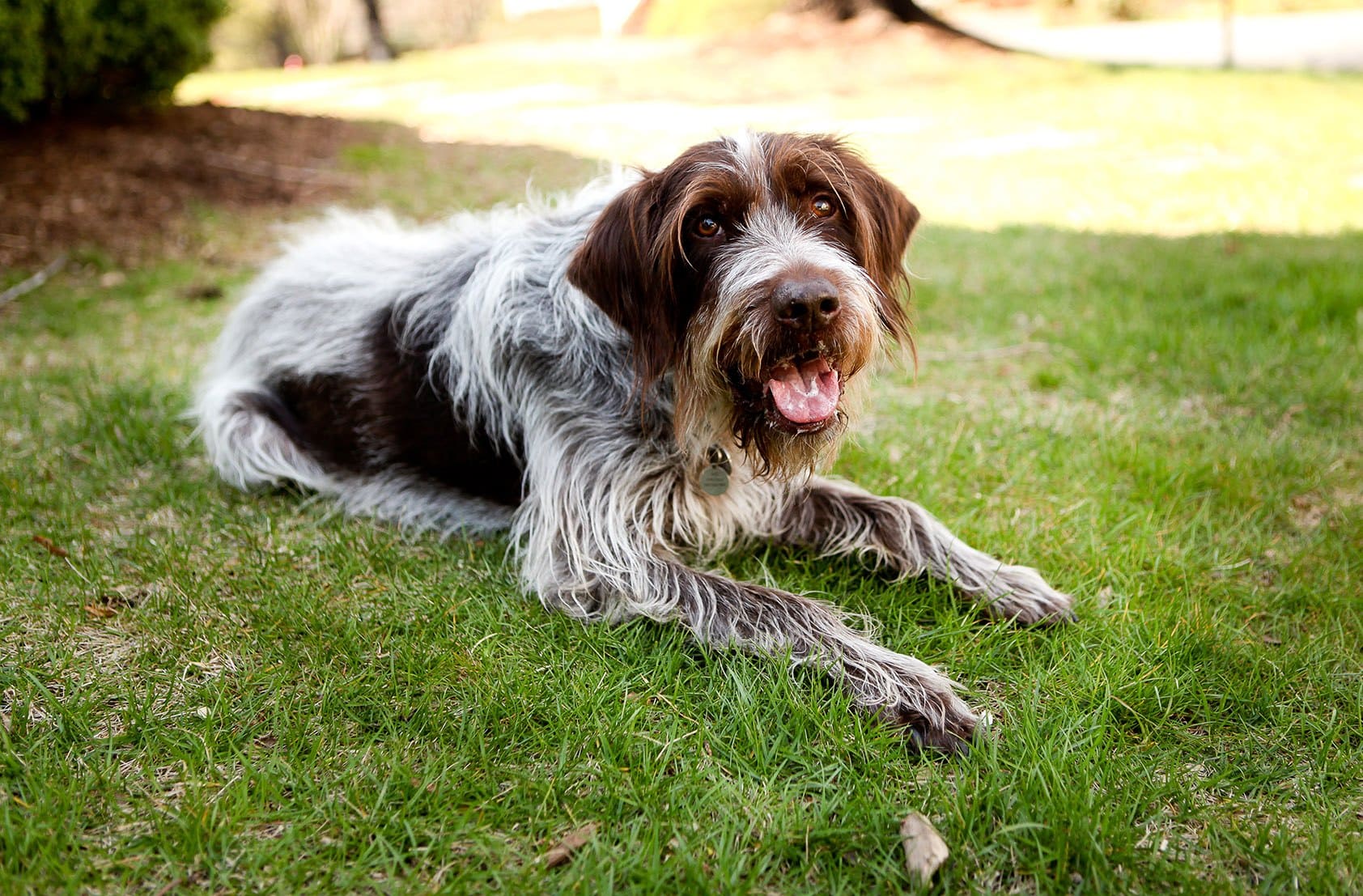 Wirehaired Pointing Griffons are known as exemplary working dogs. They are outgoing, athletic, eager to please, and even funny. These dogs work hard outdoors but become lovable snuggle bugs when spending time inside with human family members. They can stand up to about 24 inches tall when fully grown, so most people consider them as large dogs.
They also have low-shedding coats that are easy to care for, making them suitable pets for people with mild allergies. So, what are amazing names that a Wirehaired Pointing Griffon could call their own? Keep reading to see our lists of catchy male and female Wirehaired Pointing Griffon names, male and female names inspired by cartoons, and unisex names.

Coming Up With a Name for your Wirehaired Pointing Griffon
The name that you choose for your dog can be drawn from many inspirations. It could be a relative's name that you admire or a cartoon character that you lovingly remember from childhood. Maybe your kids have name ideas!
Or, maybe you have no idea what names to consider. We've got you covered! Here is a list of 430 amazing names for Wirehaired Pointing Griffons, so you can pick the perfect name for your wirehaired family member.
---
114 Catchy Male Wirehaired Pointing Griffon Name Ideas
Are you looking for a male name that is catchy and rolls off the tongue for your male Wirehaired Pointing Griffon? Here are more than 100 catchy names that might be just right for your new furry family member.
Papillon
Volante
Adderley
Buster
Mickey
Casey
Tiny
Talim
Max
March
Hint
Oriole
Sparky
Dotto
Jynx
Sparky
Feisty
Jelly
Cabernet
Rufus
Irvine
Ermine
Bradley
Frisky
Tamago
Baxter
Piper
Zinnie
Lucky
Meta
Fortune
Garbo
Ernest
Puddles
Quyen
Dazzle
Sindel
Calypso
Insomnia
Baby
Garland
Vedis
Napeo
Winston
Delmelzo
Rascal
Adler
Topsy
Duke
Bonkers
Dexter
Affron
Bruno
Duke
Austine
Brunel
Huette
Coco
Beau
Imoen
Gumble
Crumble
Riveter
Linlee
Birdo
Tyris
Cadence
Flare
Cosette
Pepper
Mercy
Leod
Multi
Xenon
Numid
Midnight
Waldo
Quiet
Skitty
Frankie
Quartil
Almodine
Rudy
Tate
Jules
Kiddo
Bentley
Reiko
Augusta
Jovi
Ramon
Tease
Juanito
Cairo
Banshee
Oracle
Jutt
Sniper
Mopsey
Zerren
Mouse
Pebbles
Blues
Bear
Kreio
Adolpho
Tucker
Dylan
Roulette
Umo
Pluto
Merle
Harley
Satin

116 Catchy Female Wirehaired Pointing Griffon Name Ideas
It can be tough to come up with the right name for a female name for a Wirehaired Pointing Griffon that is easy to remember yet catchy and relevant. So, here are more than a hundred that you're likely to love!
Mercedes
Spring
Christabel
Francesca
Amica
Rosie
Wanetta
Asela
Emina
Lilo
Cleo
Hibiscus
Iroa
Adora
Paris
May
Adalyn
Sophia
Zella
Solange
Dihya
Claresta
Talena
Princess
Yuna
Septima
Sugar
Crystal
Jelly
Queen
Hildegarde
Priscilla
Burgundy
Cabernet
Tamago
Annie
Aaliyah
Phoebe
Nadia
Missy
Anxious
Alrica
Goldie
Nadia
Jane
Taylea
Talia
Patricia
Delana
Delores
Maddie
Maggie
Amethyst
Ethel
Doralis
Nidia
Zara
Boudica
Xaviera
Aimee
Mariya
Gabby
Sasha
Vesta
Fernanda
Dixie
Sylvia
Winter
Adella
Sancia
Stella
Valasuita
Kimmy
Napea
Hadria
Delmelza
Kemba
Cordelia
Incocencia
Marina
June
Goddess
Bertha
Leya
Layla
Jacinda
Giselle
Huetta
Rachel
Geisha
Austina
Marita
Cici
Marjolaine
Arabella
Tasha
Blossom
Candra
Nellie
Tipsi
Luana
Zelda
Wilma
Romana
Numidia
Sammy
Lodema
Sandy
Marvina
Deifelia
Lorenza
Jules
Serilda
Lolita
Angel
Zerrena

50 Male Wirehaired Pointing Griffon Name Ideas Inspired by Cartoons
Cartoons are always a great inspiration for pet dog names. The characters have great personalities and love going on adventures, traits that Wirehaired Pointing Griffons also tend to encompass. We put together a list of 50 male name ideas inspired by cartoons that you may feel fits your Wirehaired Pointing Griffon well.
Bolt
Copper
Tito
Goofy
Rolly
Slink
Pongo
Boo
Bing Bong
Dug
Chief
Chip
Luca
Billy
Courage
Tom
Jerry
Lapis
Ice Bear
Raven
Ribsy
Jack
Chowder
Mordecai
Lucky
Jiro
Hiccup
Totoro
Shrek
Diego
Sokka
Appa
Raphael
Casper
Gonzo
Woodstock
Gonzo
Shaggy
Linus
Dennis
Elroy
Huey
Bart
Marvin
Gem
Jiro
Chowder
Smee
Homily

50 Female Wirehaired Pointing Griffon Name Ideas Inspired by Cartoons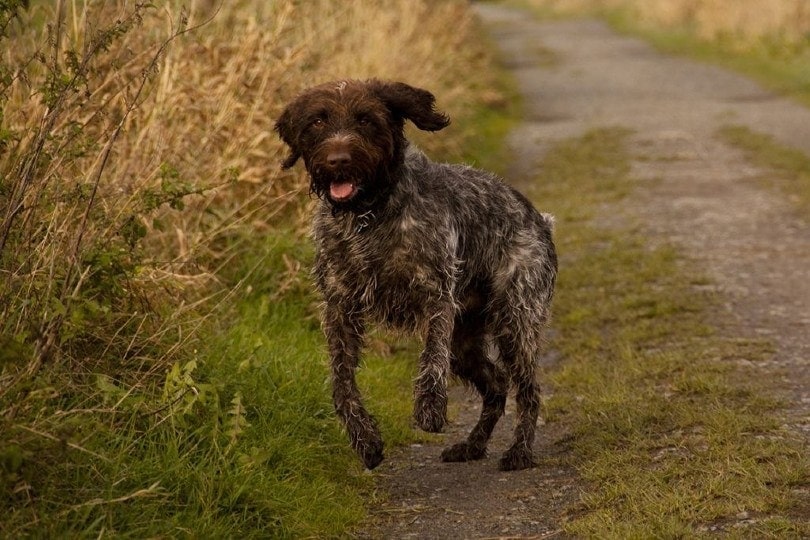 There are plenty of female names inspired by cartoons to consider! From heroes to accident-prone adventurers, the following names are sure to remind you of your favorite childhood sidekicks.
Frances
Lady
Georgette
Tramp
Perdita
Nana
Buttercup
Peridot
Percy
Alice
Merida
Bambi
Remi
Moana
Luca
Simba
Thumper
Blue
Bubblegum
Mandy
Raven
Kuki
Starfire
Cera
Haku
Yububa
Petrie
Dola
Jiji
Hiccup
Hazel
Pebbles
Fiona
Coraline
Arrietty
Katara
Daphne
Korra
Blossom
Cleo
Patty
Jem
Angelica
Jenny
Tuca
Bubbles
Daria
Kim
Hazel
Nausicäa

100 Unisex Wirehaired Pointing Griffon Name Ideas
Maybe a male or female name isn't the way to go for your Wirehaired Pointing Griffon. Fortunately, there are plenty of unisex names to choose from that could fit the personality and temperament of your doggy.
Kai
August
Ellis
Dylan
Hayden
Sage
Phoenix
Hudson
Austin
Aspen
Bean
Berkely
Cheddar
Dayton
Vegan
Sammy
Rory
Scout
Oatmeal
Nutmeg
Orion
Munchkin
Jules
Indie
Bailey
Honor
Frosty
Gold
Forest
Dumpling
Eclipse
Finnley
Denali
Chai
Butterscotch
Caramel
Bacon
Annapolis
Harper
Izzy
Jules
Moon
Nevada
Pepper
River
Shelby
Shiloh
Tallahassee
Vegas
Yeti
Zaire
Wookie
Tofu
Sprinkles
Rory
Snickerdoodle
Ramsey
Quinoa
Pip
Ninja
Nutmeg
Monkey
Mocha
Lake
Indie
Lennon
Harley
Guacamole
Frenchie
Gold
Echo
Dobby
Cricket
Clover
Flash
Licorice
Magic
Martini
Orion
Paprika
Rebel
Sawyer
Terry
Skittles
Truffle
Wonton
Pat
Olive
Peyton
Molasses
Kiwi
Hershey
Freckles
Crumpet
Bristol
Amazon
Bingo
Ewok
Gumdrop
Java

In Conclusion
There are hundreds of amazing name ideas to consider for your new Wirehaired Pointing Griffon after you bring them home for the first time. Don't rush your decision, though, as the name will last your dog's lifetime. Try a few on for size to see which your dog responds to the best. Make sure everyone in your household has a say!
---
Featured Image Credit: Brook Robinson, Shutterstock