How Much Does a Giant Schnauzer Cost? (2022 Price Guide)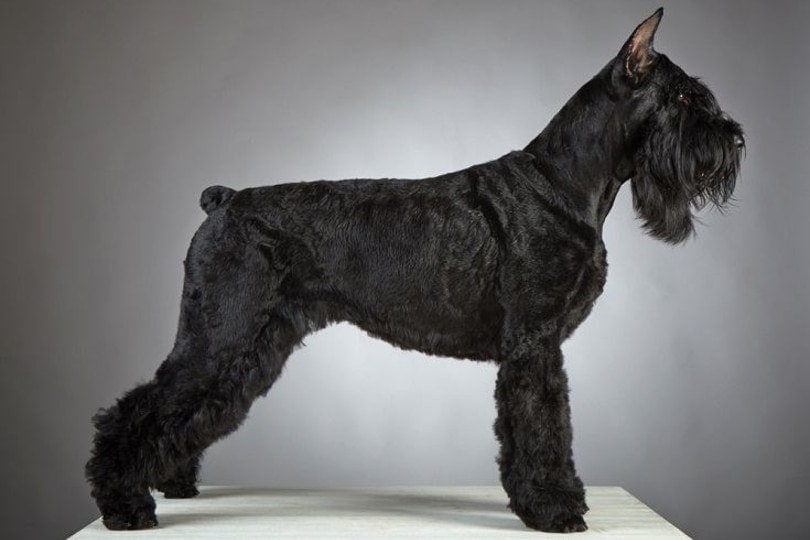 The Giant Schnauzer, the largest and most powerful of the German schnauzer family, is an enlarged replica of the average Schnauzer. How to describe his character? He is calm, vigilant, courageous, easy to train, deeply loyal to his family, playful, calm at rest but imposing when he is awake. His safe and reliable temperament, sturdy build, and dense "wire" coat, which does not allow water to penetrate, make the Giant Schnauzer one of the most useful and resilient working dogs.
If buying or adopting such a dog is part of your dreams, pull out your calculator and read our guide carefully to find out all the costs involved in living and caring for the Giant Schnauzer!

Giant Schnauzer Price: One-Time Costs
That's it, the time has come to buy your Giant Schnauzer puppy! Have you already purchased all the essential supplies you will need to ensure the best possible start for your new furry companion? Have you thought about adoption? Have you made an appointment with your vet for your puppy's first complete examination, vaccines, and anti-parasite treatment? In short, have you taken into account all the costs associated with bringing your new baby home? Here's a recap to make sure you haven't forgotten anything: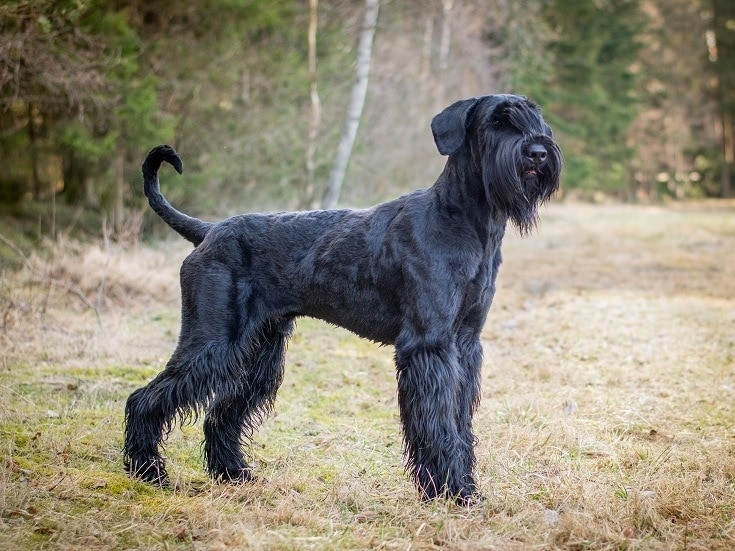 Free Giant Schnauzers
If you don't want to spend a dime on the adoption or purchase of your Giant Schnauzer, be sure to check with your acquaintances and friends in case one of them has just one of these dogs to donate. Also, browse social networks and other online classifieds; some people sometimes have to give their pets away quickly for x reasons, so you might be lucky enough to stumble upon a free Giant Schnauzer.
Giant Schnauzer Adoption
If you decide to adopt a Giant Schnauzer, you will likely have a better chance of finding an adult dog than a puppy. In any case, the cost of adoption, between $50 to $500, will be much lower than the purchase price of a puppy from a specialist breeder. In addition, adopting a dog from a shelter or other place is always very rewarding, both for you and for your pet. There are, however, downsides to adoption; for example, it will probably be more challenging to find a purebred Giant Schnauzer. In addition, an adopted dog can exhibit some behavioral issues, depending on the type of life he had before finding new adopters.
Giant Schnauzer Breeders
Obviously, if you decide to buy your pup from a breeder, you will need to do some research beforehand to make sure your dog has been raised in the best condition. Consider local breeders or reputable websites, like AKC Marketplace for Puppies. The price of the Giant Schnauzer puppy will range between $1,200 to $3,500, depending on several factors:
Lineage of parents and reputation of the breeder.
Registration / pedigree papers.
Training and socialization.
Local supply and demand.
Age
Coat color and markings.
Giant Schnauzer Price: Initial Setup and Supplies
Here is the list of the basic things that you will need to accommodate your puppy. Obviously, if you have adopted an adult dog, the chances are good that they are already sterilized and dewormed. You can therefore subtract the costs related to these treatments from the list below.

List of Giant Schnauzer Care Supplies and Costs
| | |
| --- | --- |
| ID Tag and Collar | $30 |
| Spay/Neuter | $50 – $450 |
| Leash | $15 |
| Dog Bed | $50 |
| Dog Crate | $55 |
| Microchip | $25-$50 |
| License | $15 |
| Tooth-brushing Kit | $10 |
| Nail Clipper | $15 |
| Brush | $15 |
| Food & Water Bowls | $10 – $40 |
| Plastic Poop Bags | $55 |
| Toys | $90 |
| Carrier | $40 |
| House Training Pads | $25 |
How Much Does a Giant Schnauzer Cost Per Month?
Now that you know the upfront costs for the initial setup, you should consider the recurring and monthly fees involved in the care and maintenance of the Giant Schnauzer.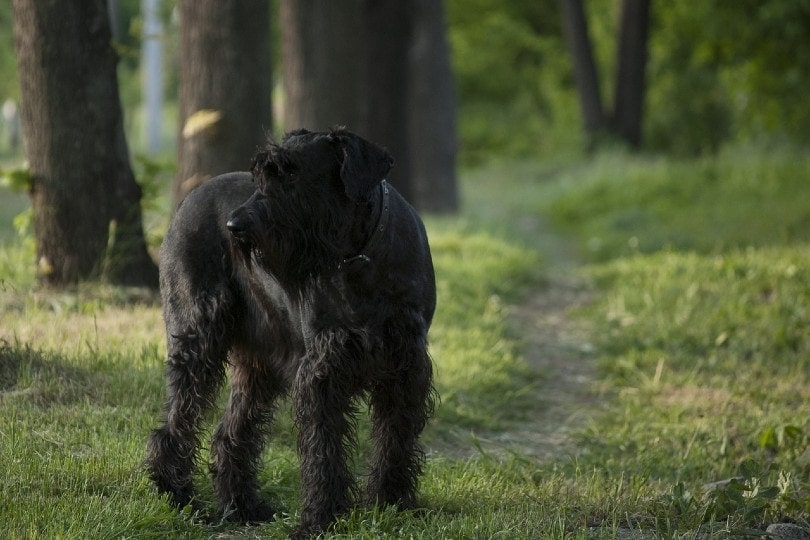 Giant Schnauzer Health Care Costs
Health care costs involve food, grooming, vet visits, and insurance. These are monthly costs that should not be overlooked, especially during your puppy's first year.
Giant Schnauzer Food Costs
The ideal is to feed the Giant Schnauzers twice a day. As an adult, the Giant Schnauzer needs about 440 grams of good quality kibble per day, which works out to about 350 pounds per year. An average bag of good quality food, like Pedigree, costs around $25 for 50 pounds. You will probably need eight bags, which will cost you $200 per year, or about $15 per month. Expect to pay a lot more, up to 3x more, for a premium brand, like Royal Canin.
Note that the Schnauzer is particularly greedy. Therefore, to avoid your dog from being overweight, you must respect its daily ration and not feed it between meals. In addition, the amount and type of food for Giant Schnauzers depends on their weight, age, and health. Finally, expect a Giant Schnauzer puppy to eat around 220 lbs of dry food in its first year.
Giant Schnauzer Grooming Costs
$85–$120 per visit (professional grooming four to eight times a year is highly recommended)
There is nothing natural about the appearance of the Giant Schnauzer. You will have to spend time caring for his coat – trimming it, doing a maintenance haircut, or giving it a regular scissor bite – or looking for a professional, which will charge you around $85 to $120 per visit. In addition, the Giant Schnauzer tends to shed a lot. To maintain a healthy coat, brushing, bathing, and a clean-cut are essential.
Giant Schnauzer Medications and Vet Visits
In your puppy's first year, you'll need to schedule a few visits to the vet – a minimum of three visits, the first one after you've received your puppy. Routine consultations cost between $60 and $200, depending on your location and your vet's rates. These visits usually cover your puppy's basic physical exam, vaccines, heartworm prevention, and flea and parasite treatment. In total, you will need to spend between $180 and $600 yearly ($15-$50 per month) for these routine visits, which do not include exams/operations/treatments for any illnesses or accidents that might occur. Hence the importance of acquiring pet insurance if your budget does not allow for significant unforeseen veterinary expenses.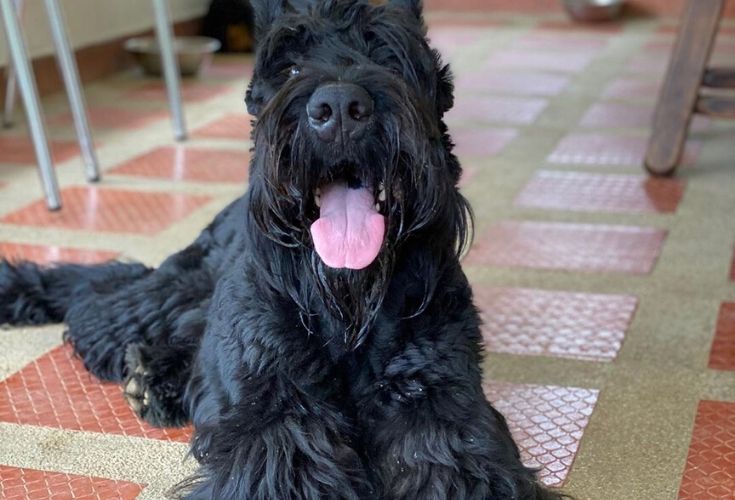 Giant Schnauzer Pet Insurance Costs
Do you need insurance for your pet? It's a personal decision, but be aware that the bill will climb quickly in the event of accidents or serious illness. This is why educating yourself properly about pet insurance and making an informed decision may save you from having to make a heartbreaking decision based on insufficient cash resources.
Giant Schnauzer Environment Maintenance Costs
| | |
| --- | --- |
| Treats | $20/month |
| Stains and Odors Removal Spray | $10/month |
| Plastic Poop Bags | $10/month |
| Shampoo | $10/month |
Giant Schnauzer Entertainment Costs
Monthly dog subscription boxes are a fun and easy way to make sure your big dog always has plenty of toys and treats without the need for a run to the pet store. By subscribing to one of these monthly boxes, you will receive surprise selections of treats and toys each month. There are several options, the prices of which vary depending on the size of the box, the quantity and quantity of toys and treats included.
An excellent option offering good value for money is Barkbox. You have the choice between a monthly subscription, which costs you $ 30 per month, a 6-month subscription, at $ 35/month, or buying a single box at $ 45. Each box contains two toys, two full-size bags of treats, customizable for allergy and diet preferences, and two natural meaty chews.

Total Monthly Cost of Owning a Giant Schnauzer
As you can see, the total monthly costs related to the care and maintenance of the Giant Schnauzer should be considered in your family budget. These are no small expenses for most people, on top of the initial cost of the puppy, which is also quite high. In addition, you will need to budget for the additional expenses below:
Additional Costs to Factor In
Pet Sitter Costs
If you are going on vacation and cannot bring your large dog with you, you will need to hire a pet sitter. Expect to shell out between $30 to $90 per day, depending on the time of year and the pet sitter rates – if that person has a lot of experience, she/he may charge a higher daily rate.
Dog Walking Costs
Giant Schnauzers are very energetic dogs that require a lot of exercises. If you cannot take your dog out during the day, you will need to hire a dog walker for walks of at least an hour. These hour-long walks typically cost between $20 and $50 each.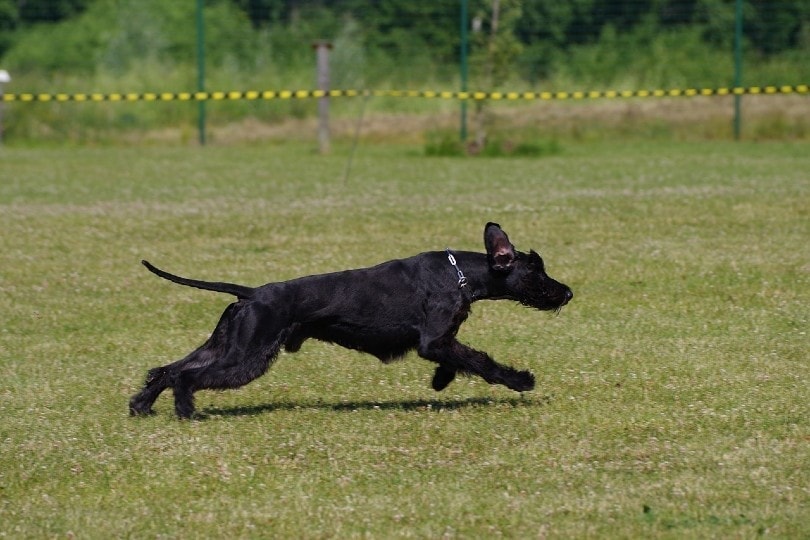 Emergency Treatments for Illness
Giant schnauzers are, like most large dog breeds, prone to a few health issues, which can require unexpected and expensive operations and treatments.
The most common are:
Hip Dysplasia: $500 – $13,000
Gastric Dilatation: $1,500 – $3,000
Hypothyroidism: $350 – $800
Osteochondrosis: $1,000 – $3,500
Glaucoma: $300 – $1,500
Behavioral Training Costs
Due to his strong character, the Giant Schnauzer must be educated firmly. He must quickly integrate the limits not to be exceeded with his owner, his entourage, and his congeners. In addition, he tends to want to be dominant; it will therefore be essential to establish a clear hierarchy from an early age. However, he is relatively easy to train. If you have experience with this breed or have had other large dogs with a similar character, you probably won't have to spend on his training. On the other hand, if you think that a dog trainer could be helpful to you, do not hesitate. Training should cost anywhere between $900 – $1,200, including private and group sessions.

Owning a Giant Schnauzer On a Budget
If you are on a tight budget, it would be a good idea to adopt an older Giant Schnauzer from a shelter rather than a puppy from a specialist breeder. In addition to significantly reducing the cost of purchase, the total veterinarian bill will also be less expensive. Of course, if you are absolutely determined to buy a puppy, you will have to cut all the excess from your monthly expenses, but please don't cut back on check-ups with your vet!
Saving Money on Giant Schnauzer Care
To save money in the care of your Giant Schnauzer, you can use the following options:
Take walks with your Schnauzer instead of hiring a dog walker.
Do not subscribe to monthly treat boxes.
Do not neglect your visits to the vet so that he can detect signs of potentially costly diseases in time.
Buy food that offers the best value for money (ask your vet for advice if in doubt, but know that the most expensive food does not mean it is the best).

Conclusion: Giant Schnauzer Cost
In short, expect to pay between $ 1,700 and $4,500 when purchasing your Giant Schnauzer puppy, which includes the purchase price and the initial setup and supplies. After that, the monthly expenses for the first year will vary between $250 and $380, depending on the age and health of your puppy. As you can see, the maintenance and purchase of a Giant Schnauzer is no small expense, but if you plan and budget well, you will be rewarded with years of love and strong loyalty of your giant furball!
---
Featured Image Credit: MaraZe, Shutterstock