Dog Grooming Prices in 2023: How Much Does It Cost?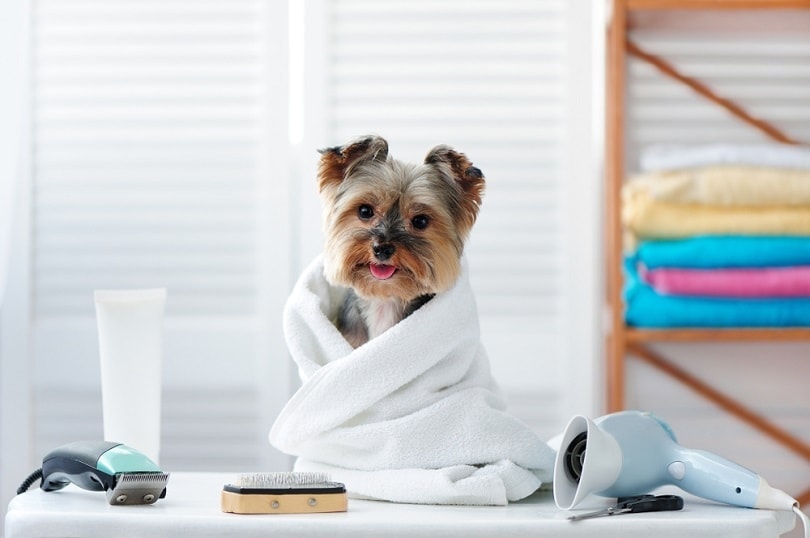 For most dog breeds, grooming is a typical part of routine maintenance. When they start getting a bit overgrown, matted, or unkempt, it's time to make an appointment. Since it's such a common aspect of the dog-owning experience, you're probably looking for the best rates.
So, what are dog grooming prices like at the moment?  Dog services differ quite a bit, so you can find affordable mom-and-pop shops or fancy places with all the tricks to take care of all your canines' needs.

How Much Does Dog Grooming Cost in the US?
When it comes to the total cost, several factors play a role. But most importantly, the size of your dog is going to matter. A small dog like a Shih Tzu will be less expensive than a Standard Poodle, for example. The coat texture is also important.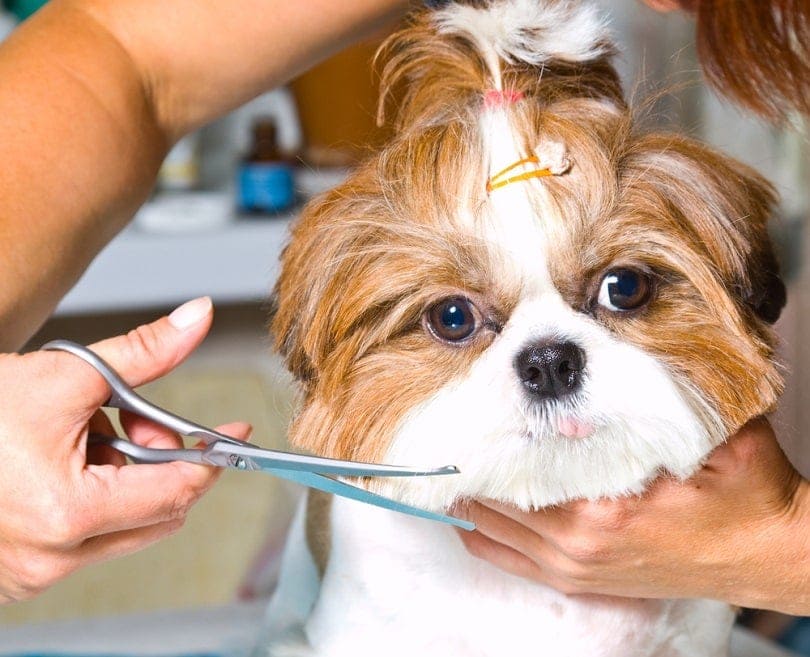 Plus, are you prepping your dog for show or just giving them routine care? The amount of work your dog requires means a lot, too. Remember, the groomer is spending time to get your pooch dazzled up and looking their best.
In general, the total range looks something like this:
Toy Breed—$30+
Small Breed—$40+
Medium Breed—$50+
Large Breed—$60+
Extra Large Breed—$70+
Other factors that influence the price:
Your Dog's Behavior — If you have a particularly aggressive or anxious pooch, it can make it very hard for your groomer to do their job. Your groomer is putting his or her safety in jeopardy every time they work with a bite-risk. Plus, a squirmy dog can be hard to control.
Pickup/Drop-Off Services — If you arrange for your dog to be picked up or dropped off, this can accrue a little extra in the cost department, too. It will likely be included in the total and explained beforehand. Of course, if this is a service you need, the cost will be worth the convenience.
Where You Live — The cost of living can significantly influence how much you should expect to pay. Living in a costly city like New York will make grooming costs rise. If you live in a small town or suburb, you may pay on the lower end of the spectrum.
Customer Loyalty Discounts — If you frequent a shop and continue to give the company business, many of them offer rewards. You can get discounts or rack up reward points.
Extra Grooming Services — If your dog needs a little extra pampering, there will be a long list of add-ons or options you can pick. Also, many companies offer different packages that include various forms of grooming services tailored to meet your pup's needs.

How Much Is Grooming at PetSmart?
PetSmart is a trusted company for so many pet families. In addition to nutrition and pet adoption, PetSmart also helps with grooming needs affordable to most.
PetSmart costs for full grooming can vary from $40 to $80+.
What Services Does PetSmart Offer?
Bath & Full Haircut
Bath & Haircut with FURminator
Bath & Brush with FURminator
Bath & Trim
Puppy Bath & Trim
Puppy Bath & Brush
How Much Is Grooming at Petco?
Petco is another huge supplier of pet products. They offer licensed and trained grooming professionals to lend a hand prettying up your pooch.
Petco costs for grooming can vary from $40 to $80+.
What Services Does Petco Offer?
Bath & Haircut
Customized Packages—pick all the specialized services you need
A la Carte—get only a select service or two from the menu
How Much Is Grooming at Pet Salons?
When it comes to privately-owned pet salons, the cost can be very affordable or high-priced given that there is such a wide variety under this category. On average, it is $30 to $90 for regular grooming.
Services at privately owned pet salons can change, sometimes drastically. So, you may be able to get all kinds of unique options for your pooch.
Other Options for Grooming
That's not all! You have a few other options that may work better for your situation.
Mobile Groomers
This grooming choice is exactly what it sounds like—the groomer comes to you. Typically, they will have a large van or commercial vehicle with all of the necessary instruments and space to pamper your pet.
Mobile grooming costs can vary tremendously. Higher-end companies could charge much more while a self-employed mobile groomer may cost less. Also, these groomers are meeting you personally, unlike many walk-in facilities.
Typically, this service ranges from $30 to over $100 or more.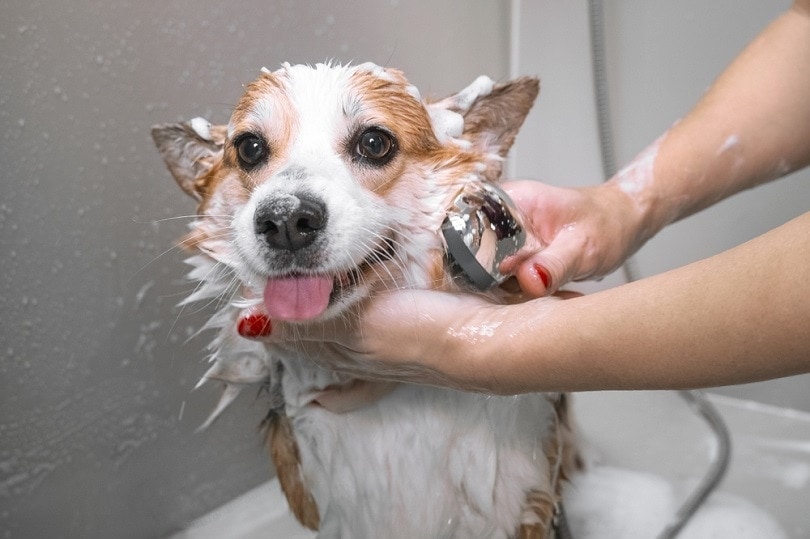 Self-Grooming Stations
Self-grooming stations are a perfect solution to saving a few bucks and not getting your house messy. You can bring your dog to one of these places, paying a fraction of the cost—roughly 25% less than traditional facilities.
Keeping your pet's skin and coat clean and healthy is very important, but finding a great shampoo can be harder than the actual grooming! We love our Hepper Pet Shampoos because they makes grooming so much easier. These pH-balanced formulas are made with natural ingredients like oatmeal, cucumber, and aloe. They are free of phthalates, sulfates, and soaps and very gentle on your pet's skin. Now you just need to decide which formula is best for your fur baby! Here's a quick guide to help you choose the right option for your pet's next bath!
| | Hepper Colloidal Oatmeal Pet Shampoo | Hepper Waterless No Rinse Pet Shampoo |
| --- | --- | --- |
| Natural cucumber & aloe scent | Natural cucumber & aloe scent: | Natural cucumber & aloe scent: |
| Safe for cats & dogs | Safe for cats & dogs: | Safe for cats & dogs: |
| Rinsing required | Rinsing required: | Rinsing required: |
| Free of harsh chemicals & nasty ingredients | Free of harsh chemicals & nasty ingredients: | Free of harsh chemicals & nasty ingredients: |
| Lathers easily | Lathers easily: | Lathers easily: |
| | | |

Typical Services Included in a Grooming Session
In a grooming session, you will get several services in one.
These typically include:
Bath
Brushing
Cut or trim
Nail trimming
Ear cleaning
Anal gland expression
Extra services offered — average cost:
De-matting—$1.25 per minute
Accessories—$10.00
Nail Polish—$5.00
Brushing Teeth—$10.00
Breath Refresher—$12.00
Blueberry Facial—$5.00
How to Choose Your Dog Groomer
Selecting a dog groomer is about more than finding a price you like. You're going to want to leave your pup in the hands of a seasoned professional who can prepare your dog to look their best. Your dog should feel comfortable in their care, and your groomer should feel the same.
Groomers should have a certification to prove their skillset.
The most common certifications are:
National Dog Groomers Association of America
International Professional Groomers
International Society of Canine Cosmetologists
Some places offer their groomers on-the-job training.
Your groomer is an individual who will build a relationship with your dog. The more you acclimate the dog to the groomer, the better rapport they will have together. Your dog may even look forward to their monthly pampering.

FAQs
What is dog grooming?
Dog grooming is essentially a salon day for your furry friend. Whether they need a trim, cut, clipping, teeth scrub, or deep cleaning, grooming plans meet the needs of the individual pooch.
All dogs can benefit from regular grooming, but grooming is especially common for show purposes or for dogs that require regular coat cuts.
Are you supposed to tip a groomer?
Yes, you would tip your groomer the same way you would tip your hairstylist or manicurist. The tip depends on how much you can afford, your dog's behavior, and how well the groomer did at their job.
Generally, it would be best if you tipped the groomer 15% to 25% of the total cost. Of course, that can go up depending on a few factors. You should tip even more when the groomer has gone above or beyond for your pet.
Some situations to top more include:
If they gave you more services than you paid for
If your dog was incredibly dirty or very matted
If your dog gave the groomer a run for her money
If your dog required extra accommodations
If your groomer was particularly exceptional at his or her job
What is included in full-body grooming?
While services can vary slightly from company to company, full-body grooming is pretty standard.
It generally includes:
Shampoo + Conditioning
Blow Dry
Nail Clipping
Haircut or Trim
Sanitary Trim
Pad Care
Scent or Spritz
Anal Gland Expression
Do dogs enjoy grooming?
Some dogs absolutely adore grooming. After all, they get rubbed down and cleaned up—they thrive on the attention and good feelings associated with it.
However, some dogs can be nervous, which can cause aggression or frantic behavior. It's not easy for every dog to be in a strange place away from their humans—kind of like a vet visit. It will depend on each dog and always plan grooming appointments prepared.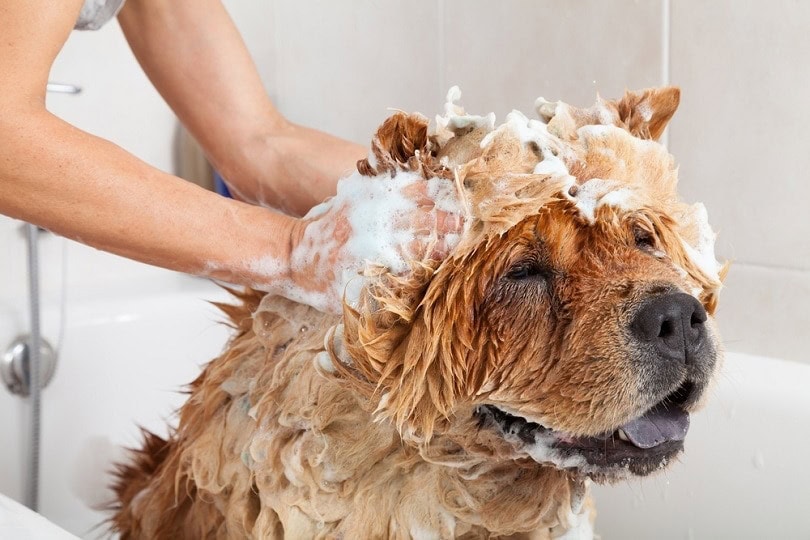 How Often Should You Groom Your Dog?
Grooming frequency is breed-specific most of the time. It depends on fur texture, length, and management. Typically, you should groom your dog every 4 to 8 weeks—which averages about $480 per year.

Final Thoughts
With a little look at what places offer grooming services around your area, you can gauge the average in your neighborhood. You can know what to expect going forward to save or splurge at your leisure. If your dog needs a little extra pampering, you can tack on a few additional services.
Whether you put it in the hands of a professional or use a self-service, your dog will be looking dapper as the day is long when all is said and done.
---