150+ Grey Cat Names: Our Top Picks For Your Grey & Silver Cat
Cats come in many different and unique shades of grey. Fortunately, there are a lot of beautiful and fun names that you can find from being inspired by your cat's coat color.
To help you get started, we've compiled a list of grey-inspired names that celebrate your cat's luxurious, monochrome fur.
How To Name Your Grey Cat
Naming your cat after its coat color can be a challenge because the color grey has a lot of meanings, and it symbolizes many different things. So, when you're thinking of a name, it's important to stay focused on one or two categories to avoid becoming overwhelmed with too many options.
Some categories you can focus on are your cat's coat texture, the shade of gray, or its personality. You can also think about people or characters that inspire you and have elements of grey in their persona or fashion style.
After you focus on one or two components, start making a list of things that fall into those categories. From there, look for a handful of names that stand out to you and eliminate any that don't spark any interest. Keep narrowing down the list of names until you have one name left.
If you're stuck on coming up with some names on your own, take a look at our list of categories and names to get inspired.
Natural Elements and Weather-Inspired Names
There are many parts of nature that reflect the color grey. Here are some names inspired by weather, metals, and other things you can find in nature.
Ash
Ashton
Char
Cinder
Cinereous
Cirrus
Cloud
Coal
Cumulus
Dusty
Earl Grey
Flint
Granite
Haze
Lava
Lavender
Lilac
Luna
Lune
Misty
Moonstone
Nickel
Nimbo
Nimbus
Onyx
Pebble
Pepper
Pewter
Platinum
Rocky
Shade
Shadow
Slate
Silver
Smoky
Soot
Space Cadet
Sterling
Stony
Stormy
Stratus
Tin
Vulcan
Wooly
Other Animals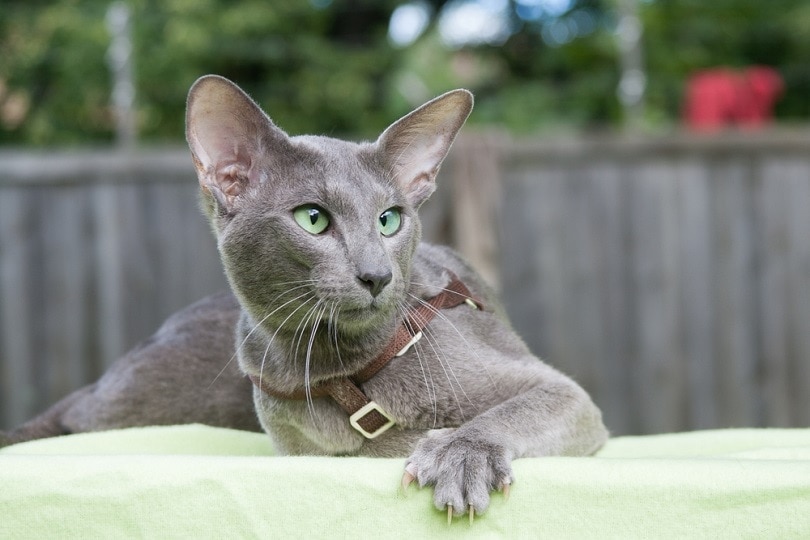 Sometimes, it's fun to name cats after other animals. They might display characteristics or personalities attributed to these animals. Here are some grey animals that can also be a suitable name for your cat.
Bear
Birdie
Bunny
Coho
Dolly (Dolphin)
Elle/Ellie (Elephant)
Fox
Goose
Ham (Hamster)
Hippo
Koala
Lele (Lemur)
Lynx
Mack (Mackerel)
Marten
Mink
Mole
Mongoose
Mouse
Mullet
Parry (Grey Parrot)
Pidgeon
Ray
Raccoon
Rhino
Seal
Sharky (Shark)
Sheep
Sugar (Sugar glider)
Wolf
Famous Names
There are plenty of famous people and characters that are shrouded in gray. You might find a great name for your cat amongst this list of icons.
Akela (The Jungle Book)
Allen ( Gray-Man)
Athena
Baloo (The Jungle Book)
Bender (Futurama)
Berloise (Aristocats)
Bruce Wayne
Bugs (Looney Tunes)
Charlie Chaplin
Chloe (The Secret Life of Pets)
Curley (The Three Stooges)
Dorian Gray
Eeyore (Winnie the Pooh)
Farnsworth (The Little Engine That Could)
Gandalf the Grey (The Lord of the Rings)
Grey Lady (Harry Potter)
Greyjoy (Game of Thrones)
Hades
Horton (Horton Hears a Who!)
Jaws
Jiraya (Naruto)
Larry (The Three Stooges)
Lucille Ball (I Love Lucy)
Meredith Grey (Grey's Anatomy)
Munkustrap (Cats)
Moe (The Three Stooges)
Pearl Krabs (Spongebob Squarepants)
Quicksilver (X-Men)
Ricky Ricardo (I Love Lucy)
Selene
Selina (Batman)
Tom Cat (Tom & Jerry)
Yuki (Fruits Basket)
Different Languages
Grey sounds nice in many other languages. Here are some translations of the word "grey" in different languages.
Abu-Abu (Indonesian)
Alu (Sinhala)
Bhukhara (Gujarti)
Cinzenta/Cinzento (Portuguese)
Dhoosar (Hindi)
Gireyi (Shona)
Gra (Danish)
Grau (German)
Grigio (Italian)
Gris (Spanish)
Griseo (Latin)
Grys (Afrikaans)
Gure (Japanese)
Hall (Estonian)
Harmaa (Finnish)
Hinahina (Hawaiian)
Impunga (Zulu)
Kelabu (Malay)
Khairo (Nepali)
Kijivu (Swahili)
Kulawu (Sudanese)
Liath (Irish)
Rumadi (Arabic)
Saaral (Mongolian)
Sery (Russian)
Siva (Bosnian)
Sivo (Bulgarian)
Szary (Polish)
Szurke (Hungarian)
Xam (Vietnamese)
Miscellaneous Grey Names
Here's a list of some names that don't fall into any particular category. They're still fun options to consider, and they can inspire you to think of other gray-related names.
Anchor
Armor
Bullet
Chain
Chrome
Cloak
Crypt
Disco
Flute
Foil
Gizmo
Graycie
Grey Gatsby
Greyson
Grey-tel
Griselda
Gunmetal
Lloyd
Marengo
Ninja
Nube
Rachet
Shimmer
Shroud
Silverbell
Spirit
Spoke
Taupe
Tinsel
Wisp
Xanadu
Yin
Conclusion
You can draw many noteworthy names from grey things. They're often found in nature, notable characters, and unassuming everyday objects.
There's no need to stress too much over finding the perfect name for your cat. More often than not, you'll find that the search for the perfect name ends with the perfect name finding you. So, have fun with the process, see where your creativity takes you, and be open to drawing inspiration from the most unexpected places.
Related Reads:
---
Featured Image Credit: Benita5, Pixabay