180 Harry Potter Cat Names: Ideas for Your Magical & Studious Cat
The Harry Potter books and movies have proven themselves a cultural phenomenon, creating a dedicated fan base. This has led to Harry Potter pet names remaining a popular choice, no matter how much time has passed since the movies or books have come out.
This article goes over some of our favorite Harry Potter names for cats. We have categories for male and female cats based on wizard characters and some of the magical creatures in the series.
How to Name Your Cat
Choosing a name for your new cat or kitten doesn't have to be stressful, but you do want to choose a fitting name that you'll be happy with for years to come. When it comes to Harry Potter names, a good starting point is identifying what type of a name you want. Do you want a character name or a magical name? Maybe you're more interested in location names. There are so many great name options! All you have to do is find the right starting point and start trying out names to see what fits.
Top 10 Harry Potter Cat Names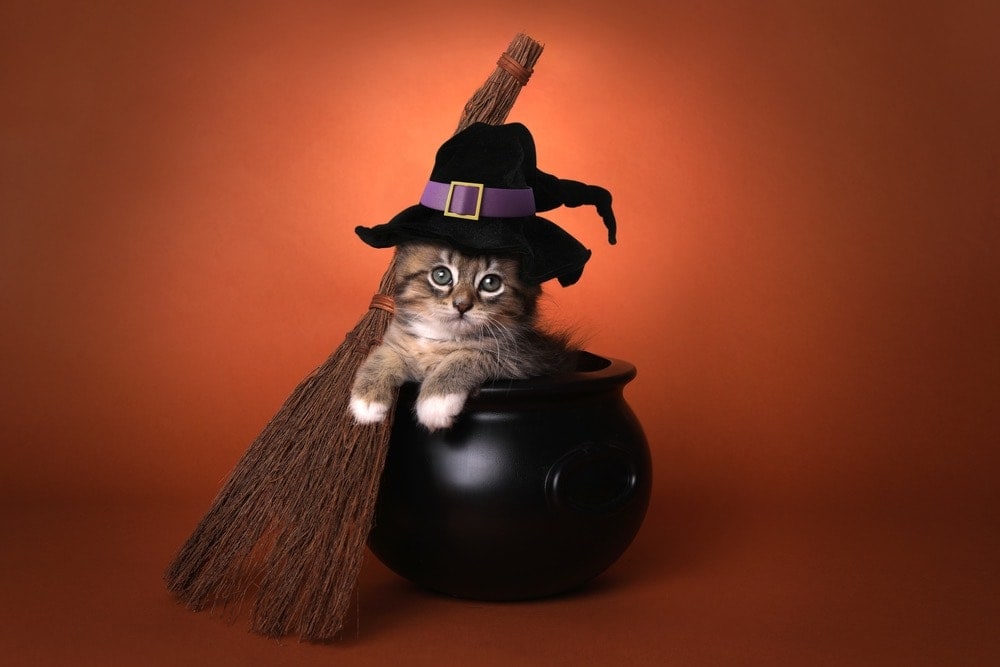 Harry
Ron
Hermione
Albus
Sirius
Luna
Bellatrix
Dobby
Hagrid
Ginny
Male Harry Potter Character Names
Draco
Neville
Longbottom
Mad-Eye
Moody
Lucius
Remus
Lupin
Crouch
Tom Riddle
Rufus
Seamus
Griphook
Firenze
Creevey
Scrimgeour
Tiberius
James
Kreacher
Antonin
Severus
Peter
Snape
Alastor
Dudley
Regulus
Bartemius/Barty
Amos
Filch
Flitwick
Aberforth
Cedric
Dumbledore
Oliver
Viktor
Godric
Newt
Gellert
Gideon
Gilderoy
Malfoy
Mundungus
Fred
George
Charlie
Grawp
Percy/Purrcy
Female Character Names
Lavender
Narcissa
Cho
Fleur
Petunia
Amelia
LeStrange
Angelina
Molly
Rita
Poppy
Queenie
Myrtle
Skeeter
Marge
Arabella
Winky
Dolores
Lily
Rosmerta
Rowena
Tonks
Nymphadora
Dora
Helena
Andromeda
Alecto
Augusta
Helga
Minerva
Bathilda
Trelawney
Drucella
Millicent
Umbridge
Figg
Animal Names and Species
Hedwig
Fang
Scabbers
Crookshanks
Trevor
Errol
Fuzzclaw
Nagini
Pigwidgeon
Paws
Tibbles
Norbert
Ironbelly
Fawkes
Fluffy
Aragog
Horntail
Snowy
Dragon
Centaur
Hippogriff
Fireball
Basilisk
Buckbeak
Arnold
Padfoot
Tufty
Hermes
Nargle
Mooncalf
Niffler
Thestral
Wrackspurt
Kelpie
Grindylow
Kappa
Bowtruckle
Magical Names
Pixie
Imp
Troll
Kneazle
Marauder
Patronus
Ravenclaw
Slytherin
Gryffindor
Hufflepuff
Grey Lady
Bloody Baron
Alohomora
Bones
Potion
Spell
Magic
Professor
Nimbus
Quibbler
Azkaban
Wizard
Witch
Colloportus
Muggle
Quaffle
Seeker
Gringotts
Hallow
Boggart
Horcrux
Phoenix
Willow
Impervius
Lumos
Headmaster
Revelio
Sonorus
Muffliato
Mandrake
Goblin
Felix Felicis
Caterwaul
Evanesco
Finestra
Nebulus
Bertie Bott
He-Who-Must-Not-Be-Named
The Chosen One
In Conclusion
It feels like the Harry Potter name options for cats are almost limitless! Creature species, character names, locations, and magic terms all suit a cat perfectly. There are names for escapee cats, loud cats, shy cats, and even "spicy" cats.
Getting a feel for how certain names feel when you say them and if they seem to suit your cat's personality is the best place to start once you've narrowed down a list of names you may be interested in.
---
Featured Image Credit: Larisa Lomaeva, Shutterstock