100+ Irish Dog Names: Ideas for Fun & Lucky Dogs

Ireland is known for its misty landscapes, plentiful leprechauns, and of course that lilting accent. So why not give your dog a name from this gorgeous island?
Whether you're looking for something traditional or creative, you should be able to find the perfect name for your pup on this list. Keep reading to find over 100 fun and unusual dog names!

Female Irish Dog Names
Gael
Bailey
Caoimhe
Claire
Glenda
Anna
Ciara
Clover
Holly
Fiona
Mary
Rosalyn
Riley
Sybil
Orla
Kira
Maeve
Grace
Mab
O'Hara
Molly
Reagan
Sinead
Colleen
Cara
Shannon
Sophie
Erin
Saoirse
Maggie
Muriel
Roisin
Tara
Ardeen
Aisling
Male Irish Dog Names
The right Irish dog name can be magical and inspiring, even if your pup isn't an Irish breed. From Tierney to Rogan, we've got plenty of male dog name choices for you. Try saying them in your best Irish accent before you pick the one. We hope that if you have a male dog and you want an Irish name, that this list below gives you the one you've been waiting for.
Tierney
Leprechaun
Declan
Jameson
Doyle
Cormac
Seamus
Lorcan
Paddy
Donovan
Donnelly
Whiskey
O'Malley
Dermot
Connor
Gallagher
Madigan
Liam
Dublin
Thomas
Owen
Grady
Ronan
Finn
Killian
Kane
Finegan
Colin
Aidan
Bran
Conan
Murphy
Darragh
James
Alastair
Fitzgerald
Patrick
Rogan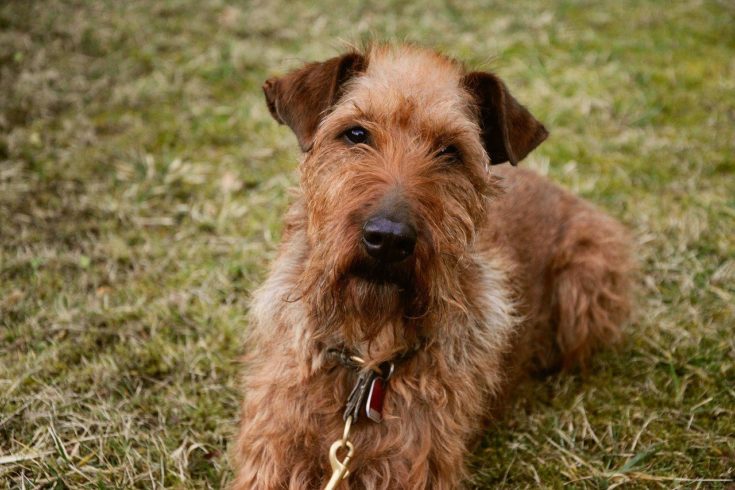 Creative Irish Dog Names
Many names on our male and female lists are quite commonly known; it's incredible how much of an Irish influence there is in all western culture, without us really noticing. If you want something a little less known and a little more creative, the list below may have the perfect Irish name for your pup.
Felix
Shamrock
Porter
Chance
Clover
Sage
Cabbage
Merrow
Fern
Cork
Greenie
Wee
Rainbow
Charm
Kelpie
Limerick
Guinness
Selkie
Niamh
Shandy
Forrest
Grá
Galway
Kilkenny
Jade
Blarney
Sláinte
Lucky
Kiwi
Now that you have a name, get your pup the latest gear: 
Finding the Right Irish Name for Your Dog
Your best friend doesn't have to be an Irish Setter to have an Irish name. This beautiful island has quite a bit to offer — including a great set of dog names. We hope that our list has helped you find an ideal name for your pup!
Just remember that choosing a name for your dog should be a fun experience and we want to help make it as stress-free as possible. Whatever name you decide on, your puppy will love it. Just like with humans, nicknames will form as your puppy grows, so there's really nothing to worry about. It's always important to practice saying your pup's name aloud a few times before you do make the final choice. What looks great on paper may not sound great in your voice, or might be tough for little ones to say.
If you've read through our list and still haven't found the perfect name, it's okay. There will be gold at the end of one of the rainbows you look down! Take a look at one of our many other lists:
---
Feature Image Credit: strengthinnumbers, Pixabay