100+ Japanese Dog Names: Unique & Cute Ideas (with Meanings)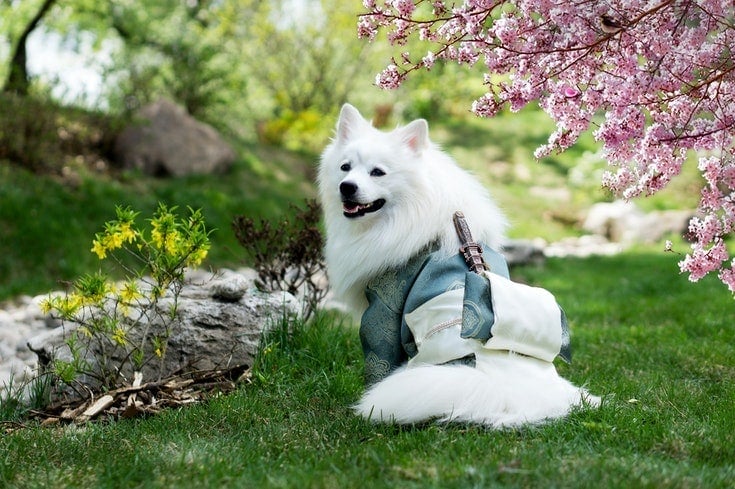 Japan is known for many things including its unique culture, beautiful landscapes, and interesting and tasty food. If you're a fan of Japanese culture, you'll probably know all about their poetic language as well. There is a deep history of the Land of the Rising Sun, and paired with their pop culture and fashion of today gives any non-resident a lot to learn and be excited about.
We've put together a list of the cutest and most popular dog names from Japan, but we haven't left out the poetry. Scroll down to see our favorite Japanese dog names with meanings. There's even a section of Japanese words that don't have a direct English translation. Who knew that on your hunt for a perfect Japanese dog name you'd be learning more about the incredible language. Keep reading to find over 100 great options for your wonderful dog.

Female Japanese Dog Names
Miyu
Chiyoko
Akiko
Takara
Nanami
Miwa
Wakana
Miyuki
Momoka
Chie
Rina
Sakura
Yasu
Asuka
Suzu
Saki
Mio
Minori
Satomi
Suzume
Chiyo
Tomomi
Akira
Rika
Ayaka
Akemi
Airi
Natsumi
Naomi
Natsuki
Chiyo

Male Japanese Dog Names
Hayate
Kiyoshi
Mitsuru
Akio
Kyo
Nori
Ryo
Mitsuo
Akira
Osamu
Shiro
Riku
Kichiro
Masato
Norio
Osamu
Atsushi
Ayumu
Katashi
Mitsuo
Satoshi
Youta
Masayuki
Hideo
Katsu
Masa
Arata
Ren
Hitoshi
Kenichi
Kenji
Makoto
Noboru
Hiro
Daiki
Michio
Shinji
Dai
Kaito
Hiroshi
Daisuke
Masaru

Cute Japanese Dog Names
Kawaii sounds like a Hawaiian island (Kauai), but it's actually the Japanese word for "cute." Along with beautiful landscapes and interesting food, Japan is known for its love of cute things. They have adorable characters and mascots for everything, and they love plushies and tiny little animals, so a cute Japanese dog name just seems to make sense. So if your dogs are adorable, why not give them equally adorable Japanese names?  Take a peek at our favorites below.
Tamago
Sashimi
Wasabi
Temaki
Nigiri
Koko
Taro
Aya
Mochi
Kaki
Uni
Maron
Sushi
Ebi
Maki
Mocha
Runa
Momo
Fuji
Toro
Kawaii
Koro
Cho
Cherry
Nana
Yoko
Sake
Sakura
Choco
Roe
Hashi
Kurumi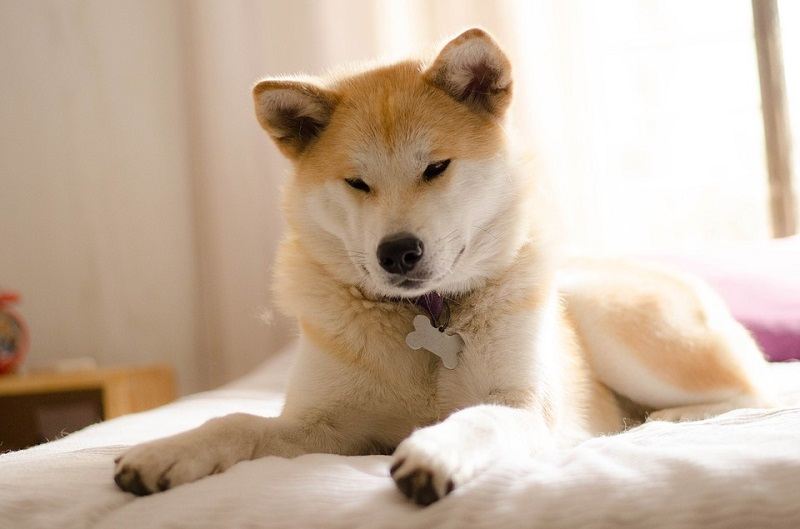 Japanese Dog Names with Meanings
There are so many fun words to say in Japanese and many have meaning. We've gathered our favorites below:
Kage (shadow)
Etsuko (child of joy)
Moriko (child of the forest)
Tobu (fly)
Akane (deep red)
Shōri (victory)
Bagu (bug)
Asami (morning beauty)
Kiri (noble)
Ramen (Japanese soup dish)
Natsu (summer)
Haru (spring)
Nao (honest)
Hoshi (star)
Haruko (spring child)
Kyodai (huge)
Nikoyaka (smiling)
Hana (flower)
Masayoshi (righteous, honorable)
Nozomu (hope)
Ichiro (first son)

Beautiful Untranslatable Japanese Words for Dog Names
When speaking in different languages there are many words that are not directly translatable. If you only speak one language, it might be hard to grasp this concept. Japanese is a poetic language with single words that have deep and beautiful meanings that we need many words to describe in English. Below are our favorite Japanese words that have no direct translation in English. We hope one of them might touch your heart or mind and be the perfect choice for your dog.
Kuidaore:
When one has a love for fancy food and drink so much that they will sacrifice their money to eat and drink lavishly until they become bankrupt. They experience kuiadore. This name would be great for a Labrador, though they would eat their way bankrupt on any food, not just fancy food.
Wabi-sabi:
This word comes from Buddhist teachings and has to do with imperfect, incomplete beauty, or perfect imperfections. Take, for example, a Shih Tzu with an underbite, or a Pug's smooshed in face. They are perfect and beautiful without being "perfect." You will definitely appreciate the wabi-sabi of your pup.
Irusu:
Have you ever been at home on your own and the doorbell or phone rang and you pretended you weren't home? That's irusu: pretending no one is home! We're not sure if any dogs would be good at this since they all generally bark at any knock or call upon you, but the irony could make for a great name.
Natsukashii:
When many people think of the past, the good old days, they feel nostalgic. But nostalgia often brings about a bit of sadness with it, grieving for the past that will never be again. Natsukashii is similar to nostalgia, but it's the bringing back of happy memories of the past and being happy about it all. This could be a beautiful name for a second pup if you've adopted one after another passed away. It could bring you all the happiness you deserve when you're reminded of the love you previously had and shared.
Bonus: The Most Famous Japanese Dog
Hachikō
Hachikō is famous for being one of the most loyal dogs of all time. This Akita Inu lived in Tokyo with his owner, a professor named Ueno. Every day, Hachikō would meet his owner at the Shibuya Train Station on his way home. Tragedy struck and Ueno died — but Hachikō continued to wait at the train station every day for the next 10 years, until his death.
What a good dog! To commemorate his loyalty, there's a bronze statue of him at the train station, and he was buried with his owner in a Tokyo cemetery. Hachikō continues to be popular in Japan and has appeared in books and movies ever since.

Finding the Right Japanese Name for Your Dog
Choosing a name for your dog can be a daunting task, but it doesn't have to be. Remember, no matter what you decide on, your dog will learn it, respond to it, and ultimately, love it, because it's something you chose just for them.
After reading our extensive list of Japanese names for dogs, we hope you have found the perfect one for your pup.  These interesting, unique, and adorable, and poetic names will suit many different breeds – not just the Shiba Inu.
If you're still looking, don't worry! We have many more dog name lists for you to search through. Check out some of them below:
---
Featured Image Credit: Yuliya Strizhkina (Cartier), Pexels