100+ Italian Greyhound Names: Italian, Speedy & Sleek Ideas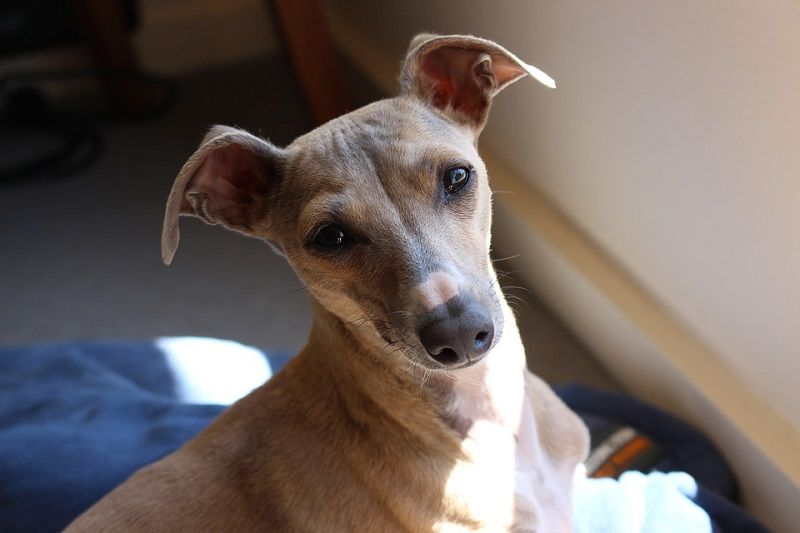 Also known as the Italian Sighthound, the Italian Greyhound is the smallest of its kind. Relying on their sight rather than smell, a Sighthound is its own category of hound and which is a unique fact about this breed. Possessing many of the same qualities as the classic greyhound, but in a pint-sized version. These sleek canines only weigh 11 pounds at their heaviest and stand tall at 15 inches. A slender build and springboard legs give this adorable pooch its quickness and agility. 
Once your pup is back home and settled, it's time to find a name! You could choose a name inspired by their Italian origin, speedy and active lifestyle or even their coat color. Below are the most popular names for Italian greyhounds. 

Female Italian Greyhound Dog Names
Sia 

Bella 

Sally 

Roxy 

Gabby 

Lola 

Stella 

Ellie 

Zoe 

Gala 

Persis 

Brandy 

Mona 

Charlotte

Lucy 

Cassie 

Penny 

Angel 

Juno 

Daisy 

Molly 
Male Italian Greyhound Dog Names 
Remy 

Finnegan

Digby  

Holden 

Ozzie 

Louie 

Bingo 

Kishi 

Archie 

Doug 

Finn 

Higgins 

Beau 

Gideon 

Stanley 

Gus 

Turk 

Hank 

Jack 

Dune 
Grey Names for Your Blue Italian Greyhound Dog Names
Although it's not necessarily classified as grey, blue Italian greyhounds commonly appear to have that classic greyhound coloring. Not only that, but have this subtle hue built right into their name. It might be an obvious choice, but it will be tough to find a better-matched name than one from this next list. 
Willow 

Sky 

Pebble 

Flint 

Stone 

Aurora 

Gracie 

Smokey 

Ash 

Pewter 

Nova 

Slater 

Cinder

Luna 

Gunnar 

Sterling

Astra

Onyx

Casper 

Chrome  

Hazel 

Storm 
Italian Names for your Italian Greyhound 
Staying true to its Italian roots, you may be interested in a name that comes from Italy. In fact, this pooches Italian name is Piccolo Levriero Italiano. Each of the ideas below offers a light-hearted approach to a tiny pup's name and each is quite adorable. Try not to smile while imagining your pup with one of the following: 
Ravioli 

Fabio 

Cannoli 

Biscotti 

Polo 

Venti 

Vino 

Giada 

Pesto 

Nero 

Pompeii 

Roma 

Dolce

Primo

Luigi 

Vinci 

Gelato 

Vita 

Pisa 

Florence 

Milan  
Racing Italian Greyhound Dog Names
Built for speed, the Italian greyhound is a quick dog who loves a good game of fetch! This dog might be little but has boundless amounts of energy and enjoys any activities that you do with them. For the active dogs – a racing name would be a good fit!
Nitro 

Racer 

Whiz

Fuel 

Walker 

Merry 

Rumble 

Swift 

Jiffy

Bolt 

Flow 

Zip

Chipper 

Zoom

Atomic 

Spirit 

Bullet 

Pogo

Derby 

Frolic 

Dart

Wheels 

Jett 

Gogo

Peppy 

Turbo 

Aero 

Victory 
Smooth Italian Greyhound Dog Names
A short and sleek coat might be a cool idea to consider when searching for a unique name for your dog. Why not choose one from this next list and ensure your pup is the smoothest at the dog park!
Bones 

Slim 

Cricket 

Slick 

Sleek 

Bond 

Boo 

Twig 

Bony 

Smooth 

Banks 

Stretch 

Tinsel 

Velvet

Finding the Right Name for Your Italian Greyhound 
Bringing home your pup for the very first time is an exciting time and finding them a name should be just as fun! Now, the options you could consider are truly endless and might even be a bit overwhelming at times. Not to worry! Below are a few helpful tips sure to keep your search on track and ultimately lead you to the one you and your pup will both enjoy! 
Names that end with vowels are easier for dogs to learn.

Names like Lucky, Fido, and Bella got their names on the top of the popular list for more than one reason. Dogs can distinguish frequencies ranges higher (and better) than we can (have you heard of the dog whistle?), so having the vowel ending adds an intonation that makes it very easy to hear and understand for your pup. That's not to say it's the only way, but it will give your puppy a bit of a leg-up in his puppy training.

One or two syllable names are easier to say.

Think of when you're in the thick of training and you need to be stern – a simple name will be much easier to say and for your dog to understand. It will also be quick when you are wanting to show your pet some love!

Avoid offensive or negatively connotated words for names

. Stay away from names that might be embarrassed to share with your neighbor, vet, or even call out at the dog park. You want your pup to be proud of their name, so you should be too!

Think of the personality your puppy has (or is likely to have).

Breeds have their own traits of course, but your pup will develop their own personality as well. You could consider this when choosing a name.

Pick a name and stick with it

. Once you have the name, don't change your mind. And don't bring out the nicknames until your puppy feels confident with the official name (you don't want a confused little furball). Say the name a lot, in all different tones so your puppy learns it quickly. 

See how your pet reacts when you say it out loud.

This may be a clear indication that they love or hate a name. If an option provokes an alarming bark, we know that's not the name for your pup! If you get a curious head tilt or a few puppy kisses, we can bet you have found a winner!
Finally, have fun with it! Your pup will love whatever name you choose, so don't ever think it! We hope that you were able to find the one among our list of Italian Greyhound names – with options tributing their speed, origin, or color, we hope you loved a few! If you need a little more inspiration, you could check out another one of our name posts below: 
---
Feature Image Credit: JeebyJeeby, Pixabay