180+ Korean Names For Cats: Our Top Picks For Your Cute Cat
Are you a Korean culture fan and a cat lover? Why not name your feline friend after your favorite Korean person, place, or thing? In our vast selection of Korean cat names, we're sure you'll find a wealth of inspiration!
Korean culture has loads of cute names and there is an option for every feline personality in our mega-list. In the last few years, Korean culture and influence have exploded in North America thanks to K-POP and K-dramas, and whether you have Korean heritage or are inspired by the culture, check out these fabulous ideas for Korean cat names.
We've compiled a list of some of the most interesting Korean names (with meanings) to inspire you and help you name your cat. We hope you dig in, explore our options, and find one that works best for you and your kitty!
How to Name Your Cat
Adopting a cat or kitten is a rewarding experience. There are so many exciting decisions involved. You need to consider where your cat will sleep, what vaccinations it has had or still needs, who your vet will be, how you will train your cat, and so much more! Aside from all of that, you also need to come up with the perfect name.
We know how hard it can be to come up with a name that perfectly fits your cat, and we believe the best plan is to pick a name that captures your cat's unique personality and reflects your own interests and culture. Picking a name that reflects your kitty's individual character traits can help solidify their place in your heart. Choosing a trendy and cute, yet authentically Korean-inspired cat name can be a little tricky. By including the meaning of each name within a few distinct lists, we hope that we have given you a good shot at picking the perfect Korean cat name!
Female Korean Cat Names
Ae Cha (Loving daughter)
Aeng Du (Cherry)
Ah Reum Ee (Beautiful)
Ah Rong Byul (Beautiful shining star)
Ba Da (Purple)
Bae (Inspiration)
Beullangka (White cat)
Bich (Light)
Bo Mi (Beautiful)
Bo Rah (Purple)
Bo Reum Dal (Full moon)
Bo Ri (Barely)
Bo Seul Ee (Drizzle)
Bom Ee (Spring)
Bong Cha (Supergirl)
Bul (Fire)
Byeol (Star)
Choon Hee (Spring girl)
Chungsilhan (Faithful)
Da Jung Ee (Friendly)
Da On Ee (Perfect)
Dalkomhan (Sweet)
Danbi (Welcome rain)
Darangee (A beautiful village in southern South Korea)
Ee Bbeun Ee (Pretty one)
Ee Seul Ee (Drew drop)
Eollug (Spotted)
Eom Ji (Thumb)
Eun Ee (Silver)
Gaeul (Fall or autumn)
Ganglyeoghan (Brave)
Geolchulhan (Admirable)
Geu Rim Ja (Shadow)
Geum Ee (Orange)
Ggot Byul Ee (Flower and star)
Ggot Nim Ee (Flower)
Ggot Song Ee (Flower blossom)
Ggot Soon Ee (Female flower)
Go Mi Nyua (Beautiful cat)
Guleum (Cloud)
Ha Neul Ee (Sky)
Ha Ni (Wind)
Ha Rang Ee (High sky)
Hae (Ocean)
Hyang Gi (Pleasant smelling)
Hye (Intelligent)
In-Na (Graceful)
Insaeng (Lively)
Jag-Eun (Star)
Jan Di (Grass)
Jang Mi (Rose)
Jeju (The largest island in South Korea)
Jin Dal Lae (Flower)
Jin Sol Ee (Truthful and honest)
Joo (Jewel)
Ju Mi (Gem)
Kawan (Strong)
Kkoch (Flower)
Kwan (Strong)
Kyung Soon (Gracious)
Mee (Beauty)
Mi Nah Rae (Trustworthy)
Mi cha (Beautiful)
Mi Ok (Pearl)
Mid Eum (Faith)
Min Nah Rae (Trustworthy)
Min Ki (Energetic)
Mo Du (Everyone)
Na Bi (Butterfly)
Na Moo (Tree)
Na Ra (Country)
Na Rae (Wings)
Na-Eun (Mercy)
Na-Rae (Creative)
Noo Ri (World)
Pyeonghwa (Peaceful)
Sarangi (Charming)
Seoltang (Sugar)
Seungliui (Victorious)
So Hui (Glorious)
Sook (Pure)
Sun Hee (Happy)
Suni (Kind)
Taeyang (Sunny)
Ttal (Daughter)
Uh Dum (Dark)
Ye Bin (Pretty)
Yeoja (Woman)
Yeong (Fearless)
Yeosin (Goddess)
Yoon (Precious)
Young-mi (Eternity)
Yu Na (Enduring)
Male Korean Cat Names
Abeoji (Father)
Amseog (Rock)
Ba Ram Ee (Wind)
Bam Ha Neul (Night sky)
Bohoja (Protector)
Bokshil (Furry)
Busan (The second-largest city in South Korea)
Ching Hwa (Healthy)
Cho (Handsome)
Chul Moo (Iron weapon)
Dak Ho (Deep lake)
Deulpan (Field)
Dong Ee (Sunrise)
Dong Yul (Eastern passion)
Eodum (Dark)
Gachiissneun (Valuable)
Gam Cho (Licorice)
Go Mi Nam (Handsome cat)
Goyohan (Quiet and peaceful)
Gun Po doh (Raisin)
Haemeo (Hammer)
Haengboghan (Happiness)
Haenguni (Lucky)
Him (Strong)
Hoo Choo (Pepper)
Hugyeon In (Guardian)
Hui (Wind)
Hwaseong (Mars)
Ja Jung (Midnight)
Jeonjaeng (War)
Jun U (Excellent)
Jung Nam Ee (Friendly)
Kal (Powerful and fierce)
Ki (Arisen)
Kyu (Standard)
Kyun Ju (Scenery)
Ma Roo Han (Leader)
Maeum (Heart and mind)
Makki (Little)
Mal (Horse)
Mesdwaeji (Wild boar)
Min Ho (Brave and heroic)
Mulyo (Curious)
Namja (Manly)
Nongbu (Farmer)
Nyah Ong Ee (Kitty)
Nyang Ee (Kitten)
Ro Wah (Wise)
Saja (Lion)
Sal Gu (Apricot)
Sarangi (Emperor)
Seo-Jin (Omen)
Seulgi (Wisdom)
Seunglija (Winning)
Shiro (White)
Soh Ri (Sound)
Som Ee (Cottonball)
Su Won (Defend and protect)
Suk (Rock)
Sung (Successor)
Tae Hui (Big and great)
Taeyang (Yellow)
Ulsan (A large city in Korea)
Wonsoongi (Monkey)
Woojoo (Universe and space)
Yepee (Happy)
Cute Korean Names for Male or Female Cats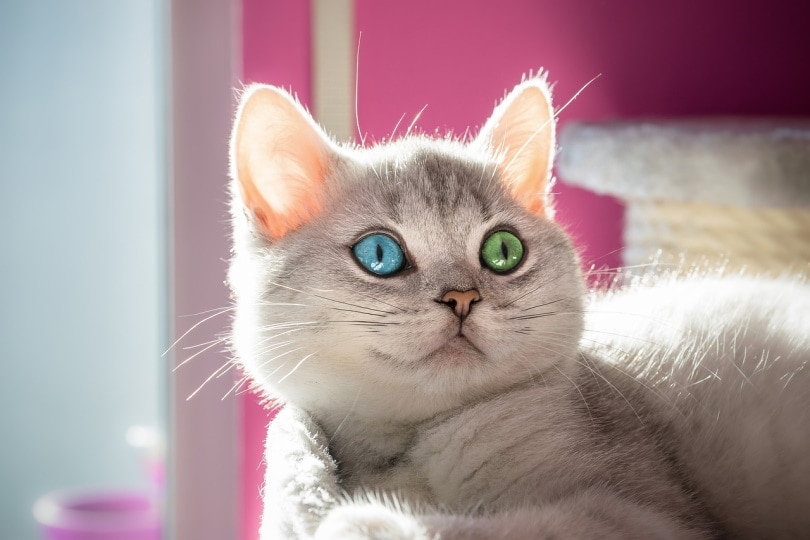 ​​Keyowo (Cute)
Mi Sun (Kind and tender)
Ha Roo (One day)
Na Mooo (Tree)
Suk Ee (Strong)
Ogboon (Jade powder)
Podo (Grape)
Mongshil (Fluffy)
Sundo (Pure)
Sagwa (Apple)
Bam Ee (Night)
Nam Sun (Pure and honest)
Ye Jin (Precious)
Bo Ram Ee (Worthwhile)
Geu Roo (Tree stump)
Roo Da (To achieve)
Woo Ri (Together)
Yeo (Mildness)
Juhee (Joyful)
Ye Na (Talent)
Bo A (Rare and elegant)
Dubu (Bean curd)
Final Thoughts
You can expect to have a journey full of affection and excitement when you adopt a new cat into your life, picking a great Korean-related cat name can help to celebrate your cat's uniqueness. The names we chose for our list are inspired by Korean culture, music, art, and the long traditions and storied history of Korea. We hope you enjoyed our selection and have found the perfect name for your precious cat!
---
Featured Image Credit: Popel Arseniy, Shutterstock