13 Low Maintenance Cat Breeds (With Pictures)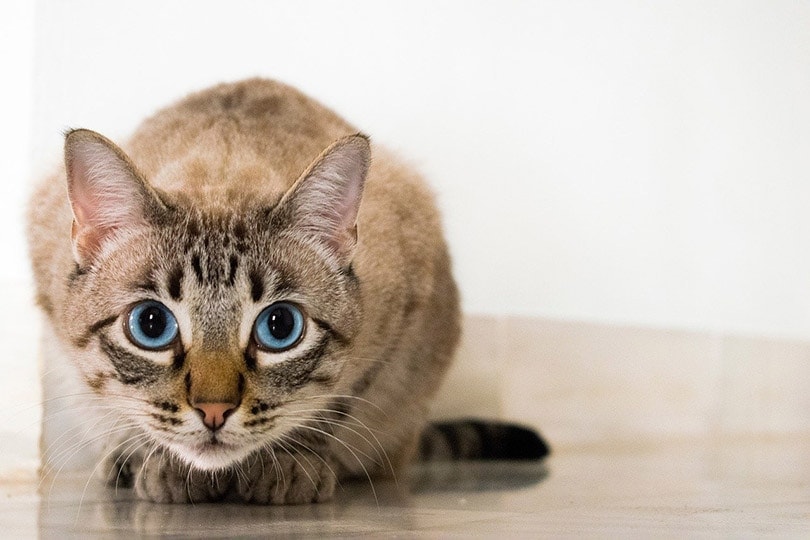 Most cats are easy to care for. Their independent nature means they tend to meet most of their needs themselves if provided with the right environment, except for some social loving—on their own terms, of course!
However, some cat breeds are easier to care for and more "low maintenance" than others due to their unique traits—both physical and mental. The primary reason cats are given up to animal shelters is that they are unsuited for an owner's home and lifestyle, so choosing a cat that fits you is an important decision.
Suppose you are short on time, energy, or ability but still want the companion of a feline friend. In that case, choosing a more low-maintenance cat breed will be ideal for you. We hope to give you some ideas of just what kind of cat will be the perfect addition to your life!
Top 13 Low Maintenance Cat Breeds:
1.

European Shorthair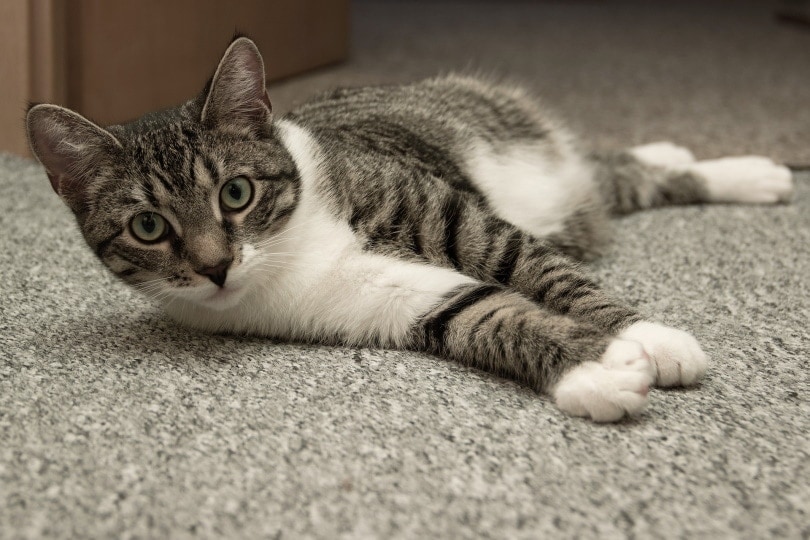 | | |
| --- | --- |
| Coat: | Short |
| Shedding: | Moderate |
| Energy: | Moderate |
| Health: | Great |
The humble European Shorthair is a superb choice for those looking for a simple and easy-care cat breed. This breed comes with all the lovable cat qualities, with no extra hassle or special care. Their coat is short and regular, with average amounts of shedding. Their lifespan can reach up into the '20s, and their health is wonderful.
Considered the original house cat, this breed can come in all sorts of colors and patterns and will happily live alongside you in the home. Owners of European Shorthairs adore their loyal friends.
---
2.

American Shorthair
| | |
| --- | --- |
| Coat: | Short |
| Shedding: | Moderate |
| Energy: | Moderate |
| Health: | Great |
Like their ancestors, the European Shorthairs, the American Shorthairs are excellent, easy-care cats. The American Shorthair was bred for pest control around crops, so it developed a slightly different appearance. You can identify an American Shorthair from their cousins by their stockier body and more rounded face.
Easier to find than a European Shorthair, this breed is abundant in the United States and is a well-loved low-maintenance breed in the home. They do, however, need more grooming attention as they get dense coats in the cooler months.
---
3.

Ragdoll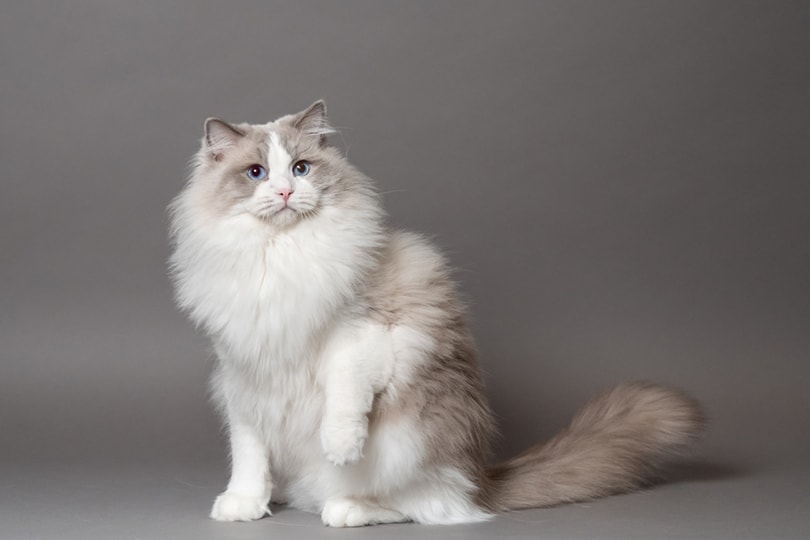 | | |
| --- | --- |
| Coat: | Long |
| Shedding: | Seasonal |
| Energy: | Low |
| Health: | Good |
Ragdolls are well-loved for their laid-back and docile attitudes. Their gentle nature makes them an excellent pick for families and children. Their name hailed from their willingness to be picked up, often going limp in your arms to be contently cradled like a baby.
While Ragdolls show off a stunning, long coat, the coat care is relatively simple. They primarily tend to their own grooming, but regular brushing does not go amiss. However, despite how much fur they have, they are considered low shedding! Their normal shedding is minimal due to lacking a dense undercoat. However, they shed heavily twice yearly.
---
4.

Bombay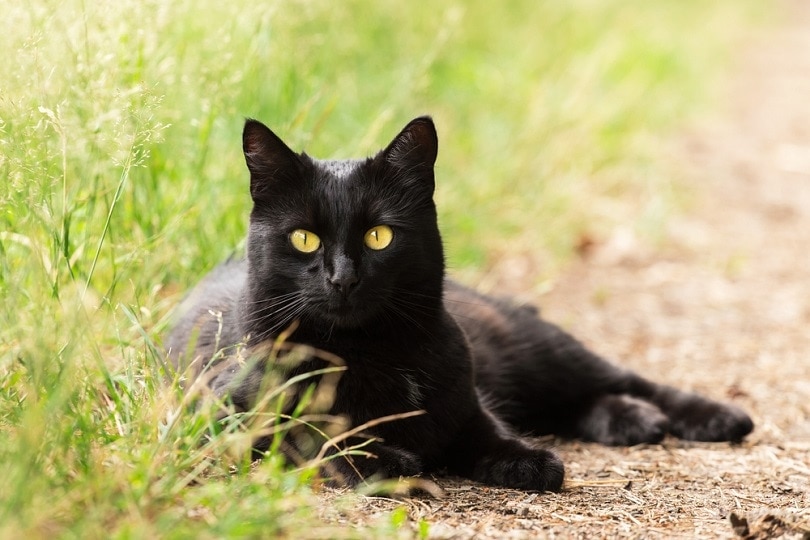 | | |
| --- | --- |
| Coat: | Short |
| Shedding: | Moderate |
| Energy: | High |
| Health: | Good |
This gorgeous breed emerged when Burmese and American Shorthair were intentionally bred to create a "miniature panther." Its striking black coat and glistening yellow eyes indeed make it look like a top predator. Still, the Bombay is a lovely, low-maintenance housecat.
While this cat is friendly, healthy, and has a neat coat, it does have higher energy than a traditional housecat. Extra toys will be needed to keep them happy and occupied. Being a hybrid cat, the Bombay's specific personality may vary between the relaxed American Shorthair and the more needy Burmese.
---
5.

Burmese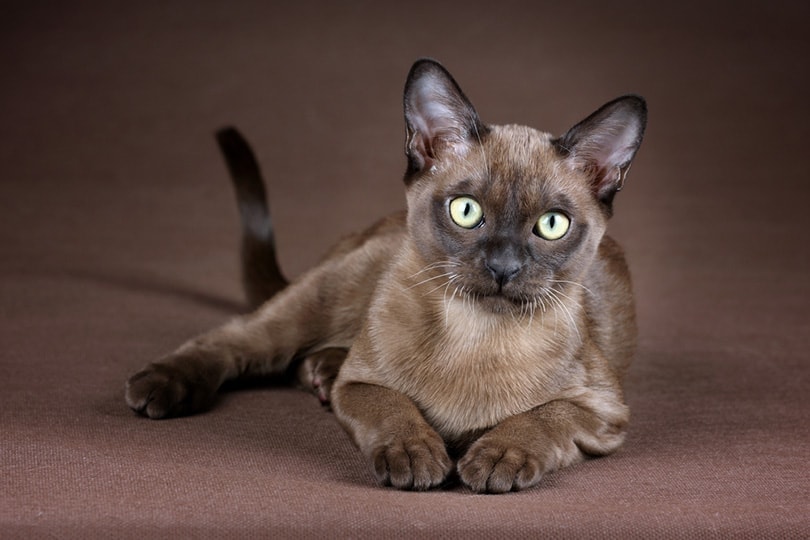 | | |
| --- | --- |
| Coat: | Short |
| Shedding: | Low |
| Energy: | High |
| Health: | Good |
Burmese is a spunky wee cat breed. These saucer-eyed cuties are highly intelligent, playful, and social. Their unique personalities will bring endless fun into your life, and their devoted nature will offer you true companionship.
Their soft coat is very low maintenance, with minimal shedding. They have seasonal sheds, but it is a lot lighter than many other cat breeds. The Burmese are an excellent low-maintenance breed, granted you have plenty of time to spend with them. They enjoy human company and do not like being left alone for long periods.
---
6.

Russian Blue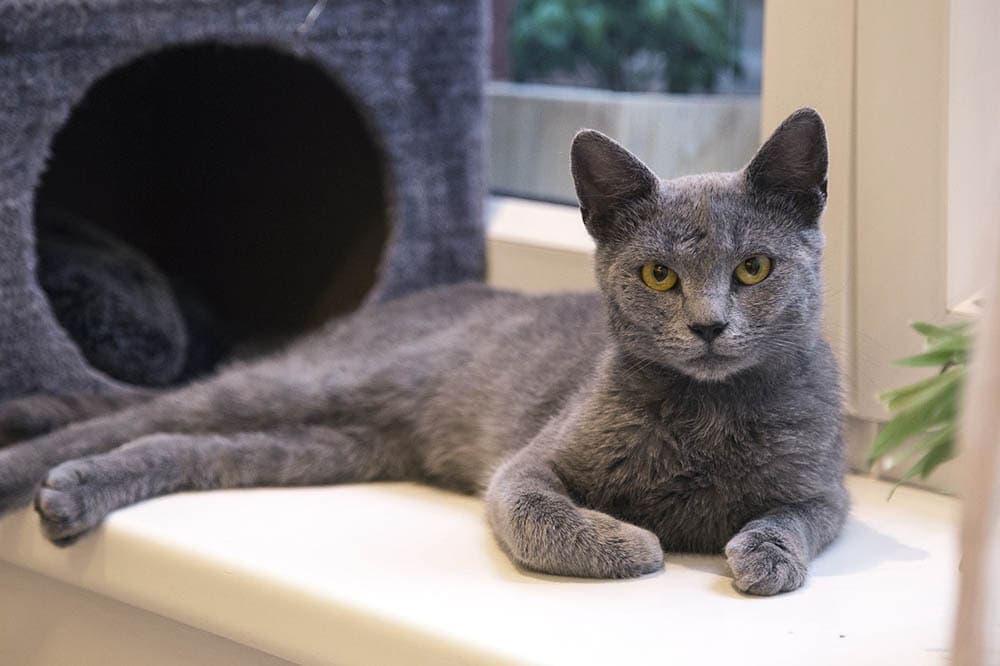 | | |
| --- | --- |
| Coat: | Short |
| Shedding: | Low |
| Energy: | Moderate |
| Health: | Great |
Russian Blues are one of the most popular modern housecats. They have a calm and affectionate nature that fits well into families of all kinds. They possess the classic cat intelligence and loyalty while not overly overbearing. Their independence means they can happily co-exist with minimal care.
The Russian Blue also has excellent health. The breed is thought to have naturally emerged rather than selectively bred into existence. This gives them a genetic health advantage; however, they are still prone to typical cat illnesses.
---
7.

Birman
| | |
| --- | --- |
| Coat: | Long |
| Shedding: | Moderate |
| Energy: | Low |
| Health: | Good |
The Birman is an ancient breed loved for its stunning appearance and calm temperament. Birmans are gentle and easy-going, making them a good fit for families of all kinds. They have little activity and socializing requirements; just the average amount of family attention will do.
Its long coat is light with a dashing of color on the points. However, despite being long and fluffy, the coat is relatively easy to care for. Like the Ragdoll, Birmans lack a dense undercoat, so grooming is a breeze, and shedding is only occasional.
---
8.

Scottish Fold
| | |
| --- | --- |
| Coat: | Short |
| Shedding: | Moderate |
| Energy: | Low |
| Health: | Moderate to poor (in age) |
Scottish Folds are not only loved for their cute, folded ears but their relaxed demeanor. This breed is friendly to all humans and most pets, being very easy-going. While they are social, they also tolerate being alone for periods quite well.
Their lower energy will have them mooching around the home, sharing the space with you. However, while they may be mentally and emotionally low maintenance, there are some heightened health risks. Most Scottish Folds will suffer from degenerative joints in their age due to genetics. You must be prepared for this care later in life when bringing a kitten into your home.
---
9.

Sphynx
| | |
| --- | --- |
| Coat: | None |
| Shedding: | None |
| Energy: | High |
| Health: | Moderate to poor (in age) |
Love them or hate them, the Sphynx breed is certainly unique! This "naked' cat is well-known for its lack of a visible coat; however, they have a very fine undercoat that resembles soft leather when touched.
If you are looking for a home without cat fur everywhere, a sphynx should be considered. The cleaning maintenance of the home is much less without a shedding cat! However, without a coat, a Sphynx needs regular bathing, about once a week. They are also prone to skin conditions and ear infections.
---
10.

Abyssinian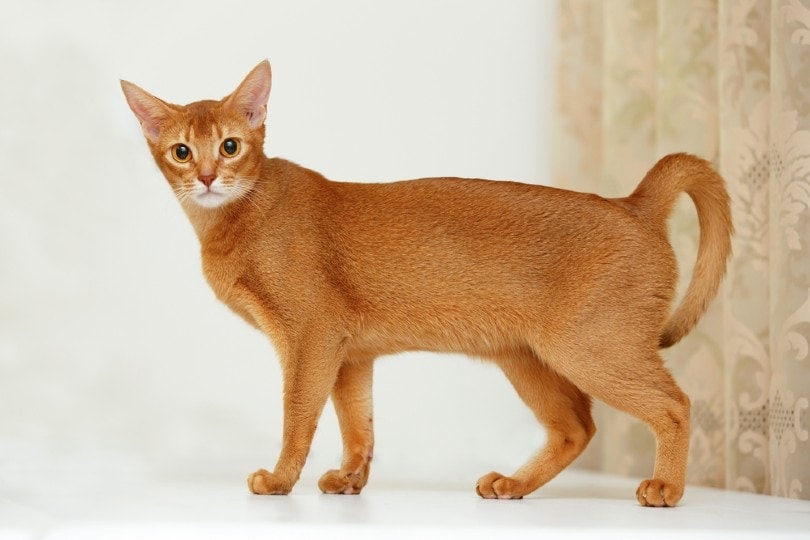 | | |
| --- | --- |
| Coat: | Short |
| Shedding: | Low (seasonal) |
| Energy: | High |
| Health: | Good |
This enigmatic and friendly breed is one of the oldest known cat breeds. The exact origins are unknown, but they were thought to be prominent in Ancient Egypt. This graceful cat is very intelligent and will be quite successful in training the humans around them to get their way.
Abyssinians are known to be rather healthy, with no significant genetic issues, and this is rare for a purebred breed. Although they have high energy, Abyssinians are emotionally developed, keeping themselves occupied with play and exploration. They are also very social, so with the addition of other pets, they are perfectly fine without a human home for company.
---
11.

Cornish Rex
| | |
| --- | --- |
| Coat: | Very short |
| Shedding: | Very low |
| Energy: | High |
| Health: | Good |
Despite being a highly selectively bred cat breed, the Cornish Rex are surprisingly healthy. You have all the benefits of a fancy cat without the added burden of ongoing vet bills. Additionally, the Cornish Rex have very short, tight fur that hardly sheds at all. Those with cat fur allergies could comfortably live with a Cornish Rex.
While they are physically low maintenance, the Cornish Rex is rather hyper. They need lots of exercise and activity and will enjoy engaging with you. If you lack time, plenty of toys and puzzles should be given to keep them stimulated.
---
12.

Devon Rex
| | |
| --- | --- |
| Coat: | Very short |
| Shedding: | Very low |
| Energy: | High |
| Health: | Moderate |
The Devon Rex is easily confused with the Cornish Rex due to looking similar, having a similar coat, and a similar name. However, the Devon Rex is quite unique, and these two breeds were bred into existence quite separately.
The Devon Rex has a similar single-layered coat, slightly shorter and with tighter curls than the Devon Rex. This makes them physically low maintenance, with little grooming required and minimal shedding to deal with. However, the Devon Rex are prone to a few health conditions as well as being demanding of attention. If you have lots of time to spend with them, their care will otherwise be easy.
---
13.

Maine Coon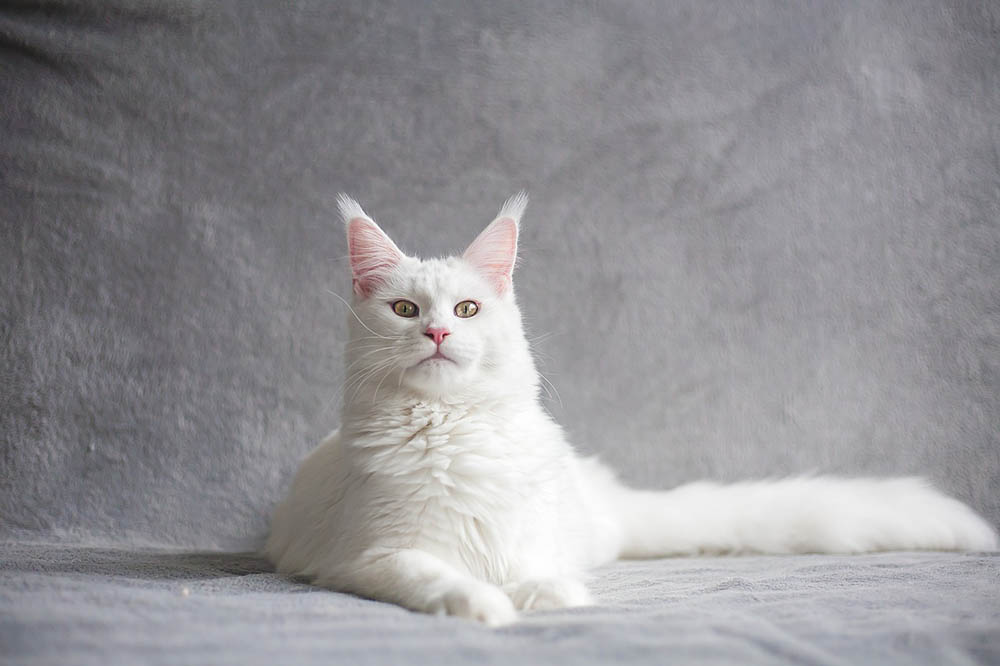 | | |
| --- | --- |
| Coat: | Long |
| Shedding: | Moderate to heavy (depending on the climate) |
| Energy: | Moderate |
| Health: | Moderate |
This legendary, regal cat is easily recognized. Its large stature and point wisps of ear hair are classic trademarks of the Maine Coon. While their thick coat needs extra grooming and their large body needs extra food, mentally, they are low maintenance.
The Maine Coon is very much a gentle giant. They are exceptionally loyal and will remain by your side. When you are not around, they are content to relax in their home territory and intelligent enough to occupy themselves.
What Makes a Cat Low Maintenance?
All cat breeds are unique, and each breed has its own quirks, perks, and downfalls. In general, "low maintenance" means something that requires little effort, time, and money. Considering this, the care a cat needs will depend on a few factors.
Coat type: Generally, the longer the cat's coat, the more maintenance it may need from you, the owner. Long coats are prone to getting dirty and matted, and attention is usually required in brushing and grooming.
Shedding levels: Each cat's coat has different types and amounts of layers. These differing coats mean some cats shed more than others. A high shedding cat will mean your house will need cleaning more often (perhaps with special pet vacuums), and they are more prone to getting hairballs.
Social needs: Most cats are known for being content alone. They seek attention when they want some but are mostly happy being left alone for long periods. On the other hand, some cat breeds can be very needy and suffer from separation anxiety if alone too much.
Energy levels: Many cats enjoy sleeping quite a lot! But the levels of energy will differ between cat breeds. Some are exceptionally energetic and require more attention and many more toys and activities. Unstimulated cats can become troublesome.
Health issues: Generally, hybrid cats are very healthy. These will be your standard domestic short-haired breeds. However, some specially breed cats can have a higher risk of genetic health issues.
Dietary requirements: For the most part, a cat's diet in a domestic setting is straightforward. Larger breeds will need more food, and more gluttonous breeds will need to be fed set amounts. Some breeds are also more prone to allergies, requiring a specialized diet.
Final Thoughts
You may think that some of the inclusions in our low-maintenance cat breeds list are a bit debatable, but the truth is there aren't any truly "low-maintenance" cats. Bringing a cat into the home means making a commitment. You are committing your time, energy, and money to the life of your furry friend.
All cats are prone to a range of illnesses and diseases when it comes to health, and Purebred cats can have heightened risk. So, if you are purchasing a cat from a breeder, ensure you do thorough research on your breeder and their practices to ensure you support only safe and ethical breeding. Don't forget, a crossbreed cat from a rescue will offer you just as much love as any other!
The level of maintenance for your cat will depend on your personality, your home, and your lifestyle. So, choosing a breed whose personality, energy, coat, and health suit you the most is more important than some mythical cat who needs no care at all!
Related Reads:
---
Featured Image Credit: StockSnap, Pixabay