100+ Names for Spotted Dogs: Fun & Unique Options For Your Pet
You have a new spotted dog in your life, and you have the bowls, toys, bedding, and food. But what are you going to call them? The great thing about having a spotted dog is that their spots are the perfect inspiration. Many dog names have been based on appearance—Spot, for example, is a classic. Disney's 101 Dalmatians also offers many options, especially if your dog is actually a Dalmatian.
However, what if you're looking for something different and not so obvious? Well, we've gathered all the best names for your spotted dog. All you have to do is decide which one is best!

How to Name Your Spotted Dog
Just because you have a theme in mind, figuring out where to start this journey can still feel overwhelming. How do you go about narrowing down your search? Every spotted dog is unique; some owners will take some time to get to know their new family members before naming them. Others might find inspiration from fictional characters or famous people with the same breed as them.
The rule regarding finding the perfect name is there is no rule. However, finding a name that isn't offensive and won't embarrass you to share with the veterinarian is best. Below, we've separated our choices into themes, and even if you don't find something you love here, you have an idea of what is available!

Fun Names for Spotted Dogs
Let's start with fun names because it's important to remember that life doesn't always need to be serious. You'll share many fun times with your pup, so what better way to honor your dog with a name that makes you smile?
Blizzard
Buttons
Cheetah
Chocolate Chip
Cookie
Crumbs
Dab
Dice
Domino
Dottie
Dovie
Drops
Dusty
Fawn
Firefly
Ladybug
Leopard (or Leo for short)
Mark
Minnie
Moo
Moray
Motley
Pep
Pied
Poxer
Raisin
Rasher
Star
Starling
Watermelon

Names for Types of Spotted Dogs
There are many types of spotted dogs; some have perfect spots, while others have mishappen ones. So, let's look at different breeds and how their names might differ.
Names for Dalmatians
When it comes to naming your Dalmatian, you can find inspiration anywhere. You could borrow names from other animals that are the same color, like a panda, for example. You can also use Disney for inspiration.
Checkers
Cruella
Dipstick
Fidget
Freckles
Lucky
Marbles
Panda
Patch
Penny
Pepper
Perdita
Polka
Pongo
Pop
Poppy
Popsie
Rolly
Spatter
Sylvester
Tux
---
Names for Brittanys
They might not be the first breed you think of when you think of a spotted dog, but their pattern of spots is a trademark of the breed. So, let's look at names for those dogs whose spots aren't perfectly round.
Badge
Banner
Brindle
Crest
Dapple
Oreo
Patches
Sketch
Smudge
Speckle
Specks
Splash
Splatter
Sprinkle
Stipple
Ribbon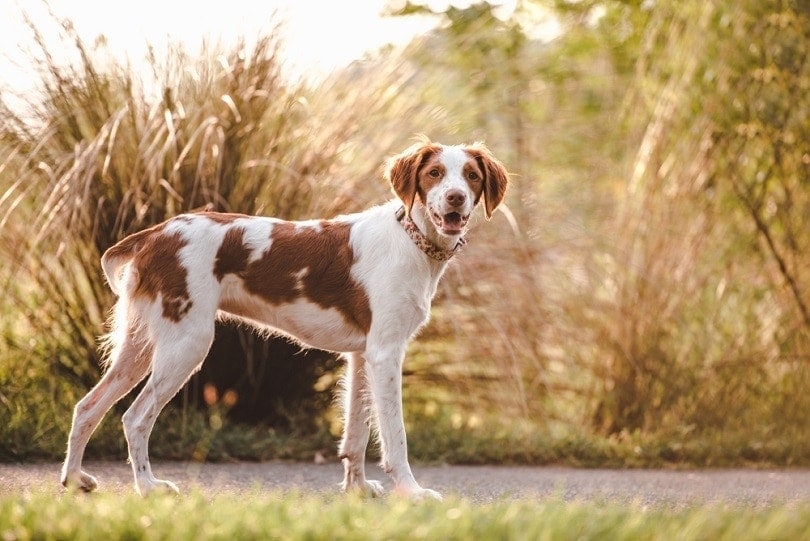 ---
Names for American Hairless Terriers
They might not have spotted fur, but the American Hairless Terrier has spotted skin. You can find an appropriate name for this unique pup below.
Aurora
Baldilocks
Baldwin
Cueball
Evil
Eggs
Fuzzless
Monty
Moon
Bigglesworth
Peach
Pebbles
Shrek
Slinky
Smoky
Sphynx
Squidward
Velvet
Whiskers
Wrinkles
Zero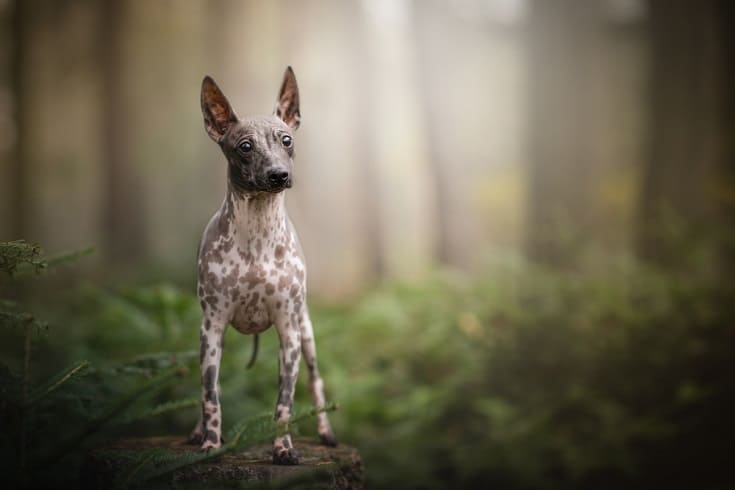 Cute Names for Spotted Dogs
These names are as adorable as they are unique, which will hopefully sum up your cute, one-of-a-kind spotted dog!
Ace
Ashes
Bandit
Blotch
Bongo
Boots
Bullseye
Butler
Butterfly
Chess
Cloud
Cosmo
Cowie
Dabble
Felix
Mittens
Nova
Orion
Otis
Peanuts
Polkadots
Puzzles
Scrabble
Snoopy
Socks
Spade
Spots
Stripes
Swirl

Summary
Figuring out what you'll call your new dog sounds like it should be the easier part of getting a new pet. But with so many choices, it can sometimes become one of the more demanding jobs. Coming up with a theme is always an excellent start, but you still have to narrow down your choices. We hope we've helped by separating potential names into different themes. We're sure whatever you decide, your spotted dog will love it!
---