Nom Nom vs The Farmer's Dog: 2023 Comparisson
If you're a dog owner and want to feed your dog premium, high-quality food without having to make it yourself, then Nom Nom and The Farmer's Dog may be good options for you to consider. However, we must admit that these top-quality dog food services come at a higher price, but with many perks.
Both of these dog food services deliver the food right to your doorstep, and they both have customizable plans that will suit your doggo's specific needs. Nutritionists prepare fresh food from around the globe to ensure you're getting top-notch ingredients.
In this guide, we'll compare the two companies' product performance and product lines so that you can make an informed decision should you decide to go this route for your dog's nutrition.
Click to skip ahead:

A Quick Comparison of the Brands
Rating
Image
Product
Details

Best Overall

The Farmer's Dog

Fresh Dog Food
DIY packets
Toppers
Click to Save 50%

+ Get Free Shipping!

Runner-Up

Nom Nom Now

Fresh Dog Food
Treats
Supplements
Click to Save 50%

+ Get Free Shipping!
Brief History of The Farmer's Dog
The Farmer's Dog all began with the co-founder's dog, Jada. Jada, a Rottweiler, had severe digestive issues that continued for the first 2 years of her life. When Brett Podolsky's (the co-founder) veterinarian suggested he try cooking fresh ingredients for Jada, her health issues vanished completely; that's when a light bulb went off above Brett's head.
Brett's roommate, Jonathon Regev, founder of The Farmer's Dog, wanted to help Jada, too. Together, they started making Jada home-cooked meals. When they saw how successful serving home-cooked meals were for Jada, they both left their jobs behind and set out to do the same for others with dogs that had the same problems. And therefore, The Farmer's Dog was born.
The Farmer's Dog works with Board Certified Veterinary Nutritionists that formulate the recipes to meet USDA and AAFCO standards with human-grade ingredients, and it's always fresh. The food is safe for human consumption (however, you should reserve the food for your dog!) and complete and balanced.
Brief History of Nom Nom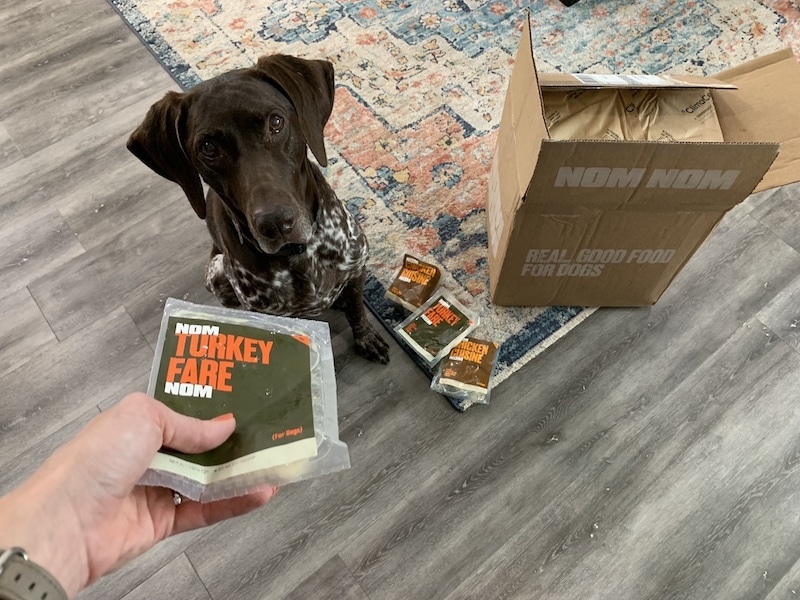 Operating since 2014, Nate Phillips, founder and CEO of Nom Nom dog food, took the world by storm, making dog food from fresh, high-quality ingredients. Board Certified Veterinary Nutritionists formulate the recipes to meet American Association of Feed Control Officials (AAFCO) standards, and they produce the utmost nutritious food for dogs and cats. You won't find processed kibble here, only fresh food and whole ingredients. Pretty impressive, eh? We should say so.
In 2013, Nate Phillips and his brother, Zach, had adopted two puppies and were horrified that the ingredients in dog food had not really changed since the 1960s. The nail on the head came when Zach, who is also the co-founder of Nom Nom, had a dog with a compromised immune system. No dog food helped with his dog's condition, and he knew there had to be a better way to feed his dog a nutritious diet. Zach's veterinarian suggested a fresh food diet, and magically, his dog's condition improved. Zach eventually met Dr. Justin Shmalberg, a Board Certified Veterinary Nutritionist, and he came up with a recipe that was soon known as Heartland Beef Mash. The rest, shall we say, is history.

Nom Nom Manufacturing
Nom Nom owns kitchens in Nashville and San Francisco. Each kitchen is reserved for making only their fresh food, and they do not outsource to third parties. The food is made fresh daily and thoroughly tested and inspected for safety and quality. The meals are gently cooked to ensure all the nutrients stay intact during the cooking process. When you receive the meals, you'll know that it is truly fresh; it certainly hasn't been sitting on a shelf for months, or even years, before it ends up in your dog's food bowl. Board Certified Veterinary Nutritionists and Ph.D. nutritionists scientifically evaluate each recipe for nutritional balance.
The Farmer's Dog Manufacturing
The Farmer's Dog prepares their meals in USDA kitchens, following USDA-facility standards. They, too, gently cook the food to ensure all nutrients remain. After the meals are cooked, they freeze (not deep freeze) the meals for shipping so that it is fresh when it arrives at your doorstep. No preservatives are needed because the meals arrive as soon as they're made. They source their ingredients from local farms and reputable food suppliers that all meet USDA standards. They use USDA proteins and simple produce, along with vitamins and minerals. Board Certified Veterinary Nutritionists formulate all the recipes, and it's all 100% complete and balanced.
Nom Nom's Product Line
Nom Nom is known for making the freshest pet food possible with premium ingredients. They excel at providing quality meals, and the company has never had recalls. They are also known for helping pets achieve a healthy lifestyle through their carefully-formulated recipes. Many consumers state that their pet once suffered from allergies or tummy issues, but those symptoms have disappeared after switching to Nom Nom dog food. The meals are pre-portioned, allowing pets to stay at an ideal weight.
Fresh Dog Food
They have four recipes available: Beef Mash, Chicken Cuisine, Pork Potluck, and Turkey Fare.
All-Natural Treats
Beef Jerky and Chicken Jerky treats are available in a 2-ounce bag or a 4-ounce bag. Both treats are made with one ingredient: the Beef Jerky is made with 100% USDA-certified top sirloin beef, and the Chicken Jerky is made with 100% USDA-certified chicken breast. Of course, both are free from preservatives or additives.
Supplements
They offer probiotic supplements for dogs and cats.
The Farmer's Dog Product Line
The Farmer's Dog is known for its human-grade ingredients; even picky eaters love this food. They are also known for improving dogs' health through their nutritious food.
A unique feature that sets them apart is they offer DIY Nutrient Packets to add to your dog's food if you choose to prepare your dog's meals at home. In addition, they give you three recipes you can cook at home; all you need are the nutrient packets for a complete and balanced recipe.
Fresh Dog Food
Currently, they have three recipes: turkey, chicken, and beef. All come pre-portioned; all you have to do is serve and feed.
DIY Nutrient Packets
The packets are already formulated to meet AAFCO's nutritional standards and come complete with all the necessary vitamins and minerals your dog needs with every feeding. You buy the ingredients, cook the food, and then add the packet. It's that simple. This is wonderful for those who want to prepare their own dog food but still need to ensure they are offering the necessary nutrients dogs require. The only negative is they list the ingredients on their website, but they don't list the amount you'll need of each one to cook it yourself.
Toppers
These are additional packets to add to your dog's food, whether you feed kibble or make your own fresh food at home.

Nom Nom vs The Farmer's Dog: Price
When it comes to price, both companies are pretty close in costs, with The Farmer's Dog being slightly higher. You can expect to pay much higher with either company as opposed to buying commercial food. However, the health benefits of buying fresh dog food far outweigh the health benefits of commercial food.
Nom Nom
Nom Nom offers variety packs of all four recipes they offer. These 150-gram packs are a bit cheaper initially if you want to try out the products. By ordering the packs, you are not obligated to subscribe, and they offer free shipping when you order a certain amount.
If you go with their meal plans, they offer 50% off your first order with free shipping. Oftentimes, they offer their supplements at a discount when you order meal plans, too.
The Farmer's Dog
The Farmer's Dog may be slightly more expensive (though it's pretty similar), but their food offers a lot of value for your money. Plus, if full meal plans are out of your budget, the company offers a "choose your price" feature that allows you to populate what you can afford weekly. They take that information and suggest smaller portions based on the information you entered. These portions are not designed to feed exclusively but to add to your dog's food that you already feed, whether it's a commercial brand or if you prepare meals yourself. This feature allows you to feed your dog some of their food to obtain health benefits as opposed to none at all.
You can also buy DIY nutrition packs to supplement your home cooking if you want to source and cook the ingredients yourself. Of course, their premium products are their full meal plans, but you receive free shipping with these plans. They also offer 50% off your first order.
Nom Nom vs The Farmer's Dog: Guarantees
Nom Nom
Nom Nom offers a refund policy; however, you have to give it 30 days. If your pet does not reap the health benefits of the food within 30 days of your first order, they will give you a full refund. All you need to do is email them.
The Farmer's Dog
The Farmer's Dog is a bit different with their guarantees. If your dog does not like the food or you're not 100% satisfied, they will refund your money on one stipulation: you must donate the food to an animal shelter. That means you can try this dog food risk-free and potentially help your local shelter, too!
Nom Nom vs The Farmer's Dog: Customer Service
Customer service is an important factor when you're purchasing a high-end product. These fresh dog food delivery services are pricey, and when you need help, you expect the customer service department to deliver. Let's take a look at how each company stacks up.
Nom Nom
Nom Nom's customer service does a good job overall, though there have been some negative reports. According to users, the customer service team is helpful and always asks the appropriate questions regarding your pet's health. They make canceling or pausing your order easy with no hassles, and they even send a nutritional letter to your vet explaining the benefits of the meals and your pet's progress. When you order, they send tracking emails so that you are abreast of when your shipment will arrive. Of course, things can always go wrong with shipping, so you may want to have other food on hand as a backup.
The Farmer's Dog
The Farmer's Dog customer service department has some mixed reviews, though there are more positive than negative reviews. When we tested The Farmer's Dog, we were impressed with their quick responses and easy shipping. As with Nom Nom, some users state that the food does not arrive on time, and they end up having to make their own food to compensate for the lack thereof.
One nice feature of The Farmer's Dog is that they have been known to send flowers if your dog passes away. What a thoughtful touch! Overall, the customer service team is quick to respond to any issues, and they go above and beyond to make things right with whatever the issue may be. They also touch base with customers to check on their dog's progress.

Head to Head: Nom Nom vs The Farmer's Dog
High Protein Recipes
The protein amount in dog food is important because dogs require a certain amount to be healthy. The recommended protein amount also depends on the breed, as certain breeds require more protein than others. Muscular breeds, such as the Pitbull or Rottweiler, need a good amount of protein compared to a Jack Russell or a Yorkie.
Nom Nom's meals contain anywhere from 7% to 10% total protein, whereas The Farmer's Dog contains a higher amount—roughly 32%. However, both companies use high-quality protein in each recipe, and that alone is a huge plus.
Our Verdict:
Keep in mind that these fresh dog foods are complete and balanced and should work for any breed. Board Certified Veterinary Nutritionists formulate these meals to be 100% healthy, fresh, and high quality, so no matter the type of breed you have, either one should work wonders for your dog. Still, if you're looking for a lot of protein, The Farmer's Dog is for you.
---
Grain-Free Options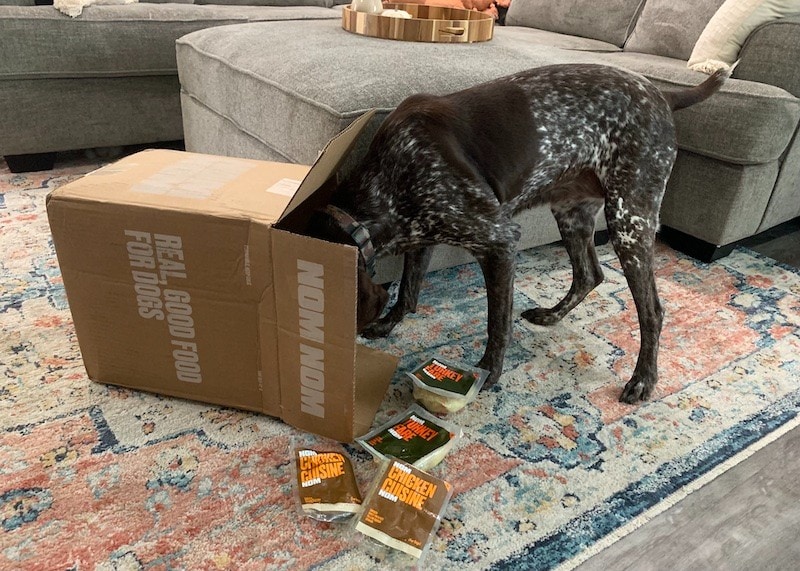 In short, The Farmer's Dog exclusively offers grain-free recipes, and the majority of Nom Nom's recipes are grain-free. Nom Nom offers four recipes to choose from: chicken, beef, pork, and turkey. As far as grains, the turkey recipe includes brown rice, making it the only recipe that has any grains. On the other hand, The Farmer's Dog is entirely grain-free. This could play a factor in your decision to go with either company, as Nom Nom has only one recipe with grains.
Usually, grains are healthy for dogs to consume unless they have a wheat allergy. Grains provide carbohydrates for dogs, and rice is good to feed your dog if it has an upset tummy.
Peas are the scare in grain-free diets because of an ongoing study that peas may lead to heart failure in dogs. Only the beef recipe from Nom Nom contains peas; however, the food is approved by AAFCO. The peas in Nom Nom's food are not processed like in commercial dog food, and peas offer many health benefits.
Our Verdict:
If you want an entirely grain-free diet for your dog, The Farmer's Dog is the better choice. However, both companies provide excellent nutrition formulated by Board Certified Veterinary Nutritionists, and there are only 100 of these nutritionists in the United States. Nom Nom is closely monitoring this situation and will continue to do so. Remember, this theory is not proven, and the ingredients in both companies' foods are extremely healthy.
---
Websites
Obviously, when you want to explore a company, their website is primarily the source you'll use. Some websites are more user-friendly than others, and that's an important aspect.
Nom Nom's website is pretty easy to navigate, and you can see their meals, along with the ingredients, quickly. The Farmer's Dog, however, makes it a little more difficult.
Both companies require you to fill out a questionnaire about your dog so that they can customize a meal plan for you. With Nom Nom, you can access their meals with the ingredients without having to answer a single question. With The Farmer's Dog, you have to go through the whole process of answering the questions before you can even get a glimpse of the recipes they offer, making it more of a hassle just to see what kind of meals they have.
Our Verdict:
Nom Nom's website is more user-friendly, and the process of getting information on what they offer is more accessible than The Farmer's Dog.

Overall Brand Reputation
Guarantees
Edge: The Farmer's Dog
The Farmer's Dog will only give you a refund if you donate the meals to an animal shelter. Requiring you to provide a dog in need with human-grade meals is fantastic in our book, therefore, giving them the edge on guarantees.
---
Price
Edge: Nom Nom
Nom Nom has slightly lower prices; plus, they offer variety packs of all recipes without having to subscribe.
---
Customer Service
Edge: Nom Nom
The Farmer's Dog seems to need a little work sorting out shipment issues, which its customers often complain about.
Website Design
Edge: The Farmer's Dog
With The Farmer's Dog, you don't have to input your billing information to see their meal prices, and the website is much more user-friendly. You do need to fill out the questionnaire, but it helps them tailor your prospective package.

Conclusion
Both companies offer excellent nutrition for your dogs, and you really can't go wrong with either. Nom Nom is slightly more affordable, and they offer free samples without a subscription. Still, The Farmer's Dog is our top pick because it offers fully grain-free plans catered to your dog's needs and your budget, such as half portion sizes or DIY nutrition packs to add to your dog's food that you already feed. In the end, either company will prove beneficial to your doggie and help it live its best life—happy and healthy.
Related Reads: