Nutro Puppy Food Review 2023: Recalls, Pros, and Cons

Our Final Verdict
We give Nutro Puppy Food a rating of 4.7 out of 5 stars.
Introduction
Started in 1926, Nutro has long held a corner of the pet food market, specifically, a corner of the market that values whole foods and wants to do away with the use of GMOs and artificial ingredients.
Nutro Puppy Food is one of the brand's main lines, including a variety of wet food, dry food, and treats specifically designed for the needs of dogs under one or two years of age. With that said, it's easy to get swept up into the company's all-natural marketing without taking a good, hard look at if these claims have any merit.
While Nutro Puppy Food may be an excellent source of nutrition for some puppies, others may be better off on another brand entirely. Here's what to know before trying out this line of dog food for yourself:

At a Glance: The Best Nutro Puppy Food Recipes:
Rating
Image
Product
Details

Our Favorite

Nutro Wholesome Essentials Natural Large Breed

Made in the USA
With non-GMO ingredients
Natural sources of glucosamine
Check Price

Nutro Ultra The Super Food Plate

Nutrient-dense
With targeted levels of protein
No artificial colors, flavors, or preservatives
Check Price

Nutro Puppy Tender Grain-Free Chicken

Convenient
Premium grain-free
Made with non-GMO ingredients
Check Price

Nutro Wholesome Essentials Natural Small Breed

With natural fiber
Wholesome recipe
Contains omega-3 and omega-6
Check Price

Nutro Puppy Tender Beef

Made in the USA
Premium grain-free
Made with non-GMO ingredients
Check Price
Since Nutro Puppy Food consists of a complete line of dog food products, there's no way for us to cover every single formula currently available. However, here are a few of the best Nutro Puppy Food products to check out:
Nutro Puppy Food Reviewed
The Nutro brand of pet food is best known for its "FEED CLEAN" slogan, which promises to only include natural, non-GMO ingredients in its products. Of course, this appeals to many dog owners, who want to feed their canine companions the highest-quality food possible.
With so many pet food brands vying for our hard-earned money, it can be hard to know which ones are earnest and which ones are taking advantage of clever marketing to draw in business. So, on that note, where does Nutro's line of puppy food fall?
Who makes Nutro Puppy Food and where is it produced?
The Nutro brand of dog food is owned by parent company Mars, Incorporated — yes, the same Mars company that makes many of your favorite candy bars. Other popular dog food brands owned by Mars include PEDIGREE and Royal Canin.
According to the Nutro website FAQ, all dog food products are made in factories within the United States. While many of the ingredients used in these formulas are sourced from within the country, the company also uses many globally sourced ingredients.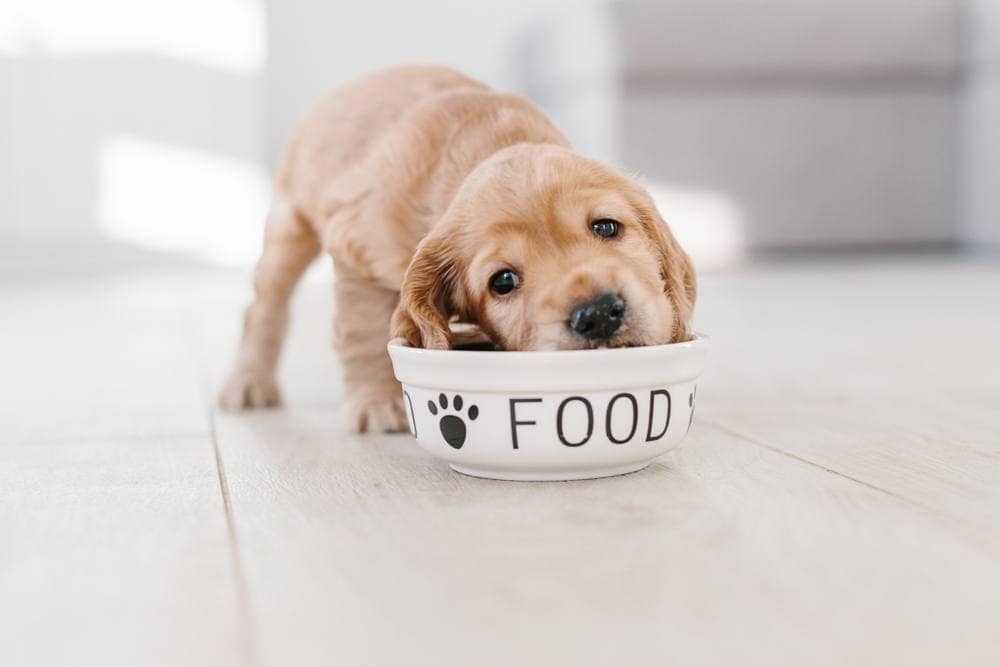 Which Types of Dogs Is Nutro Puppy Food Best Suited For?
Obviously, the main demographic served by Nutro Puppy Food is young dogs. The Nutro Puppy Food line includes a wide variety of formulas, including those for large breeds, small breeds, and puppies on a grain-free diet, so most puppy owners will be able to find a recipe suited for their dog.
Which Types of Dogs Might Do Better With a Different Brand?
Depending on your dog's breed, most veterinarians recommend switching to an adult formula between one and two years of age. In these cases, owners are better off feeding their dog one of Nutro's adult formulas, like the Nutro Wholesome Essentials Natural Adult Dry Dog Food or something from another brand entirely.

A Quick Look at Nutro Puppy Food
Manufactured in the United States
Wide range of formulas for all types of puppies
Not independently owned
Largely relies on whole, natural ingredients
Perfect for owners worried about GMOs
Features high-quality animal protein sources
Company has issued past recalls on its Puppy line
Not for puppies with sensitive stomachs/skin
Somewhat high in carbohydrates
Recall History
While Nutro's dog food line hasn't been subject to a recall in over a decade, some of the past recalls issued by the brand have applied to its Puppy Food line.
The company's only recent recall was issued in 2015 for Nutro Apple Chewy Dog Treats but only applied to a handful of production lots. This recall was the result of potential mold contamination.
In 2009, Nutro issued a recall on several varieties of puppy food because plastic was found in one of the company's production lines. Fortunately, due to the nature of this recall, only a small batch of food was affected.
Earlier, in 2007, Nutro issued an FDA-sanctioned recall on wet dog food (including some puppy formulas) due to potential melamine contamination. Again, this recall only affected a select batch of food.

Reviews of the 3 Best Nutro Puppy Food Recipes
As mentioned, one of the benefits of choosing Nutro Puppy Food for your own four-legged friend is the wide variety of formulas available. While we can't go into the details of each of these recipes, we've chosen three of the best ones to take a closer look at:
1.

Nutro Ultra Puppy Dry Food
The Nutro Ultra Puppy Dry Food is overall an excellent starting point for puppy owners looking to invest in high-quality nutrition. Since Nutro is owned and distributed by a large corporation, this puppy food is available in most major pet suppliers and supermarkets, as well as online through Amazon, Chewy, and other retailers.
The Superfood Plate recipe is designed with three major animal protein sources: chicken, lamb, and salmon. On top of this, this dog food does not contain any plant-based protein from soy, corn, or wheat. Along with these protein sources (or lack thereof), owners will find wholesome-sounding ingredients like chia seeds, kale, and various dog-safe fruits.
As for the nutritional breakdown of this Nutro Puppy Food recipe, it contains a minimum of 28% protein, 15% fat, 4% fiber, and 10% moisture. If you decide to try out this formula for your own pup, it's important to know that there are multiple varieties, including those designed for large and small breed puppies.
Since we value the opinions of real pet owners when it comes to choosing the right food for our furry family members, we invite you to read the Amazon reviews for this formula.
Ingredient Breakdown:
Wide accessibility online and in-stores
Recipes specifically designed for large and small breeds
Relies heavily on animal-sourced protein
No corn, soy, or wheat protein
Does not include GMO ingredients
Higher in carbs than some competitors
Some dogs dislike the flavor
May trigger digestive issues
---
2.

Nutro Bites in Gravy Puppy Wet Dog Food (Tender Chicken, Sweet Potato & Pea)
This formula is one of the wet food recipes included in the Nutro Puppy Food line. The Tender Chicken, Sweet Potato & Pea recipe is grain-free and features whole chicken, chicken broth, and pork broth as the first three ingredients. Also, it does not include any corn, soy, wheat, or GMO ingredients.
This particular Nutro Bites formula includes a minimum of 9.5% protein, 3% fat, 1% fiber, and 82% moisture. On top of the seemingly natural and nutritious ingredients featured in this formula, Nutro claims that its wet food factories strive to eliminate landfill-bound waste.
Because this dog food recipe is grain free, it's important to understand the potential health consequences of feeding an entirely grain-free diet before making the switch. However, there's no reason that owners can't feed this food as a supplement to other grain-inclusive formulas.
If you'd like to hear what other real puppy owners think of this food, the best resource is the most recent Amazon reviews for this product.
Ingredient Breakdown:
Real chicken is the first ingredient
Does not include soy, wheat, or corn products
Good for owners who want to avoid GMOs
High in moisture
Made in U.S.-based factories with minimal waste
Fairly low protein content
Subject to grain-free controversy
More expensive than other brands
Some dogs don't enjoy the flavor
---
3.

Nutro Wholesome Essentials Large Breed Puppy (Farm-Raised Chicken, Brown Rice & Sweet Potato)
Most well-informed owners know that large breed puppies have specific dietary needs as they grow into adulthood. The Nutro Wholesome Essentials Large Breed Puppy formula offers a stepping stone for these owners until their puppy is mature enough to switch to an adult recipe.
The first two ingredients of this formula are chicken and chicken meal, offering plenty of animal-based protein for your growing dog. Otherwise, it is formulated without artificial ingredients, such as dyes, flavors, and preservatives, and does not contain any GMO products.
In the case of the Farm-Raised Chicken, Brown Rice & Sweet Potato recipe, this puppy food also includes important nutrients like glucosamine, DHA, chondroitin, calcium, and omega fatty acids. These are crucial for all growing puppies, but especially those of large and giant breeds.
The specific macronutrient breakdown for this dry food includes a minimum of 26% protein, 15% fat, 3% fiber, and 10% moisture.
Again, we recommend checking out consumer reviews, such as those from Amazon customers, to learn more about this product.
Ingredient Breakdown:
Expertly designed for large and giant breeds
Free of artificial ingredients and GMOs
Contains glucosamine for healthy joints
Animal protein is the first ingredient
Made in the U.S.A.
Some owners report inconsistencies between bags
Dogs may dislike the flavor
May cause stomach upset
---
What Other Users Are Saying
Of course, we're not the only ones with an opinion to share regarding the Nutro Puppy Food line of products. Here's what other reviewers have to say about these formulas:
CertaPet: "[Nutro Puppy Food] allows them to grow strong due to the right amounts of the amino acids that it has. Glucosamine and chondroitin, the building blocks to healthy joints, are also found in this formula."
DogFoodAdvisor: "Nutro Puppy is a wet dog food using a notable amount of named meats as its main source of animal protein."
DogFoodInsider: "Ideal for dogs with sensitive skin, their formulations include patented combinations of linoleic acid, a great source of omega-6 fatty acid, and zinc and B vitamins, NUTRO offers [a] money-back guarantee on all their products if you don't immediately see results."

Conclusion
Overall, Nutro Puppy Food is an excellent mid-range line of food for puppies of all different breeds. However, it's also important to think critically about what you're feeding your pups. For instance, while avoiding GMOs may sound good, there is no conclusive research showing that GMO-based ingredients are harmful to dogs. At the same time, Nutro sells grain-free formulas, which research shows may cause serious health conditions down the road.
All in all, Nutro Puppy Food uses higher-quality ingredients than many other widely available dog food products. While the company's "FEED CLEAN" slogan isn't the end-all-be-all of canine nutrition, you can feel confident feeding these formulas to your puppy.
Have you tried any of Nutro's dog food formulas? Share your (and your dog's) thoughts in the comments below!