Top 10 Off-Leash Dog Parks in Broomfield, CO You Can Visit in 2023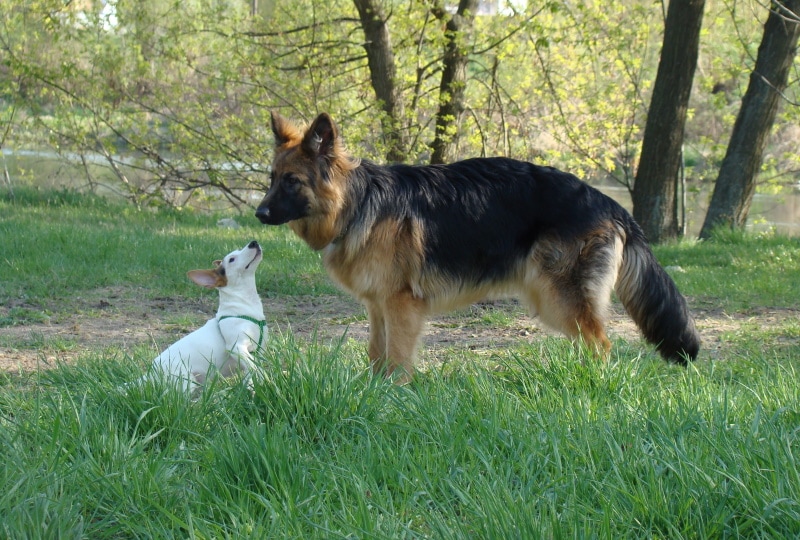 If you live in Broomfield, CO, with one or more canine companions, finding an off-leash dog park to have fun with them is critical. Luckily, Broomfield has an amazing off-leash dog park right in town and several other fantastic off-leash parks nearby. If you and your dog need a place to run, play, fetch, catch a frisbee, or just nap in the shade, the information below will be invaluable!
It's our list of the 10 amazing off-leash dog parks in Broomfield, CO, and the surrounding area! They offer off-leash play to make your dog's day and allow them to socialize with other dogs in relative safety while you enjoy Broomfield's magnificent views. Read on to see all the parks for your pup to play off-leash in Broomfield, plus their hours, rules, amenities, and more!


Top 10 Off-Leash Dog Parks In and Around Broomfield, CO
1.

Broomfield County Commons Dog Park
The only off-leash dog park that's actually in Broomfield, CO
Huge park with plenty of room to run around with your dog
Fully fenced with a separate area for large and small dogs
Water is sometimes available, so bring your own
Some trees for shade and man-made shaded areas also
Obstacle and agility course is available
---
2.

Westminster Hills Open Area Dog Park
Large park, but it's not fully fenced, so adequate voice control is a must
Water spigots for drinking and play and a seasonal pond also
Views from the park are beautiful
When open, the pond is great, but your dog will get very muddy
Waste bags aren't provided, so remember to bring a few
Several running trails around the park where you can run with your dog on its leash
---
3.

Foothills Off-Leash Dog Park
2-acre off-leash park with separate areas for large and small dogs
Fully fenced for your dog's safety
Foothills Community Park offers several dynamic running trails
Views from the park are spectacular
Provides water but not waste bags
Very popular off-leash park with plenty of room to run
---
4.

Berkeley Lake Dog Park
| | |
| --- | --- |
| 🗺️ Address | 📍 CO-95, Denver, CO 80212 |
| 🕐 Open Times | 6:00 AM to 11:00 PM, 7 days a week |
| 💲 Cost | Free |
| 🐕 Off-Leash allowed? | Yes |
Berkeley Lake is near the amusement park
Provides a separate, fenced area for dogs under 25 pounds (11 kilograms)
No water or waste bags are provided
The park is mostly sand and gravel
If you go on a hot day, be aware that the park doesn't offer much shade
---
5.

West Arvada Dog Park
10-acre, fenced-in off-leash dog park
Two smaller, separate areas for shy and small dogs
Well maintained and has plenty of trash cans
A group of volunteers keeps the park in top condition
In summer, the park offers agility equipment for your dogs
Water is available, but not waste bags
---
6.

Willow Bark Park
Two fenced-in sections for large and small dogs
Has picnic tables and benches in shaded areas
Waste bags and water are available, but the bags tend to run out
The ground is mostly pebbles and sand
A low-energy play area is provided for calm dogs
---
7.

Westminster Hills Off-Leash Dog Park
Fantastic for dogs that love to run and are under excellent voice command
Mostly unfenced, so be aware that your dog can run off and
The views from the park, like many in the Broomfield area, are amazing
Almost no shade
Large ditch with water for dogs to play
There are miles of trails to enjoy, all off-leash
---
8.

Big Dry Creek Dog Park
Fully fenced off-leash dog park with gravel
An agility course and water spigots are available for your dogs
Waste bags are provided but tend to run out
Shaded area for humans to relax while their dogs have fun
Doesn't have an area for smaller or shy dogs
Report of a dog sneaking out of the park and being hit by a car, so keep an eye on your pet
---
9.

The Great Bark Dog Park
6-acre off-leash dog park with a separate area for smaller and timid dogs
Restrooms are located nearby, and there are benches and shaded areas
Park provides water and waste bags
1-mile loop around the park (Dog Park Trail) for humans to walk while their dogs play
Several reports of aggressive dogs in the park, so stay aware when visiting
---
10.

The Boneyard at Reliance Park
8-acre park with a double-gated entry for safety
Two areas: one for larger and the other for smaller dogs
Limited shade in park
Mostly grass and dirt, and after a snowfall, it can get muddy
Very well-kept and provides waste bags and water


Final Thoughts
Although there's only one amazing off-leash dog park in Broomfield, CO, the other nine on our list are close enough to visit regularly with your pet. Some parks, however, aren't completely fenced, and we saw several reports during our research of dogs being hit by cars after sneaking out of a park. Please be aware of this and keep a close eye on your precious pets no matter which park you pick in Broomfield.
---