10 Best Pet Insurance Providers in West Virginia – 2023 Reviews
Our pet's health is highly important, especially as pet health knowledge changes so drastically. To be prepared for the unexpected, companies are coming to the forefront, offering coverage to pet parents. But which companies are the best in West Virginia?
We rounded up the ten best companies that you can opt for in your state. Here are our reviews. We hope to help you pick the right company.
A Quick Glance at Our Favorites of 2023
Rating
Image
Product
Details

Best Overall

Trupanion Pet Insurance

Ideal prices for puppies
Pays vet directly
Price is set for life
Click to Get Quote

Lemonade Pet Insurance

Flexible plan options
Savings available
Easy to contact or make changes
Click to Get Quote

Embrace Pet Insurance

Vanishing deductible
Vet on staff
Works for most pet parents with general coverage
Click to Get Quote

Bivvy Pet Insurance

Set premium
Offers credit option
Straightforward coverage
Click to Get Quote

Figo Pet Insurance

Excellent coverage list
100% reimbursement option
Great customer service
Click to Get Quote
The 10 Best Pet Insurance Providers in West Virginia
1.

Trupanion Pet Insurance – Best Overall
| | |
| --- | --- |
| Reimbursement Rate | 90% |
| Deductible | varies |
Trupanion Pet Insurance is a really terrific company option—plus, it's the most beneficial to people with young dogs and puppies. Trupanion offers lock-in rates that can last your pup's whole life. That's a perk for your wallet and your pooch. What more could you want?
Coverage
We love the coverage Trupanion offers—it's a lot! The cool thing about Trupanion is that they decide your price based on the age of your pet when you enroll. For instance, puppies will be healthier and cost less than seniors.
And the best part? You lock in your price when you enroll, and it won't change as your pet ages. We think that's pretty nifty.
Trupanion's list of coverage is pretty extensive, so you can read all the approved coverage here.
Customer Service
At Trupanion, customer satisfaction is important. So, that's why they make it a point to offer so many contact points with policyholders.
Pricing
Trupanion does coverage a little differently, so prices can vary. They lock in your rate at the time of policy activation. If your dog is a pup, the price will stay the same. If you have a senior, prices might be significantly higher. So, the earlier, the better!
Ideal prices for puppies
Pays vet directly
Price is set for life
---
2.

Lemonade Pet Insurance
| | |
| --- | --- |
| Reimbursement Rate | 70%, 80%, 90% |
| Deductible | $100, $250, $500 |
Lemonade Pet Insurance thinks of your pets for sure. In addition to their other insurance, Lemonade has pretty comprehensive pet coverage, helping your dog out medically when you need it most. Lemonade is rising in the industry as we speak.
Coverage
Lemonade offers policies you completely control over, and we love it. They offer an app you can download on your phone to control any policy changes you would like to make and submit claims.
With Lemonade, it's important to point out something that they stress, which is that if you cancel your policy and reactivate it later, any issue that your dog or cat faced during the time of coverage will now be considered a preexisting condition. So make sure you try to keep up with monthly policy fees.
Covered
Diagnostics
Procedures
Medication
Wellness exams
Intestinal parasite test
Heartworm test
Blood work
Vaccinations
Fecal and heartworm medication
Medical advice chat
Customer Service
Lemonade has very easy-to-manage customer service. You can get in touch through the website, app, or via phone. They also have access to a 24-hour medical chat if you need advice or are unsure if you should take your pet to the veterinarian.
Pricing
Lemonade offers what we would consider average pricing on most of their policies. They aren't over or underpriced but remain in the middle of the road. However, they do have additional savings that you can take advantage of, such as a 10% bundle discount, multi-pet discount, and annual fee discount.
Flexible plan options
Savings available
Easy to contact or make changes
Lapsed/canceled policies have a consequence for future coverage.
---
3.

Embrace Pet Insurance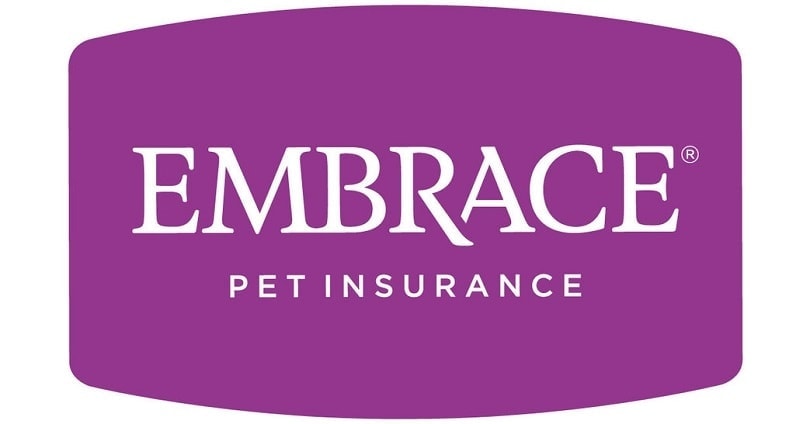 | | |
| --- | --- |
| Reimbursement Rate | 90% |
| Deductible | Varies |
Embrace Pet Insurance is another great pick because we think it can benefit most pet owners due to its middle-of-the-road coverage and pricing options. We think most people can find a plan with Embrace the works; the company is fantastic!
Coverage
Embrace offers really great coverage. One significant upside is that they consider pre-existing conditions in some cases. The stipulation is that your pet is symptom-free for at least a year before coverage.
Covered
Pre-existing conditions
Dental illness
Breed-specific congenital conditions
Cancer
Chronic conditions
Complementary treatments and rehabilitation
Preventable conditions
Orthopedic conditions
Emergency care
Hospitalizations and surgery
Specialist care
Diagnostic care
Prescription drugs
Not Covered
Pre-existing conditions
Breeding, whelping, or pregnancy
DNA testing or cloning
Deliberate injury
Injury or illness from fighting, racing, cruelty, or neglect
Avian flu
Cosmetics
Nuclear war
Routine vet care
Customer Service
Embrace has very outstanding customer service, offering many lines of communication. Embrace walks folks through every aspect of care, from quote to policy maintenance.
Also, there is a licensed vet on staff 24/7 to answer any medical-related questions you might have about your furry pals.
Pricing
All of Embrace's policies are fairly priced—falling in the average range compared to competitors. However, they have a lot of perks with their services that make it worthwhile.
Embrace offers a vanishing deductible, which is super unique to pet insurance. If you don't make a claim, your deductible will decrease by $50 annually.
Vanishing deductible
Vet on staff
Works for most pet parents with general coverage
Won't work for specific coverage
---
4.

Bivvy Pet Insurance
| | |
| --- | --- |
| Reimbursement Rate | 50% |
| Deductible | $100 |
It can be hard to keep up with all the bills—living costs, monthly subscriptions, healthcare for humans—you name it. So, it's essential to pick a super affordable plan—like Bivvy Pet Insurance. We think it's the best pet insurance in West Virginia for the money.
Coverage
Covered
Illness
Accidents
Hereditary conditions
Congenital conditions
Cancer
Diagnostic treatment
X-rays and ultrasound
Blood tests
Surgery
Hospitalizations
Prescriptions
Emergency care
Orthodontic treatment
Pre-existing condition
Preventative care
Spay and neuter surgery
Cosmetic surgery
Air ambulances
Boarding
Cloning
Customer Service
Bivvy doesn't have outstanding customer service just yet, but the company is growing by the day. You can contact them via telephone to make any changes. You also have to mail claims, which can take some time.
Pricing
Bivvy has a super awesome premium rate—$15 for all plans. Automatically, you are responsible for 50% of the vet bills, and Bivvy pays the other half. If you are having trouble, they offer Pet Credit. So, you can see anytime you qualify.
Set premium
Offers credit option
Straightforward coverage
Customer service lacks slightly
---
5.

Figo Pet Insurance
| | |
| --- | --- |
| Reimbursement Rate | 70, 80, 90, 100% |
| Deductible | $100-$1,000 |
Figo Pet Insurance might be a little high dollar, but the rewards are worth it. This premium pet insurance offers comprehensive reimbursement rates and other extras we think you will really enjoy. If you can benefit more from a Figo plan, it just might work out better in the long run.
Coverage
Covered
Emergency and hospitalization
Surgeries
Veterinary specialists
Diagnostic testing
Knee conditions
Prosthetics
Orthopedics
Hereditary and congenital
Prescriptions
Hip dysplasia
Chronic conditions
Dental illness and injury
Imaging
Cancer treatments
Wellness coverage
Veterinary exam fees
Not covered
Pre-existing conditions
Experimental procedures
Breeding, pregnancy, or whelping
Cosmetic surgery
Cloned or cloning procedures
Most parasites
Customer Service
Figo has really fantastic customer service, and they put a lot of effort into connecting with the customer. They also offer a medical team of professionals to address your pet questions.
Pricing
At first glance, Figo may seem more expensive—and it is more than traditional companies. However, they have a potential 100% reimbursement rate, so it really pays off quickly.
Excellent coverage list
100% reimbursement option
Great customer service
High deductibles on policies
---
6.

Healthy Paws Pet Insurance
| | |
| --- | --- |
| Reimbursement Rate | 90% |
| Deductible | $100-$1,000 |
Healthy Paws Pet Insurance is a leader in the industry—and we could even say these guys were the first on the job. They have been offering wonderfully thought-up policies to dogs and cats everywhere.
Coverage
Coverage with Healthy Paws is totally straightforward. They cover lots of things most companies don't—like alternative and specialty care.
Covered
Illness
Accidents
Hereditary conditions
Congenital conditions
Cancer
Diagnostics
X-rays, blood tests, ultrasound
Prescriptions
Emergency care
Alternative therapies
Specialty care
Customer Service
We love that Healthy Paws has such an extensive FAQ page because it answers most of your questions right up front. But if you need a rep, there is one on standby anytime you need a helping ear.
Pricing
Healthy Paws really wants you to spread some love, offering a $25 gift certificate for every new recommended customer you send their way. While we love Healthy Paws coverage, we would like to warn that they have long reimbursement wait times compared to competitors.
Thorough coverage info
Offers alternative care coverage
Savings and earning options
---
7.

ASPCA Pet Insurance

| | |
| --- | --- |
| Reimbursement Rate | 90% |
| Deductible | $100, $250, $500 |
The ASPCA really cares about animals in need—and their pet insurance policies prove it. At ASPCA Pet Insurance, you can expect to be treated like your pets matter in a real way. We think many owners can find the benefits of ASPCA on their side.
Coverage
The ASPCA offers two coverage plans. One is called complete coverage which includes Wellness care period the other policy covers accidental care only.
Covered
Accidents
Dental disease
Hereditary conditions
Illness
Behavioral issues
Not Covered
Pre-existing conditions
Cosmetic procedures
Breeding costs
Preventative care
Customer Service
The ASPCA has pretty top-notch customer service. You can visit their website on their contact page for telephone numbers, vet communication, and fax numbers. You can also access GoFetch Reimbursement to manage your claims on the site.
Pricing
We consider the ASPCA to have pretty fair pricing. They have flexible plans and work with you to find a perfect fit for your pet.
Well-organized website
Offers wellness coverage options
Trusted Company
Add-ons are pricey sometimes
---
8.

Pumpkin Pet Insurance
| | |
| --- | --- |
| Reimbursement Rate | 90% |
| Deductible | $100, $250, $500 |
Pumpkin is such a fun insurance company for pets—and we can't recommend them enough. They make everything super user-friendly and generally have fair pricing and thoughtful plans for the best future of your pets.
Coverage
We think this coverage is pretty terrific, do you agree? They even cover prescription diets. So, if your pet ever comes down with an allergy or health issues, high-dollar meals will be covered.
Covered
Ear, eye, and skin infections
Digestive illness
Hip dysplasia
Cancer
Parasites
Orthopedic injuries
Swallowed objects and toxins
Diagnostics and treatments
Prescription medications
Emergencies and hospitalization
Surgery
Advanced care
Microchipping
Hereditary conditions
Dental illness
Behavioral issues
Vet exam fees
Alternative therapies
Prescription food
Customer Service
Pumpkin offers such straightforward service for customers. They have tons of options to connect with Pumpkin representatives to work out issues with claims, start up a policy, or answer any general questions that you might have.
Pricing
We think that Pumpkin has really terrific pricing on their policies. They have lots of perks, such as additional discounts and high reimbursement rates.
Fair reimbursement rates
Perks through discounts and payouts
Awesome website
Won't cover certain needs for pets
---
9.

Nationwide Pet Insurance
| | |
| --- | --- |
| Reimbursement Rate | 50-90% |
| Deductible | $250 |
Nationwide Pet Insurance is really an innovator—thinking of the little guys, too. They have a huge list of exotic pet coverage in addition to dogs and cats. You can read the whole coverage list for exotic animals by clicking here. So far, they are the only ones providing service to exotics.
Coverage
Nationwide has several comprehensive plans to choose from, including one that covers just about everything. The whole pet plan covers even checkups and vaccinations, making routine care part of the deal.
Although Nationwide doesn't give us a detailed list of all the areas they cover on the main site, they tell you upfront what they won't.
Not Covered:
Taxes
Waste
Grooming
Boarding
Pre-existing conditions
Customer Service
Nationwide offers moderate customer service. However, it's important to remember that Nationwide is a very large insurance industry and coverage might not feel quite as personal as with companies who only work with pet-related insurances. However, they make up for this in other ways by offering medical chat and multiple contact options.
Pricing
Nationwide there is greatly in their pricing. Depending on your chosen features, you can have a moderately cheap policy or a pretty hefty one. Nationwide offers a 100% money-back guarantee within the first ten days of having your policy.
The only downfall to that is that any injuries or accidents won't be covered in that time, so it's hard to tell if the insurance is right for you with such a small window.
Exotic pet coverage
Multiple avenues of customer communication
Get a quote in minutes
Lack of clarity on website
---
10.

AKC Pet Insurance
| | |
| --- | --- |
| Reimbursement Rate | 70-90% |
| Deductible | $100-$1,000 |
If you're a breeder or you have an AKC-registered dog, this might be just the coverage you need. AKC fills in spots where other coverage lacks, as most do not include breeding in any policy. It's excluded completely. So, that's something to consider.
Coverage
The AKC offers some pretty unique coverage options that other insurance companies don't. For instance, they cover breeding costs which makes sense if you consider who is offering that insurance. This is an exceptional insurance option for breeders especially.
Unfortunately, but understandably, the AKC does not cover cats.
Covered
Injuries
allergies
broken bones
cancer
emergency care
hospitalization
lab tests
physical therapy
surgery
tooth extraction
Cats
Pre-existing conditions
Customer Service
The AKC is very responsive to its customer base. They have outstanding customer service, a 24-hour veterinary hotline, and a specific app to submit claims and make changes to your policy.
Pricing
The AKC has a pretty comprehensive pricing system based on the type of policy you choose and the features that it covers. They can have pretty high deductibles, up to $1000, so it is definitely something to consider, especially if you're a breeder. However, the normal average everyday person might not need all of the features that this particular insurance company provides.
Potentially covers preexisting conditions
Covers cancer treatment
Terrific for breeders
Dogs only, no other pets
Pricey policies
Specific coverage
Buyer's Guide: Choosing the Right Pet Insurance Provider in West Virginia
What to Look for in Pet Insurance (for Cats, Older Dogs, Etc.)
When shopping around for pet insurance, you will want to consider some areas of coverage. We were able to rate these companies available in West Virginia based on a few factors. Let's elaborate!
Policy Coverage
What your policy covers is extremely important when you're getting insurance for your pet. After all, you probably have specific things in mind that you would like your policy to cover before you even buy into the insurance aspect.
If you want wellness care, covered greeting cost, and other things that might not be covered with typical policies, it's best to search for insurance companies that match that criteria.
Customer Service & Reputation
If you're testing your pet's medical care coverage in the hands of a company, you want them to be easy to access. If ever there is any type of emergency or discrepancy, I'm getting a hold of your insurance company is the first step towards resolution.
Luckily, many new pet insurance companies have top customer service due to their easily accessible web page content and apps.
Claim Repayment
Claim repayment is a crucial aspect to look into as well. Not only is the percentage that you get back essential to look at and factor in, so is the length of time that it takes. Some companies are super prompt with claim processing, taking upwards of only two days.
Other companies, oppositely, can take up to 10 days for a claim to process and you to receive your reimbursement.
Price Of Policy
Your policy has to be something that you can commit to month by month. If you lapse on coverage, current issues can become preexisting conditions and all sorts of headaches can happen.
When you choose your policy, even if it is just something basic at first, it is best to have an insurance policy that you can always afford, so it never becomes an issue. Some companies offer direct quotes, while others offer flat rates on policies.
It is completely up to the individual insurance company, so you can check which companies offer what prices. Many companies even offer a side-by-side comparison on their websites with other up-and-coming pet insurance companies.
Plan Customization
If you think that you're going to be making changes or need to focus on any specific area of pet health, getting a plan that offers customization might be exactly what you need. Many plans offer flexibility in terms of what they offer.
Other companies have add-ons you can talk on to your additional monthly premium that covers things outside of their standard coverage list.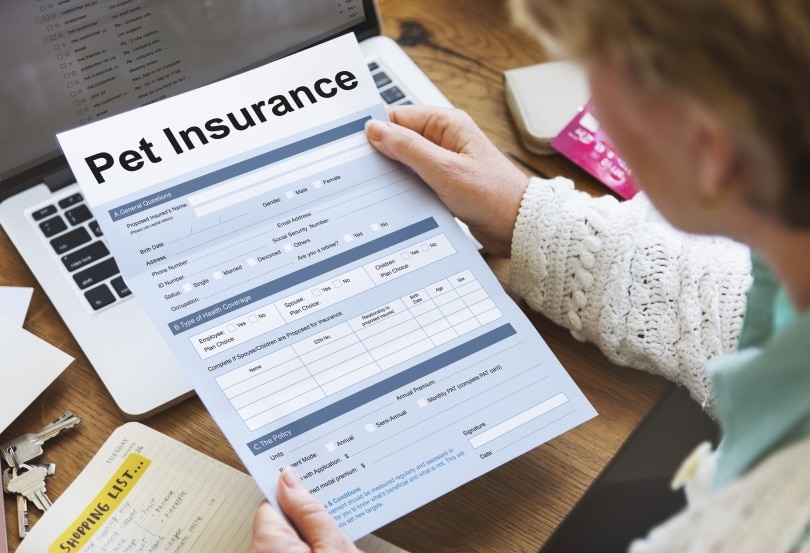 FAQ
Can I Get Pet Insurance Outside the U.S.?
There are likely pet insurance companies that are in other countries. They might not be the same insurance companies, so it's important to research the specific country you will be dealing with your primary vet in to guarantee coverage.
What If My Insurance Company Is Not Listed in Your Reviews?
Just because your specific pet insurance company isn't listed in our top 10, that doesn't mean that they don't have a comprehensive package. There are tons of pet insurance companies that are all competing for the win, offering outstanding coverage and easy-to-use features. If you are satisfied with your policy, there's really no reason to change it.
Which Pet Insurance Provider Has the Best Consumer Reviews?
From what we've researched, Embrace typically has the highest customer satisfaction rating, closely followed by pumpkin.
What Is the Best and Most Affordable Pet Insurance?
The most affordable pet insurance that we have reviewed was definitely Bivvy. They offer a $15 premium every month, which is a standard rate without fluctuating prices. On the other hand, the highest rated insurance company has to be Embrace.
What the Users Say
If you take a look at what other people say about insurance, they are generally pleased with their coverage. There is a lot of anxiety that comes along with being a pet parent, unsure if an emergency is going to happen that you financially can't cover at specific stressful points.
Some insurance companies complain about low reimbursement rates and unclear policy coverage information. Making sure you have an adequate layer of protection that allows you to give your pet the coverage they need will only give you Peace of Mind. It seems many customers are satisfied with that added layer of security.
However, we implore you to speak in depth with the company you choose to ensure that there's no fine print you're missing.
Which Pet Insurance Provider Is Best For You?
Only you can decide which pet insurance company is best for you. The policy you choose needs to cover all your expectations, provide your pet with the optimal care and know your money is going to a good cause. There are a lot of factors to consider, but hopefully, we've made your job a little easier by breaking them down one by one.
Be sure to research your company thoroughly, speaking with customer service providers who can answer your questions directly, taking out all of the guessing work involved.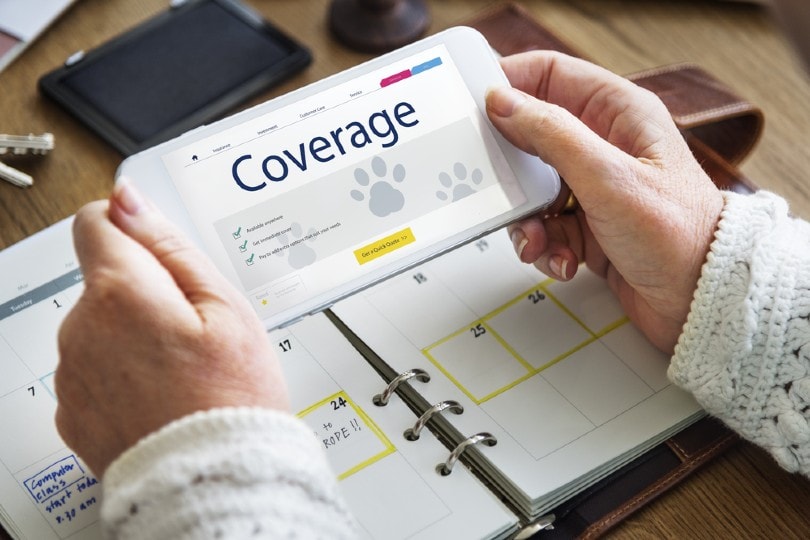 Conclusion
We still stand by our favorite pick, Trupanion pet insurance. It has just the right offerings to match most policyholder needs. It has affordable plans that offer a broad spectrum of coverage options.
No matter which insurance company you choose, we hope you find a perfect fit for you. If you want exotic pet care coverage, we really hope to see more companies adopting plans for these types of pets, too.
See also: How Much Does Pet Insurance Cost in Virginia Cost? 
---
Featured Image Credit: Rawpixel.com, Shutterstock