Purr & Mutt Personalized Pet Portraits Review 2023: Our Expert's Opinion
Our Final Verdict
We give Purr & Mutt Personalized Pet Portraits a rating of 4.8 out of 5 stars.
Quality: 4.7/5
Variety: 5/5
Turnaround Time: 5/5
Value: 4.9/5
*Use Code HEPPER15

What Is Purr & Mutt Personalized Pet Portraits?
Our pets are family members, but what if you could have a professional portrait of your pet with a customized theme at a reasonable price to add to your wall? We all have pictures of our pets caught in funny acts or being sweet, but having a custom portrait on your wall is something you can enjoy for many years to come. If you've been searching for a pet portrait company that is affordable with good quality, Purr & Mutt may be a good option.
Purr & Mutt is a pet portrait company offering customized pet portraits with many options available. They offer unlimited revisions, and your pet portrait is not sent to print without your approval. The portrait arrives in secured packaging to protect the portrait, and they offer free shipping.
I had the opportunity to receive a personalized pet portrait of my two dogs, and the outcome was cute and just as I wanted. In this guide, we'll explain the process from start to finish, along with other pertinent and valuable information you'll receive from someone with hands-on experience with the product.
Purr & Mutt Personalized Pet Portraits – A Quick Look
Reasonably priced
Many styles and themes available
Unlimited revisions
Customized to your photo
Free shipping
Can customize to almost any pet type
Frames could be sturdier
So many options can be overwhelming
How Does It Work?
Purr & Mutt has a nicely laid-out website for browsing the many options. We've mentioned that the many options can make the task of deciding on a product a little overwhelming, but it's still fun to browse. The website is organized and easy to navigate through the many options that include: shop by theme, collections, and shop by product type.
The themes include Renaissance (king, queen, prince, commodore, admiral, and others), film and TV, minimalist, occupations (the astronaut, ambulance driver, military personnel, and many more), male pets, female pets, and multiple pets. You also have the option of a season theme, such as spring, summer, autumn, and fall.  You also have the choice of the type of product you'd like for your customized portrait, which includes: fine art prints, stretched canvas, cushions, blankets, coffee mugs, and cell phone cases.
Once you've decided on the theme and style you'd like, simply take a photo of your pet or use an existing one you'd like to use, upload the photo that adheres to the photo guidelines, select the frame size, and checkout. You can send in as many photos as you'd like, which is a nice feature, and they will choose the best one for the theme and product you've chosen.
Once your photo is received, you'll receive a preview of your product within 5 business days for your approval. You can also opt for a decreased waiting time for your preview, which means you'll receive the preview in 2 business days rather than the usual 5 business days. Keep in mind that nothing goes to print until you are 100% satisfied with the preview, and you can make as many changes as you'd like.
Once you approve, the in-house design team creates a high-quality portrait derived from the selected photo and ships it right to your door with free shipping.
Purr & Mutt Personalized Pet Portraits Pricing
The pricing will vary greatly depending on which product you choose. If you choose a portrait, you can select the type of frame and size you'd like, which will increase the price somewhat. Available sizes are 8 x 10, 12 x 16, 16 x 20, and 18 x 24 inches. Frames come in white or black, and the bigger the size, the bigger the price increase. If you opt for an 8 x 10 print with no frame, the price averages $54—with a frame, the price averages $78 total.
The custom pet canvas option is a little pricier than the framed options, with prices generally topping out at $195—of course, this will vary depending on the size of your custom canvas portrait, which is available in sizes 12 x 16, 16 x 20, and 18 x 24 inches. The low end for a custom canvas portrait averages $84.
*Use Code HEPPER15
Shipping & Packaging
Purr & Mutt ships for free worldwide, typically taking 7 to 10 business days after preview approval. The timeframe for the United Kingdom is quicker, given it is the company's home base, generally taking 2–3 business days after approval. They offer a tracking service that comes via email with your shipment confirmation, as well as an online tracking service that you can check anytime from the website. Most items are printed and shipped within 1 business day.
In the U.S., the couriers used are FedEx, UPS, and USPS. My framed, custom portrait came in a convenient box with the portrait safe, secure, and well-protected inside the packaging with plenty of bubble wrap.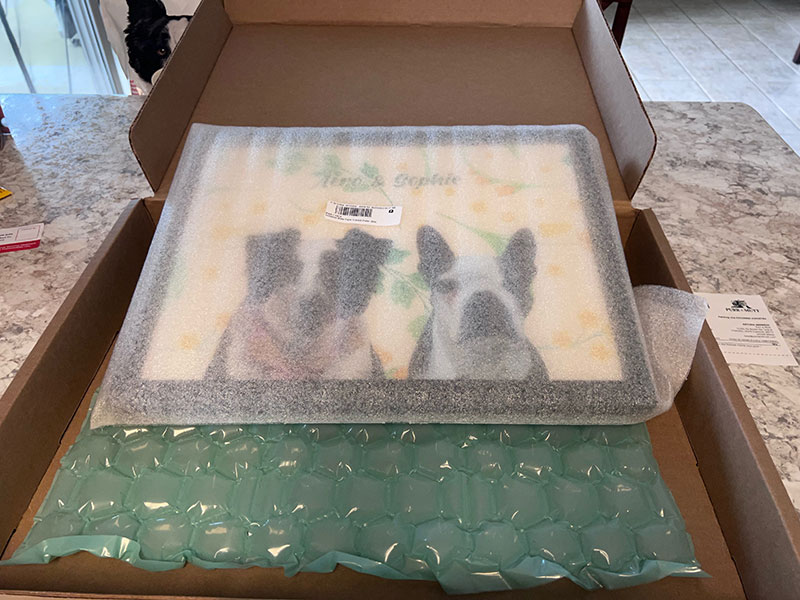 The Portraits
Purr & Mutt has many options, and you're not limited to portraits; however, my experience is from receiving a framed portrait in a black frame, so I'll give you my hands-on experience with that aspect of the products available.
The portraits are not hand-drawn. Instead, artists craft the portrait by using various digital techniques to ensure they capture every aspect of the photo you sent. They use professional tools, retouching techniques, and photo editing to turn your portrait into a cool work of art you can cherish for many years. They use high-quality paper and inks that make the portrait pop with vibrant colors.
The black or white frames could be a bit sturdier, but they are not flimsy either. They hang on the wall well, and they include a sturdy sawtooth picture hanger for accurate leveling and to keep the portrait secure on the wall.
Is Purr & Mutt Personalized Pet Portraits a Good Value?
You'll find excellent value in their products if you're looking for a custom pet portrait company. These portraits are not hand-drawn; however, this helps keep the portraits from being too pricey, and the artist does an excellent job producing a pet portrait true to your pet's photo. You also have many options to fit your budget. That said, I can personally attest to the quality of the portrait, and I believe it's a good value and worth the expense.
*Use Code HEPPER15

FAQ
Do they only make portraits of dogs and cats?
No, you are not limited to only dogs and cats. In fact, Purr & Mutt can customize a portrait to almost any animal species.
Can I include more than one pet?
Yes! They have many selections that work for multiple pets. If you cannot find something suitable for your specific needs, you can reach out if you have something particular in mind, and they'll do their best to accommodate you.
Are the photo guidelines easy to follow?
Your portrait will begin with, of course, the photos you send, but they need to fit specific criteria, which the company explains in-depth on the website. They recommend snapping a headshot photo of your pet at eye level in a well-lit area with sufficient lighting. You can send in as many photos as you'd like, and they will choose the best one. If none of the photos you send are suitable, they will inform you with instructions on how to get the best shot.
I'm not seeing a particular theme I like. Do you have to pick a theme?
In case you're not seeing a particular theme you'd like, you can certainly opt for a colored background with no theme, such as peach, sand, different shades of grey, and many other cool, vibrant colors.
Does Purr & Mutt Offer Discounts?
Purr & Mutt offers student discounts for currently-enrolled students—verify your student status and receive 12% off your order.
*Use Code HEPPER15
Our Experience With Purr & Mutt Personalized Pet Portraits
I have two dogs: a female 14-year-old Border Collie/Sheltie mix named Aero and a female 12-year-old Boston Terrier named Sophie. I had a male Boston Terrier named Stewie who passed away 4 years ago, and I have a custom drawing of the three dogs, but I did not have a portrait of just Aero and Sophie. They both have cancer and heart disease with limited time, and I felt a portrait of the two together would be appropriate given the situation they are experiencing together.
I chose the spring background because spring reflects rebirth, renewal, and hope, and I feel when they pass, they will be renewed with no pain after crossing the Rainbow Bridge, and that thought gives me comfort—it was a no-brainer to decide on the background.
I uploaded a few pictures, but the ones I originally sent were not good quality. They emailed me to ask for better photos, to which I complied.  The next day, they informed me the new photos I sent would work, and they chose the best ones for the portrait. They emailed me the preview for my approval shortly thereafter and then immediately went to work. The order was placed on May 22, and I received the portrait on May 26.
The package arrived undamaged, and the portrait was secured inside a protective sleeve with bubble wrap. The portrait and frame arrived without a scratch or defect, and I was thrilled to have it. The artists did a superb job with the photos I sent, and I appreciated the timely correspondence.

Conclusion
My personal experience with Purr & Mutt was professional, and I received the portrait in a timely manner. The website is easy to navigate through, and they have many options to choose from. What's more, if you can't find a theme you like, you can always choose a colored background with many colors available to choose from.
The price is reasonable for the quality, especially given the many options you have available to you, and the process is quick and easy. I liked the fact that you can ask for as many re-edits as necessary, and I was very pleased with the outcome. The bottom line is we absolutely recommend Purr & Mutt for your pet portrait needs—even if you don't have a pet, any of their products make excellent gift ideas.