188 Ragdoll Cat Names: Our Top Picks for Your Adorable Cat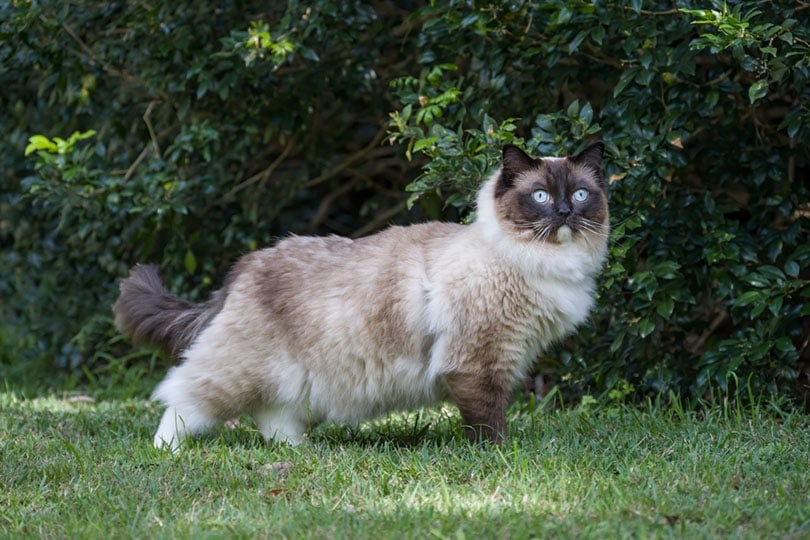 Bringing home your new Ragdoll cat is an exciting time. You've got everything ready, from the food, bowls, and litter box to the toys and cat furniture. Now, all you need to do is figure out a name.
With such a larger-than-life persona and size, Ragdolls deserve a name totally unique to them. Here are our 188 top picks for Ragdoll cat names.
How to Name Your Cat
Names matter. We want something unique and creative, something that reflects ours or the cat's personality, or something that resonates with us. Cats learn their names, so it's not something you want to change—if you can help it.
You may want to choose names that are simple and easy to say (or shout!) to get your cat's attention. Of course, you can choose longer names and shorten them to something more manageable.
For example, if you're a Game of Thrones fan and like the name Nymeria, you can shorten it to Nym. Still cute, but much easier to say than the full name. It's also easier for your vet, your kids, etc.
Remember, you don't need to rush! You'll be using this name for the next 15 years or more. Go with nicknames until you come up with something you like.
In the meantime, we have plenty of names to inspire you!
Female Names for Your Ragdoll Cat
Ragdoll cats are known for their easygoing and sweet temperaments. These gentle giants deserve names that reflect their soft demeanor and reflect their personalities. These female names are beautiful and sweet, perfect for female Ragdoll cats.
Adina: Gentle, delicate
Anisa: Good-natured
Dalia: Delicate
Malinda: Sweet
Mildred: Gentle strength
Abby: Smart and kind
Adia: Noble
Amy: Beloved
Belinda: Beautiful
Bella: Beauty
Brooke: Water, small stream
Elena: Bright
Felicity: Happiness
Hannah: Grace
Jasmine: Gift from God
Lily: Pure
Naomi: Sweet
Male Names for a Ragdoll Cat
Male Ragdoll cats are slightly larger than females, and they can suit both names that allude to gentleness and kindness or strength and nobility. These male names for your Ragdoll cat are cute, simple, and have meanings befitting your studly Ragdoll cat.
Harvey: Brave
Alfred: Intelligent
Archibald: Courageous
Anders: Manly
Achilles: Warrior
Abe: Noble
Anthony: Worthy of praise
Dylan: Wave
Duke: Noble
Felix: Lucky
Names Inspired by Size for a Ragdoll Cat
As we mentioned, Ragdolls are big cats. They're not fat—they're fluffy, but you can still have some fun with names that communicate their giant size and even bigger personalities.
Bertha
Doughboy
Meaty
Atilla
Bear
Brawny
Burly
Colossus
Goliath
Hulk
Hercules
Garfield
Jumbo
Maximus
Rambo
Shamu
Sumo
Thor
Whopper
Conan the Barbarian
Magnum
Behemoth
Bigfoot
Hurley
Blimpy
Mondo
Titanic
Quake
Waddles
Tubbs
Tonka
Fun, Silly, or Cute Names for a Ragdoll Cat
If you prefer silly or cute names that reflect your cat's fluffy coat, large size, and goofy personality, here are some names that are more fitting for your adorable cat.
Buttons
Snuggles
Fluffers
Bubbles
Cheddar
Sushi
Cloud
Catzilla
Cheerio
Hobbes
Meowsie
Meatball
Muffin
Puffy
Nugget
Porkchop
Opie
Quimby
Ramen
Sriracha
Wasabi
Yeti
Angel
Jellybean
Jellyroll
Pickles
Peaches
Wiggles
Bubbles
Squeak
Bean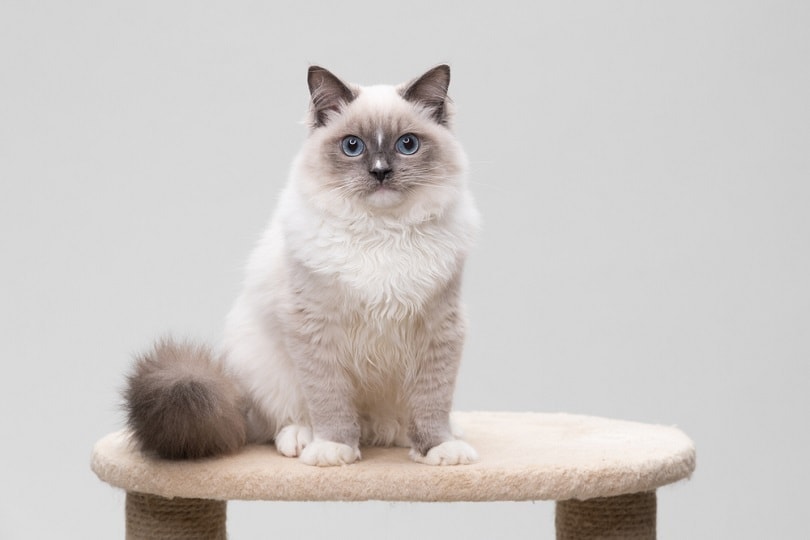 Names Inspired by a Ragdoll Cat's Color
Ragdoll cats often have striking colors, such as light coats in white or cream with stunning blue eyes. Names inspired by colors showcase your cat's beauty and all that makes it special.
Chocolate- or Cream-Colored Cats
Butter
Luna
Bianca
Misty
Taffy
Starlight
Snowfall
Moon Cake
Nutmeg
Vanilla
Sierra
Toast
Sandy
Cashew
Caramel
Tofu
Coconut
Cream Puff
Butterscotch
Pancake
Cheesecake
Biscuit
Alabaster
Bisque
Crème Brulee
Champagne
Latte
Hershey's
Cadbury
Cocoa Loco
Lady Godiva
Pecan
Cinnamon
Clove
Acorn
Mocha
Lilac-Colored Cats
Lavender
Orchid
Periwinkle
Plum
Mulberry
Amaranthine
Amethyst
Hibiscus
Eggplant
Thistle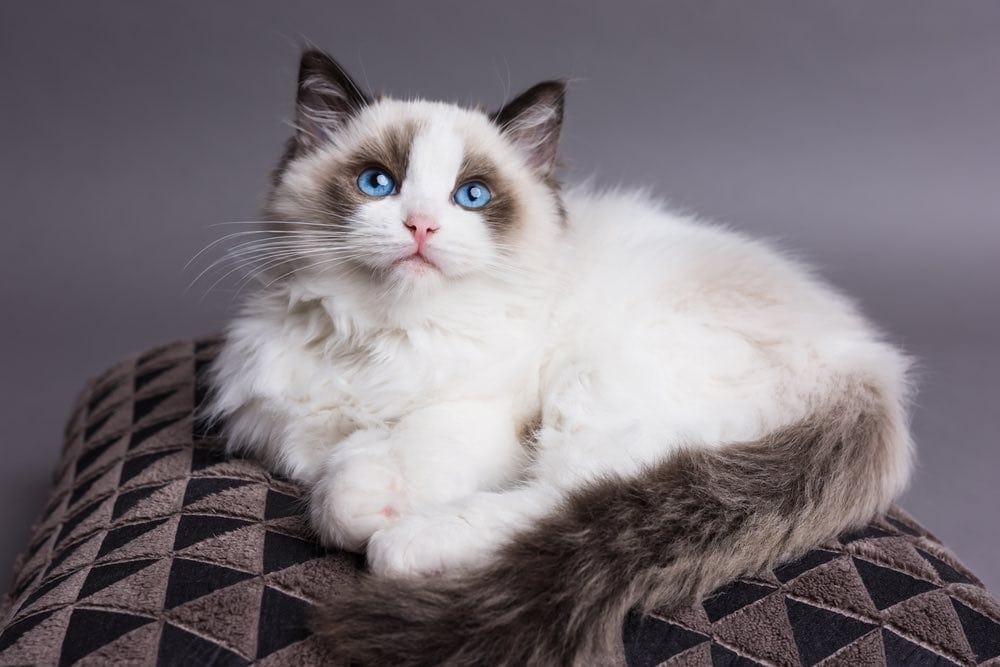 Red-Colored Cats
Mahogany
Garnet
Merlot
Scarlet
Apple
Sangria
Currant
Cherry
Ruby
Vermilion
Coral
Carmine
Rosso Corsa
Hickory
Gingerbread
Tawny
Amber
Marmalade
Sienna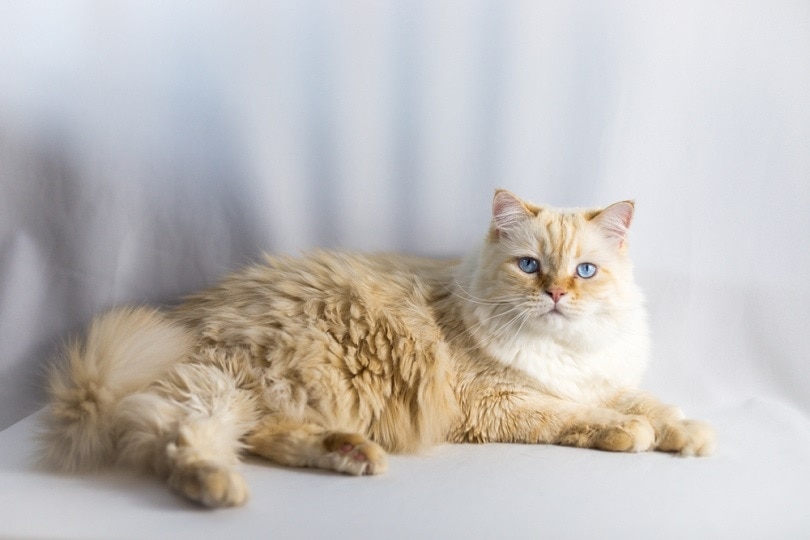 Seal-Colored Cats
Mink
Abalone
Pewter
Steel
Shadow
Ash
Fog
Smoke
Charcoal
Pebble
Slate
Smoky
Flint
Pearl
Moonshine
Twinkle
Blue-Colored Cats (or Blue Eyes)
Topaz
Aquamarine
Sky
Bluebell
Blueberry
Pansy
Iris
Cobalt
Azure
Indigo
Denim
Lapis
Aegean
Admiral
Arctic
Spruce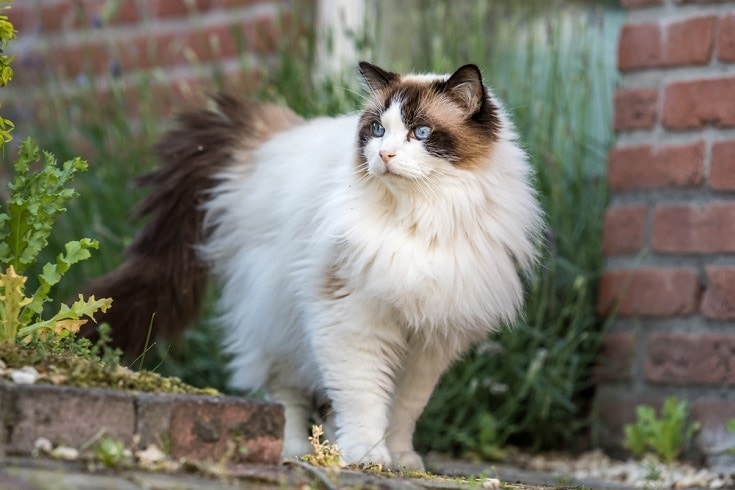 Get Inspired!
Naming your Ragdoll cat is a deeply personal experience, but this list should give you some ideas and inspiration. Whether you go with a name that reflects their size, color, or gentle personality, we're sure you'll come up with something that's perfect for your fluffball.
Related Reads:
---
Featured Image Credit: Aaron Zimmermann, Shutterstock