150+ Black Cat Names: Our Top Picks for Your Mysterious & Spooky Cat
Cats have been the blame for bad luck for centuries. But any cat lover knows just how unfair and untrue these stereotypes are—or do we? If you have a little black familiar and want to give them an enchanted or spooky name, you came to the right place.
We gathered up many n
ames that match the energy you're looking for. Let's go over how to name your new black kitten or cat and run through these potential names.
How to Name a Kitten
Naming any pet can be a challenge for most people. Some people see their kitten, pick a name, and go about their day. Others already have a name picked out before they ever find a kitten. But if you put a bit more thought into it, let's explain how to choose!
Name Your Black Kitten Based on Personality
There are tons of spooky or mysterious inspired names that would fit a broad spectrum of personalities. Once you get to know your kitten's energy, you might have a general idea of what sounds or mood you want with the name.
Name Your Black Kitten by Drawing from a Hat
When in doubt, let fate decide. Spend your time mulling over a few interesting names, and then write them down. You can draw one out of a hat or whatever you have handy.
Name Them After a Favorite Character
If you love a good thriller or horror film, you probably have a thousand options and ideas. Try to trim it down. Consider their personality and think of who that reminds you of. For example, an extremely naughty cat might remind you of Loki, the god of mischief.
Spooky Names: How to Choose
They say a name carries a lot of power. If you want to give your kitten a name with spooky significance, here are a few categories and lists that might fit your little void.
Names Related to Coat Color of Your Black Kitten
If you want to get right to it, you can name your kitten something that either is black or translates to the word black. Here are a few options.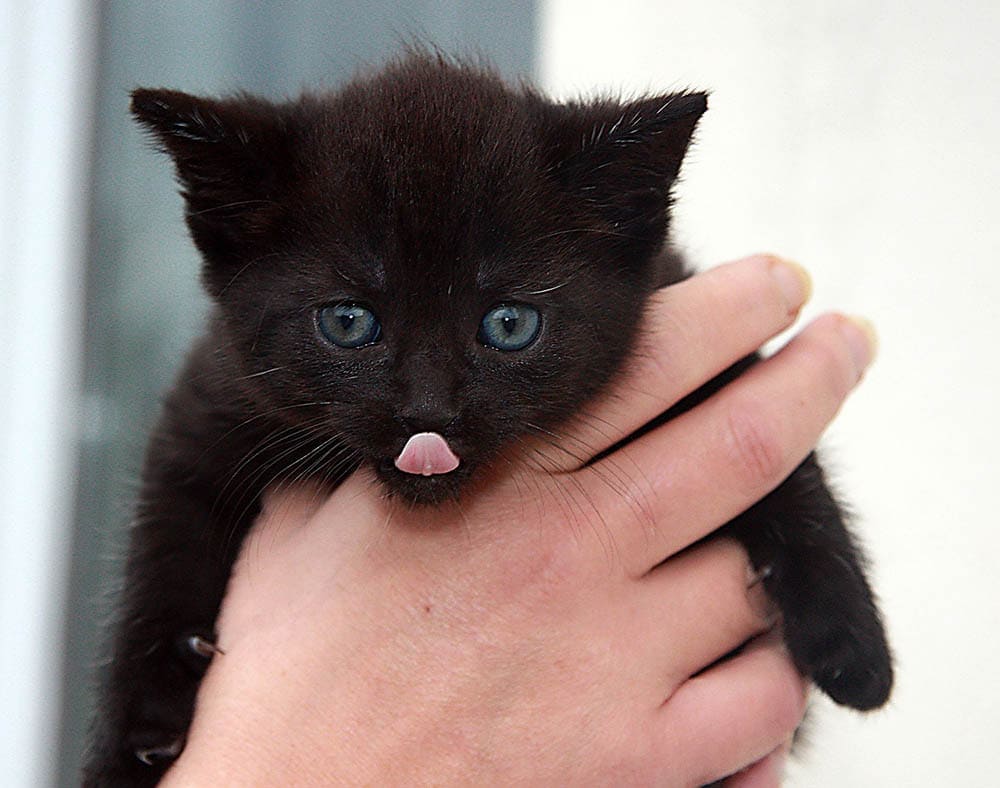 Female Names
Lilith—"ghost, night monster"
Layla—"night"
Raven—blackbird
Darcy—"dark one"
Ebony—"deeply black wood"
Nerissa—"black-haired"
Leila—"dark"
Male Names
Abnus—"dark wood"
Bisman—"dark blue"
Dougal—"dark stranger"
Krish—"dark-skinned one"
Jett—black mineral
Hadrian—"dark-haired"
Nigel—"dark, black-haired"
Fictional Character Names for Your Black Kitten
If you're a creep fanatic, you probably have a stellar selection of films at home. Naming your kitten after a one of your favorite characters might match perfectly. If you can't think of any good ideas off the top of your head, let us help you.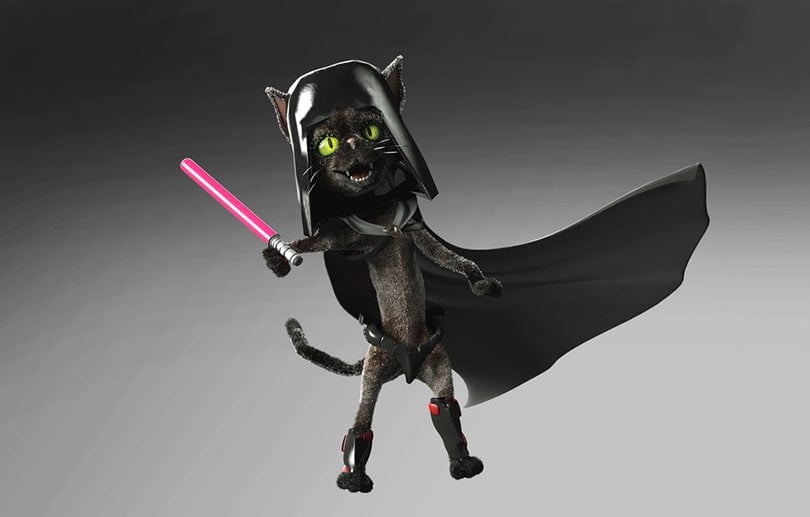 Female Fictional Character Names for Black Kittens
Luna—Harry Potter
Hermoine—Harry Potter
Fleur—Harry Potter
Morticia—The Addams Family
Wednesday—The Addams Family
Griselda—Hansel & Gretel
Sabrina—Sabrina the Teenage Witch
Winifred—Hocus Pocus
Mary—Hocus Pocus
Sarah—Hocus Pocus
Queen Beryl—Sailor Moon
Minnie—Rosemary's Baby
Regan—The Exorcist
Carrie—Carrie
Eleven—Stranger Things
Tiffany—Bride of Chucky
Rose—Get Out
Marya—Dracula's Daughter
Evelyn—Play Misty for Me
Mallorie—Inception
Grimhilde—Snow White
Maleficent—Sleeping Beauty
Barbara—Night of the Living Dead
Lupita—Us
Nancy—Nightmare on Elm Street
Male Fictional Character Names for Black Kittens
Albus—Harry Potter
Weasley—Harry Potter
Crookshanks—Harry Potter
Gomez—The Addams Family
Fester—The Addams Family
Mulder—X-Files
Torrance—The Shining
Lecter—Hannibal
Jigsaw—Saw
Leatherface—Texas Chainsaw Massacre
Norman—Psycho
Ghostface—Scream
Wybie—Coraline
Ernest—Ernest Scared Stupid
Maggot—The Corpse Bride
Ichabod Crane—Sleepy Hollow
Fauno—Pan's Labyrinth
Captain Spaulding—House of 1000 Corpses
Count Orlock—Noseferatu
Darth—Star Wars
Pennywise—It
Leprechaun—Leprechaun
Vorhees—Friday the 13
Victor—Frankenweenie
Skellington—The Nightmare Before Christmas
Witchy Names for Your Black Kitten
For as long as you can probably remember, black cats are often associated with witches, witchcraft, and bad omens. If you want to keep up with the tradition, you can give your cat a classic witch name. Here are a few to toss around.
Female Witchy Names
Cordelia
Beatrix
Allegra
Theodora
Nyx
Sage
Juniper
Pansy
Willow
Amethyst
Citrine
Rowena
Helena
Wanda
Zelda
Sukie
Narcissa
Circe
Nimue
Blair
Evanora
Melisandre
Medea
Glinda
Endora
Male Witchy Names for Your Kitten
Alastor
Draco
Charon
Gandalf
Oedipus
Alatar
Fabian
Pallando
Puck
Radagast
Rasputin
Aspen
Ambrose
Rincewind
Atlantes
Saruman
Lucius
Omen
Rubeus
Percy
Phoenix
Remus
Cohen
Declan
Atlas
Names Associated with the Color Black
Even though some of these names might sound trite and often repeated, there's nothing wrong with a good timeless name. Here are some names directly associated with their shimmery, gorgeous black coats. We think these names are pretty unisex, so here they are in one bundle.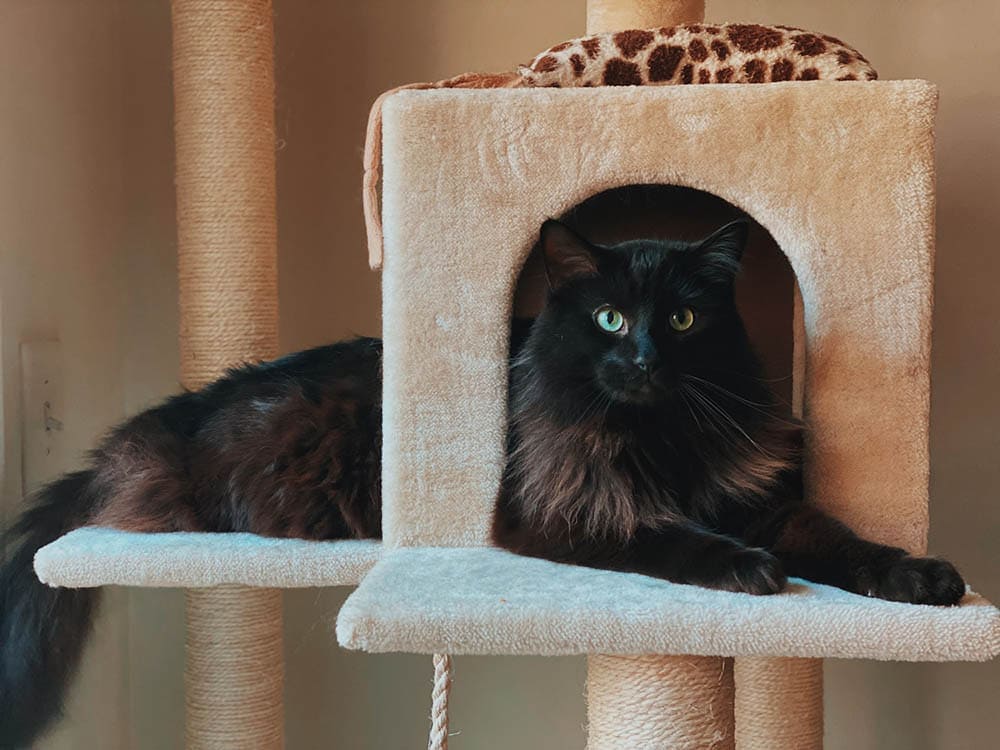 Noir
Void
Shadow
Occult
Ouija
Onyx
Obsidian
Grim Reaper
Dementor
Zombie
Goth
Raven
Ninja
Ghost
Venom
Names Associated with Mythical Monsters & Ghostly Legends
If you are into cryptozoology or ghost stories, you might be able to think of some pretty good names. We found a few here that have some pretty dark, mysterious, and legendary connotations.
Mothman
Chupacabra
Gargoyle
Reptilian
Serpentine
Basilisk
Gryphon
Minotaur
Dragon
Werewolf
Hydra
Banshee
Siren
Kraken
Kelpie
Bloody Mary
Annabelle
T.
Sasquatch
Demon
Eerie Classic Names for Your Black Kitten
Sure, classical music is soothing and beautiful, but the era is often seen as quite hair-raising. If you've seen the old portraits from the time of Beethoven and other greats, there is a sense of eeriness—making it a terrific category to scour for awesome black cat names!
Male Names
Wolfgang
Gluck
Bach
Beethoven
Haydn
Chopin
Brahms
Giuseppe
Ludwig
Mozart
Female Names
Cecilia
Ciuta
Fiora
Ophelia
Dea
Eira
Colette
Emmalina
Euphemia
Gregoria
Conclusion
No matter what name you pick, hopefully, you found some pretty good options to consider on this list. Bringing home your new forever feline pal is a big deal, and your little miniature panther deserves a name as mischievous and complex as their reputation.
Related Reads:
---
Featured Image Credit: Leuchtturm81, Pixabay