100+ Twin Cat Names: Our Top Picks for Your Partnered Cats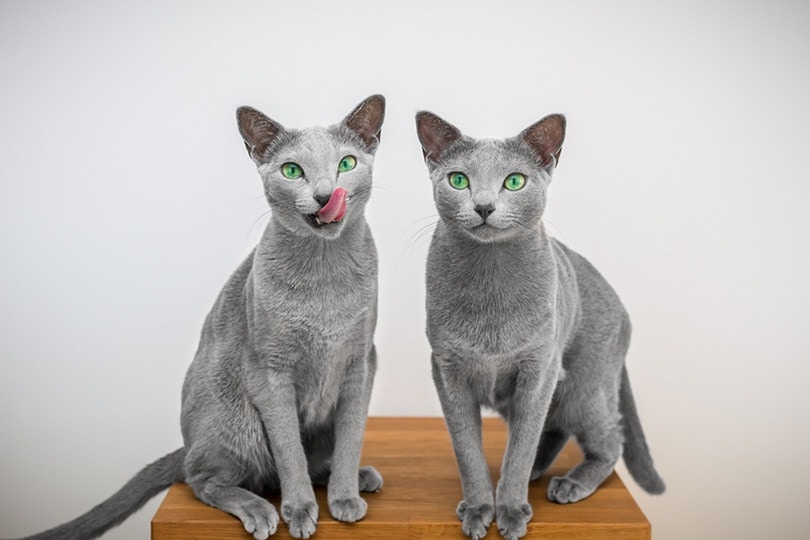 Whether it's siblings, two stray kittens you found, or two inseparable cats that you couldn't bear to split up, pet parents often find themselves with two partnered cats instead of just the one they intended to adopt.
Once you have your two feline darlings at home, you'll need to decide on the names you're going to give them. Luckily, there are tons of cat names for your beloved twin cats out there to choose from.
In this article, we'll give you our top 100+ twin cat names.
Female Cat Names that Rhyme
When you have twin female cats, you want something that speaks to their personalities, not to mention cute! Names that rhyme fit those criteria perfectly when it comes to naming adorable twin kittens. We've picked some of the cutest female cat names that rhyme. See if one of them fits your twin female cats.
Chloe & Zoe
Anisha & Tanisha
Jessa & Tessa
Lilly & Millie
Gabby & Abby
Miranda & Amanda
Tia & Dia
Madison & Addison
Hailey & Bailey
Katie & Sadie
Marcy & Darcy
Male Cat Names that Rhyme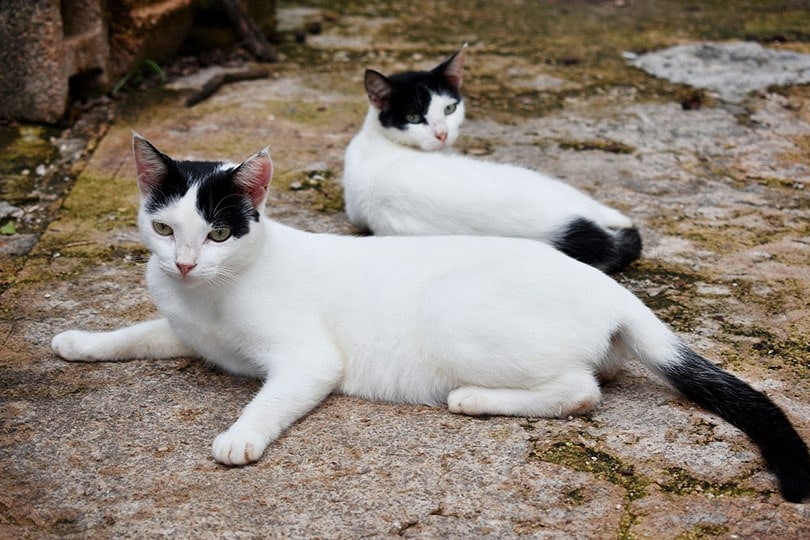 If you have twin male cats, the same concept holds and there are many male cat names out there that rhyme. If you're looking for cat names that rhyme for your male cats, we've got a few for you below. Which one works for your matching pair of male kittens?
Fuzzy & Wuzzy
Logan & Morgan
Ryan & Ian
Landon & Brandon
Phil & Bill
Wow & Bow
Blake & Jake
Brett & Rhett
Bumper & Thumper
Derrick & Eric
Torian & Dorian
Female and Male Twin Cat Names that Rhyme
For those of you, who have adopted a male and a female cat, you might think there aren't any rhyming names out there that will suit them both. Never fear! We've found a few adorable rhyming brother and sister twin cat names for you to choose from.
Carrie & Harry
Kristen & Tristian
Kate & Tate
Quinn & Finn
Nitya & Aditya
Karen & Darren
Jillian & Dylan
Sue & Blu
Ryley & Wiley
Heer & Sameer
Ruhi & Ruhan
Famous Duo Names for Twin Cats
There have been so many famous duos in the world that it's not hard to choose names for your twin cats if duo names are what you've been looking for. So, from comical to serious and from sweet to innocent, take a look at our favorite names, and see if you agree. Whether it's a couple from the Disney classics or a Harry Potter duo, we're sure there's something here you'll love.
Romeo & Juliet
Mario & Peach
Sandy & Danny
Sonny & Cher
Minnie & Mickey
Harry & Hermione
Bonnie & Clyde
Dory & Marlin
Beauty & the Beast
Vincent & Jules
Mulder & Scully
Daisy & Donald
Zeus & Aphrodite
King & Queen
Leia & Luke
Samson & Delilah
Artemis & Apollo
Hansel & Gretel
Scarlet Witch & Quicksilver
Fred & Wilma
Barney & Betty
Fred & Ginger
Tarzan & Jane
Hannibal & Clarice
Barbie & Ken
Male Twin Cat Names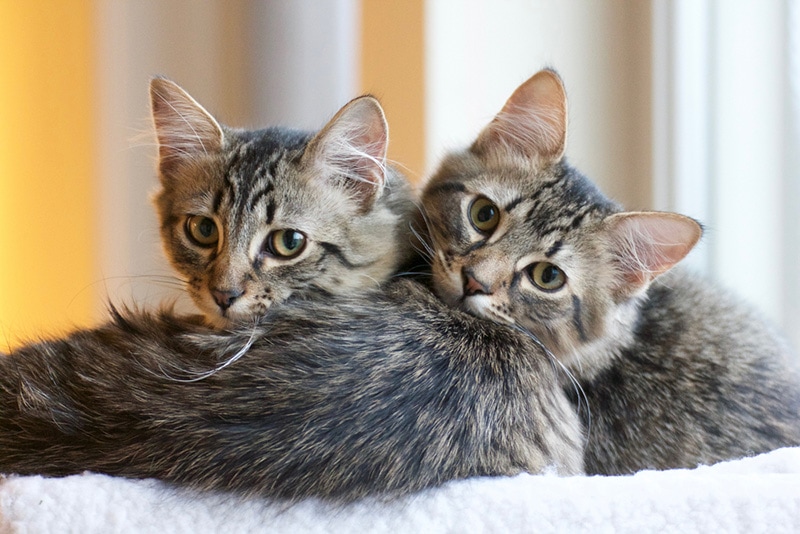 If you have twin males and don't want your cat's names to rhyme, we've found a ton of options that will work. Whether it's from books, movies, or just names that go well together, your kittens will grow up with names that suit each of them perfectly.
Mojo & Milo
Chip & Dale
Mojo & Riley
Tom & Jerry
Batman & Robin
Starsky & Hutch
Sherlock & Watson
Bert & Ernie
Itchy & Scratchy
Ren & Stimpy
Ben & Jerry
Larry & Moe
Harry & Ron
Ren & Stimpy
David & Goliath
Sam & Dean
Jekyll & Hyde
Timon & Pumba
Harry & Lloyd
Buzz & Woody
Cheech & Chong
Spock & Kirk
Mario & Luigi
Beavis & Butthead
Wayne & Garth
Marty & Doc
Fred & Barney
Shaggy & Scooby
Smoky & Bandit
Albert & Costello
Female Twin Cat Names
Of course, there's always the chance that you adopted two female cats and need names for them instead. As with our male names, there are plenty of twin female cat names to go around. So whether you're going for cute, funny, or a duo, here's a list to choose from.
Niki & Brie
Summer & Autumn
Ava & Allie
Faith & Hope
Thelma & Louise
Chloe & Sophie
Abby & Anne
Emma & Grace
Heidi & Heather
Madison & Morgan
Lisa & Lottie
Tulip & Daffodil
Daisy & Minnie
Mary Kate & Ashley
Mia & Tia
Kelly & Cocoa
Serena & Venus
Laverne & Shirley
Jules & Julie
Romy & Michelle
Rory & Lorelai
Serena & Blair
Dixie & Pixie
Betty & Wilma
Elsa & Anna
Lucy & Ethel
Willow & Buffy
Naomi & Wynonna
Emma & Ava
Rizzo and Sandy
Cute Twin Cat Names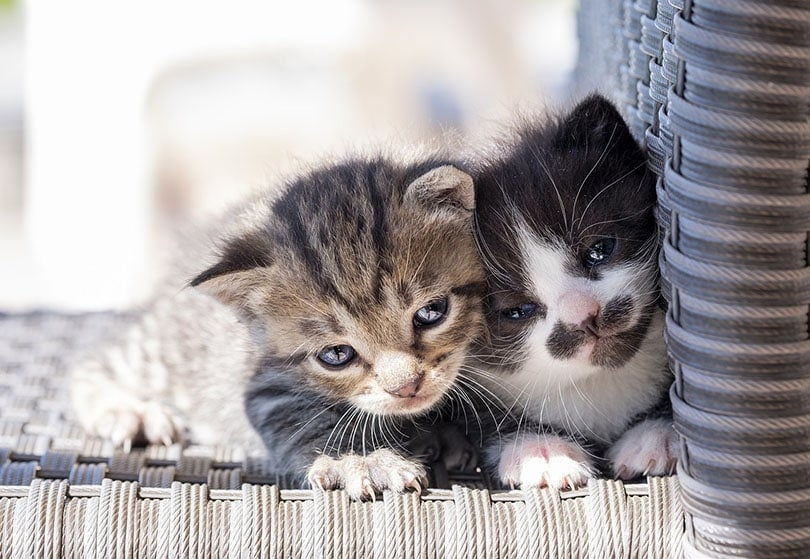 Cute cat names and twin kittens just go together, don't you think? Whether your twin cats are identical or just from the same litter, there are many cute names that will fit their furry little bodies and distinct personalities.
Salt & Pepper
Cinnamon & Sugar
Peanut Butter & Jelly
Fish & Chips
Tigger & Tiger
Navy & Blue
Stripe & Spot
Stormy & Thunder
Taz & Spaz
Tom & Cat
Pepsi & Cola
Rags & Riches
Ginger & Spice
Fluffy & Buffy
Nook & Cranny
Cain & Abel
Woodstock & Snoopy
Pooh & Tigger
Pooh & Piglet
Hall & Oates
Yogi & Boo Boo
Moon & Stars
Finding the Right Name for Your Twin Cats
Adopting a cat can be an exciting time in your life, so adopting twin cats can be even more so. When it comes to finding the right name for those little bundles of fur, the sky is the limit. Take a few days to get to know your twins before deciding on names. This way, you can get to know their personalities and dispositions. Maybe one of your twins is lazy, while the other zips through the house at all hours of the night. Maybe one twin loves to jump on your lap and sleep, while the other prefers to lie in the sun on the windowsill.
Take your time, go through our list, and we're sure the names will come to you in no time at all.
Final Thoughts
Naming your twin cats is something that you'll only do once. So, whether you go with cute, famous, or any other of the names for twin cats on our list, be sure they fit because names are forever.
See Also:
---