Where to Buy Arm & Hammer Pet Odor Eliminator in 2023 (Online & In Store)
Owning pets can be a messy business and almost all cat and dog owners experience the occasional bathroom incident from time to time. Even pets that don't use the house as their bathrooms can leave behind unpleasant odors that linger in our homes. This doesn't necessarily mean that your pets are dirty or that your hygiene is bad. It just means that there are better cleaning products out there for you to use. When you use the right products, they do a better job at eliminating some of the tougher odors that come with pet ownership.

Where Can I Buy Arm & Hammer Pet Odor Eliminator Online?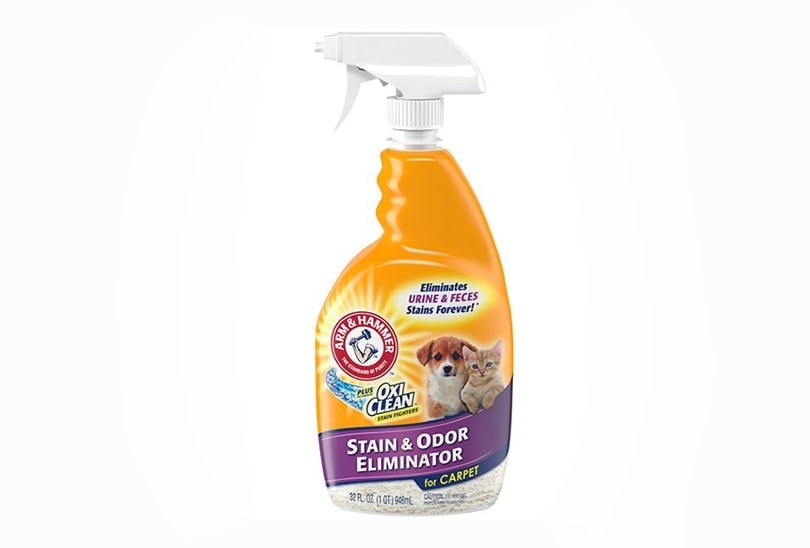 Some products are difficult to get your hands on and can be sold out for months on end. Thankfully, Arm & Hammer is such a large and trusted brand that you can buy their pet odor eliminator products at nearly any major retailer. We've found that purchasing from Chewy.com is the best because the shipping is fast, and you can save an extra 5% when you use the auto-ship feature. However, you don't have to buy it from there.
Here are a few other major retailers that sell this product:
---
Where Can I Buy Arm & Hammer Pet Odor Eliminator In Store?
If you don't like shopping online don't worry. There are plenty of retail options for you. You can easily find Arm & Hammer Pet Odor Eliminator at Petco, PetSmart, Target, and Walmart.
---
Other Top Pet Sprays
While the Arm & Hammer Pet Odor Eliminator isone of the most popular choices, we know that it doesn't have to suit everybody. That is why we present some great alternatives. Our best recommendation goes to the Hepper Bio-enzymatic Odor Eliminator, a powerful solution made to dissolve stains and odors on a molecular level, which makes this option very effective. Another good choice is the Bissell Pet Urine Eliminator, known for its 2X concentrated formula. This cleaner delivers exceptional cleaning to eliminate odors and stains easily. To give you one more option, we present the Angry Orange Bio-Enzymatic Pet Stain & Odor Eliminator Spray, which is a wonderful choice for families with kids, as this product is safe to be used around them.
You might have guessed – the Hepper Bio-enzymatic Odor Eliminator is our own product – but we love it so much we just have to share it, and hope you get to own one too!
About Arm & Hammer
While the most well-known product that comes from Arm & Hammer is its baking soda, it is a major American manufacturer of household products. Over time, the company has come out with a variety of household products like laundry detergent and toothpaste, but the one product that pet owners are usually dying to get their hands on is the Arm & Hammer Stain and Odor Eliminator.
About the Product
Arm & Hammer Odor Eliminator comes in a liquid spray form. The bottle holds 32 ounces and lasts for months, or even longer, depending on how often you use it. This formula contains both baking soda and Oxiclean's oxygenated stain fighters. It not only eliminates stains from pets but it gets rid of odors and keeps your pets from returning to that same spot again. The spray is perfect for households with puppies, kittens, or any household with multiple pets in it.
Other Odor Eliminating Products from Arm & Hammer
Sometimes a spray isn't suitable for the cleaning job you're tackling. When you have pets, a lot of their hair, dander, and dirt get rubbed deep into our carpets and can make the entire house stink. Another awesome odor-eliminating product from Arm & Hammer is the Carpet Odor Eliminator.
Instead of a liquid, this product is made into a powder and directs you to sprinkle it over your carpet and other soft surfaces in the home. After it sits for a few minutes, all you have to do is vacuum it up. The powder loosens dirt and helps lift up to 25% more dirt and hair into the vacuum. It can also absorb and eliminate odors from things like mold, mildew, and smoke.

Final Thoughts
The market is flooding with odor-eliminating products, but that doesn't mean that they can all be trusted to work. Arm & Hammer has been around since 1846 and has become one of the most trusted household brands in the world. If you haven't tried it yet, purchase these products from one of the stores listed above to see how well it works in your home.