200+ Amazing Names for Airedale Terriers: Ideas for Curly Regal Dogs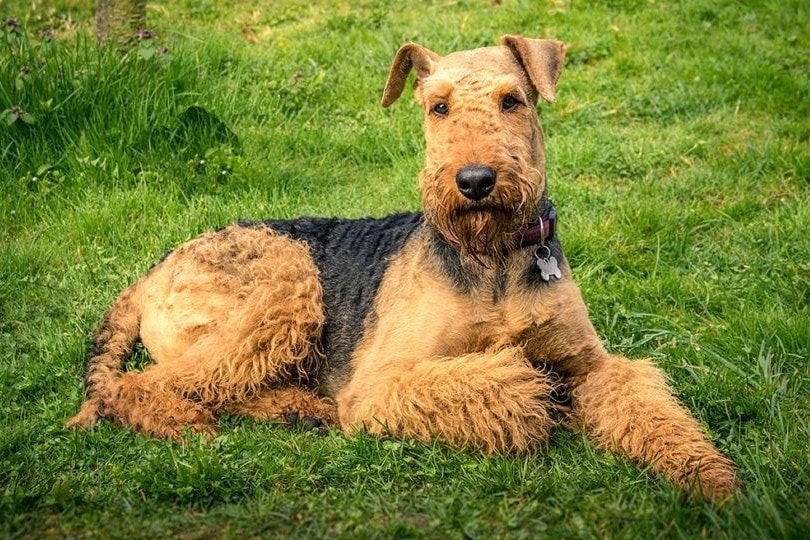 Choosing a name for a pet is a big task. The name you pick for your new Airedale Terrier needs to be perfect, but where do you start? You might want something that links back to its English roots. Or maybe you want something that encapsulates their outgoing, playful personality.
Whatever theme you're going for, we're here to help. We've gathered this list of over 200 names, all of which would be perfect for an Airedale Terrier, to make this choice easier for you!

How to Choose the Best Airedale Dog Names
This breed is sometimes known as the "King of Terriers" and is the largest of the terriers. Airedale Terriers are energetic, friendly dogs that English factory workers originally bred in the 1800s. If you're having trouble narrowing down your choices, remember there's no rush. Spend some time with your new pet before thinking about names.
Your Airedale's goofy personality might inspire you, or maybe it has a more serious, tough side you want to hint at with your name. Bonding with your dog first is the perfect place to start.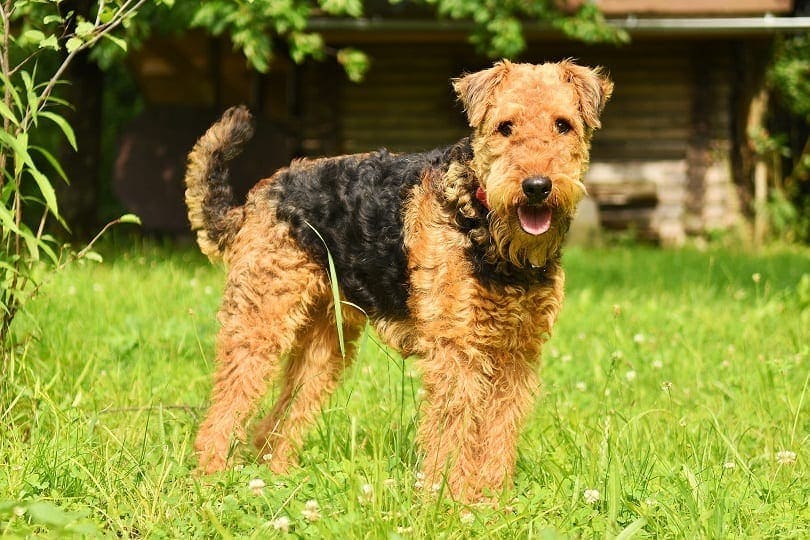 Amazing Airedale Terrier Names Based on Personality
We're not suggesting all dogs are the same, but each breed has specific traits associated with them. So, while not all of these traits will relate to your dog, we're sure you'll see something that will remind you of your intelligent, curious Terrier.
Arrow
Bizzy
Bolt
Chaos
Chase
Dancer
Dash
Fetch
Flip
Frolic
Goofy
Happy
Havoc
Jazzy
Jet
Loki
Merry
Mischief
Monkey
Pepper
Peppy
Pounce
Puck
Rocket
Rodeo
Roxy
Rush
Rusty
Scooter
Silly
Sparky
Spirit
Trick
Trouble
Tugger
Turbo
Wilder
Zip
Zipper
Zoom

English Male Airedale Terrier Names
We've separated these into male and female categories and are taking you back to the Airedale Terrier's English roots with this one. We have kings, famous literary names, and old-fashioned names that are coming back into circulation.
Albert
Alexander
Archie
Arthur
Barnett
Beardsley
Blake
Bradley
Brigham
Bromley
Cameron
Cedric
Charles
Clifford
Cromwell
Digby
Doyle
Dudley
Earl
Edgar
Edward
Elmer
Farley
Ford
Gordon
Gray
Hadley
Hamilton
Harold
Hendrick
Herbert
Humphrey
Irving
Knox
Miller
Milton
Osmond
Oswald
Reginald
Rochester
Rudyard
Sherlock
William
Winston
Woodrow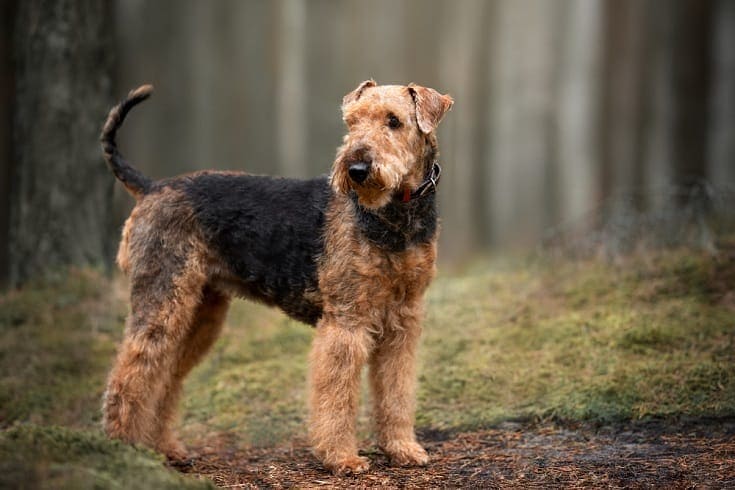 English Female Airedale Terrier Names
Next, we have the ladies' names! We have queens, English authors, and some terms that are centuries old.
Alice
Amelia
Anne
Arden
Audrey
Bertha
Birdie
Blythe
Briar
Boudica
Caroline
Charlotte
Clover
Daisy
Edith
Eloise
Eleanor
Elizabeth
Ella
Ellie
Etta
Evelyn
Faye
Georgia
Harper
Harriet
Hazel
Ivy
Jane
Juliet
Lily
Lucy
Madeline
Madison
Mae
Margaret
Marigold
Mary
Millie
Olive
Scarlett
Victoria
Willow
Winnie
Wren

Tough Airedale Terrier Names
The Airedale Terrier is an excellent watchdog, and while they don't start fights, they will finish them. They fiercely protect their families and will save you from intruders if anyone dares enter your house uninvited. So, we thought a tough name was fitting for this brave soul.
Ajax
Axel
Bale
Bandit
Bane
Bang
Bear
Bones
Boss
Bruno
Captain
Chopper
Cleopatra
Court
Creed
Darth
Demon
Duchess
Duke
Dutch
East
Hades
Hannibal
Hercules
Hulk
Jaws
Jax
King
Mack
Major
Medusa
Nails
Nitro
Orion
Pepper
Queen
Rambo
Reaper
Rocky
Rogue
Roxie
Scar
Snake
Steel
Storm
Tank
Titan
Venus
Vinnie
Xena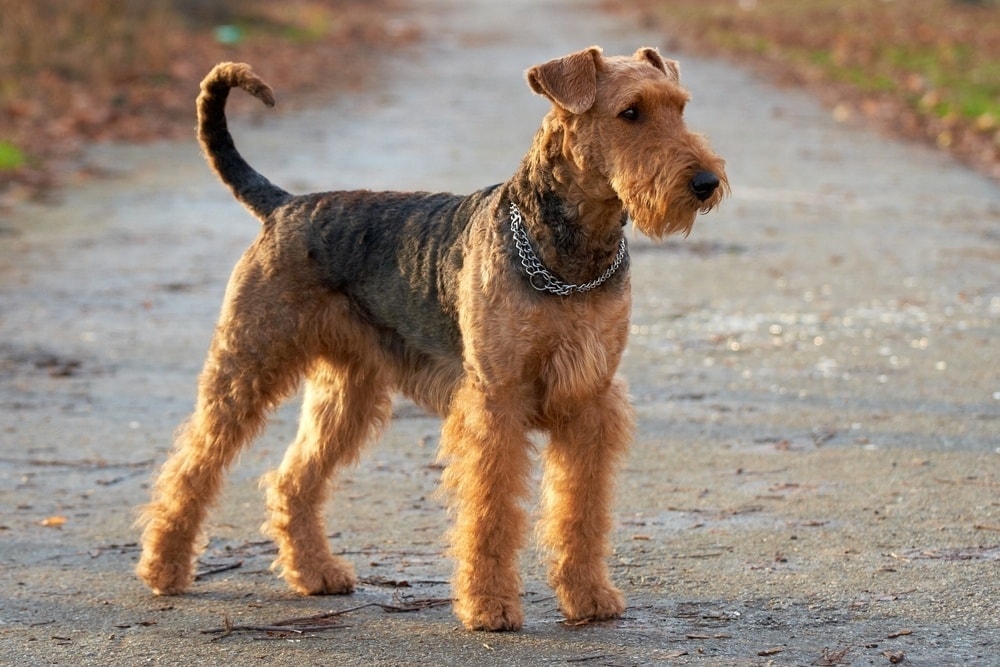 Goofy Airedale Terrier Names
Airedale Terriers might be tough, but they also have a goofy, playful side. We thought these fun names really captured the silly side of the Airedale.
Bark Twain
Beans
Bill Furry
Butterball
Chew Barka
Cookie Monster
Doodle
Elmo
Ewok
Gonzo
Jimmy Chew
Lady Rover
Little Bow Wow
Lunchbox
Mary Puppins
McGruff
Porkchop
Princess of Barkness
Santa Paws
Sarah Jessica Barker
Sherlock Bones
Taco
Muttilda
50 Scent

Final Thoughts
Finding the perfect name can be a daunting experience—there are just so many names to choose from! But we hope this list has been helpful and inspiring. It's easy to fall back on those familiar names like Max and Spot, but there are so many other names out there. So, whether you go for the regal name like Elizabeth or the goofy one like Jimmy Chew, we're sure your Airedale Terrier will love what you've picked.
---
Featured Image Credit: Lumia Studio, Shutterstock