10 Best Cats for Seniors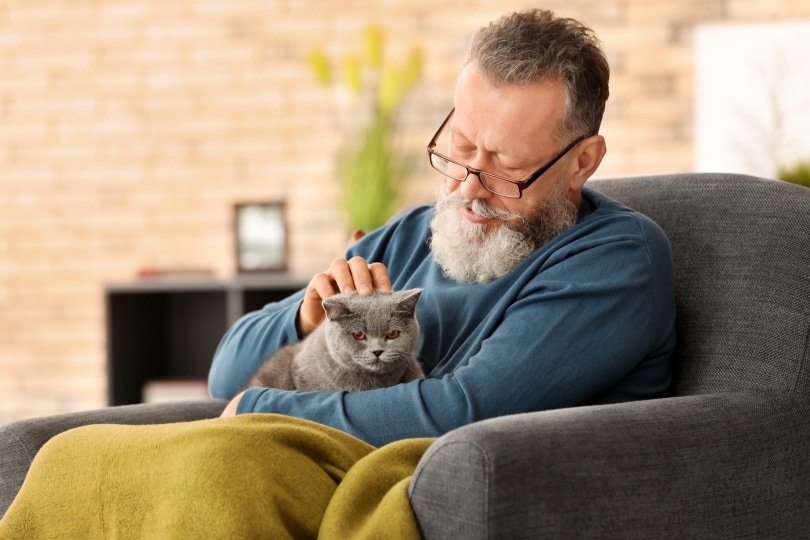 Senior citizens may look for a pet cat to have a feline companion. Cats are a good choice for seniors due to their relatively low-maintenance needs. Some breeds are more energetic and mischievous, however, and may not be the best choice for a relaxed senior household.
Calm, loyal cats that are happy to lay on an owner's lap and sleep throughout the day are a great choice for seniors. Cat breeds that get along with cats, dogs, and children are also a good choice, especially for grandparents who often babysit the grandkids.
Check out our 10 best breeds of cats for seniors, based on traits like temperament, loyalty, energy level, and sociability. Each person and cat is an individual and what suits one may not suit another.  So take into account personality and lifestyle and look for a good match.
The 10 Best Cats for Seniors:
1.

Ragdoll Cat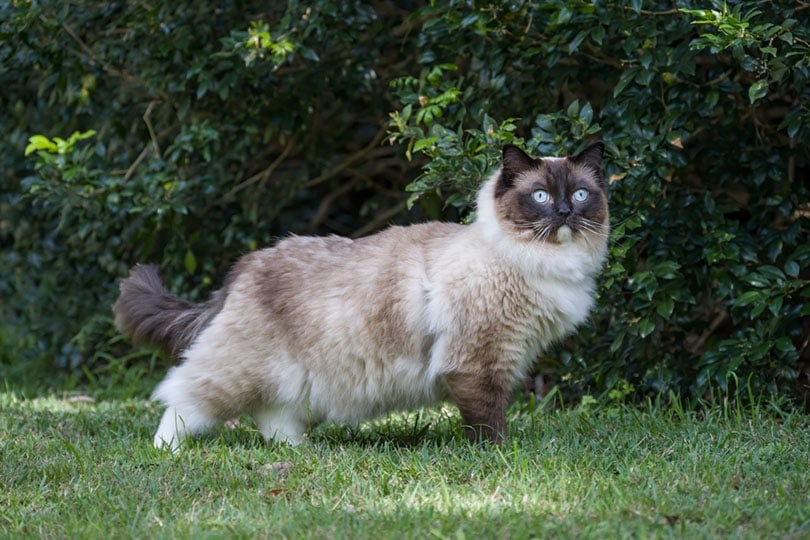 | | |
| --- | --- |
| Care | Easy |
| Activity | Moderate |
| Temperament | Calm, affectionate |
The Ragdoll is a good choice for seniors because of its laid-back personality. Known for being friendly, the Ragdoll typically gets along with other cats, dogs, new people, and children, which is perfect for grandparents who babysit the grandkids on occasion. It has a semi-long coat of silky hair that requires daily brushing to avoid knotting, but is otherwise low maintenance. These cats are on the larger side and may require more space or larger litter boxes and furniture than other cats.
Laid-back
Sociable
Gentle
Larger than common house cats
Daily brushing
---
2.

Birman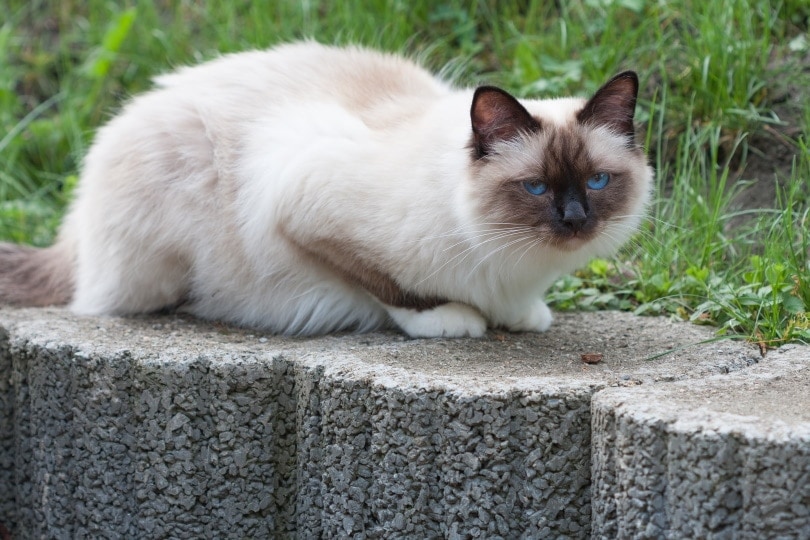 | | |
| --- | --- |
| Care | Easy |
| Activity | Moderate |
| Temperament | Loving, gentle |
Known as the "Sacred Cat of Burma," the Birman is a long-haired, color-pointed cat with a long, silky coat, striking blue eyes, and white "gloves" on each paw. They're large, heavy-boned cats, but they tend to be very gentle. Birman's love being around other people, cats, and dogs, but they tend to form close bonds with one person, making them a great choice for a senior or retiree who lives alone and wants a companion.
Larger than common house cats
Daily brushing
---
3.

Russian Blue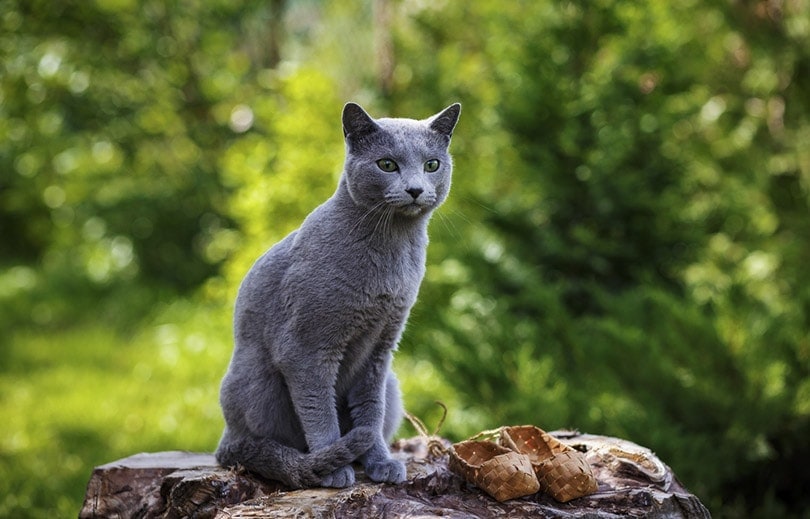 | | |
| --- | --- |
| Care | Easy |
| Activity | Low to moderate |
| Temperament | Quiet, loving |
The Russian Blue is a popular natural Russian breed that's known for its sweet temper, intelligence and loyalty. Russian Blue cats can be a bit more aloof than other breeds and are great for senior households with low activity. Though not especially active, the Russian Blue can get along well with other cats, dogs, and children but prefers to be close to its one human companion. They can be shy with strangers but form close bonds and are said to be intune with their guardians emotions.
---
4.

Persian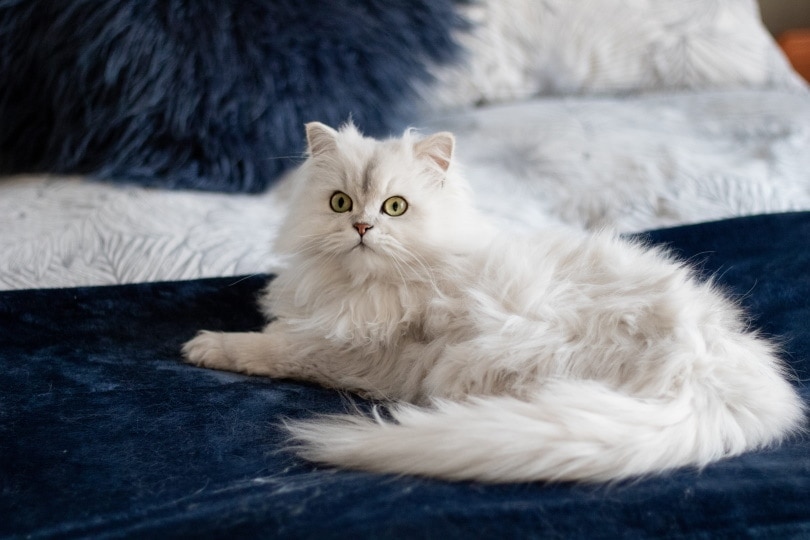 | | |
| --- | --- |
| Care | Moderate |
| Activity | Low |
| Temperament | Sweet, gentle |
One of the oldest cat breeds, the Persian is a sweet, gentle, and affectionate cat that forms a strong bond with its human companion. Persians have characteristic round faces with a short muzzle and a long, silky coat that requires daily grooming. While the Persian cat can get along with people, cats, and dogs, it's not ideal for households with rambunctious young children. They can be prone to health problems and may require more veterinary care as they age. Look for a cat with a slightly longer nose to reduce breathing and other difficulties.
Not suitable for young children
Health care
---
5.

British Shorthair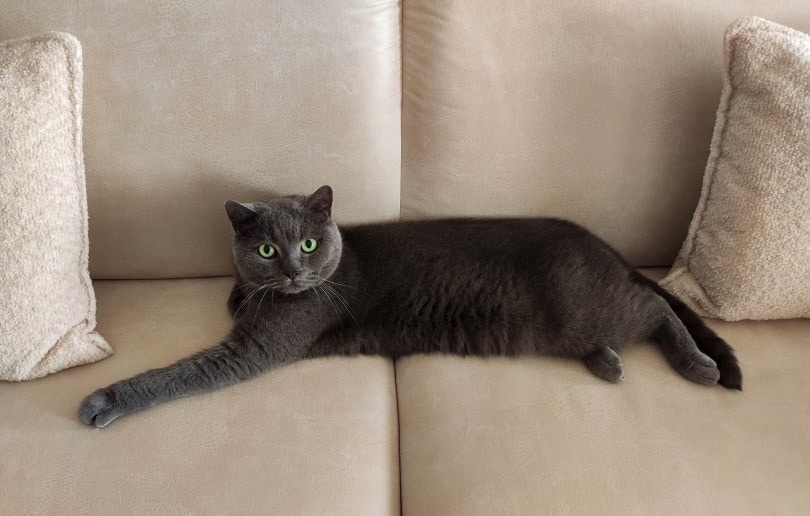 | | |
| --- | --- |
| Care | Easy |
| Activity | Low |
| Temperament | Playful, good-natured |
The British Shorthair breed is a pedigreed version of the British Domestic breed and a common household pet breed. British Shorthairs are good-natured and tend to be playful as kittens but mellow out as they age. This is a good choice for seniors due to its independence and laid-back personality—British Shorthairs are happy to amuse themselves and sleep throughout the day and night.
Sweet
Independent
Relaxed
---
6.

Snowshoe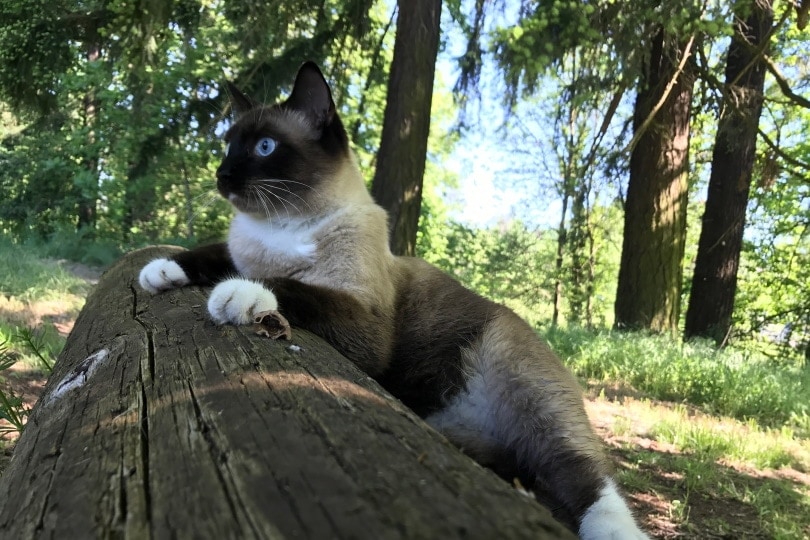 | | |
| --- | --- |
| Care | Easy |
| Activity | Moderate |
| Temperament | Sweet, loyal |
The Snowshoe is a sweet-tempered and intelligent cat that gets along with people and other pets. The Snowshoe was first produced in Philadelphia from Siamese parents. The breeders created three kittens with characteristic Siamese markings and white "gloves" on their paws, leading to the name. Snowshoes share many traits with Siamese cats, but they're not quite as vocal.
Friendly
Loyal
Intelligent
---
7.

  Balinese
| | |
| --- | --- |
| Care | Easy |
| Activity | Moderate |
| Temperament | Intelligent, playful |
The Balinese cat is an intelligent, friendly, and playful cat with striking looks. They have Siamese-style colors and bright sapphire eyes. Unlike more independent breeds, Balinese cats enjoy spending time with people and love attention, so they're a good choice for people who are home often.
Loves attention
Intelligent
Friendly
Dependent
May be too lively for some
---
8.

  Bombay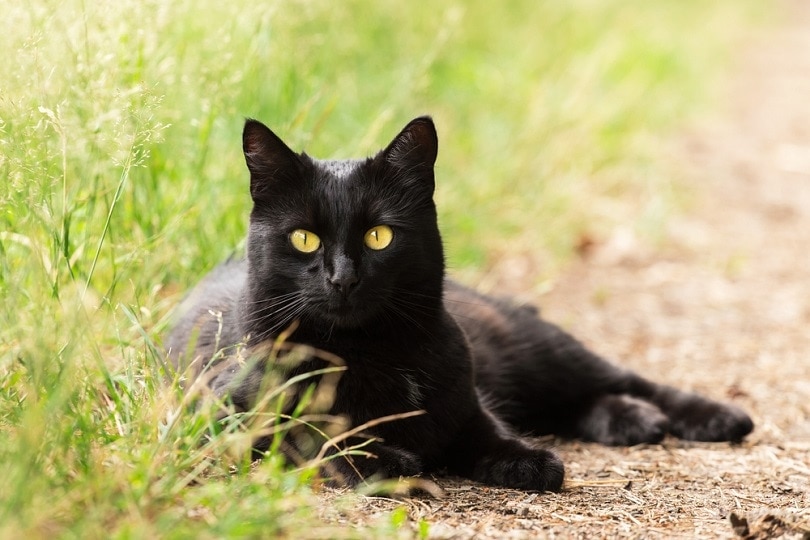 | | |
| --- | --- |
| Care | Easy |
| Activity | Moderate |
| Temperament | Friendly, intelligent |
The Bombay descended from American Shorthairs and the Burmese breed, giving it a good combination of size and temperament. These cats are medium-sized, friendly, alert, and sociable. Because of its agility and strength, the Bombay cat does well with a variety of climbing furniture and jumping platforms for exercise. Otherwise, a Bombay is happy to relax on its own and has low-maintenance grooming needs.
---
9.

  Havana Brown
| | |
| --- | --- |
| Care | Easy |
| Activity | Moderate |
| Temperament | Sociable, affectionate |
The Havana Brown breed is a relative of the Siamese breed and an affectionate, people-oriented cat. They're highly vocal and happy to lounge in their owner's lap and chatter in a low voice, perfect for senior owners. These cats also have short coats that are easy to groom and maintain.
Affectionate
Sociable
Talkative
---
10.

Ragamuffin
| | |
| --- | --- |
| Care | Easy |
| Activity | Moderate |
| Temperament | Sociable, affectionate |
The Ragamuffin is a large cat weighing between 10-15 pounds and known for its friendly personality and thick soft coat. They are very sociable and like a lot of attention.  They are generally placid and can tolerate livelier households with grandkids visiting and other pets.  The plush coat needs weekly grooming to prevent knots and as with all cats they do shed.  They like to play with toys and so will enjoy interactive play.
Things to Consider with Cats for Seniors
Cats are excellent pets for seniors or retirees. They're low maintenance compared to dogs and require less attention. Cats will often find ways to amuse themselves, especially if they have a variety of cat toys and furniture.
Some cat breeds are energetic and can be destructive if they don't get attention. Most seniors would prefer a mellow cat that's happy to relax on their lap or spend time playing independently however, some people are happy to spend time playing and grooming. So choose a cat that fits your personality.
Many purebred cat breeds are more susceptible to inherited health problems such as polycystic kidney disease.  Look into the health of your future pet and consider health insurance to help with veterinary costs.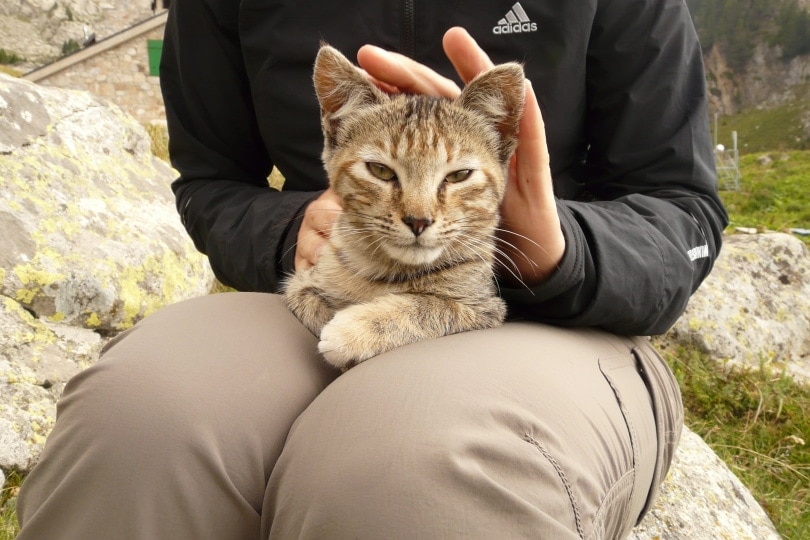 If the senior is a grandparent with young grandchildren, it's essential to choose a cat breed that's tolerant and comfortable around rambunctious children. Be sure to look for breeders with kittens raised around children or look for rescue cats that are confirmed to be good with children of all ages.
It's also important to consider the cat's grooming needs. Cats will groom themselves, but long-haired breeds may need regular grooming to prevent tangles and matting that can be painful. Be sure to choose a shorthaired cat if regular grooming will be difficult.
Along with choosing the right breed for a senior, it may be best to look for older cats in rescues or shelters. Kittens of any breed can be high energy and are often active at night, which may disrupt a senior's sleep schedule. Older cats tend to be past this boisterous stage of their lives but may need more medical care.
Conclusion
We hope that this list helps you or your senior friend find a suitable feline companion. As you can see from this article, there are plenty of cats that would be purrfect. These cats are not only beautiful but generally have calm, easy-going temperaments.
---
Featured Image Credit: Africa Studio, Shutterstock