11 Best Designer Dog Carrier Bags & Purses (Brand Reviews 2023)

If you want to give your pampered pooch a lavish life, you might be searching for designer bags. Fido wants nothing more than to be pruned and preened, getting prepped for a trip out on the town. What better way to do it than in style?
Many companies have caught on to the love humans have for their pets. Now, you have many top-notch brands offering classy doggy carriers and purses for everyday wear and travel. If you're willing to foot the potentially costly bill, your pup can be the cherry on top of a terrific tote bag. Here are our top 11 designer dog carrier bags and purses to tow your little one around in.

The 11 Best Designer Dog Carrier Bags & Purses
1.

Gucci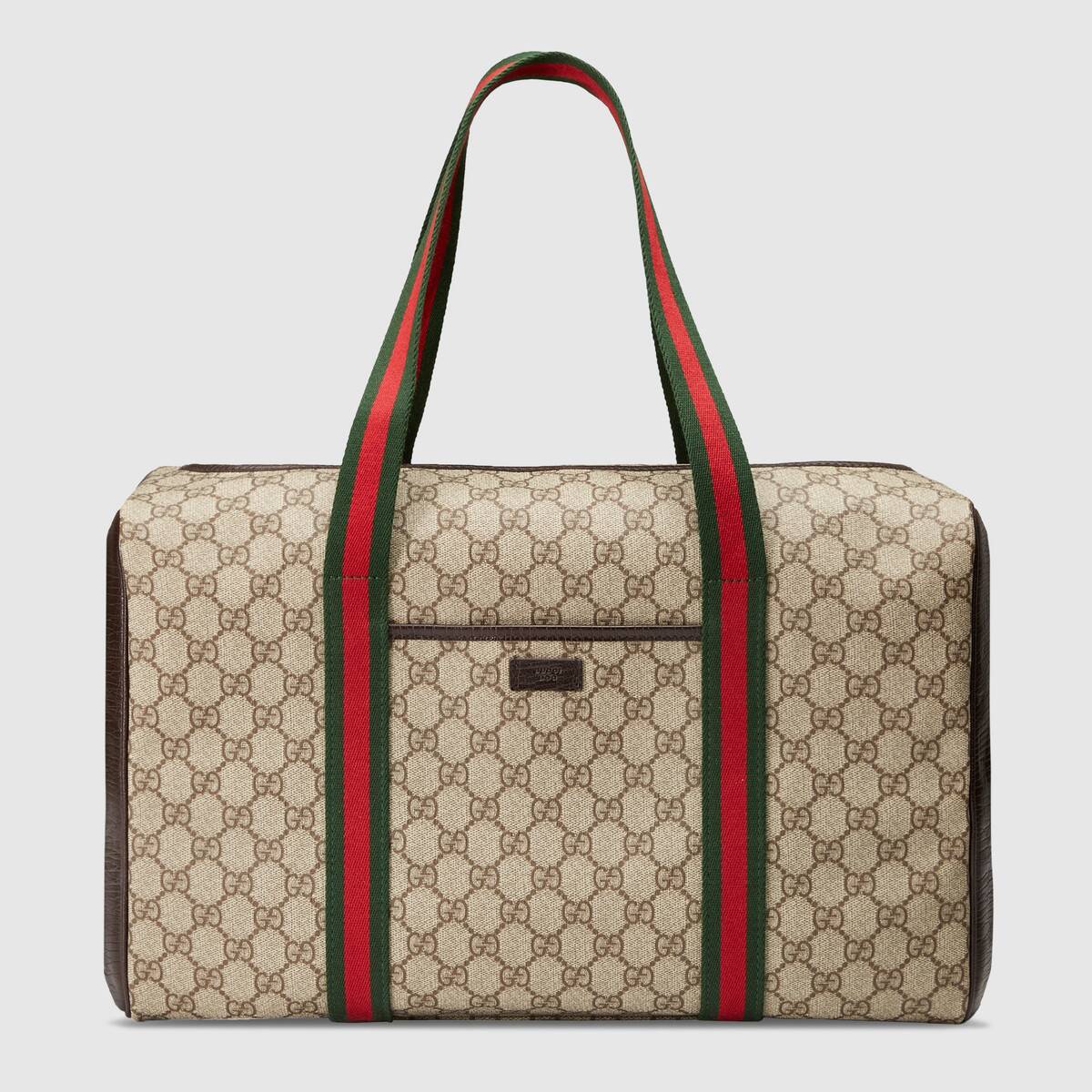 When you think of Gucci, you think of one of the world's leading fashion companies. Don't that think Gucci would leave your dog out of the equation in their products. This company produces incredibly well-crafted merchandise—and you'll pay a pretty penny for it.
Gucci offers clothing, bag, and accessory options for all genders and styles. They try to be a fairly innovative company and they know how much their customer base loves their dogs.
If you want to check out Gucci's spin on dog carriers, you can check one out here.
---
2.

Louis Vuitton
Louis Vuitton, or LV, is a luxury goods company that was founded by Louis Vuitton in 1894. This company has quite the reputation for luxury bags. They don't just stop at humans, they have our pets in mind, too.
Louis Vuitton is known for its carefully crafted bags that hold integrity over time. The stitching, materials, and structure of these products are of top quality. They cater to all sorts of accessories for women and men alike.
This brand offers a few mentionable dog carriers, most of which are compatible with common airlines. The dog carriers hold the same style as their other signature bags, so the branding is unmistakable. You can find a sample of what they offer here.
---
3.

Fable Pet
Fable Pet is a company whose mission is to provide the best resource possible for pet parents. Not only do they offer designer, durable carriers for pets—they also have tons of other useful products to choose from.
Fable Pet has a unique design, keeping a minimalist approach with Scandanavian influence. The manufacturers use Italian leather for leashes, harnesses, and even their tote bags.
These products are terrific options for people who like to keep it both simple and functional. You can find an extremely durable and classy carrier here.
---
4.

Tucker Murphy
Tucker Murphy is a pet line that distributes to many major companies like Wayfair and Joss & Main. The company has built a reputation for creating stylish and helpful products to serve all pet parents.
In addition to well-constructed dog carriers and purses, they offer pet beds, crates—and they offer a wide selection of products for other household pets, too. So, if you're shopping for more than one species, take a look at what they have to offer.
While Tucker Murphy merchandise can be a little expensive sometimes, quality is worth it. Check out their dog carrier collection on Wayfair here.
---
5.

Louisdog
Louisdog is a company completely devoted to your four-legged companion. They have provided a series of pet products for pooches since 2001.
Louisdog produces lines that use extremely chic material that provides subtle color and contrast. It's a very nice spin on modern fashion, keeping things delicate but eye-catching. These products almost have a shabby chic or bohemian feel.
You could describe Louisdog best saying they provide elegant, fashionable options for necessary canine items. You can take a look at their carrier bags here.
---
6.

Wooflink
Wooflink has built a reputation for creating quality pet clothing. This brand has kept up with the best of them, continually catering to their customer base.
They've expanded their inventory branching from clothes to collars, leashes, bedding, and accessories. They even go as far as adding picnic and dining gear for dogs. You can find seasonal clothing lines to keep your pup looking festive.
You'll find a few cute selections for dog carriers and purses here.
---
7.

Petote
Petote is a brand built by Janet lee Mandell in 2001, who was passionate about fashion and pets alike. She made the company's mission about serving all your pet carrying needs.
They have everything from airline carriers to fashionable handbags. You can choose from a wide selection of style choices to match your own wardrobe.
If you start shopping, you might have to look at everything on the site before you decide. You can browse their inventory here.
---
8.

Maxbone
Maxbone creates appeal for the modern pet owner, offering many innovative products to their customers. The company's entire basis is to serve both function and visual appeal throughout its brand.
Maxbone takes care of pet needs for nutrition, clothing, and pet restraints. They promote products with your pet's safety in mind—each item is carefully constructed.
They have two sleek pet carriers to choose from on their main site.
---
9.

Sherpa Pet
Sherpa Pet takes the path less traveled, marketing specifically to traveling customers. Each of their products was designed with flying in mind—from protective gear to carry-ons. Sherpa is paired with another larger company called Worldwise, supplying to several top brands.
Sherpa products are carefully designed to meet certain safety regulations. All passenger pet owners know how picky airlines can be sometimes. Sherpa does their best to offer goods that make the flight experience less taxing.
You can check out some nifty Sherpa Pet products here.
---
10.

Hello Doggie
Hello Doggie diamond in the rough, offering a broad selection of tasteful pet products that style up your pooch. All of their items have been handmade in Davie, Florida since 2007. They aim to produce quality items all pet lovers can use.
Hello Doggie is definitely very soft and sequenced in its design output. They rank in canine comfort, creating well-designed beds, carriers, clothing, and other accessories. Their hair bows for female dogs are adorable, too.
If you want to check out their selection of elegant pet carriers, look here.
---
11.

Wild One
Wild One has tons of useful, practical products that owners need every day. It's the kind of company that believes everything is better in bundles. You can get tons of cool supplies that come together so you save a few bucks.
Wild One is all about movement. They make tons of tools to help leash training, daily walks, and travel through simplistic designs. The idea is to keep the bells and whistles to a minimum and focus on function instead.
You can take a look at one of their airline carriers here.

Round-Up of Designer Dog Bags & Purses
Each one of the companies we talked about has different styles, sizes, functions, and colors for luxury dog carriers. You can buy in terms of functionality, fashion design, or a combination of the two. Picking the best designer brand truly comes down to personal preference.
You might have a certain company that you love or one that's a little more budget-friendly. No matter your motive, hopefully, you have found a few useful brands to buy from in the future—even if you don't need them quite yet.
---
Featured image credit: Studio4dich, Shutterstock