9 Best Dog Foods for Dry Skin & Coat Health in 2023 – Reviews & Guide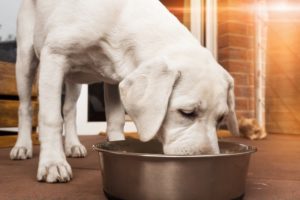 One aspect of a dog's health that is often overlooked is the health of its skin and coat of fur. It is important to make sure that regular vet visits are scheduled and that you regularly brush your dog. While doing both can go a long way in keeping your canine companion healthy, their diet is also important. In these reviews, we'll go over the best foods for dogs with dry skin. Dry skin can make a dog itchy and uncomfortable, and while we are no substitute for veterinary services, we have done our research and are happy to offer this guide as a resource so your dog can get some relief.

A Quick Look at our Favorites (updated in 2023)
Rating
Image
Product
Details

Best Overall

Ollie Fresh Chicken Dog Food

Packed with nutrients and high-quality protein
No unnecessary fillers
Fresh dog food provides hydration
Click to Save 50%

Best Value

Royal Canin

Great for dry skin
Dogs love the taste
Good for oral health
Check Price

Purina Pro Plan

Vet approved
Several recipes
Great for skin
fur
and digestion
Check Price

AvoDerm

Can be used for all ages
Great food to start puppies on
Made with California avocados
Check Price

Hill's Science

Good for skin
No artificial colors
Made with probiotics
Check Price
The 9 Best Dog Foods for Dry Skin
1.

Ollie Fresh Chicken Dog Food Subscription – Best Overall
Ollie's Fresh Chicken Dog Food is our top choice for dogs with dry skin because it offers excellent hydration. This company impressed us by offering dog food that is made with no fillers or artificial stuff; their ingredients come straight from nature. Being a premium fresh dog food company, they know how to find the best food for dogs everywhere while placing a high standard on skin and coat health. Every ingredient has some healthy or advantageous effect.
The recipe itself is packed with all sorts of goodies. It starts with high-quality fresh chicken to make sure your dog is getting enough protein. Add in the carrots, rice, spinach, and chia seeds, and your dog is truly feasting! Omega fatty acids further the process by fortifying your buddy's fur. To top it off, there are no unnecessary fillers like wheat or corn, or artificial colors.
Many buyers who have dogs with chronic issues with dry skin report that this food has been a blessing. Dogs with a tendency to scratch seem more comfortable upon switching to this food, with scratching stopping altogether in many cases. Not only is there a noticeable difference in the way pets act, but they look different as well — their fur becomes thicker and shinier.
The only issue with this product is that it is a bit more expensive and requires a subscription. But all in all, we think this is the best dog food for dogs with dry skin and coat health this year.
Dogs noticeably scratch less and have shinier, healthier-looking fur
Packed with nutrients for better skin, coat, and overall health
No unnecessary fillers
Made with fresh high-quality chicken
Fresh dog food provides hydration
Somewhat pricey
Requires a subscription
---
2.

Royal Canin Sensitive Skin Dog Food – Best Value
Royal Canin has made a food geared specifically toward the health of a dog's fur and skin, though it has other goodies in there as well. This is a wonderful food for overall health.
The ingredients are loaded with fur-fortifying goodness, all while helping to promote natural oils being spread across your dog's body. Made with omega-3 fatty acids, this food reinforces the skin barrier of your dog, which can lead to less itching. The amino acids will also help their fur be shinier than ever.
This food also has DHA, which is wonderful for mental development. The kibbles are specifically made small to help with oral health, and the highly digestible protein promotes good digestive help. With 50 years of research under their belt, it's no wonder that Royal Canin has this down to a science.
Buyers report that this food greatly reduces scratching and most of the time eliminates it. The other perk is that dogs seem to love the taste!
Royal Canin does recommend that you add or switch to wet food now and then, which is the only thumbs-down for this product, as we would prefer it be an all-in-one deal. Even so, we think that this is the best dog food for dry skin and coat health for the money.
Great for dry skin
Good for oral health and digestive health
Dogs love the taste
Should be supplemented with wet food now and then
---
3.

Purina Pro Sensitive Skin Dog Food
Purina is one of the best-known names when it comes to dog food, so it is no surprise that they pop up on our list. They also seem to have several recipes to choose from. If your dog doesn't like lamb, no problem! Just get a bag of chicken instead. They also have options for dogs with specific protein allergies.
As it relates to skincare, this food is made with omega-6 fatty acids and zinc. These ingredients help nourish your dog's skin and promote the healthy growth of fur. Your dog will be looking pristine with their shiny coat and wagging tail.
It doesn't stop there; while this is a good food for dogs with sensitive skin, it is also a good food for dogs with sensitive stomachs. Made with prebiotics, Purina has an eye toward overall health, so your hungry hound will be looking and feel great.
Buyers of this food and even vets are full of good things to say about it. It is the most effective for dogs with sensitive skin. Common reports are that dogs are healthier and happier after switching to Purina.
Unfortunately, a few buyers have reported that this item has been delivered with bugs in it.
Great for skin, fur, and digestion
Several recipes
Vet approved
---
4.

AvoDerm Natural Dry & Wet Dog Food – Best for Puppies
Based on the company name, you might not be surprised to hear that this food is packed with a certain superfood: avocados. Loaded with these omegas from California, this recipe was made with young pups in mind. A great way for a dog to have a nice long healthy life is to start them on the right track with their diet.
This food is all nutrition. You won't find any fillers in this product made by AvoDerm. The recipe leaves out notable fillers such as wheat, corn, and soy, and it is also grain free, so dogs with irritable bellies should find this food to their liking as well.
While this is a great food for a puppy, it is also great for adult dogs! You can start your dog on this diet by being confident that they will never grow out of it, and they'll look good too. This is one of the best dog foods for a shiny coat out there.
Most who switched to this dog food to help alleviate their dog's issues with sensitive or dry skin have nothing but good things to say. From less scratching to a shiny coat, this food can either get your pup on the path to great skin health or help out your older dog who has been scratching for too long.
Some buyers have said that this product only works for so long when it comes to helping with scratching, while others have reported that it has made the problem worse. These are rare instances, however.
Made with California avocados
Great food to start puppies on
Can be used for all ages
Makes skin irritation worse in some cases
---
5.

Hill's Science Diet Dry Dog Food
This food was designed for dogs who are sensitive in general. Hill's has come up with a recipe that will leave your dog healthy inside and out.
Made with probiotics, this food promotes great digestive health. The kibbles are small to aid in absorption and digestion. They are also loaded with nutrients that help support a balanced microbiome in your dog's gut.
Of course, it is wonderful for skin health too. The recipe includes vitamin E and omega 6 fatty acids, which promote moisturized skin and a full, thick healthy coat of fur.
Folks who have switched their dogs to this food report marked improvement in terms of less scratching and more solid stool.
However, other buyers have reported the opposite reaction. Some dogs are allergic to this food, which can cause runny eliminations and even scratchier skin.
Good for the skin and stomach
No artificial colors
Some dogs have an allergic reaction
---
6.

Blue Buffalo Formula Dry Dog Food
Blue Buffalo offers a recipe that is good for your dog's skin and taste buds! This recipe is made with all-natural real meat and tons of veggies. It's always a win-win when food is not only delicious but also healthy!
The primary ingredient here is protein, though it is supported by a variety of grains, veggies, and fruits. This is a great food for adult dogs because it is packed with carbs to help your dog maintain a high level of energy. The omega-3 and 6 fatty acids promote healthy skin and a wonderfully shiny coat of fur.
This is also a great food for your dog to grow with. Made with a whole list of antioxidants, vitamins, and minerals, this recipe will boost the canine immune system, making for a healthy and happy pup. There are no by-products in this food and no fillers such as wheat, corn, or soy.
Several buyers frustrated with past dietary attempts have found that switching to Blue Buffalo has been wonderful for their pets. In most cases, dogs with sensitive skin stopped itching soon after eating this food.
Other buyers have had the opposite rare experience, where their dog becomes ill with this food. There have also been reports that bugs have been found in bags of Blue Buffalo.
Packed with carbs for energy
Omega 3 and 6 fatty acids promote good skin and coat health
Some dogs get sick
Bugs in bag
---
7.

Royal Canin Dry Dog Food
Showing up for the second time on our list, Royal Canin proves that it has a good idea of what it's doing. This specific product is made for smaller dogs, and while it is not advertised as food for dogs with skin issues, the recipe has ingredients that are great for dogs with sensitive skin. Featuring two specific fatty acids, EPA and DHA, this recipe will help your little furball look shiny and healthy and stop scratching. This food is meant for dogs who are between 9 and 22 pounds.
The kibble is small for smaller jaws, but that also helps digestion, which in turn, leads to good digestive health. This food also promotes high energy levels, as it is made with L-carnitine.
Buyers have reported that even the pickiest of dogs seem to enjoy this food and have healthy, shiny coats to show for it.
Other buyers have reported that this has caused serious stomach issues in their pets.
Great for small dogs
L-carnitine keeps energy levels up
Only meant for small dogs
Makes some dogs ill
---
8.

Diamond Naturals Skin & Coat Dry Dog Food
Diamond Naturals is a family-owned business that has the ideal recipe for your dog if they have sensitive skin. This food is meant to be one that your dog can grow with, and is made with lean proteins and high-quality amino acids. This promotes not only good skin health but also lean muscles.
Made with essential hypoallergenic ingredients, this recipe is jammed with vitamins, superfoods, and antioxidants. Diamond Naturals went out of its way to create a recipe that is not only good for the skin and fur but is also highly digestible and species-specific. There are no fillers in this food, such as corn, wheat, or soy, and it has zero artificial colors.
While buyers report that this isn't exactly the best-smelling food, if your dog likes it, you're in luck. Most who switch to this report that dogs with severe skin problems find relief. On the other hand, if your dog does not have skin issues, this is not the food for them, as it could create them.
No fillers
Family-owned company
Highly digestible
Smells bad
Can cause skin issues in dogs without any
---
9.

Iams Proactive Health Adult Dry Dog Food
Iams is another well-known name in the pet food industry. This product is made with real protein, and your dog will love either the beef or lamb option.
First and foremost, this food promotes good skin and fur health, but it does so much more than that. The fatty acids in this recipe are sure to have your dog scratch-free and shiny, but other aspects of this food are enticing as well. The L-carnitine helps your dog maintain a good metabolism, while the prebiotics and fiber promote good gut health.
While this is good food for dry skin, it is also great for sensitive stomachs. Buyers have reported that even dogs with the most sensitive of tummies can eat this without any issue.
Before you feed this to your pup, make sure to check the seal on the bag. Other buyers have reported that this item sometimes arrives at their home with a broken seal and moldy food, which can make your dog sick.
Prebiotics, fiber, and L-carnitine: good for gut health
Fatty acids: good for skin and fur
Makes some dogs sick
Moldy upon arrival

Buyers Guide: Choosing the Best Dog Food for Dry Skin and Coat Health
If you have a dog with dry or sensitive skin, their diet can go a long way toward improving the situation. The trick is that you need to know what to look for. While some recipes are designed for dogs with dry or sensitive skin, you may find others that can work just as well and are not necessarily specific to that issue.
Fatty Acids
These are what you want to look for when buying food for your dog to help promote good skin and fur health. Fatty omega acids reinforce natural oils, which is great for your dog's skin and fur.
Up to You
While changing your dog's diet can help with their comfort and health, you will need to make sure to regularly groom them! Regular bushings are good for spreading natural oils, and baths keep that mane shiny. Make sure to also shop for a shampoo that will not dry out your dog's skin.
Talk to Your Vet
While we are happy to offer this guide as a resource, nothing beats the knowledge of your vet. Before making any changes in your pup's diet, consult them first.
Final Verdict
With so many options on the market, it can be hard to narrow it down. This list of reviews features all different kinds of foods with all sorts of health benefits, from the best dog food for itchy skin to the best dog food for a shiny coat. You can't go wrong with our top pick from Ollie, but you might also be intrigued by the overall value of Royal Canin. Whatever you choose, we hope it results in a wagging tail from your dog!