10 Best Dog Subscription Boxes of 2023 – Top Picks & Reviews

You love to see your dog happy, but shopping for your pooch can be a chore. It sometimes seems like all the toys and treats are the same — and you'd hate for your best friend to get bored.
Then again, maybe you're too busy to find fun things for your dog as often as you'd like. It's hard enough remembering to buy food, let alone treats, toys, or accessories.
That's where a good subscription box can come in. These services will send you a box of goodies for your dog every month. Some include treats, others have toys, and still others offer a combination of both — or something else entirely.
Before you sign up for a recurring subscription, though, it'd be nice to know that you'll be getting quality items in return. In the reviews below, we'll take a good look at some of the most popular subscription boxes out there today.
Who knows? Maybe it'll be enough to make your dog actually look forward to seeing the mailman for a change. Without further ado, here are the 10 best dog subscription boxes:
---
Quick Comparison of Our Favorites in 2023
Rating
Image
Product
Details

PupJoy

Curated boxes get better over time
All products come from socially-responsible manufacturers
Eco-friendly packaging
Check Price

BarkBox

Boxes have cute themes
Treats are all-natural
Allergy-friendly boxes available
Check Price

Pooch Perks

Can choose between being sent treats
toys
or both
Can order individual toys
Lots of customization options
Click to Save 10%!

Use Code Pooch10

The Dapper Dog Box

Bandanas come in every box
Most products made in USA by small businesses
Company contributes to animal shelters
Check Price
The 10 Best Dog Subscription Boxes:
1.

PupJoy Dog Subscription Box
PupJoy is a curated subscription box that gives you everything your dog needs to be happy. The shipments include treats, toys, gear, grooming supplies, and more.
The company isn't just firing blindly when it comes to choosing what to put in the boxes, either. You can build a profile for your dog in which you list what your dog likes so the product selectors will have a better idea of what to include.
Once you get your shipment, you can re-order the things your pup liked and tell PupJoy which items your dog didn't care for. This means that, the longer you subscribe, the better-suited for your dog the boxes will become.
All of the products come from socially-responsible manufacturers, and the packaging is eco-friendly as well, so this is a great gift for the dog and Earth lovers in your life. Of course, all that social responsibility comes at a price, and PupJoy's stuff is generally more expensive than its competitors.
We think it's worth it, though, and your dog probably will too — but if they don't, just tell PupJoy and the company will figure out something better to send Fido next time. All in all, this is our pick for the best dog box subscription on the market.
Curated boxes get better over time
All products come from socially-responsible manufacturers
Eco-friendly packaging
Can re-order items your dog liked
---
2.

BarkBox Dog Subscription Box
One of the most well-known subscription services out there, BarkBox mails out themed collections every month. Each shipment contains 2 toys, 2 bags of treats, and a chew of some sort.
The boxes come in 3 different sizes, so you can find suitable toys and treats for your dog regardless of what breed they happen to be.
The treats are all-natural, so they should satisfy picky owners and their pups. The service also offers specialty boxes catering to dogs with allergies.
The themes are all pretty adorable, and you'll undoubtedly enjoy watching your dog munch on a Ring Pop at Halloween or a Christmas tree in December.
The toys aren't very durable, though, so don't expect them to last long. It's worth noting that the company does offer Super Chewer boxes that have more durable toys, but that requires a separate, more expensive subscription.
Also, some of their toys pose choking hazards once they're destroyed, so be sure to monitor your pooch carefully while they're playing.
Other than that, there's little to quibble with in regards to BarkBox. There's a reason why it's one of the most popular services, after all.
Boxes have cute themes
Treats are all-natural
Allergy-friendly boxes available
Different-sized boxes to choose from
Toys aren't especially durable
Some items can be choking hazards once destroyed
---
3.

Pooch Perks
Pooch Perks works a lot like Pet Treater, although it gives you more room to customize what gets sent to you.
You can ask for boxes with toys and treats or just toys, and you can even choose between plush toys, durable toys, or a mix of the two. You can also ask for toys in a variety of sizes if you have multiple dogs in the house.
The company also offers themed boxes every month, usually centered around a holiday like Halloween. If your dog is a particularly big fan of something, you can even order it individually.
The profiles are very thorough, and you can even list whether your dog suffers from any allergies.
While the boxes are generally fantastic, getting in touch with someone to cancel your subscription can be a pain, regardless of whether you call or email. Also, some of the treats are on the hard side, so they may not be ideal for dogs with dental issues.
Other than that, though, there's little to complain about with Pooch Perks. It's a good alternative to Pet Treater if you want more control over what you get every month. Plus, you can save 10% with code Pooch10!
Can choose between being sent treats, toys, or both
Lots of customization options
Can order individual toys
Extremely thorough profile questions
Treats may be too hard for dogs with dental issues
---
4.

The Dapper Dog Box
The Dapper Dog Box is another service that offers treats and toys, but there's a snazzy bandana in each box as well. Your dog will certainly look, well, dapper as they destroy every other thing in each shipment.
Each order includes two treats, two toys, and one of the limited-edition bandanas. Generally, the boxes are themed as well, which can be fun but also feels forced at times.
Most of the products are made in the USA by small businesses, so you can feel good about supporting the little guy. The company also contributes to animal shelters and other charities.
The website definitely tries to steer you towards one of the long-term plans (which has to be prepaid in full), and there are discounts if you choose anything longer than a single month. However, there are no refunds or exchanges, so if you buy the year plan and change your mind, you're still getting all 12 boxes.
Luckily, your dog should appreciate every box that comes in the mail, so hitching your wagon to the Dapper Dog Box long-term isn't a decision you're likely to regret.
Bandanas come in every box
Most products made in USA by small businesses
Company contributes to animal shelters
Discounts on long-term plans
Some themes feel forced
No refunds or exchanges on long-term plans
---
5.

Scissor of the Month Club
The Scissor of the Month Club isn't for everyone — in fact, it's targeted specifically at professional groomers. That limits how popular it will be, but if you're a working dog groomer, this service will knock your socks off.
Every month you'll get a pair of titanium-coated, Japanese stainless steel grooming shears. These scissors come in a variety of colors, and they include blenders, thinners, curved pairs, and more. The service's goal is variety, so expect a big difference from month-to-month.
You don't really have any way to give feedback on your tastes or needs, so you'll get whichever pair the company decides to send you that month.
Also, you can only sign up for 6- or 12-month plans, although there is a store where you can shop for individual pairs as well.
The Scissor of the Month Club may not be of much interest to anyone other than professional groomers, but it's hard to imagine that the groomer in your life wouldn't flip if they were gifted a subscription.
Great for professional groomers
Each pair is titanium-coated stainless steel
Heavy emphasis on variety
All sorts of scissors included
Only suitable for pro groomers
No way to customize boxes
Only options are 6- and 12-month subscriptions
---
6.

Pet Treater Dog Subscription Box
As the name suggests, Pet Treater sends you treats for your pet (who would've thunk it?). The boxes usually contain only treats and toys, but sometimes other goodies will get thrown in as well.
The company offers boxes for both dogs and cats, and since you're only getting smaller accessories, the prices are much budget-friendlier than some other subscription services.
You can choose between a regular and deluxe pack; the regular contains 3-4 items while the deluxe has 5-8 in each box. The items are mostly made in the USA and Canada, and the company swears that Chinese manufacturers are never used.
It's one of the easiest boxes to gift as well, so you can easily order one as a Christmas surprise for a friend or family member.
Everyone gets the same box every month, though, so there's no chance to improve the accuracy of the recommendations. Still, if you like giving your dog a variety of healthy treats on a regular basis, Pet Treater will ensure you don't run out of options anytime soon.
Less expensive than other boxes
Has options for both dogs and cats
Can choose between regular or deluxe packs
None of their treats are made in China
Everyone gets the same box every month
---
7.

The Farmer's Dog
While most of the boxes on this list are for fun and games, The Farmer's Dog hopes to be the only way you feed your pooch from now on.
The company ships out real, human-grade food that's made fresh and lightly-processed. All you have to do is open the packets and pour (and add water if you like) — feeding your dog a gourmet meal couldn't be any easier.
The meal plans are customized to your dog according to the information you give them, and you'll get the packets within days of the food being cooked, so it's never frozen.
Also, since everything is prepackaged, portion control is done for you, making it a great choice for overweight pups.
As you might expect, though, this is an expensive service, so it's not for budget-conscious owners. Also, the food has to be refrigerated before serving, so storing it is a pain.
If you care about your dog's diet (and are willing to put your money where their mouth is), then it's hard to do much better than The Farmer's Dog.
Highly nutritious, human-grade food
Done-for-you portion control
Meal plans customized to your dog
Easy to serve
Very expensive
Has to be refrigerated before serving
---
8.

BullyMake Dog Subscription Box
Most subscription toy boxes are full of adorable little toys — that last approximately 5 seconds after you give them to your dog. If your pup is a power chewer, consider switching to BullyMake.
BullyMake ships out toys and treats, but all of its toys are designed to withstand determined chewers (especially bully breeds, hence the name). In fact, it's so confident in its gear that, if your dog destroys something, the company will replace it for free.
The toys are all made out of thick nylon, rubber, or ballistic material, so even the most dedicated destroyers will have their paws full with these boxes. It also offers a variety of toys, including chew toys, tug toys, puzzle toys, and more.
It's pricier than other toy subscription services, but that's well worth it if the toys actually last. Also, it must be hard to find tough toys, because you may get duplicates from one month to the next.
Owners with tough chewers will absolutely love BullyMake, but it may be overkill for regular dogs.
Designed for powerful chewers
Company will replace destroyed toys for free
Toys made out of rubber, nylon, or ballistic material
Variety of toy types in each box
More expensive than regular toy boxes
Some toys are duplicates
---
9.

RescueBox
RescueBox plays on your good nature, as it offers a fairly basic toy and treat box — but for every one you buy, it makes a donation to animal rescue groups. It's a great way to make yourself feel good while entertaining your dog at the same time.
In fact, each subscription is enough to fund 142 bowls of food for homeless pets, so it's hard not to feel guilt-tripped into signing up for the service. You can also get boxes designed for cats if you have a multi-pet household
Each box contains toys, treats, and a chew, giving your dog a few different things to look forward to. None of the edible items come from China, but there aren't any similar guarantees about the toys.
You can't customize your box, either, so you'll have to trust that their team can pick out items your dog will love.
In our opinion, RescueBox isn't the best subscription service out there, but it's probably the one that's doing the most good in the world — and that makes it deserving of all the success it earns.
Company donates to rescue groups with every order
Also offers boxes for cats
None of the edible items come from China
Each order feeds 142 homeless pets
Some toys may come from China
Can't customize orders
---
10.

Just Food for Dogs
Despite our best efforts, we've been unable to figure out what exactly Just Food for Dogs offers. Wait a second…it turns out it just makes food. For dogs.
It's extremely high-quality chow, too. Every one of the meal plans is custom-made for your dog, as you have to schedule a consultation with a nutritionist when you sign up for the service. If your dog has special needs, the plan the nutritionist comes up with will be designed to help address it.
All of the food uses human-grade ingredients, with real meat being the primary focus. The chefs don't just use parts of the animal, either — all sorts of parts and pieces make it in. That's good, because that gives your dog essential amino acids they don't often get from commercial foods.
Most of the recipes are gluten-free, making them excellent for animals with digestive issues.
As you might expect, the food is much more expensive than your average kibble, but you may recoup some of those costs down the road if this stuff improves your dog's health. Also, getting started is a big of a pain, but it's well worth it in the long run.
If you truly care about what your dog eats, then Just Food for Dogs will ensure your pup's diet is the best it can possibly be.
Extremely high-quality, human-grade food
Meals are custom-designed for your dog
Great for pups with health issues
Uses wide variety of meat
Extremely expensive
Getting set up is a pain
---
Buyer's Guide: Selecting the Best Dog Subscription Box
Dog subscription boxes are a fairly new innovation, so you may be unfamiliar with the concept — let alone with how to go about choosing a good one.
With that in mind, we've put together a guide to help walk you through the process. Hopefully, the questions below will help you make a decision that will make both you and your dog very happy, month after month.
How Do Dog Subscription Boxes Work?
As you can see from the list above, there are quite a few options out there, and many of them work in different ways.
Generally speaking, though, the idea is that you pay a fee to receive a box of goodies for your dog every month. These boxes can include treats, toys, gear, or just about anything else you can think of.
Some subscriptions pick the products for you, and you don't have much say (if any) in what you get. Others allow you to customize your order, or at the very least give feedback so that your shipments will improve going forward.
You can either pay on a month-to-month basis or prepay for several months in advance. Typically, you'll get a discount on each month's order by prepaying, but most companies won't give you a refund if you try to cancel before your contract is up.
Are the Products Inside Any Good?
That depends on the service you choose. Most include products that are comparable to those you'd find at your local pet store, at least.
Some services place a premium on finding high-quality products, but as you might expect, these tend to be pricier than their competition.
Still, there are certain services dedicated to providing extremely tough toys, for example, while others will send your dog some of the most nutritious food you'll find anywhere.
You'll likely find that there's a subscription service for just about anything you could possibly want, including high-quality treats, toys, and food. It's just a matter of finding the right one (and being able to afford it).
Where Do the Treats and Toys Come From?
It's important to understand that subscription boxes are, by their very nature, high-end services. They cater to people who really care about their dogs.
As a result, it's a big selling point to be able to claim that your treats and toys only come from reputable places (meaning, they don't come from dodgy Chinese factories).
Most services make all of their treats in the USA, but some will get their toys from China or other places. You can find boxes that only use American-made toys if it's that important to you, but you may have to pay more if you do.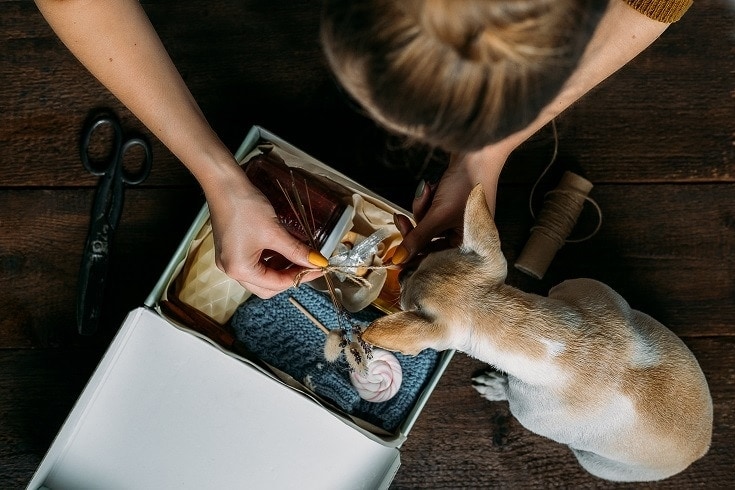 Are These Services Easy to Cancel?
Again, that depends on the service you choose. Virtually all of them say that you can cancel at any time (although you'll likely be on the hook for any months you've already paid for).
However, actually being able to get in touch with someone in order to tell them that you're cancelling is a different story. You may have to put in a little bit of time waiting on the phone or bombarding them with emails before they agree to end your subscription.
Can You Give These as Gifts?
Yes, most services allow you to give a gift subscription. You can either decide on a prepaid chunk of time or just keep sending boxes indefinitely.
Keep in mind, though, that many of these services encourage you to build extensive profiles on your dog — their likes, dislikes, allergies, etc. This helps the services tailor their offerings to your pooch.
If you don't know the answers to those questions, the recipient may not get the best experience.
Some services also offer gift certificates, which can help sidestep that issue, but most will just ask you to buy a regular subscription.
How Does Shipping Work For Dog Subscription Boxes?
That will vary from service to service. Some offer free shipping, while others will send your boxes out for a flat rate (at least domestically).
International shipping is a bit trickier. Some companies won't ship internationally at all, especially if they include food items. Others will, but the shipping costs may be quite steep.

Conclusion
Dog subscription boxes are one of the best and most convenient ways to spoil your pup — provided you get a good one, of course.
The services shown in the reviews above are some of our favorites, and we think your dog will go crazy for them, too. It's just a matter of finding one that aligns with your needs, as well as your dog-raising philosophy.
While signing up for a monthly service may be new to you, we believe you'll quickly get hooked once you see how happy each new box makes your dog — and how much shopping time it saves you.
---
Featured Image Credit: BarkBox