The Farmer's Dog vs Ollie: Which Fresh Dog Food is Best in 2023?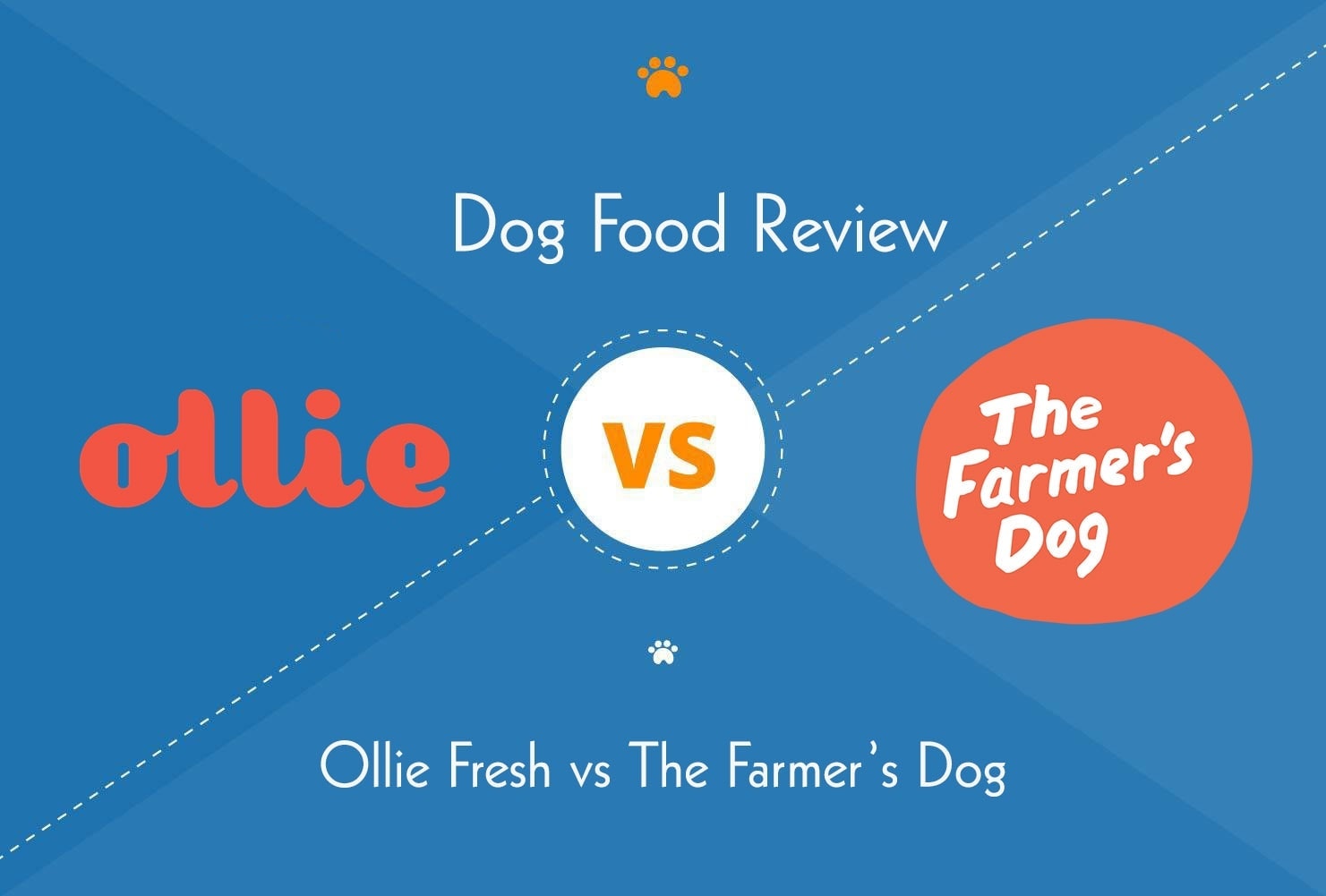 If you walk down the dog food aisle at your local grocery store or pet store and feel a bit overwhelmed by all the options, you're not alone. As dog owners, we are spoiled for choice when it comes to feeding our pups — or could all that choice be a curse?
We're here to offer an objective viewpoint of two top brands: The Farmer's Dog and Ollie. We'll break down the comparisons by category and help you determine which, if either, is right for your dog.

At a Glance
Let's look at the key points of each product.
The Farmer's Dog
Human-grade ingredients
Delivered to your door
Customizable
Ollie
Human-grade ingredients
Delivered to your door
Less-customizable

A Sneak Peek at the Winner: The Farmer's Dog
The Farmer's Dog is a little more expensive than Ollie food, but the company offers more dietary customization. Whether your pup has a grain allergy, or you need additional lutein in his diet, The Farmer's Dog can accommodate those needs. Ollie is also very high-quality, fresh food, and both companies offer high-grade dog food that can help to extend the life of your dog while minimizing illness, dental problems, and more.
The nature of the food means that it is not available on e-commerce sites, and you won't find it even on specialist pet sites or in pet food stores. You need to order from the companies directly, and they will deliver to your door every week.
Buying fresh food requires a commitment and costs more than buying even premium pre-packaged food. As such, you need to be sure that you're buying the best. Below, we have reviewed both The Farmer's Dog and Ollie dog food services to help you decide which is the best option for you and your pooch.
About The Farmer's Dog
The Farmer's Dog was established by two dog dads who wanted to provide nutritional and great-tasting food for their dogs. They claim that the food is safe enough for humans to eat and nutritionally designed to meet the needs of your dogs. Farmer's Dog makes fresh food that can be customized to meet the health and dietary requirements of your particular dog, and this takes into account any physical conditions and illnesses.
Farmer's Dog does not sell any premade foods. All of their products are made specifically for the requirements of your dog, which means that you have to go through their website, you cannot buy from third parties, and you can't see any ingredients or existing packs. Because the food is made to order and made fresh, it is more expensive than standard foods and even premium brands.
Brand History
The co-founder of the company, Brett Podolsky, first started making his own dog food when his puppy, Jada, was sick for the first 2 years of her life. To help combat her stomach problems, Brett turned away from commercial food and decided to try making it himself.
Initially, Podolsky copied the ingredients from commercial food, but he used human-quality meat and other ingredients. The fresh diet not only looked different and more appealing to dried-up commercial kibble, but it also led to Jada's symptoms clearing up. Noticing the difference the food made, Podolsky teamed up with a friend, Jonathan Regev, and the pair formed the Farmer's Dog company.
Farmer's Dog now delivers nationwide, customizes ingredients and diets according to your dog's specific requirements, and they accommodate different breeds, types of dog, and dietary and physical requirements.
The name, Farmer's Dog, was chosen because the pair noticed that the dogs that lived the longest tended to be farmers' dogs, and this was because they had daily access to fresh meal ingredients. They were not given dry kibble.
Farmer's Dog Ingredients
When Brett started his search for high-quality pet food, he discovered that the pet food industry has very low standards. Some of the ingredients that find their way into pet food, including in some so-called premium brands, would not be fit for human consumption. Diseased meat, which has undergone intense heat treatment, can be included in pet food. The heat treatment is supposed to remove bacteria and make the food safe, but it means serving burned meat that has much lower nutritional value.
How The Service Works
First, create your dog's profile on the Farmer's Dog website. This includes breed, dog type, exercise levels, age, and size.
You can add any special dietary requirements. Some dogs are intolerant to grain, while others might be allergic to specific animal protein, for example, chicken. Alternatively, you might be looking to get your dog's weight down because it is overweight and at risk of obesity and weight-related conditions.
You can then choose from the recipes on offer. These are formulated in conjunction with vets and include chicken, beef, turkey, or pork recipes.
The company uses the information you provide to determine portion size and dietary requirements, customizes the added ingredients, and then prepares the food, freezes it, and then posts it to you ready for eating.
Food Preparation and Delivery
Farmer's Dog food is made in kitchens that meet human food preparation standards, and it uses ingredients that are considered human-grade. It doesn't use meat that is labeled as "meal" and doesn't use potentially diseased meat or other dangerous ingredients. The food, which is prepared according to your dog's requirements, is not deep-frozen but is sent to your home within a few days so it isn't left to sit on warm shelves for days on end.
Convenience
Farmer's Dog is a convenient service. The nutritional values are calculated for you, the food is weighed to ensure that you give the right amount every day, and it is delivered straight to your door. All you need to do is open the pouch and pour the food into your pooch's bowl. What's more, because Farmer's Dog has managed the portion sizes and deliveries, they know when you will need more and can arrange delivery to ensure that you never run out.
Human-grade ingredients
Prepared in a human-grade kitchen
Customized according to the type, breed, weight, and requirements of your dog
Delivered to your door
Expensive
No pre-prepared food to buy

About Ollie Dog Food
Ollie also offers fresh food, prepared specifically for your dog's requirements, and delivered directly to your door. With both services, it is quite difficult to find out exactly how much you are going to pay, but you can get a customized price by adding your dog's details and requirements. Ollie offers meals using recipes that were crafted by vets and offers a basic choice of beef, chicken, turkey, or lamb meals. Food can be delivered to your door and Ollie works out when you need your next delivery so that you always have enough food on hand.
Ingredients
Every Ollie meal you give your dog has been specially formulated for him. It is designed to meet the nutritional requirements of his breed, age, weight, and requirements. You also need to indicate the exercise level of your dog to get the most appropriate portions and ingredients.
The exact ingredients will vary according to the recipe and your dog's requirements.
Locally sourced ingredients. Ollie says that they use fruit, vegetables, and meat sourced from local farms. This enables them, and you, a better idea of what exactly is in the food.
No artificial ingredients. If you check the ingredients list of commercial dog food, it is likely to have a long list of artificial flavors. They can cause allergic reactions, some are known to increase the chances of contracting diseases like cancer, and there are better alternatives. Ollie does not use artificial flavors.
No fillers. Another category of ingredient that is commonplace in commercial food but lacking from Ollie food is fillers. Ingredients like alfalfa meal, soy, or corn are inexpensive but offer little nutritional value to your dog. Ollie does not include these ingredients in their food.
How It Works
The system works the same when buying Ollie foods as when buying Farmer's Dog. You fill in information about your dog, including its age, size, and exercise levels, and Ollie determines the appropriate nutritional and dietary requirements for your dog. They put together a meal plan and send this out to you, ensuring that you receive enough food for a few weeks but without the risk of the food going bad. Just before the food is finished, they will deliver more parcels to your door.
What You Receive
When you first start ordering from Ollie, you receive a half-price introductory box. Included with this is a feeding plan and guide, a scoop to help free the food from the pouch, and you even get a food tub with a sealable lid. This enables you to store opened food that is not yet ready for the dog's bowl.
Cheaper than The Farmer's Dog
Customized meal plans
Food delivered to your door
Human-grade food prepared in human-grade kitchens
Still expensive
Not as much customization as with Farmer's Dog

The Farmer's Dog vs Ollie Comparison
Price
It is difficult to get an idea of prices for either service, from their website. This is because both companies customize the meal plans and recipes according to your dog's requirements. Considering one of those requirements is the size of the dog, it stands to reason. However, they do give a guide to the kind of price you will have to pay.
Ollie charges between $25/week to $30/week for a small dog and according to the amount you buy at once. For a large, 95-pound dog, the cost ranges between $30/week and $70/week and you should expect to pay closer to the higher end of this scale.
Farmer's Dog estimates costs between $23/week and $40/week for a 15lb dog and between $70/week and $135/week.
Obviously, Ollie is quite a lot cheaper than The Farmer's Dog, especially for large breed dogs. For 15-pound dogs, it works out cheaper to use The Farmer's Dog. However, with costs reaching as much as $600/month, this is a more expensive way of feeding your dog than buying packets of commercial food.
Customization
Customization is arguably the most important aspect of these services and they enable you to feed your dog a top-quality meal, regardless of its breed, size, and dietary requirements. While Ollie does allow for some specialization, it is limited really to breed, size, and activity levels.  The Farmer's Dog enables you to specify dietary requirements because of ill health or if you want your pooch to lose some weight, for example.

Conclusion
Now that we've looked at the full comparison of The Farmer's Dog vs Ollie fresh dog food, which should you choose? Although customized and fresh food plans are expensive for any dog and dog owner, they do offer benefits. In the case of The Farmer's Dog and Ollie, at least, the ingredients are good enough for owners to eat.
The food is not frozen or left to fester on shelves, and it is delivered directly to your door. Once it arrives, you may need to refrigerate some, but the food has been portioned for you and when you are set to run out, you will get another batch delivered to your home.
While it is convenient, it is the quality of the ingredients that lures people to these services, and both Ollie and The Farmer's Dog have a very strong reputation, use natural ingredients, and prepare everything fresh.
Ollie is cheaper and offers very high-quality ingredients, but it is The Farmer's Dog that allows greater levels of customization so that you can create exactly the recipe and the food plan that your dog needs and its health and lifestyle requires.
---
Featured image credit: S1001, Shutterstock