10 Best Heavy-Duty Dog Crates in 2023 – Reviews & Top Picks
If you have a dog who suffers from anxiety when you are gone or does not like to behave when in a crate, you may be searching for a heavy-duty dog crate. We want to keep our dogs happy, but we also don't want them to get hurt or ruin the house.
Did you know dog crates were invented during World War II to transport military dogs? They were basic wooded slat crates. Then in the 1960s, the airline industry hired a man to make wooden crates for pet transport, and they have evolved from there.
This in-depth review list of the top 10 heavy-duty crates will help you narrow down your search for the perfect crate. Keep reading for a buyer's guide with tips and considerations to keep in mind when buying a crate.

A Quick Glance at the Winners of 2023:
Rating
Image
Product
Details

Best Overall

ProSelect Empire

Strong welds
Removable tray
Caster wheels
Check Price

Best Value

Sliverylake Heavy Duty

Affordable
Steel frame
Designed for high-anxiety dogs
Check Price

Premium Choice

PARPET Empire

20-gauge steel
Removable tray
Two safety latches
Check Price

MidWest Metal

Thick wire gauge
Lightweight
Folds up easily
Check Price

HAIGE PET Heavy Duty

Two safety buckles
Folds easily
Caster wheels
Check Price
The 10 Best Heavy-Duty Dog Crates
1.

ProSelect 37 Empire Dog Cage – Best Overall
The ProSelect is a 20-gauge steel crate with reinforced 0.5-inch-diameter steel tubes. The inner dimensions are 35.75×23.5×24.5 inches, which is ideal for small to medium-sized dogs. The floor grate has a slide-out tray underneath, which allows for easy cleanup, and there are four removable caster wheels that lock in place.
We like that it is durable, with strong joint welds and dual latches on the door. On the downside, it weighs 75.2 pounds, but with the wheels in place, it is easy to move around.
Assembly is easy with the provided hex key, though help may be required if someone is unable to lift and balance the heavy pieces of the crate.
Durable
Strong welds
Removable tray
Caster wheels
Dual latches
Easy assembly
---
2.

Sliverylake Heavy Duty Dog Crate – Best Value
This is the best heavy-duty dog crate for the money. It has a steel frame with a front door and a top door for easy access. There is a grate floor with a removable steel stray underneath to make clean-up more convenient.
It will fit a medium-sized dog adequately, as it measures 37×24.4×28.7 inches. The four caster wheels on the bottom are lockable, and we like that the design makes it difficult for high-anxiety dogs to escape or cause harm to themselves or damage the cage.
Assembly is required, which we found to be easy and straightforward. Once assembled, it is easy to fold up and transfer without too much exertion. On the downside, the latches are easily opened, and a smart dog won't take long to figure it out. The reason this didn't make it to the number-one spot is that it is not as heavy-duty as the ProSelect.
Affordable
Steel frame
Two access doors
Designed for high-anxiety dogs
Easy assembly
Easy to transport
Easy-open latches
Not as heavy-duty
---
3.

PARPET Heavy Duty Empire Dog Crate – Premium Choice
This is a well-constructed, durable crate made of 20-gauge steel and 0.5-inch diameter bars. It has a sturdy steel tray with a D-ring handle underneath the grated floor, and the 360-degree swivel caster wheels with brakes make it easy and safe to roll around. We like having the option of taking off the wheels if they aren't needed, especially when traveling.
The dimensions are 40.6×29.3×31.7 inches, and there are two safety latches on the door. Since it does weigh 92 pounds, it is recommended that two people put together the crate, though assembly is fast and easy. This crate is high quality but expensive, which is why it is number three on our list.
20-gauge steel
Removable tray
Removable wheels
Two safety latches
High quality
---
4.

MidWest 742UP Metal Dog Crate
This crate is made from a thick wire gauge, with a door on the front and the side. It is a great choice for traveling since it folds up and is lightweight. The crate measures 43×28.5×31.25 inches and comes with a divider panel that allows you to adjust the size of the crate.
The plastic leak-proof pan that makes up the floor of the crate is durable and easy to clean. We like that the opening between the wire is narrow so it won't allow a dog to easily chew it or slip a paw through. Once you fold it up, there is a convenient carry handle that is made of plastic.
On the downside, it is not as heavy-duty as the steel crates and may be damaged by a more determined and aggressive dog. Also, the easy removal doors are difficult to keep in place at times, as the removable hooks aren't secure.
Thick wire gauge
Lightweight
Folds up easily
Carrying handle
Divider panel
Easy to clean
Affordable
Not as heavy duty
Doors poorly constructed
---
5.

HAIGE PET Heavy Duty Dog Crate
This large crate is built from steel and has a non-toxic, anti-rust finish. It is 41.5×30.5×37 inches and will easily fit a medium to large-sized dog. The two locks with safety buckles ensure that your dog won't escape when you aren't around.
We like that it folds down easily for storage or transportation and that there is a removable tray under the grate that cleans up easily. Unfortunately, this tray is made of plastic, so it may not be as durable.
It is easy to assemble and comes with the needed hardware. The caster wheels can be taken off, but due to the weight of this crate, it will be easier to move around if the wheels are left attached.
Large in size
Two safety buckles
Folds easily
Easy to assemble
Caster wheels
Affordable for steel crate
You may also want to read:
---
6.

JY QAQA PET Heavy Duty Dog Cage
This crate is ideal for dogs between 71 to 90 pounds and is made from rust-resistant metal and measures 42.52×29.92×34.64 inches in size. It is not as heavy as other metal crates, coming in at 83.6 pounds. We like the double-door design of the large front door, and the floor is removable as well, with a lower metal tray that makes clean-up even easier.
There are two double latches that make it near impossible for a dog to open, though the bars are spaced far apart, making it easier for your dog to get a paw through. Assembly is easy, though the company does recommend two people to assemble it. There are removable wheels, but they are not caster wheels.
The negative thing about this crate is that the bottom grate does not seem that durable, bending with the weight of a larger dog. There is a 30-day money-back guarantee and an 18-month warranty.
Steel frame
Double-door design
Floor removable
Metal removable tray
Double latches
Easy to assemble
Grate not sturdy
Wheels not heavy duty
---
7.

LUCKUP Heavy Duty Dog Cages
The LUCKUP is another non-corrosive steel crate with a non-toxic finish. The dimensions are 37.5×25.5×32 inches, so it is suitable for medium to large dogs. It features a double-door design with a front and top door. There are 360-degree rotating caster wheels that lock and can be removed.
We like the safety buckles on the doors and that it is easy to set up. Unfortunately, the removal tray is made of plastic, though easy to clean. The bars on the floor are spaced widely, which could allow a smaller dog to fall through. You can fold this crate by removing the bolts, though it is not a fast process.
Steel crate
Double doors
Removable caster wheels
Safety buckles
Easy assembly
Affordable
Plastic tray
Wide floor spacing
See also: Our reviews for quality small dog creates
---
8.

SMONTER Heavy-Duty Dog Crate
This is another affordable steel crate that has a non-toxic hammer-tone coating, making it perfect for indoor or outdoor use. This is ideal for medium to large dogs, with the dimensions being 38x26x32 inches. The wheels are caster with an easy-to-lock and -unlock lever, and they are also removable.
There is a removable plastic tray below the floor, and it has a front door, as well as a top opening. The locks on the door are similar to others in design and ease of use. On the downside, the top lid will rattle with the movement of the dog inside the crate, and your dog might chew on the metal tag with the logo on the front.
This crate does not fold up easily — you have to remove the screws — but assembly is easy.
Affordable
Non-toxic coating
Removable caster wheels
Double opening
Safety locks
Top lid noisy
Metal logo tag
---
9.

WALCUT Rolling Dog Crate
The WALCUT heavy-duty steel frame crate is fit for large dogs with its 48.8x33x37-inch dimensions. The floor grate is removable, along with a metal tray, which allows for easy cleanup. On the downside, the floor doesn't seem as durable as others on this list.
We like the double door design, and it folds down easily for transport. It is easy to assemble, despite being on the heavy side. Unfortunately, users have mentioned that their dog was able to bend the bars and that the latches break easily. We also found that the paint chips off easily.
Removable floor grate
Removable metal tray
Double doors
Folds easily
Easy to assemble
Heavy
Bars bend easily
Latches break easily
Paint chipping
Higher priced
---
10.

ITORI Dog Crate (Heavy Duty version)
The ITORI is made of reinforced steel and features a double-door design, double-door latches, and caster wheels (two that are locking). There is a removable metal tray for easy cleanup, but we do not like the grate floor because it is not as durable with heavier weight.
Set up is a breeze, with only a couple of screws needing to be placed and the wheels pushed in, though there are no included instructions. The dimensions are 42.52×29.92×34.62 inches, and it is suitable for medium to large dogs. This crate weighs 83.6 pounds and folds up for traveling.
On the downside, the pieces are not welded together but are drilled through and tacked. Also, the width between the bars is two inches, and these won't hold up to dogs with high anxiety. The top opening tends to come off easily from its hinges when opened, and the bottom grate vibrates and rattles with the movement of the dog.
Steel construction
Double doors
Castor wheels
Removable metal tray
Fold-down
Not welded
Wide width between bars
Top lid comes off easily
Bottom grate vibrates
No instructions
Heavy
Higher priced

Buyers Guide: How to Choose the Best Heavy-Duty Dog Crates
Now that you have read about the top 10 heavy-duty crates, you may have questions about how to pick one that will fit your dog and meet all your expectations. This buyer's guide will go over considerations to keep in mind, as well a few tips that may help with your decision.
Considerations
Material
Larger dogs will be stronger, so the crate will need to be durable. Different materials in our reviews list include wire and steel.
Wire: These will be more affordable and lighter weight, and most are adjustable and collapsible. But they can bend easier and aren't as durable.
Metal: These are stronger and more durable, especially if the right metal is used. But they will be heavier and more expensive.
Dog Size
It is important to know your dog's size because picking a crate that will fit them is essential. Knowing their weight, height, and length will help ensure that the crate is large enough for the dog to stand up, sit down, and fit through the door.
Features
Typical features for metal crates include latches, wheels, removable trays, double doors, and removable grates. Features you will see on wire crates are plastic trays, collapsibility, and sometimes, a handle and double doors.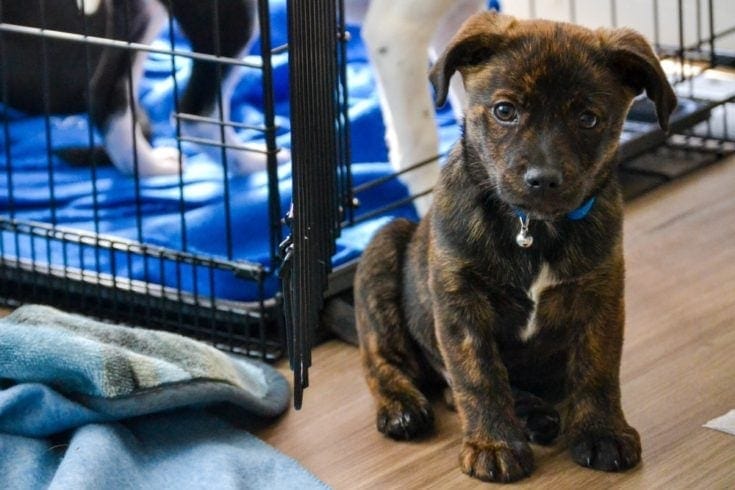 Durability and Quality
You want a crate that is well made with quality materials, so it will last for many years. It may be worth spending the extra money on a quality crate that won't be destroyed by your dog than going through two or three less expensive ones.
Cost
We all have to deal with budgets, and crates can range in cost from affordable to expensive. If you have a dog who doesn't become anxious when left alone or is a smaller breed, you may not need the high-grade steel. On the other end, if you do have an aggressive dog, it will benefit you and the dog to purchase the best crate no matter the cost.
Tips
If you will be adding a dog pillow to the crate, don't forget to consider that with the amount of space it takes up.
If you are getting a crate for a puppy, think about how big they will be when they are an adult. If they will still be using a crate, you may want to get one that they can grow in to.
Keep in mind how easy it is to assemble and transport or move around an area.

Conclusion
Our top 10 heavy-duty crates offer many great features and options. Our top choice is the ProSelect Empire, which is made from 20-gauge steel and other durable features. The Sliverylake is the best value, being durable yet lighter in weight and more ideal for traveling. Our premium crate is the PARPET, which is for those who don't mind spending a little more to get a heavy-duty crate with quality features that will last for many years.
Hopefully, our review list and buyer's guide have helped you discover what you want in a dog crate while giving you the confidence to choose the right one.