100+ Dog Names Inspired by Winter: Ideas for Brave & Cuddly Dogs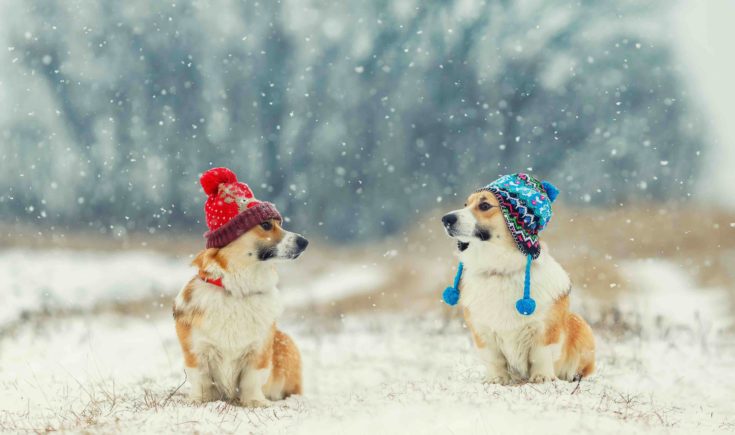 The winter season certainly has its own charm, which almost always brings inspiration for some very compelling and festive dog names. And while you probably don't want it to be winter all year round, a reminder of the beautiful season each time you call your beloved dog over might be just the treat you're after.
Maybe you live in a place that is hot all year round and you're dreaming of the winter holiday movies you watch every December on the Hallmark channel. Or, perhaps because your pet is bred to thrive in cold climates and you want her to feel a bit more at home.
Regardless of your particular reason for selecting a name that is inspired by winter, we've compiled a list of our favorite winter-themed names which will give you some delight and joy, just like the magical winter season.

Winter Female Dog Names 
Snowball

Alaska

Ember

Cuddles

Winter

Snowy

Cocoa

Marshmallow

Stormy

Eira

Noelle

Belle

Snuggles

Mittens

Bianca

Aspen

Crystal

Alaska

Nieve

Sparkle

Tundra

Twinkle

Parka

Joy
Winter Male Dog Names
Mint

Igloo

Pine

Juneau

Polar

December

Coldy

Yeti

Boots

Togo

Chilly

Solstice

Cinnamon

North

Bear

January
Winter Dog Names Inspired by Snow
Melty

Flurry

Snowflake

Snowfall

Blizzard

Frost

Snow Angel

Avalanche

Snowboy

Frostine

Icicle

Sleet

Rocky

Toboggan

White

Mittens

Snowball

Snowy

Slush

Blanket
Dog Names Inspired by Christmas & Winter Holidays
In some parts of the world, winter is long and gloomy. But with the holiday and Christmas season falling in the middle of winter for the northern hemisphere, we have something to look forward to and celebrate! Fairy lights twinkling, chestnuts roasting on an open fire, singing, laughing, dancing, and giving. All of the feelings of the holidays can be relived each time you say your pet's name if you choose it right. Below are our favorite dog names inspired by the Christmas and winter holidays.
Gravy

Mary

Nutcracker

Kris

Mistletoe

Vixen

Dancer

Clara

Holly

Pudding

Cupid

Santa

Star

Sweetie

Elf

Cookies

Donner

Prancer

Comet

Claus

Rudolph

Dasher

Blitzen

Wonder

Tinsel

Mercy

Dreidel

Turkey
Winter & Christmas Movie Dog Names
There are so many Christmas and winter movies out there so it's hard to know where to begin and where to end with dog names inspired by the above. So, we've selected a few of our favorites below:
Scrooge

Anna

Santa Paws

Sven

Cindy Lou Who

Bernard

Buzz
Sally
Jovie

Tiny Tim

Eddie
Rusty
Max

Elsa

Carol

Ralphie
McCallister

Griswold

Buddy

Grinch

Beethoven
Winter Dog Names Inspired by Snow Dog Movies
A winter dog name list would not be complete without dog names inspired by snowdog movies. The ones from the franchise, and other movies about dogs that love snow!
Balto

Mack

Yodel

Duchess

White Fang

Nana

Sniff

Scooper

Diesel
Dog Names Inspired by The Winter Olympics
If you're a fan of winter you probably love the Winter Olympics. We do too! Have a look below to see some winter dog names inspired by the games, from events to athletes to pups of the athletes, we've got a few for you to peruse and choose from.
Dixie

Gus

Whistler

Vancouver

Salt Lake

Leroy

Luge

Curler

Shaun

Skeleton

Bobsled

Torino

Calgary

Hockey

Finding the Right Name Inspired by Winter for Your Dog
There are numerous magical ways to get inspired by winter, especially when it comes to naming your pet. The winter season brings with it a lot of emotions of warmth and love, so of course a snow dog name can be a great choice. 
If you're still having trouble picking out the perfect name, take a peek at one of our other extensive dog name lists. We're sure we can help you find it!
---
 Feature Image Credit: Bachkova Natalia, Shutterstock