100+ German Shepherd Dog Names: Bold, Loyal & Strong Ideas
German Shepherds are one of the more popular dog breeds we see today for a few reasons. In addition to being loyal and gentle companions for families, they are insanely smart, obedient, and intense work dogs. German shepherds have even established their role within law enforcement and the military. With the proper training, these dogs are capable of absolutely anything!
When it comes time to name your new German Shepherd, you might be interested in one that suits their inner beast while completing their gentle giant side, one that hints at their coat color, or perhaps a name in German. We have gathered our favorite names for females and males, ideas for puppies, and those with unique coat colors, tough and German options, and finally a few famous German Shepherds and their names you could use to carry on a legacy. 

Female German Shepherd Names
Sage 

Ginger 

Skye 

Reese

Pandora

Livia

Suki 

Vera 

Zoe 

Willa

Mazie

Nina

Kenya

Tessa

Gemma

Penny

Rowan 

Lexy

Quinn

Rosie 

Portia
Male German Shepherd Names
Buddy 

Duke 

Bentley

Loki

Levi 

Silas

Koda

Jack 

Mojo

Moose

Chase

Bandit 

Elvis 

Darby

Yogi

Ike

Basil 

Jona

Felix

Gunner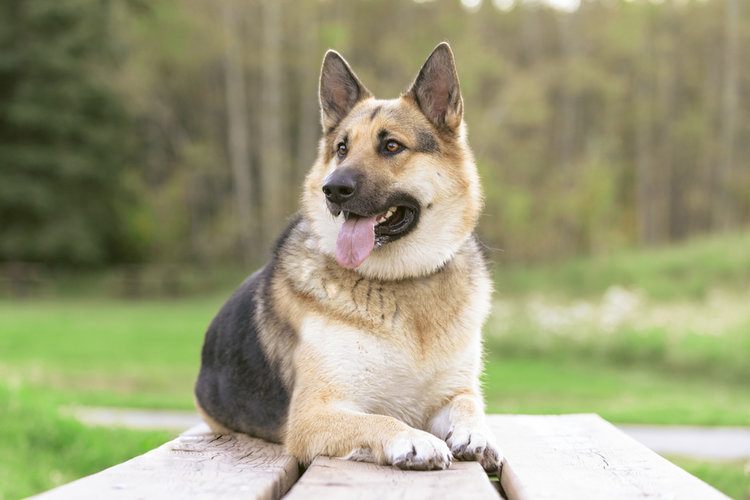 German Shepherd Puppy Names
We found these names to be exceptionally cute – perfect for any German Shepherd puppy! The best part about these names? Well, they will grow with your puppy and are sure to be suiting even into their adult years!
Bella
Beau
Lio
Butters
Lola
Piper
Dot
Archie
Chewy
Gus
Ollie
Clover
Pep
Beans
Iggy
Dixie
Mingus
Boots
Chip
Milo
Finn
Noodle
Pint
Otis
Black German Shepherd Names
All black German Shepherds are some of the rarest colors of a dog that you might find! These black beauties still carry all of the same loving and dedicated qualities of their usual tanned belly and ear tufted counterparts but are head to paw covered in a gorgeous, shiny dark coat. if you are interested in selecting a name to complement their remarkable fur, one the of names below would be an excellent idea!
Artemis
Batty
Caviar
Darth
Cinder
Dusk
Astra
Onyx
Cosmos
Indigo
Opal
Jet
Panther
Vira
Steel
Kuro
Mondo
Pitch
Coal
Luther
Sully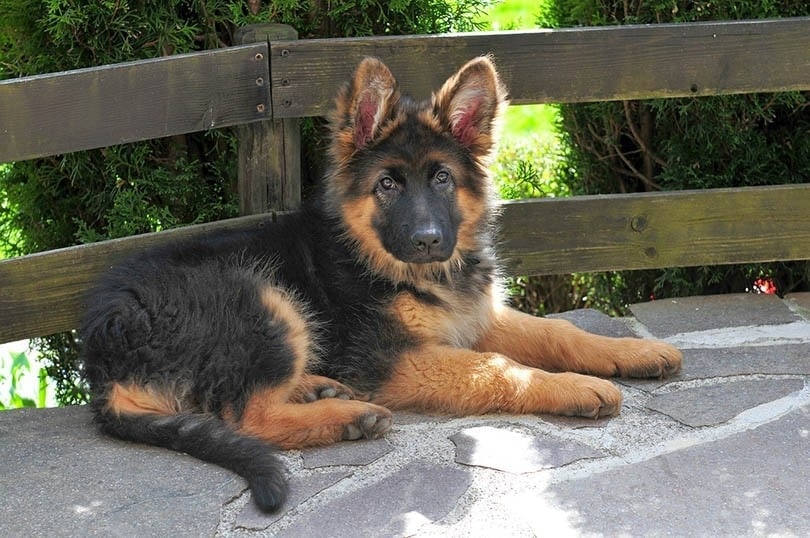 White German Shepherd Names
Thick, glorious white coats are incredibly distinctive for this wintry-looking pooch! Contrary to what some may believe, the white coat of a German Shepherd is not the result of an albino gene. This rare pup is considered its own breed by the AKC! If you are looking for a name that is just as special as your unique new companion, one from the list below may be a perfect fit!
Tundra 

Winta 

Igloo 

Zero

Sleet

Frost 

Aspen 

Snowy 

Celeste

Ivory 

Klaus

Ghost

Star 

Luna

Nova 

Orchid

Tofu

Blanc 

Slick 

Comet 

Polar

Ice 

Casper 

Flash 

Thunder
Tough & Badass German Shepherd Names
Arguably one of the top breeds known for their bad-assery and toughness – German Shepherds are a cool, calm, and collected dog until duty calls! Comparable to the secret service, or bodyguards, these super dogs are protective and will not back down when they know it's time for business. One of the following would be a fantastic match for any German Shepherd!
Brutus 

Axel 

Swag 

Jade

Sarge

Electra 

Rogue

Harlow 

Ursa

Kane

Ransom 

Ninja

Bronx

Sloane

Echo

Jedi 

Diesel 

Hendrix

Pyro 

Jinx

Rebel

Acadia 

Venus 

Zen 
Famous Military German Shepherd Names
German Shepherds are often recruited and trained to support and protect law enforcement and soldiers in the military. Their debut in the military dates back to 1914 in World War I, when they assisted the German's in delivering messages and ammunition. We have listed some of the most notable and famous German Shepherds and detailed their accomplishments if you are interested in a name with a rich history. 
Tango 

Alpha 

Badge 

Missle

Ace 

Pilot

Sniper

Delta 

Rifle

Justice 

Combat 

Major 

Radar

Bullet

Liberty 

Camo

Admiral 

Bravo

Victor 

Romeo

Hero

Sailor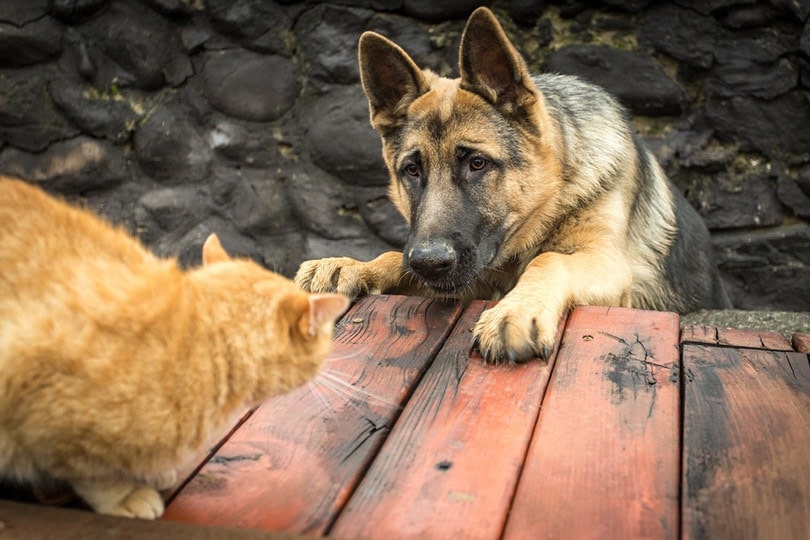 German Names for a German Shepherd
As their name suggests, you might have guessed this breed originated in Germany as sheep herding dogs – which later lead them to a skew of important roles! Choosing a German name for your new addition is a fun way to incorporate their heritage and ensure that your pup has a unique name all of their own! 
Arlo 

Bruno 

Berlin

Anka 

Fritz 

Hund

Pilsner

Claus 

Schnitzel

Greta 

Hansel

Vienna

Hans

Audi

Wurst

Hilda

Goulash

Zelda

Kaiser

Heinz

Finding the Right Name for Your German Shepherd
Your gorgeous dog is deserving of a name that reflects their loyalty, dedication, and of course, their individualistic personality. We know how tough it can be to find the one when there are so many names to choose from. We hope that you were inspired by our list of German Shepherd names, and ultimately, discovered the one that suits your pooch the best!
If you are still having trouble deciding on a single one, we have included a few useful tips that will help facilitate your decision. 
Keep it simple. Although this breed is incredibly intelligent, giving them a simple name ensures the training process is fluid and seamless. Additionally, short, one syllable names, or nicknames, are ideal as your pup will pick up on them much quicker. 
Try out your favorites. Once you have narrowed down your choices, say each of them out loud – in a stern voice, happy voice, loud, and quiet. This will give you a proper representation of how the name would feel if you chose it. 
Ask for opinions. There is no harm in asking a few family members or close friends their thoughts on your favorite names. Remember, at the end of the day, this is your dog, and you will be the one using the name every day. 
Have fun and love whatever you choose! You should be excited about your new pup and not stressed about their name. We guarantee that they will love whatever you choose and know they will grow into any name that they are given. 
However, if these options are not quite right, take a peek at one of our other name posts below: 
---
Feature Image Credit: PxFuel