100+ Blue Heeler Dog Names: Ideas for Australian Herding Dogs

This incredible herding breed originated in Australia and has since become a popular breed in North America. They have a thick and warm coat to protect them from the elements as they were initially bred for cattle herding. Be ready for a ton of physical activity if you've adopted one of these adorable dogs for a domestic lifestyle as they are quite active and high-energy. You might be keen on introducing your new blue heeler into the world of dog sports where they are sure to put that excess energy to good use! At the end of the day, this intelligent and loyal breed would love nothing more than show you how affectionate they can be – and opt for a good snuggle! 
Bringing home your pup is an exciting time! Whether you and your pup are choosing together, or you're hoping to find the perfect match before they arrive – you have come to the right spot for Blue Heeler names! The most popular suggestions for females and males are below and followed by red and blue inspired names, Aussie ideas to tribute their origin, and finally a few options that hint at their herding skills!

Female Blue Heeler Names
Jade 

Harley

Roo

Hope 

Demi 

Stella

Dolly 

Zoe

Lexi 

Sage 

Echo 

Greta 

Duchess 

Liv

Bonnet 

Tilly 

Birdie 

Wren 

Lolly

Tara
Male Blue Heeler Names 
Wells 

Arlo

Tate 

Flynn 

Holt

Trip

Chico 

Hank 

Gus 

Otto 

Ditto 

Baz 

Jake 

Duke 

Lenny 

Benny 

Oliver

Milo

Ave 

Zed 
Blue Inspired Names for Blue Heelers
Distinct fur colors set this breed apart from other herding dogs. With multi-tonal coats appearing blue or grey, and a cobalt name to match, you may draw some inspiration from this subtle hint of blue. 
Raisin

Cobalt 

Sky 

Iris 

River

Navy 

Royal 

Tempest 

Marina 

Ocean

Cadet 

Rogue 

Storm 

Arctic 

Ice 

Azul

Steel 

Zinc 

Knight 

Pepper 

Blue 

Celeste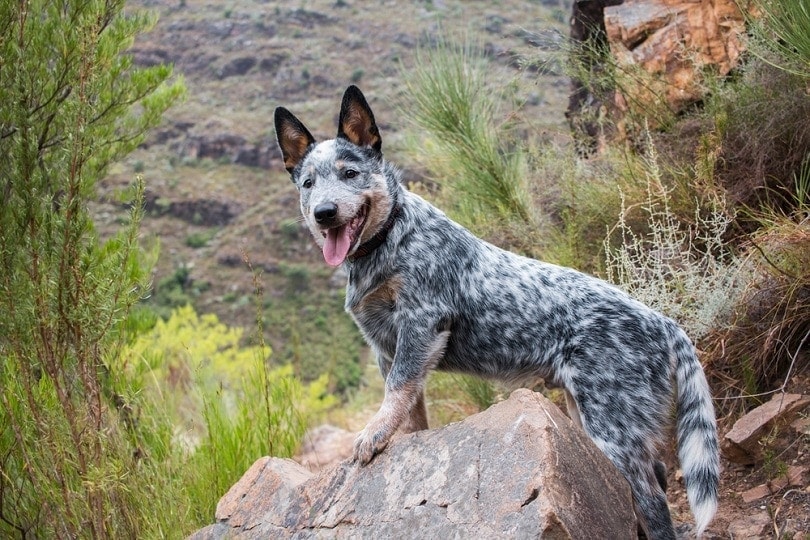 Red Inspired Names for Blue Heelers
This option might seem a little unsuspecting and contradict their Blue Heeler name, but these little pups are usually born fairly white and their red fur develops as they grow. How fun and unique! Red inspired suggestions for a burgundy pup seems like the last puzzle piece for your new addition!
Rover 

Scarlet 

Redina 

Cardinal 

Elmo 

Blaze 

Merlot 

Blush

Rosie

Crimson 

Rusty 

Sparky 

Copper

Merida 

Mars 

Clifford

Malbec 

Ginger 

Poppy 

Finch 

Ariel 

Carrot 

Red 
Herding and Cattle Dog Names for Blue Heelers
Renowned for their impeccable herding skills, Blue Heelers have inherited their "Heeler" name by gently nipping at the heels of traveling livestock to keep them from wandering away from the herd. Here are a few great Blue Heeler dog name suggestions to tribute this unique trait: 
Bandit 

Chase 

Fetch 

Rounder

Sly 

Hawk

Moose 

Marshall 

Gallop 

Wheels 

Hunter 

Racer

Boots 

Tracker 

Lassie 

Rally 

Lasso 

Nipp 

Slick 
Australian Names Blue Heeler Dog 
As you might have guessed from their name, this breed originated in Australia. An interesting note about this dog is that is a descendant from the ultimate Aussie dog – the dingo! Our favorite names from down under are listed below:
Barbie

Dingo 

Arvo 

Wallaby 

Bindi 

Aussie 

Pavlova 

Crikey 

Sydney 

Oz

Boomer 

Jaffa 

Brisbane 

Wombat 

Joey 

Mate

Kiwi 

Bendigo 

Taz

Kylie 
Fun Fact – Blue Heeler is a breed of many names! 
This gorgeous breed did not begin with the name Blue Heeler. They are originally known as Australian Cattle Dogs which stems from their ranching roots and ability to herd cattle for long distances. Both uses of the name are still commonly used in addition to Halls Heeler, Cattle Dog, Queensland Heeler, and Australian Heeler. 

Finding a Great Blue Heeler Dog Name
Blue Heelers in general are an active breed but after adopting one of your very own,  you'll soon find out that they have so much more to offer than herding cattle. They are intelligent and loyal – so you might be interested in a name that shows your new addition is the full package! We hope that you were inspired by one of our lists and found a great match for your puppy. Rest assured they will love whatever you choose so try not to overthink the process. We've included a few great tips if you're having trouble narrowing down your search:
Love the name you choose

. Your pup's name is an important part of raising them. Take your time, and don't settle on a name you don't love! 

Names that end with vowels are easier for dogs to learn.

Names that end in vowels are usually a little easier for your pup to understand. They are also distinguishable from commands and won't confuse your new addition!

One or two syllable names are easier to say.

Long, elaborate names might be a good idea for a formal name, but when it comes to practicality, you should stick to something simple. Queenie McBark sounds cute, but you might be better off with using Queenie on the regular. 
Hopefully, you were able to find a Blue Heeler name that's perfect for you! Your pup is sure to love whatever you choose as long as you do too! 
Here are a few other popular posts if you need a bit more inspiration: 
---
Feature Image Credit: Sari ONeal, Shutterstock