17 Awesome Dachshund Gifts You Can Pick Up Today (With Pictures)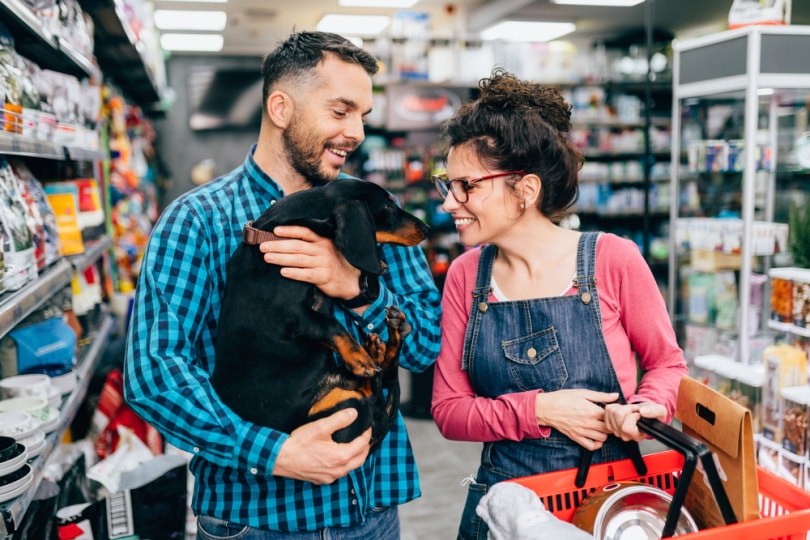 Dachshunds are among the most popular and well-known dog breeds worldwide. With their unique body shapes and endearingly entertaining personalities, it's no surprise that they've become an iconic and easily recognizable dog breed. Fortunately, if you're a Dachshund lover or have a Dachshund lover in your life, it's easy to find a lot of gifts related to this dog breed. Here's our list of some of our favorite gifts you can give to yourself, another Dachshund lover, or a Dachshund in your life.

Top 17 Dachshund Gift Ideas
1.

Primitives by Kathy Dachshund Charm
This adorable Dachshund charm is an excellent gift for someone who's on the go. The charm fits easily onto keyrings, or you can link it to a bracelet, so it's with you wherever you go.
The charm also comes with a matching enamel dog tag with "Best Dachshund Ever" engraved on it. It's a cute and subtle way to match with the best Dachshund ever in your life.
---
2.

Pet Shop by Fringe Studio BFF Dachshund Ceramic Coaster
People who love to entertain will love this gift. This coaster is an eye-catching bright red with a cute Dachshund in the center. It's made with glazed ceramic and is a substantial width that'll protect other surfaces from moisture. It's also very easy to clean in case other liquids spill on it.
You can buy a set for yourself or include them as gifts in a gift bag. Another great thing about this coaster is that there are also versions with different dog breeds. So, if you have multiple dogs, you can get coasters that remind you of each one.
---
3.

Pet Gifts USA My Faith Friend Dachshund Coffee Mug
This gift is great for coffee lovers and tea lovers. It has a painting of a Dachshund on one side and a short list of endearing traits that many dogs of this breed have.
The mug can hold 15 ounces of liquid, and it's microwave-safe, so you can quickly reheat drinks that have gone cold. Once you're finished using the mug, you can place it on the top rack of your dishwasher for easy cleaning.
---
4.

Imperial Cat Dachshund Cat Scratching Board
Although Dachshunds may not appreciate this gift, cats and cat owners might. This fun scratching board is in the shape of a Dachshund and can also function as a lounger for cats to lay on.
It's made with 100% post-consumer recycled paper, and the surface has a honeycomb pattern that's ideal for cats to scratch. It also contains 100% certified catnip. So, it really is an enticing gift for cats, and it'll help protect your furniture from getting scratched.
---
5.

Imagine This Company "It's Not a Home Without" Wood Dachshund Sign
This decorative sign is the perfect gift for a loud and proud Dachshund owner. It's a great way to display your love for your Dachshund shamelessly. It has relatively neutral colors, so it can match seamlessly in most homes. You can place this sign on a shelf or use the accompanying rope to hang it on a door or wall.
Just keep in mind that this sign is made with natural wood and is intended for indoor use only.
---
6.

Scamper & Co Sterling Silver Dachshund Pendant Necklace
This gift is more subtle than a sign, but it's still an excellent choice for Dachshund lovers. The pendant is a small Dachshund with a simple and clean design, and the chain is thin and elegant.
The necklace is made with rhodium-plated sterling silver and is made to be long-lasting. It's playful and elegant and can be worn with both casual and semi-formal outfits.
---
7.

Dachshund Sticky Note
This gift is a fun desk accessory that'll make people smile whenever they use it. It has a cute and whimsical watercolor drawing of a Dachshund leaping across a flowery field.
The notepad isn't lined so that you can write down a decent amount of notes on it. It also has a sticky back, so you can conveniently post your note on different surfaces if you need visual reminders.
---
8.

Dachshund Planter Set
This set of planters has a unique Dachshund painting on each one. It can fit small succulents and has a drainage hole on the bottom to help prevent root rot.
The planters can sit on desktops, small shelves, or window sills. They're also made with durable material and can't be broken easily. Another great thing about this planter set is that it comes in a beautiful gift box. So, it's ready to be given away as a gift to the plant lovers and Dachshund lovers in your life.
---
9.

Dachshund Motivational Fitness Sports Water Bottle
If you know people with health and fitness goals, they'll appreciate this fun motivational fitness water bottle. It has Dachshunds lined up on the bottle that remind people to stay hydrated. The back of the bottle also has a fun and comical design that's sure to bring a smile to any Dachshund lover's face.
The bottle is also leakproof and durable, so you can carry it with you everywhere you go. It comes with a fruit infusion filter to add flavor to your water.
---
10.

Umbra Dachsie Ring Holder
Jewelry lovers will appreciate this simple and elegant gift. This ring holder has enough space to fit about 10 rings, and you can also hang a couple of rings on the tail.
It's made with cast metal and has a classy chrome finish. The inserts are made with padding and velvet to keep delicate jewelry safe. So, along with holding rings, it's a safe place to store earrings and other small jewelry.
---
11.

Snoozies Womens Pairables Slippers
This gift is a unique cross between socks and slippers, and they're perfect for anyone who loves comfortable fashion. The plush material makes it feel like you're walking on clouds, and it's sure to keep your feet warm in cold weather.
The slippers are also machine washable, so keeping them clean is easy. The bottom also has anti-slip grips, making it safe and easy to walk around all over the house with them on.
---
12.

Mumeson Lightweight Portable Travel Cosmetic Bag
This gift is another excellent option for travel lovers. This compact bag is made with high-quality, eco-friendly PU leather. It has drawings of all kinds of Dachshunds and is water-resistant.
The bag easily fits inside luggage bags or larger purses. It's also lightweight, fashionable, and comes with a wristband. So, you can carry it anywhere with you without having to worry about dropping it.
---
13.

Orthopedic Food Bowl
This gift is an excellent option for people who have older Dachshunds. This bowl is specifically designed to help make eating more comfortable for pets with arthritis or other mobility issues.
The bowl has raised legs so that Dachshunds don't have to strain their neck to eat. It's also propped with three legs so that it stays stable. You can choose from four fun different designs, so you can pick the one that best fits the Dachshund's personality or the interior design of the living space.
---
14.

LYWUU Dachshund Dog Shaped Silicone Ice Cube Molds
Both dog owners and Dachshunds will benefit from this gift. It's a fun ice mold tray that can freeze ice into the shape of tiny Dachshunds. The molds are made with flexible silicone, so it's easy to pop the ice out.
Along with freezing water, you can make fun frozen treats for your dog to enjoy. Putting fruit, yogurt, or peanut butter in these molds will provide a tasty snack for your Dachshund to enjoy on hot summer days.
---
15.

Minoody Dachshund Stuffed Animal Dog Squeaky Toy
If you're looking for a gift for your own Dachshund, this cute squeaky toy is sure to be a new favorite. It's great for playing a game of tug and has fun squeakers stuffed inside.
The toy is also soft and lightweight, so Dachshund puppies, mini-Dachshunds, and standard Dachshunds can play with it. It's also easy for dogs to grip, so it's a great toy to use for dogs that enjoy playing fetch.
---
16.

Dachshund 3D Puzzle 2100 pcs Mini Blocks Dog
This unique gift is an excellent option for young hobbyists and puzzle fans. This 3D puzzle has 2,100 pieces, and the end result is an adorable mini-Dachshund. Working on this puzzle can help train spatial thinking, improve fine motor skills, and develop hand-eye coordination.
Fortunately, this gift comes with instructions. So, it's great for beginners. Individuals looking for a more advanced difficulty level can choose to do the puzzle without instructions.
---
17.

Chala Mini Crossbody Handbag
This cute crossbody bag is an excellent gift for travelers or people who enjoy spending a lot of time outside of the house. It has an adorable Dachshund stitched on the front and a cute polka dot inner lining.
Despite being a small bag, it has plenty of pockets to help you stay organized. There's an outer pocket with a zipper to take out items quickly. The base of the bag has a credit card holder and an additional zipper pocket.

Conclusion
There's something for everyone when it comes to Dachshund-related gifts. With all the different gifts out there, you'll be sure to find a unique and perfect gift for all kinds of Dachshund lovers.
The Dachshund is a wonderful dog breed, and we're happy to celebrate them in any way possible. So, don't be shy and look for some of your own favorite gifts that'll show both people and Dachshunds the love and appreciation they deserve.
---